It's not very often we find a tool that that helps you explain something complicated in a much simpler way for effective understanding. Vmaker app is one such tool that will save your tons of productive time. Vmaker is an application that records screens, webcam, or both at the same time and makes screen recording on Mac and Windows super easy. It increases your productivity remarkably and helps you convey messages at a much faster speed. Say bye to sending long text instructions to your team or friends. With Vmaker, all you have to do is record the screen + your voice and share the link. In addition to all this perks, it also comes with a screen recorder extension. Unlike the other free screen recording tools, Vmaker is not yet another free tool with too many limitations that disappoint you, they offer awesome features which include; HD video recording up to 4K, and Powerful Editing features like Screen Annotation, Mouse Emphasis, Screen blur out tools, Scheduler, allows pre-set recordings on webinars and meetings, and Brand Protection. Vmaker is one of the best screen recorder for Mac as well as for Windows.
We would discuss in detail these features and why you should try them for a better understanding and collaboration with your team.
Do you ever feel like texting is too much work? You could explain anything by actually showing them on your screen, maybe by writing and hovering over those points, especially highlighting the crucial parts of the recording then you need to read this entire article to know what we have in stored for you!
Level up your communication with Vmaker recordings!
Screen recording videos have gained a lot of popularity. It's easy and convenient to create, it's much cheaper to produce a video than compared to other video creation tools, and there are a lot of screen recording tools available online but Vmaker stands out with its features as one of the best screen recording software. The free version of Vmaker comes without any recording time moreover explaining anything via a text is always difficult and may not be able to serve the purpose at the time. May it be giving feedback, recording important lectures, or making projects, Vmaker makes it a super quick affair for you to record your screen and share with anyone and certainly makes screen recording on Mac and Windows easy and fun.
What is Vmaker?
Vmaker is a free tool for screen recording on Mac or Windows that allows you to record screen and video for an unlimited duration.
Vmaker is a product of Animaker which is one of the fastest growing creative companies in the video making and animation industry. Animaker has more than 10 million users worldwide, and with Vmaker, they are optimistic on stretching their reach further.
Who is using Vmaker today?
SDRs and Account managers use it to create personalized sales pitches instead of waiting to schedule a meeting time makes their work easy and efficient at the same time.
Content creators and digital marketers use it to create quick videos for their social profiles and tutorials to help in buyers' journey.
Support teams and customer care teams use it to acknowledge and share quick screen records of troubleshooting options.
Designers and Development teams use it to share creative briefs and reviews of projects reducing total iterations.
Educators use it to record videos for their classrooms or online platforms.
Students use it to record their guest lectures and online classes with our automated scheduler for future reference.
Features you can't go without notice!
Below we have mentioned the features of Vmaker which makes it one of the best screen recording software:
Unlimited free recording without watermarks
You heard it right!
Videos without watermarks? It looks more professional and clearer with a non-watermarked recording. Record for as long as you want and get the videos processed in seconds without watermarks, and can share all the recordings to your teams without worrying about any watermarks.
No more disturbances while you record
Enable Do Not Disturb and record videos at peace without annoying pop ups and no. There is also a feature to hide your notifications when you are recording the screen using the screen recorder extension or app.
Record the entire screen or a part of it
Choose to record the entire screen or tab or even better; specific section of your screen, customize this according to your work. At times you do not want to share your entire screen or maybe show all your tabs you are working on, so this makes your task easy.
Multiple recording modes and quality
Record screen, camera or both as you wish in the quality of your choice up to 4K HD.
Features you can't let go without noticing:
Annotate on your screen while recording to make your videos engaging- Don't believe how? You can just write anything on the screen to explain to the viewers and that would get recorded for your ease. Trying it yourself would be fun and makes your task easier to deliver.
Customize background and record from anywhere. Choose a custom background and dimensions of your webcam to personalize your recordings further.
Hide or blur a part of your recording window. Blur a part of the screen that you're recording ensuring that you only share whatever that's needed.
Emphasis your on-screen clicks while recording. Keep viewers focused using mouse
This helps viewers to closely follow what you're doing on screen.
There's nothing better than showing how it's done. That's right, you can record your screen, draw annotations on your screen rather than sending a long text of instructions.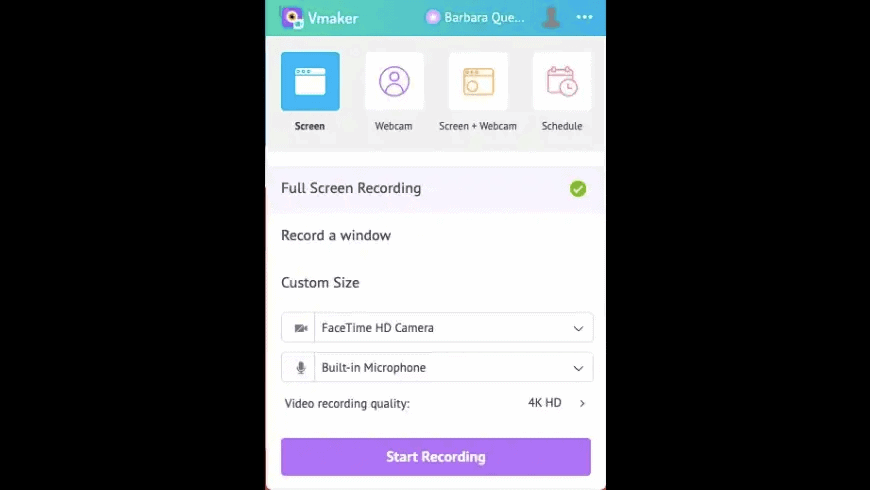 Personal assistant to automate the video recording process:
Schedule your screen recording
Now you can schedule your recording on Vmaker and our scheduling assistant. Max will do the recording for you!
AI has definitely made our life easier with the help they provide us, even if you forget to schedule your screen recording, Max is a savior it can help you and reschedule your recording automatically.
Set your videos to delete automatically.
Add expiry to the videos that you create and let them auto-delete after the specified period. A Special feature in Vmaker is that any video does not get deleted on it's own, which may take up a lot of space in the longer run. To save space and avoid confusion you can set your videos to automatically get deleted according to the schedule.
One common workspace for easy collaboration.
Recorded videos are made available on your workspace instantly making it easier for teammates to easily check out!
Teams which learn together stay together!
All Vmaker plans come with unlimited 4K video recording and cloud storage space, so you'll never have to worry about paying premiums again. You can create folders to organize your video screen recording and even manage accesses amongst your team members. So you do not have to share videos again and again rather start keeping them in folders and make them accessible to everyone.
You never know when one has to watch any recording as a tutorial maybe?
With this amazing pricing structure, you would love to try this and get all the exclusive features at a much better deal for a single payment? Grab Vmaker premium deal at a single pay for lifetime premium access instead of a monthly recurring fee. Nothing can beat that value for money. This deal is available for a limited time, so don't think twice, Appsumo has a 30 day no question refund policy. So go grab your license for just $49 on the best screen recorder for Mac as well as Windows.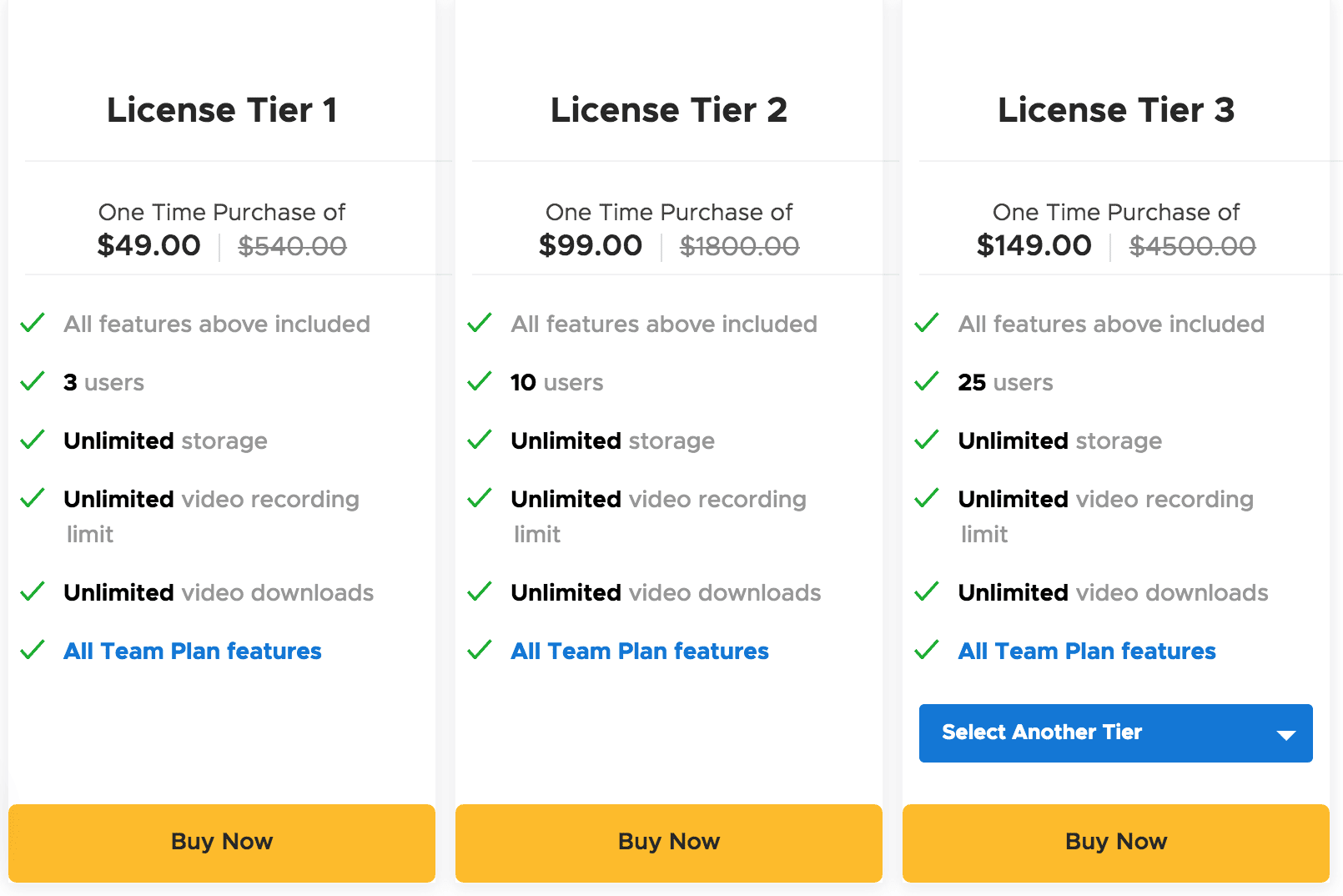 Vmaker for Youtubers.
With Vmaker, you can now upload your screen recording directly to YouTube in just a click. You also have advanced social sharing features to share on social platforms or embed to your website. You also have a cool way to record your meetings or webinars. Just invite our friendly dog Max to your meetings. Max starts recording your meetings on time.
Super cool method right?
Comparison of VMaker and LOOM
| | | |
| --- | --- | --- |
| Features | Vmaker | Loom |
| Number of videos | Unlimited | 100 |
| Recording duration | Unlimited | 5 Minutes |
| Do not disturb mode | Available | Paid plans exclusive |
| Video editing | All features available in that of a premium. | Only trimming allowed |
| Video search option | Available in the free plan. | This feature does not exist in loom |
The Team's plan of Vmaker which is the highest plan, cost $2 extra as compared to Loom. However, features like recording scheduler, unlimited creators and workspaces, justify the premium amount. This plan will do great justice to teams that collaborate together to work on different projects.
Talking about the business plan of Loom, it falls short from becoming an effective tool for team collaboration. Vmaker also has a screen recorder extension as a Chrome extension for Mac and Windows.
Anything can only be perfect if it continuously improves itself in the longer run, Vmaker has been constantly working on improvements and in the race of becoming the best screen recorder for Mac and Windows. Even though we faced some glitches when we first started using Vmaker and we were awed by the swift fix by Vmaker team as soon as we reported the issue and it has been one of the best screen recording software.
Do tell us in the comment section if this review helped you!