Discord is one of the VoIP application and a group-chatting platform designed especially for gamers. But over five years, it is being used by other communities like education too. The company is continuously working for the improvement of the application by periodically updating it. Discord is split into the servers, each of which has its topics, channels, rules, and members.
Discord is enjoyed a lot by PUBG gamers and Youtube users these days as it allows you to voice and video chat along with Livestream games and different programs from your computer. As a part of its upgrading nature, the company has added a new feature of Discord screen share early this year. Screen sharing was earlier possible only in Direct messaging, but now it can be done on Discord servers. Let's explore how to share screens in Discord on servers, go Live, and Mobiles in detail.
Also Read: How to Add Bots to a Discord Server
Share screen on discord
To make it more exciting for all the passionate Gamers, Discord has added a screen sharing feature. By this, you can now share an entire desktop screen, a particular window, gameplay, or any non-gaming things like shows or movies with up to nine other people on a video call without changing any settings.
You can seamlessly share screen using Discord screen share, but to enable particular options like higher streaming quality and frame rate, you have to subscribe to Discord Nitro (premium package). It's effortless to use this feature. You can share screens in three different scenarios of Discord.
While calling through Direct message.
In Discord server, while you are connected to the voice channel.
While using Discord Mobiles.
Initial settings before using Discord screen share functionality
You can make sure your video, camera, and microphone settings are proper before using the screen share option. You can check and change these settings by the following steps:
Click on the cog icon present in the left-hand bottom corner beside your profile.

From the left-side panel, click on Voice & Video option and check for the desired microphone settings and camera.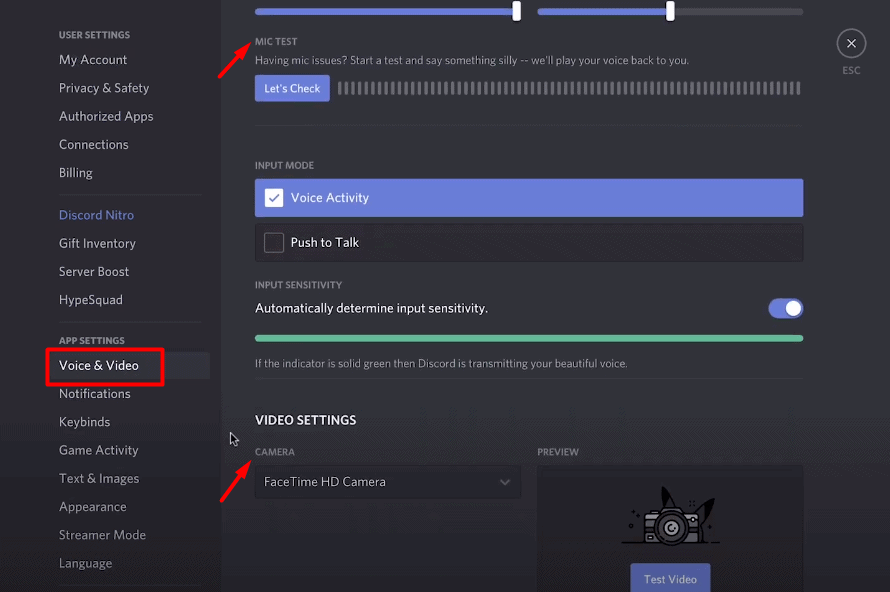 Once the initial settings are done, you can carry the following steps to share your screen while calling from Direct Message.
Steps to share the screen in Direct Message.
You generally use Direct message for private conversation and chat with the person, not in your server group. Let's check step-by-step how you can use the Discord screen share feature in Direct message while calling.
Call your friend through DM.
Note: You only need to call with your one friend to enable screen sharing, but you can add up to nine other friends in the group call.
2. With your video call up and running, locate the "Share Screen Button" in the call panel and press on it.

3. With your video call up and running, locate the "Share Screen Button" in the call panel and press on it.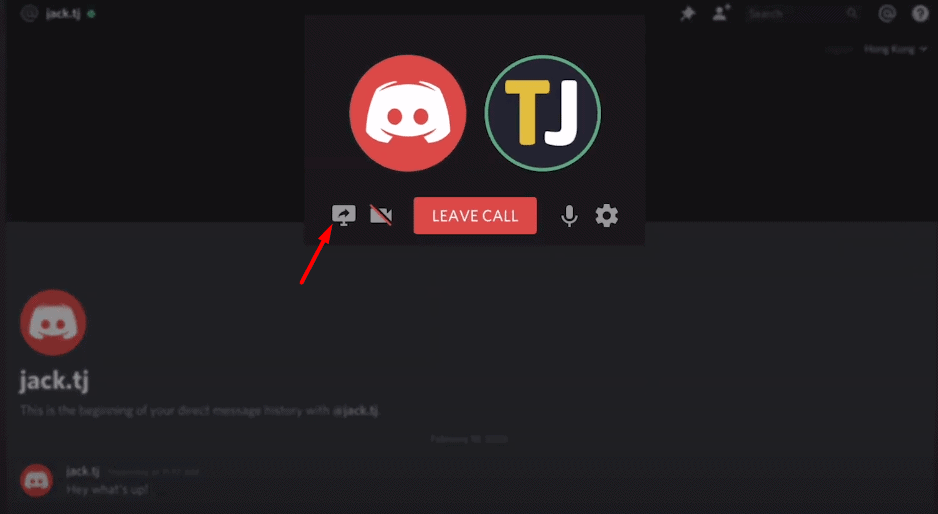 4. On pressing the screen sharing button, a popup menu appears.
a) It gives you two options of sharing
1. Your Entire Screen
2. Application Window
b) You can even select the stream quality and frame rate. To enable the stream quality more than 720 and frame rate more than 30, you need the Discord Nitro membership.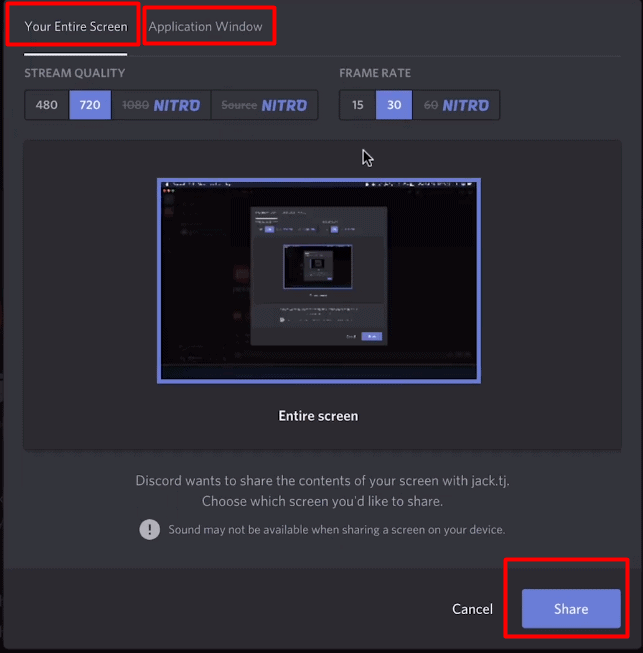 5.If you are selecting the option of sharing a specific application, you can enable sound sharing by toggling the sound switch.
Note: Sound sharing is available only for the Windows client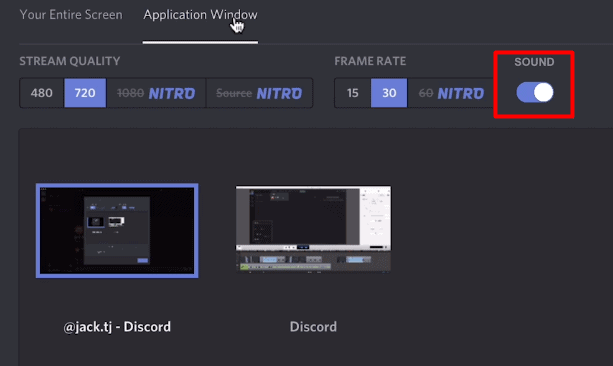 6. Choose any one desired option and press the Share button to start sharing your screen.
Steps to share the screen in the Discord server.
With the "Go Live" feature of Discord, you can stream gameplays and other things with your friends. Discord has recently upgraded Go Live, enabling Discord screen share among 50 people instead of 10 people. You can carry the following quick steps to share the screen in Discord Server.
After logging in Discord and with proper permission, you can join the Voice channel in the server.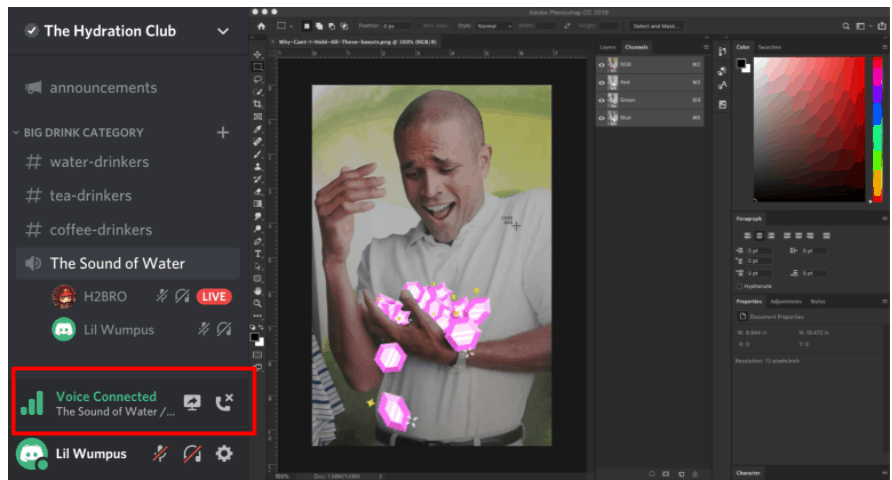 Click on the 'Go Live' button present in the voice channel status panel.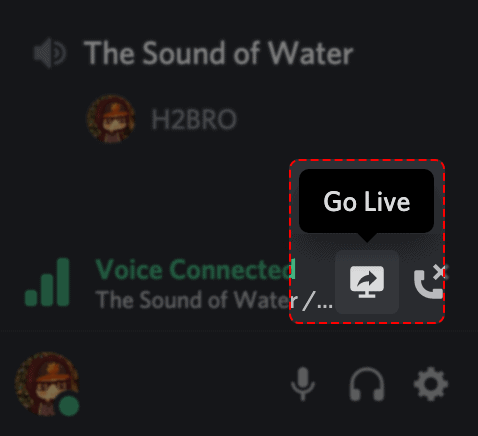 Select from the popup menu whether you want to share a specific application window or the entire screen.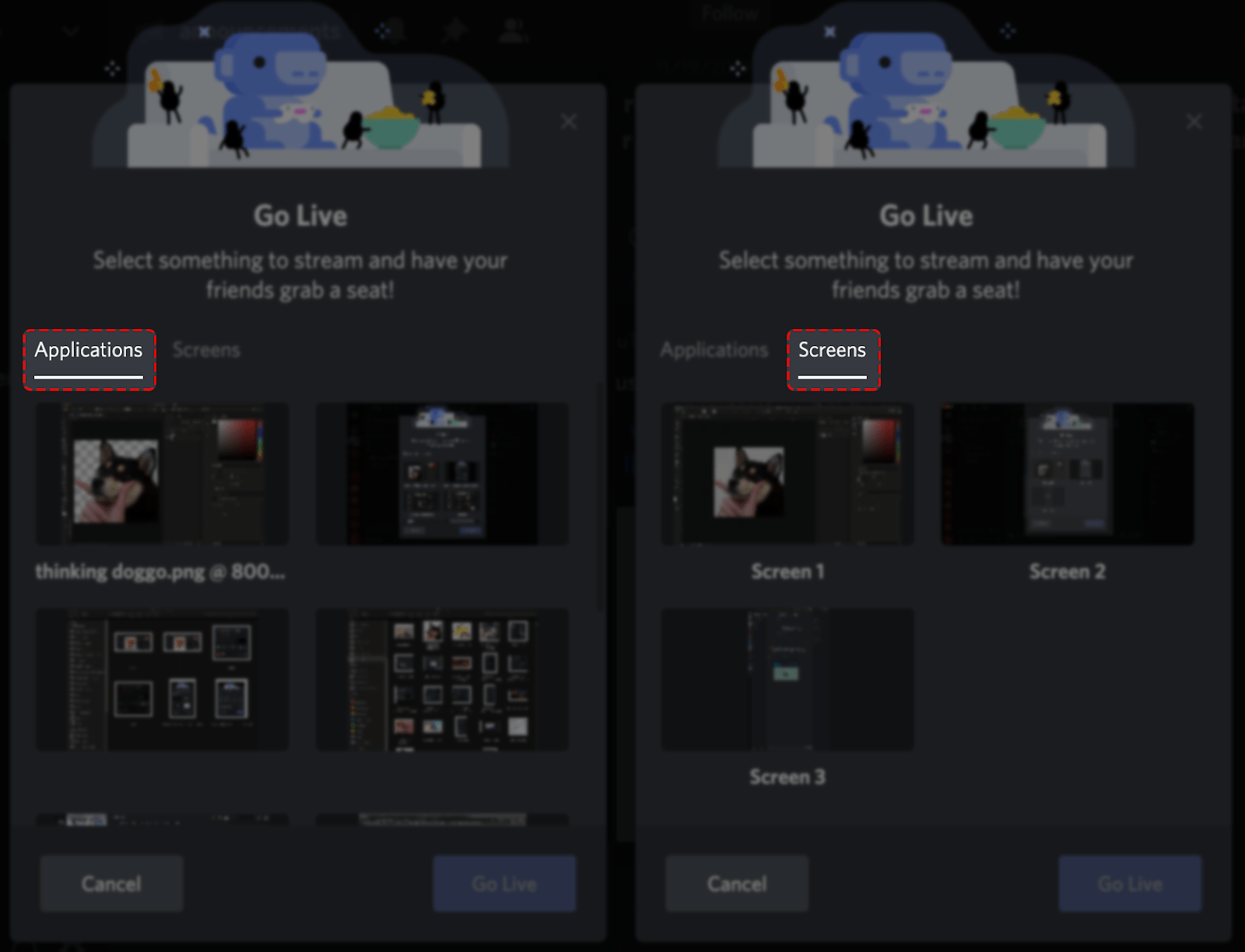 Press on the 'Go Live' button to finally share your screen.
If you want to change the screen to be shared on the fly, you can click "the change screen" icon in the Go Live panel.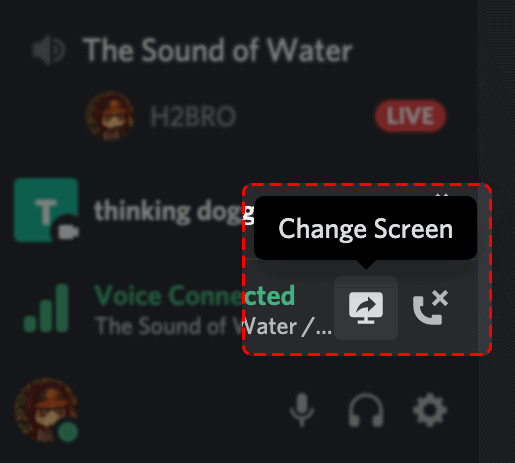 Steps to share the screen in Discord mobile.
Actually, you cannot directly share your phone's screen on Discord. That capability is still not available. In response to the surge of user's request, Discord has taken a step to add the functionality of Discord screen share in mobiles recently, which will allow users to share the screen from their Android or iPhone device.
Yes, you read it correctly! You may soon be able to share your mobile screen with your friends in Discord. Till that, you can use Discord's video calling feature to share your screen. Confused? Don't worry, its a very simple trick. While video calling, you can share your webcam and microphone on the voice channel connected to the mobiles running Android or iOS operating systems. You have to join any voice channel, then trigger a video call.
Wrapping Up:
Discord screen share is a fantastic feature that comes in handy for a passionate gamer. From sharing games and videos to solve any technical issue by your friend's help, this feature has uplifted user's experience by many folds.