Although there are many ways to promote your online business like social media marketing, mobile marketing, and search engine optimization. Email marketing being the oldest is still equally important to reach customers and grow your business. This form of marketing is used by many big businesses due to the huge benefits of email marketing. Those who are beginners in marketing or are unfamiliar with this method, let me explain in detail why you should spend time on email marketing for growth.
You can hire a Social Media Marketing expert, or Search Engine Optimization expert to grow your online business. But the third and best way is Email Marketing which can create deeper relationships with a wider audience and drives a better return on investment at a fraction of the cost of traditional media.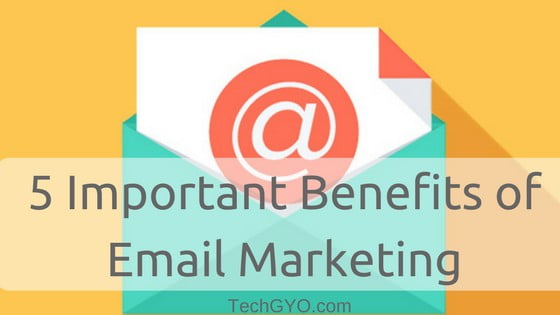 Also Read: Effective Content Marketing For Your Business Development
Why is Email Marketing So Important?
Due to its high adaptability, it is very important nowadays. Another reason is that, it is inexpensive and if you spend little more on this method, you can get easy and better return on investment. Moreover, it can be a highly effective and economical way to get your business on the map.
Benefits of Email Marketing
There are many advantages of using email marketing to promote products as email is used by about half of the internet users worldwide. Nowadays, it is also used by affiliate marketers to promote others products. They get a decent commission when some buy products from their affiliate links. So, let's have a look at the benefits of email marketing.
Email Marketing Is Easy To Use.
Email Marketing is the easiest way to expand your business through the internet. Running an email marketing campaign is very easy and simple. You don't need real efforts to run it and the email receivers will have no hard time to check what you are offering. Though it has been ignored by some professionals due to other methods of upgrading business, but it should not be underestimated. In a survey, it is found that for every $1 investment in email marketing, it gives $40 return if it is used properly.
In a survey, it is found that for every $1 investment in email marketing, it gives $40 return if it is used properly. But it is always recommended to hire a right and experienced person to do this task for you. In this way, you can take your business to the next level.
Also Read: 7 Steps to Increase Revenue from Web Design business
Email Marketing Increases Your Brand Value.
Whenever you send an email your registered customers with awesome deals, they are exposed to your brand and business. Before sending any email, make sure you have added targeted content, smart design and the right strategic planning can move your business to new levels. With the right moves, your business will consistently build value. But to the opposite of it, it can annoy customers and even can damage brand image.
Email Marketing is Cost Effective
Email marketing is one of the cheapest mode of promoting your business online. This is one of the important benefits of email marketing as every small business owner can afford this. You need not to spend on print or postage costs, advertising on magazine or TV channels. There are many email marketing tools, on which you have to spend a bit. It is as affordable as marketing gets
You must hire a good mailing list operator to manage list of emails of your registered customers. You can start with the cheapest email marketing tools that are highly trending.
Also Read: Best Methods to Make Money Online
Email Marketing is Measurable
There may not be better marketing channel from which you can figure out how effective is your campaign or whether the amount you have invested is paying you off. With a clear and easy to understand metrics, you can identify customer response and engagement through an entire circle.
With the advancement of email marketing tools, now you can measure the success of any campaign you have created. You can track how the customers visited your website and can measure the click-through rate.
Email Marketing Is Targeted
Gone are those days when companies put advertisements on TV channels, banners where no target allowance was present. Now you can target your audience according to your need. Like which aged people you want to target or to which gender you want to send emails. This ensures that you are sending emails to the right audience according to their needs. No matter from which location you want to target your customer, it can target your audience anywhere on the globe.
Social Media is also a quick way to send huge emails, but you can't be assure that who is reading your emails. It also provides you the database information of the customers that can help you to figure out to whom you can target. Like if you are selling flowers, then you can send emails with deals to female audience or the ones who ever bought flowers earlier.
Drip Emails
The tool with the help of which you can build email lists and send a series of emails according to a set schedule. Then, everything depends upon triggers and the actions lead performs. This is a great tool to keep in touch with the prospects and provide them with useful content, nurture leads and convert them. Also, drip email can help you drive sales, improve marketing, and easily control the workflow.
Also Read: Is Social Media the Answer for Building a Business?
Conclusion
Email Marketing is a pack of all benefits and opportunities that business owners are looking to boost their sales. Email marketing is the backbone of every business owner due the efficient benefits of email marketing. While expanding sales or brand value of a business through online sources, email marketing can't be ignored.