Building a freelance career or business in the design industry is no easy feat. Aside from keeping up with design trends, web hosting issues, changing technology and working on challenging projects, you have to put in a lot of effort into marketing, managing and growing your business. Fortunately, there are many things that you can do to increase your web design income without consuming more of your valuable time. Here are some steps you can follow to see a big lift in your earnings.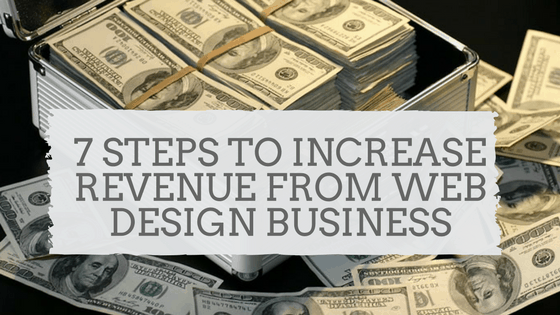 Step 1: Develop and Establish Your Expertise
It's not enough to be just another web designer. You want to be a web designer that stands out from the others in your industry. To do that, you need to be an expert in various aspects of design. For example, you can stand out by being a great UX/UI designer, have deep knowledge about SEO optimized design, or understand how to create outstanding mobile friendly sites. If you don't have any other expertise other than design, develop the expertise. You'll quickly learn that clients will want to do business with you over others because of your expertise.
Step 2: Target High Paying Clients
It's far better to work on one web design project at a $3000 price point than working on six projects at a $500 price point. To earn more with web design, you need to target clients that are willing to pay a premium for your services. Part of this lies in your expertise and experience and the other part is knowing what kind of clients you need to target. Put a lot of thought into what types of clients would most benefit from your work and figure out the best way to reach them with your marketing.
Step 3: Outsource Part of the Job
You want to focus on the aspect of your job that yields the most results and is the most important to the final product. By outsourcing other parts of the job that are not as important and time consuming, you can take on more projects which translates to a bigger income. A real life example would be you working on the prototyping of the site while outsourcing the graphic design elements to somebody else. It also helps to assess your weaknesses and delegate the tasks so that you don't waste time on tasks that hurt your productivity.
Step 4: Offer Additional Services
To make more from each individual client, you want to offer additional services. This can be anything from SEO services, social media marketing, to content marketing. Most web designers will not have offer these services because they lack the skillsets and resources to offer them. The good news is that if you fall into that category, you can still offer these services by partnering with a business that does offer these services and has a track record of client satisfaction. You can set up a commission deal and create a contract that prevents them from selling any of their design services to your client.
Step 5: Set Up Better Payment Structures
Many designers make the mistake of accepting a small upfront fee for the project. This results in tight cash flow situations where there isn't enough money to invest back into marketing and outsourcing. You want to avoid this situation by commanding a higher upfront fee for your design services. Many newer web designers do not have the confidence to ask for this payments structure. What they don't understand is that many clients are happy to do a 50% payment structure where half of the payment is paid before the project even starts.
Step 6: Invest In Marketing
You have to treat your web design career like any other business. If you want to acquire clients, you need to invest a lot of time and money into marketing. Don't rely on simply networking and referrals to bring in new clients, be proactive and build marketing campaigns that are designed to generate leads and brand equity. By investing into marketing, you have more control over the type of clients you bring in. You want to be able to attract clients that are more than happy to pay a premium for your services rather than clients that are looking for a discount.
Step 7: Manage Your Time Carefully
To increase your design income, you need to make sure that your time is managed very carefully. The first step in doing this is to outsource unimportant tasks like web hosting management, accounting, editing, etc. The next step is in actually figuring out how you're spending your time. Are you spending your time on tasks that are moving your business forward?
You only have so much time in your day, so make sure you're using it on things like marketing, client communication, web design projects and growth opportunities. Finally, figure out how to optimize your time in everything you do. Be more efficient with your email communications, phone calls, and any other business processes that you can think.
By following the steps outlined in this article, you'll see a big jump in your income. Don't forget that it takes time to make progress. Each step will take a significant amount of time to pull off. But if you put in the work, you'll be on your way to building a lucrative web design career in no time.