Do you want a practical way to promote a certain process or key information regarding your business? Digital flipbooks are an excellent way to convey your message electronically and are precisely what their name sounds like. Digital flipbooks are essentially a digital magazine that allows you to flip through it on your laptop, computer, or some other electronic device.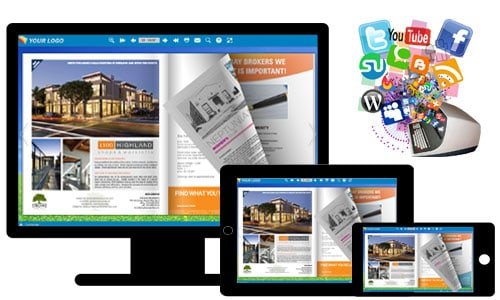 This innovative multimedia brochure can be used in a number of ways including posting it on various websites, emailing it, sending it as an autoresponder, or incorporating it into your own site in order to enhance your marketing tactics. Digital flipbooks utilize ground-breaking technology in order to create a highly attractive presentation in a whole new and better way.
Flipbooks are the Future of Digital Publishing
Digital flipbooks are basically a type of interactive ebook. You've already used a digital ebook if you've ever been on a device like a Nook or Kindle and turned pages. They offer great visuals and compelling images in addition to captivating content. When creating a flipbook, you have the option to add text, images, music, video, or animated graphics to your publication in order to produce a high-tech, savvy look for your business.
People like the sense that they're interacting with what they're reading. Digital flipbooks offer vast new ways to engage with content, particularly with regards to visuals. Therefore, you have the ability to use the same content you would have otherwise incorporated into an ebook, except you're putting it into a digital flipbook to make it more compelling and fresh on a visual level. To find out even more about the creation of flipbooks, click here.
Benefits of Using an Online Flipbook
Print reading materials today have already experienced their inevitable evolution into the world of digital media via virtual magazines and ebooks. They're also used more and more due to the proliferation of e-readers, tablets, and other innovative mobile devices. It's fun to turn the pages of a virtual book or magazine with just a gentle swipe of a finger, which calls to mind the customary reading format that a number of readers still want and love.
Today, thanks to the advanced technology of flipbooks, virtually any digital content on a page can easily be transformed into a visually-pleasing virtual document where readers are engaged through a high-tech navigation technique where the pages are fun to turn.
Why would anyone want to use a flipbook when traditional print magazines, manuscripts, reports, and other standard media can still do the job? Because, in fact, they don't do the job as well as a flipbook. Flipbooks have huge benefits when compared to other conventional printing methods, some of which include the following:
• Greater Flexibility
You can create a flipbook to be whatever you want. It can be a how-to manual, a company brochure, a book, a comic strip, a website, or a periodical. There's no end to what you can create with flipbook technology.
• High Impact
A flipbook has the capability to convey virtually any text, image, or any other type of multimedia better than standard print today. In fact, because of interactive graphic design, digital flipbooks are even more eye-catching, visually-appealing, and colorful than print materials could ever hope to be.
• Farther Outreach
Physical documents have to be passed from one person's hand to another, which could literally take forever. On the other hand, create just one flipbook and you've generated one single piece of content that countless people can access and share simultaneously.
 Generate Advertising Dollars
You can add links to your flipbook in order to generate revenue by promoting other companies or your own products or services. Also, you can sell ad space and earn more profit through that channel as well.
 Amazing Interactivity Level
A flipbook maintains the same user-friendly and familiar page-flipping experience that still appeals to many readers today.
Cost Savings
Flipbooks only have one, low conversion cost vs. conventional print that involves the price of materials and distribution costs through shipping or manpower.
Contrary to what most people believe, digital versions of content and other multimedia don't decrease a reader's overall attention span. Instead, a digital version will actually help the reader retain more information in a better way. When compared to hardcover texts, ebooks and similar digital formats have the ability to be highly interactive in order to enhance the study habits of students, thereby improving their overall performance in school.
There's never been a better time to create a digital flipbook for your business. Why? Flipbooks are a relatively new format so you'll be the first to get in on the ground floor of this cutting-edge technology and benefit from it. When it comes to creating flipbooks, the sky is the limit.