Are you just about ready launching a new blog? If you have a great idea, thought about your audience and researched some topics to write about you're just about there. However, there are a few important things you have to do before you actually launch. While most of these things are fairly basic, many new bloggers tend to omit these things and miss out on early opportunities or make mistakes that annoy their readers. Here is a quick list that you should go over before you open up your blog.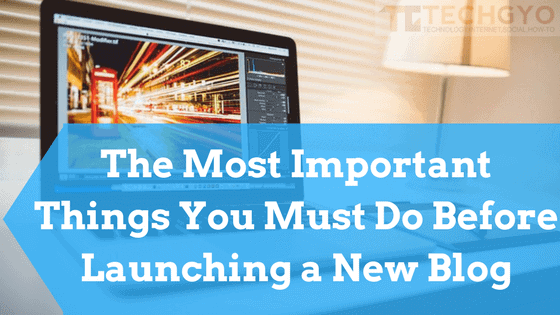 1. Get The Technical Issues Out of the Way
To get started in the right direction, get the technical issues all out of the way is the first step launching a new blog. The last thing you want happening is your site having compatibility issues with the CMS platform you're using. Find a web hosting provider that is compatible with the CMS you plan on using. Make sure that the web hosting provider also allows you to install multiple scripts if you're planning on using a suite of add-ons, scripts and software programs with your blog.
2. Find Two or Three Templates You Can Use
Go look for templates that you can use for your new blog. You may already have one ready to go but you want to have other options available to you if you change your mind. You can buy themes, layouts or templates in many design marketplaces for an affordable price. There are also resources that give them away for free. Whichever you choose, it's recommended that you find one that is set up for responsive design so that you can properly serve your mobile users.
3. Research Your Audience
Before you even think about launching a new blog and content creation, you want to really research your audience. Find out their problems, needs and wants. Then, create a list of topics that they're interested in reading about. A great way to figure this out is to visit the top forums in your market and the top blogs related to your topic. Pay attention to what conversations people are engaging in and the content that they're commenting on. That will give you enough information to start brainstorming your content.
If you want to give your readers an idea of what they can expect from your blog, you have to make sure you already have some great content ready to be published. Ideally, you want three to five posts that are already completed. Try to create content around topics that matter to your readers and cover a wide range so that you don't use up all your ideas for the next series of posts.
5. Have at Least 10 Content Ideas Brainstormed for the Future
Launching a new blog is easy but to make it consistent blog, you need to get a head start in your content creation. Don't wait until the last moment to try to come up with great content for your readers. Create a strong list of ideas that you can develop into posts before you launch your blog. By doing this, you'll get in the flow of creating content on a regular basis. This is a habit that you want to develop if you see yourself blogging in the long run.
6. Set Up Opt-in Forms and Social Media Buttons
To build a following, you need to a way to reach your readers and provide them the means to stay updated. This can be done by setting up an email marketing platform and creating your social media accounts. Find a third party email marketing service provider that allows you collect email addresses and manage your email list. Then, create accounts on social media accounts that your readers will be likely using. Finish everything up by setting up an opt-in form on the top right of your blog and social media follow buttons right under it.
Also read 9 tools that will help you manage your blog
7. Create a Contact Page and Submission Form
You want to set up a contact page to not only receive emails from readers, but also from potential business partners. Rather than listing your email address on your contact page, you want to set up a submission form so that spammers can't crawl your email address and send you spam. It will also help to provide other means of getting in touch with you such as your social media accounts, Skype and phone number (if service oriented).
Recommended: Best Online Grammar Checker for blogging success
8. Create a Powerful About Me Page
In the beginning, your content won't be enough to get your readers to follow you. New readers need to know who you are and what you're about. Create an about me page on your blog to let people know who you are, what your credentials or background is and what they're going to get from following your blog.
The reason why you want to do this is because you want to create either a personal or brand identity. You don't want your blog to be seen as just a random collection of well-written content. After a visitor has read one of your blog posts and checked out your about me page, they'll be more likely to follow your blog.
Also read: 17 Best Adsense Alternatives to Make Money from Blogging
By having everything on this list covered, you'll be able to build followers and start marketing to new prospects. You'll also be providing your readers with a positive user experience and strong reasons to come back to your blog. There are still many things that you can do to improve your blog, but this list should suffice for your new launch.