Hey folks, Adsense is the most reputed and most paying Ad platform on the web. But Many of bloggers doesn't make through the approval for Adsense Publisher account.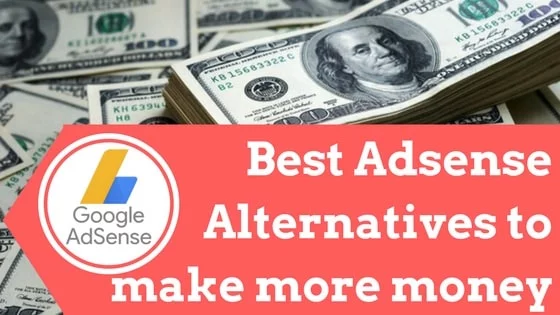 So here we are listing 17 best Adsense Alternatives to help you make money more from your blog without the rigorous approval and verification like Google adsense. There are many factors which Google looks into before approving your account. Some of them are:
Your site must have been active for at least 6 months before you apply for AdSense.
Your website must contain substantial, original content and should have good number of visitors from search engines.
Your site must comply with Google AdSense program policies. And more bla bla bla…
I know every blogger want to get something out of their blog. And they will be very disappointed when that doesn't happen at all. But hey I say you not be get disappointed. I'll be writing a series of posts for following some principles for making blog profitable and getting Adsense account approved instantly.  However, there are many other alternatives for Adsense and which may work good for you.  I've listed almost all of the available resources from my research and from my own experiences.
Here's the list of best Adsense Alternatives: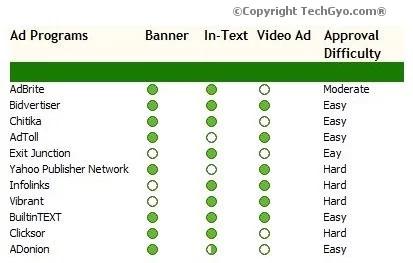 Infinity Ads:
Infinity ads is not much popular as other competitors, but they have some unique features and offers which no other Advertising programs can offer. They offer pop-under and full page advertisement types.
Net 15 Payout with Only $5 Minimum
Various Payment Options Such as Check, Paypal, or Wired Transfer
All Websites Get Easy Auto- Approval
Submit Your Site Today and Start Earning Now!

AdPreference:
AdPreference publisher solutions feature complete online ad management applications, enabling publishers to easily set up and manage online ads, and to maximize ad revenue by targeting the right ad campaign to the right audience. Manual targeting is complemented by time-efficient auto optimization, and publishers can also track ad performance and ad networks, to prioritize high value ad campaigns.
Hope the above list of awesome Adsense Alternatives help you make money from your blog. If you are using some other new Adsense Alternatives, please let us know in comments.