Google Chrome is one of the best web browsers that will make your browsing life on net very much pleasing because of unlimited features! Google Chrome strolls through all kind of web pages in a very fast manner that other web browsers do in a slow fashion. Even the elegant, as well as the simple interface of Chrome, does not get in the way of smooth surfing! At the time when Google Chrome launched for the first time, it was very much innovative and it did not provide with so many plugins and extensions that other web browsers did. So do you know how to change the default search engine in Chrome? Before you go through the process here are some of the best features of Google Chrome.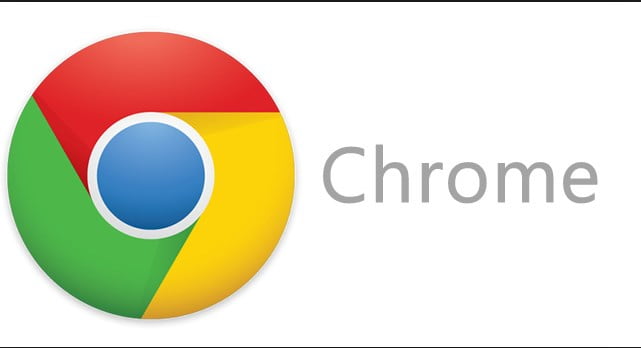 Best features of Google Chrome
Simplicity
No one is a fan of cluttered looking web browsers and this is why Google Chrome comes on the top! The functionality of Google Chrome is so simple that you never get distracted from the current web page that you have opened. But users who are used to other web browsers such as Internet Explorer can take some time to adjust with all the icons and menus of Google Chrome. It also supports HTML 5 as well as thumbnails of web pages that are visited recently.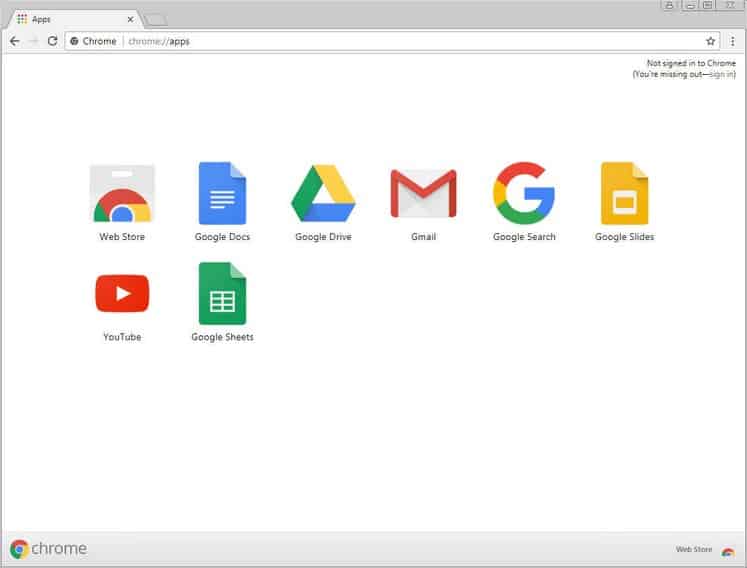 Speed
One of the primary reasons that everyone loves to use Google Chrome is because of its speed. Some actual tests performed on it, resulted in it to overcome all the competition and thus it made to the top. The loading time between Google Chrome and other web browsers may be little but some popular and common websites do load faster in case of Google Chrome. Also because of the multi-thread processing, it makes the web pages to load more quickly.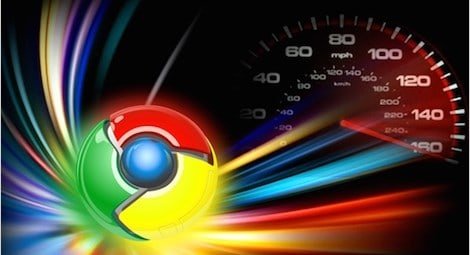 Extensions and Add-ons
During the time when Google Chrome was first launched, it lacked very much because of all the cool extensions and Add-ons. Thus it did not provide any kind of flexibility to users. But in the year 2010, over 1,500 extensions were introduced by Google. And now there are about 11,500 extensions left.  These extensions also include marvellous themes that permit the user to change the get up of the particular browser.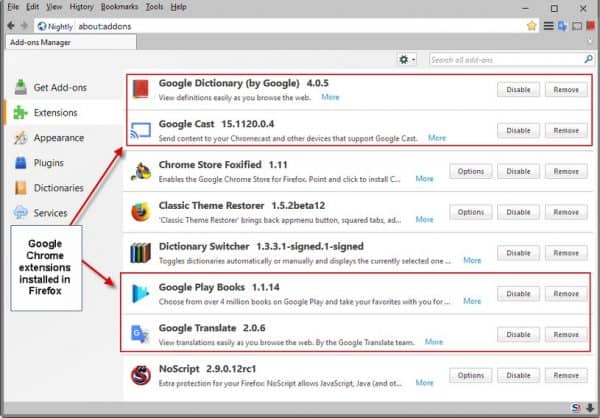 Tab browsing
Though this feature is not unique at all, the tab browsing of Google Chrome is very flexible in nature. You can, without giving any kind of extra effort, open new tabs, open them in a totally new window or you can move them around. Also, the feature of new tab helps you to check all the tabs that you have opened recently. This particular feature is of great help as you can open a certain tab that you have closed by mistake. Another good thing about this feature is that, if one tab crashes it does not affect or crashes the other tabs that are opened because of the tabs run independently. But you should know that this does consume a little more memory of your computer.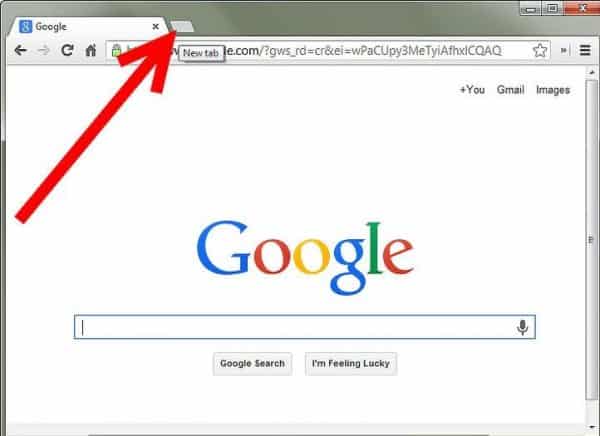 Incognito mode
There are times of needs when you need to bypass all the cookies and search history and that is why Google Chrome provides you with an incognito mode. These tabs open in a trench coat in order to make you understand that they are opened privately. There are chances that while browsing in incognito mode you can still download any kind of malicious software.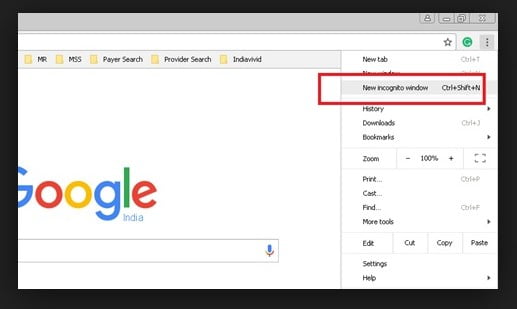 So reading all the cool features, you want to know that how to change the default search engine in Chrome? Here is the step by step method in order to do so.
First way:
Setting your default search engine
After you have turned on your computer, go to Google Chrome
In the top, you will find three dots on the right-hand Click on it and choose settings from the drop-down menu.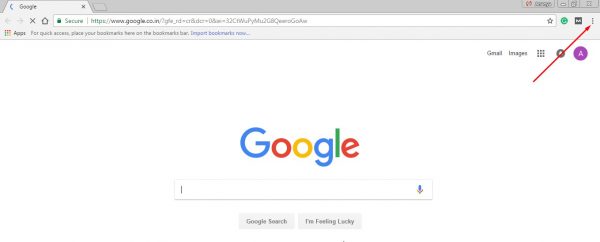 3. Go under the category which says "Search engine" and you will find another tab which says "Search engine used in the address bar". You will find a down arrow beside it. Click on it.
4. Choose a new default search engine of your choice.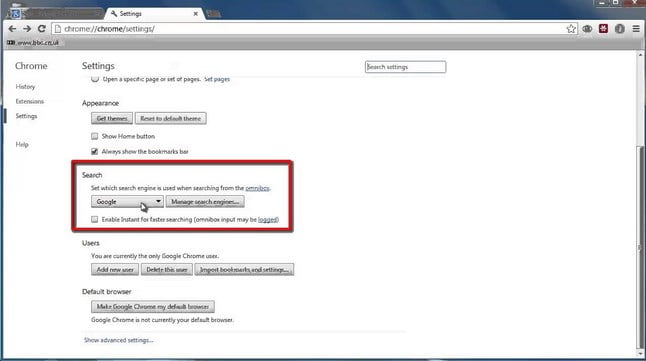 Note: If this method does not work there is a chance that you do have some malware. To restore your settings of Google Chrome first and then try again.
Adding, editing or removing other search engines
Open Google Chrome.
Go to settings
Under "Search engine" tab, click on "Manage search engines"
You will find Add, Set as default, Edit and delete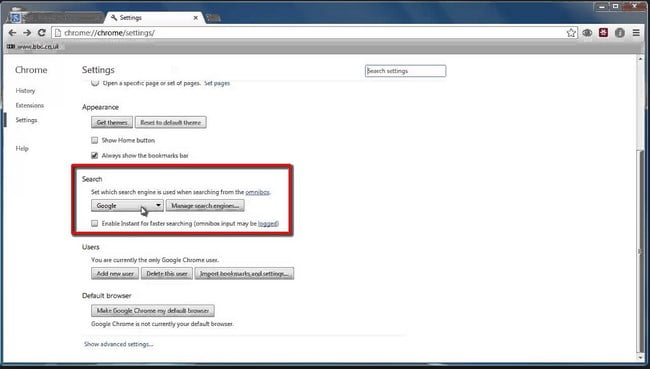 Second way:
There is another simple way by which you change the default search engine from Google Chrome according to your choice. Here is the simplest way on how to change the default search engine in Chrome.
You will find a magnifying glass on the top right-hand side that says search.

Click on it and select "change search settings"
Choose any search engine from the drop-down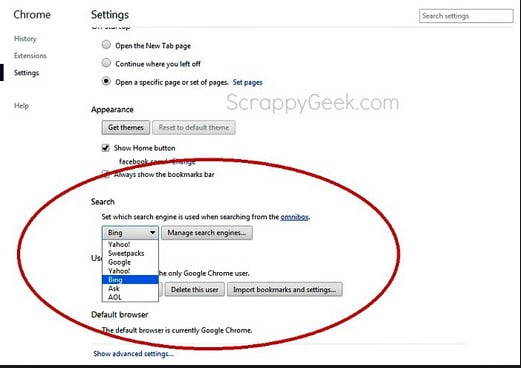 Internet browsers are like a necessity now and over the years a number of them have come up along with it, they have improved their performance as well as functionality. But along with a good web browser, users do need a good search engine too, where they can search for anything without any problem. Everyone has their own different choices and so follow these two ways to set your own default search engine in Google Chrome.