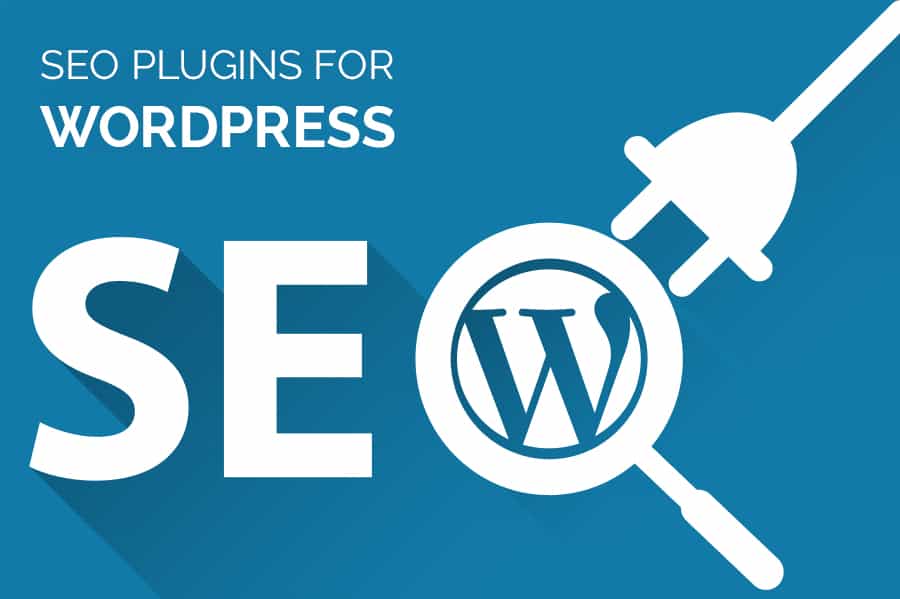 WordPress is one of the well known for being SEO friendly Content Management System to start a new blog or even a website. Millions of bloggers worldwide use WordPress as their blogging platform. It offers various plugins to make blogging easier and reliable. However, there is so much competition as there are millions of blogs around the web. A right SEO strategy can help you to stand above in the competitive world of blogging. There are tons of SEO Plugins for WordPress to make an SEO strategy for your website.
A proper SEO strategy is very important if you really want organic traffic from search engines like Google, Bing. A right SEO Plugin can help you out with a proper SEO strategy. SEO Plugins help you out with On-page SEO and makes your blog search engine friendly. Using only keyword research tools isn't enough to make your website optimization easier. So let's start with the best WordPress SEO Plugins. These plugins may not help you to get high search engine rankings, but they will improve your chances of SEO success for sure.
Best SEO Plugins For WordPress
To help you out with your On-page optimization, we are going to list 7 best SEO Plugins for WordPress. There are some free plugins as well as some premium plugins. You can choose the right plugin which suits your needs.
1. Yoast SEO
Yoast SEO for WordPress is one the most popular and most downloadable SEO Plugins. Currently, it has 3 million+ downloads and 12k+ 5-star reviews and it is a comprehensive solution for all you on-page SEO needs. This plugin may be the best start for you if you want to improve website SEO by optimizing your site and by creating better content. You can add SEO title, meta keywords, meta description in each post and page of your site.
This tool offers many features including page analysis tool, XML Sitemaps functionality, technical WordPress Search Engine Optimization, meta and link elements, RSS optimization, breadcrumbs, multi-site compatibility, social integration and much more. Moreover, you can import functionality for other WordPress SEO plugins. It also lets you edit your Robots.txt and .htaccess files.
2. Google XML Sitemaps
Google XML Sitemaps is another On-site SEO Plugin for your WordPress site. This tool can help you out to get your content get indexed in the major search engines like Google, Bing, Yahoo, Ask. It will generate a sitemap for your WordPress site automatically. Sitemap helps the search engines to index blogs in the search results. Once you create a sitemap for your site, you will never have to do anything else again. It will automatically add new post URL to the sitemap automatically.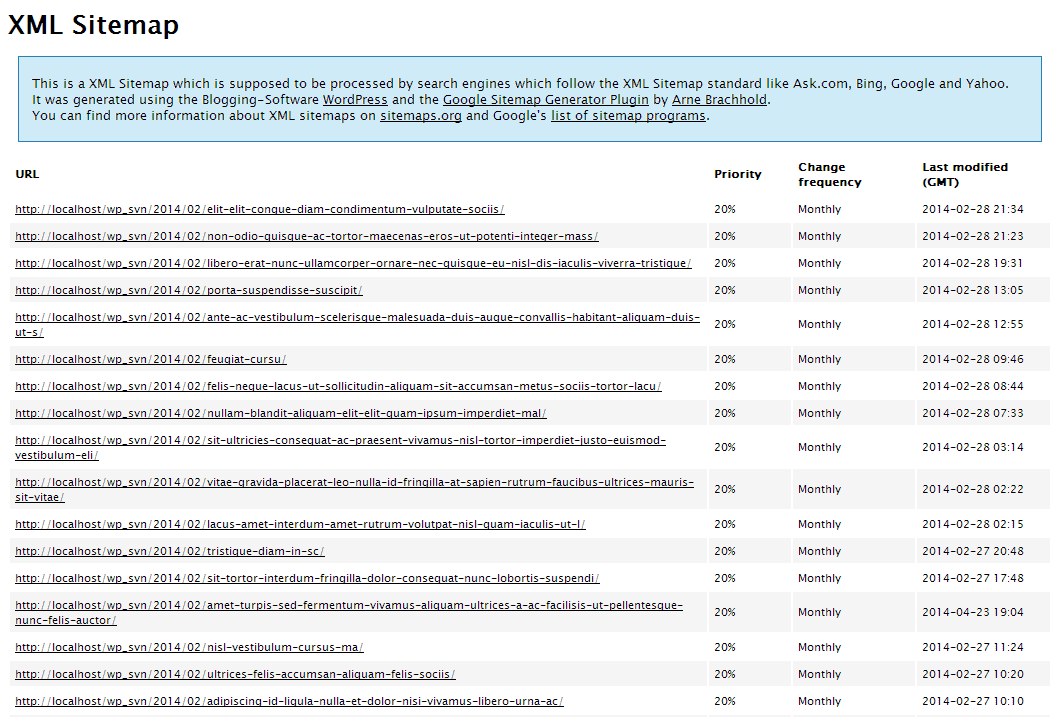 However, this plugin is very useful and does everything right for you, all in easy to understand and efficient manner. It becomes easier for the crawlers to see the structure of your site more efficiently. The plugin has crossed 2 million downloads and has reviewed 5-star rating by more than 1800 customer. It is free for everyone and it also comes with various translations to translate the plugin in your own language.
3. All in One SEO Pack
All in One SEO Pack in another tool which gives you enough features to let you create an SEO friendly site using WordPress. Is is a beginner SEO plugin which everyone can use without any prior experience. It helps you to optimize your WordPress site for all the major search engines like Google, Bing. It is very simple to use. You just need to put right data in the right fields. That's it!
This tool helped many webmasters and has been providing an easy to use solution to SEO-related challenges. It is packed with many features like automatic optimizer of titles for all search engines, XML Sitemap and Google Analytics support, automatic generation of META tags, ability to override any setting. Moreover, it also helps you avoid duplicate content which can have a negative impact on search engine rankings.
4. Broken Link Checker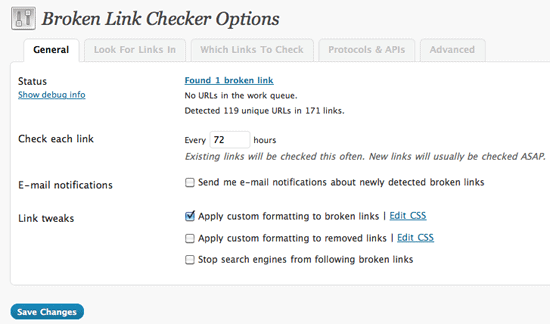 Broken Link Checker can help you to manage your on-site SEO. As the name indicates, this plugin will you to check the content for broken links and missing images. It also notifies you of any broken links and keeps a watchful eye on your website. Some of its other features include it detects any link that doesn't work, has the ability to monitor links in posts, pages, comments, and even custom fields. Moreover, it has the option to give broken links a different appearance in the posts, prevent search engines from following broken links.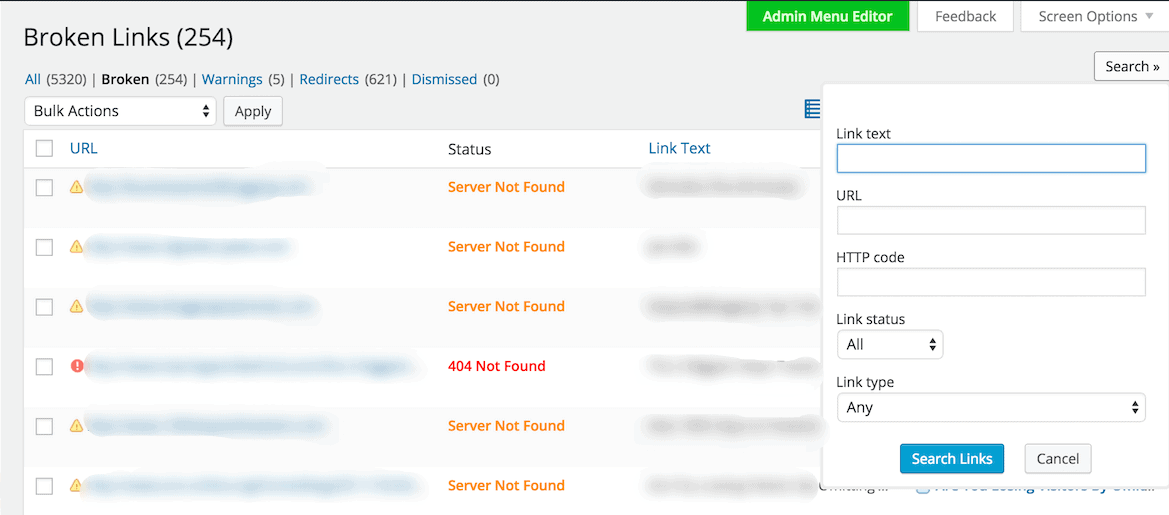 The broken links can have a negative impact on your rankings and user experience. However, you never have to worry about the consequences that could happen before you are able to remove or alter the broken links. Its option to prevent search engines to follow broken links on your site can do your job in an efficient way. It also comes with a translator to let you translate the plugin in your own language.
5. SEO Ultimate
SEO Ultimate is another widely used SEO plugin for WordPress sites. It has all the basic features that the best SEO plugin offers to optimize your site perfectly. It gives the users full control over meta titles, meta descriptions, auto-linking, open graph, 404 monitoring, rich snippets etc. With this tool, you will have full control over open graph title, image, and content type for each and every page, post, attachment, and custom post type object on your site.
SEO Ultimate has some other features like deeplink juggernaut, author highlighter, link mask generator, canonicalized, permalink tweaker, SEO ultimate widgets, plugin settings manager, meta robot tag editor and much more. It has crossed 200,000 downloads and has reviewed mostly 5-stars by the users.
6. Google Analytics by MonsterInsights
Google Analytics by MonsterInsights is a tool which helps you to add Google Analytics to your website. With Google Analytics, you can track top keywords of your website, visitors, and other similar SEO data. It is used by more than 1 million users on WordPress sites. It let you review your Analytics data right from your WordPress dashboard. Additionally, it gives the ability to use the asynchronous or universal tracking code, gives access to both interest and demographics report.
Moreover, it gives real-time stats and other features include Ads tracking, file download tracking, link tracking, e-commerce tracking, custom dimensions tracking, events tracking, author tracking, popular post tracking, and much more to get your site performance efficiently. It can be time-consuming to visit Google Analytics every time you need your site's stats. This plugin is the key to success.
7. W3 Total Cache
W3 Total Cache can help you out with the speed of your WordPress site. Do you know the speed of a site can affect the search engine ranking? Yes, it does badly. If your site speed is slow, the search engines may not consider your site in the Search Engine Page Results (SERPs). If you are facing slow speed problem of your WordPress site, then W3 Total Cache is the right solution for you. This SEO plugin will definitely help you to improve the speed of your site. Additionally, it is trusted by many big companies like Mashable.com, mattcutts.com, makeuseof.com and many other.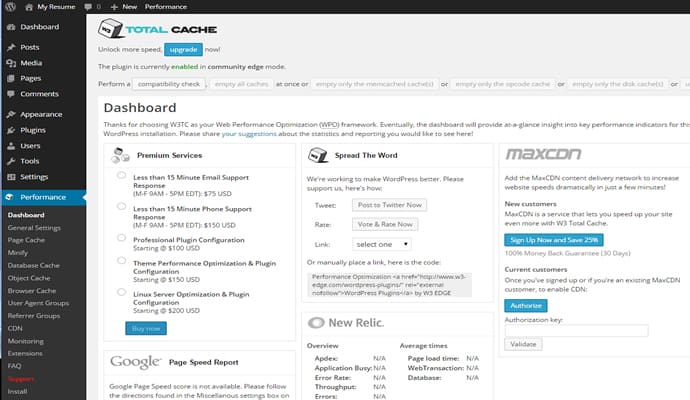 It has compatibility with shared hosting, virtual private and dedicated servers. It helps the WordPress site owners to reduce the page load time and let them increase the visitors on their site. Some of its other key features include transparent content delivery network management, mobile support, accelerated mobile pages support, secure socket layer support, caching of pages and posts in memory or on disk, caching of CSS and JavaScript in memory, on disk or on CDN and much more.
Conclusion
There are many SEO Plugins out there, but we have listed have some of the best and efficient plugins to skyrocket your on-site SEO. A good SEO plugin is equally important for a WordPress site as keyword research tools, and other SEO tools. Some themes offer in-built SEO functionality, but that is not a right solution. In case you change your theme, you will loose your SEO settings. So, it is recommended to use an SEO plugin your WordPres site. Keep trying and choose that plugin which suits your needs.