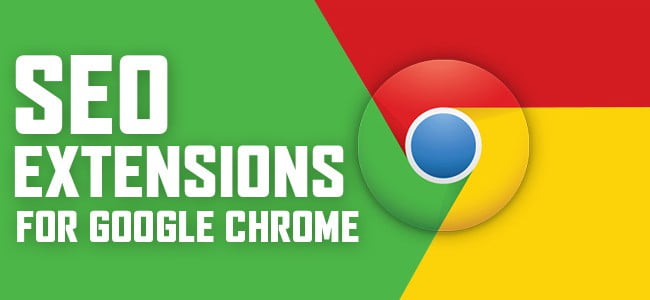 As an SEO expert or a digital marketer, you have to understand how SEO extensions are really important like other SEO tools like link building tools, keyword research tools, rank tracking tools, SEO audit tools. With some clicks, you can install SEO Extensions on your web browser. These extensions can let you see the ranking of your as well as other's websites. Moreover, you can check and analyze website performance quickly, examine code behind websites, save time by improving your task efficient.
The SEO functionalities in your web browser can help you to make you SEO tasks easier and can save your time. Well, Google Chrome is one the best web browser running on most of the devices. It has globbed up a substantial market share and the major reason for its wide popularity is its fast and reliable performance. Moreover, it is a lightweight web browser which most bloggers, marketers love to use.
If you're a blogger or a digital marketer and also using Google Chrome, then you may find the article very useful for you. You can easily install the extension and analyze the SEO value and the ranking of your or another website. Even you can check and ensure that you are not linking to any bad websites which are harming your SEO value. So, let's have a look at the Best SEO Plugins For Google Chrome.
Powerful SEO Extensions For Google Chrome
1. Ahrefs SEO Toolbar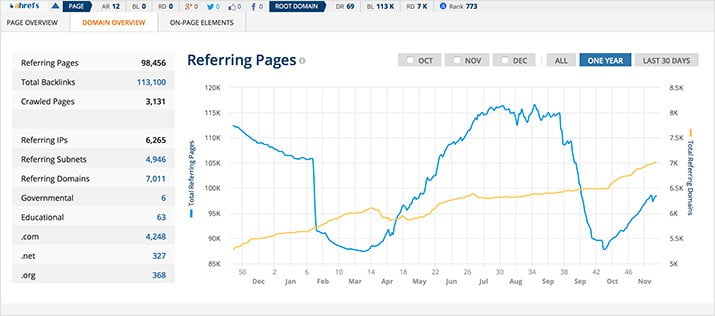 Ahrefs SEO toolbar is the first choice among SEOs. It is a very thin bar at the top of the web browser which will show you the social information, links, and domain stats of that specific URL which is opened in the current tab. It shows some basic information like backlinks and referring domains, social shares from the main network, Ahrefs URL rating and domain rating, and the same info for the root domain.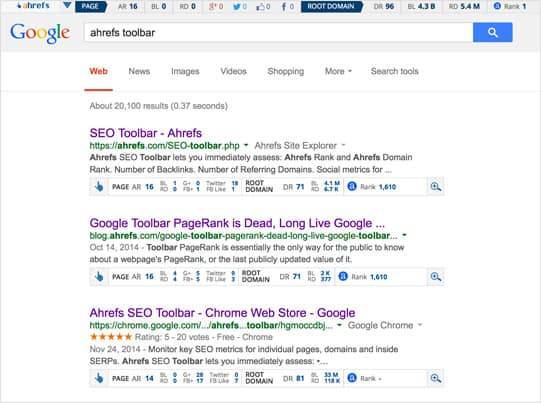 To get more information about the website like recent backlinks growth, you can click on the down arrow button on the top right corner. There you will see a graph for information. You can activate the plugin for Google search engine. It will show small information like social shares, DR and much more under each link in the search results. You can get all this information free of cost. To get deeper and access to advanced features, you can purchase its premium plan. Check out, the Plans and the prices.
2. Mozbar
Mozbar is another SEO extension for Google Chrome, which is dominating nowadays. Moz is one if the best SEO tool or platform which is very popular among SEOs and marketers. This tool can bs used in two ways.

The first way is you can use it when you open any website link. Click on the Moz bar icon on the web browser, a popup bar will open with all the SEO information and overall stats of that website. You can see PA, DA and social shares stats of that website. To get deeper, you can click on the magnifying glass icon on the left side of the bar. It will expand a new panel with information of the page like alt text, meta text, headings, markup, page speed load, and much more.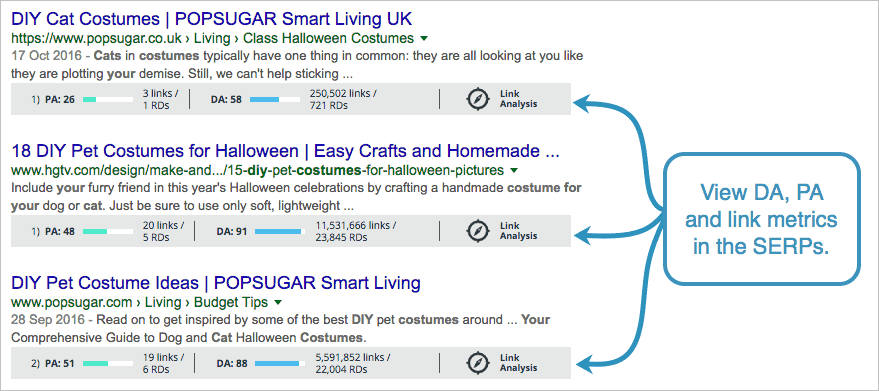 The second way is to use it in the Google search results. Whenever you will search for anything in the Google search, it will display PA, DA, of the pages listed in the search results. You can also get the keyword difficulty score by clicking the Get Keyword Difficulty button beside the Google search bar.
You can get all the above features and information for free. To get advanced features, you can buy any one of the premium plans. Check the Plans and Pricing.
3. Majestic SEO Toolbar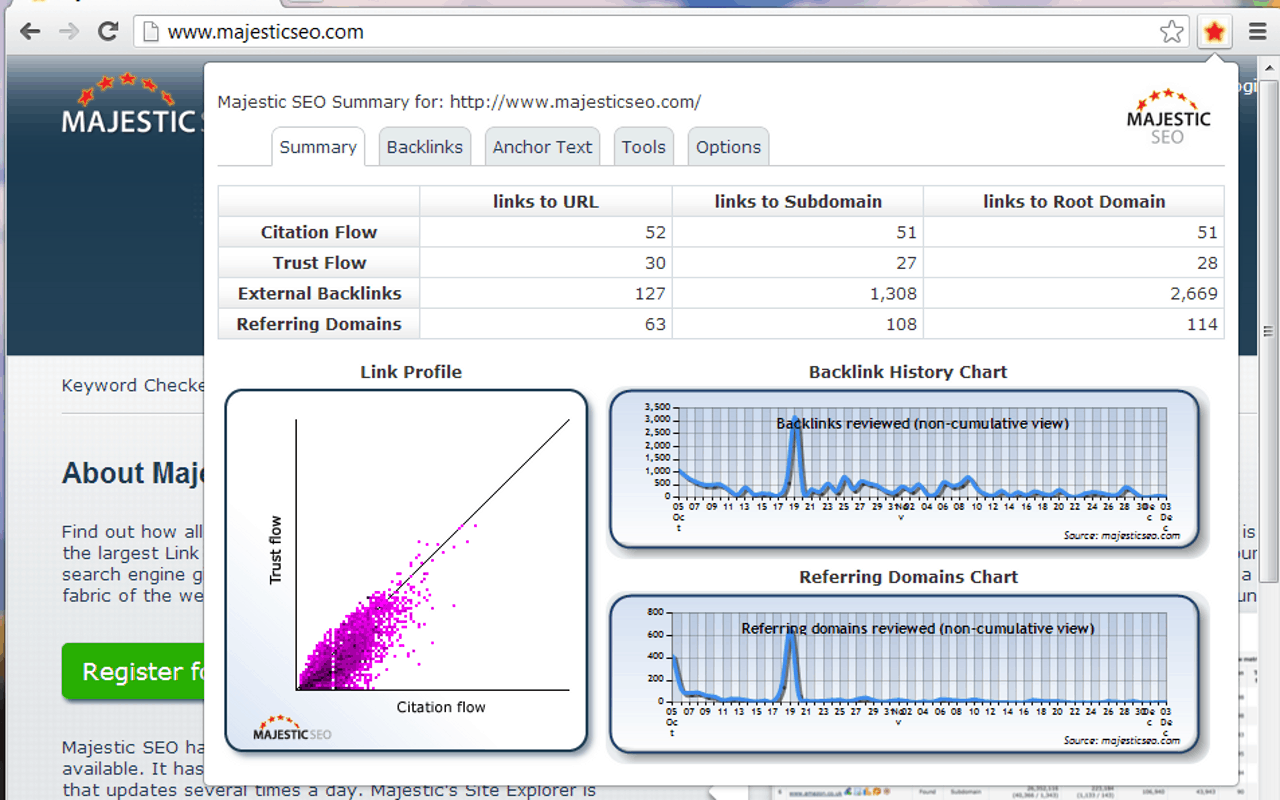 Majestic SEO Toolbar is another on the best SEO Extensions available for popular web browsers like Google Chrome, Mozilla Firefox. It has all the essential features which a good SEO extension must have. You can see SEO information of a web page like the number of root domains, number of links, trust flow and citation flow, link profile chart and much more. The access to the basic information in the main summary is free of cost. You need to pay to get detailed information like backlink analysis, anchor text and much more.
However, this tool does not analyze the search results like other SEO tools. If you are looking for a quick keyword analyzer, you can choose from other options. Also, check the Plan and Pricing for advanced features.
4. Open SEO Stats
Open SEO Stats comes at the 4th position in the list of Best SEO Extensions. It is very powerful, well-maintained and detailed SEO extension for web browsers like Google Chrome and Mozilla Firefox. You can get tons of data related to the website's SEO like social media stats, and detailed SEO data. You can access to Alexa rank, Compete traffic rank, and Quantcast Rank with just one click on the extension on the top of the web browser.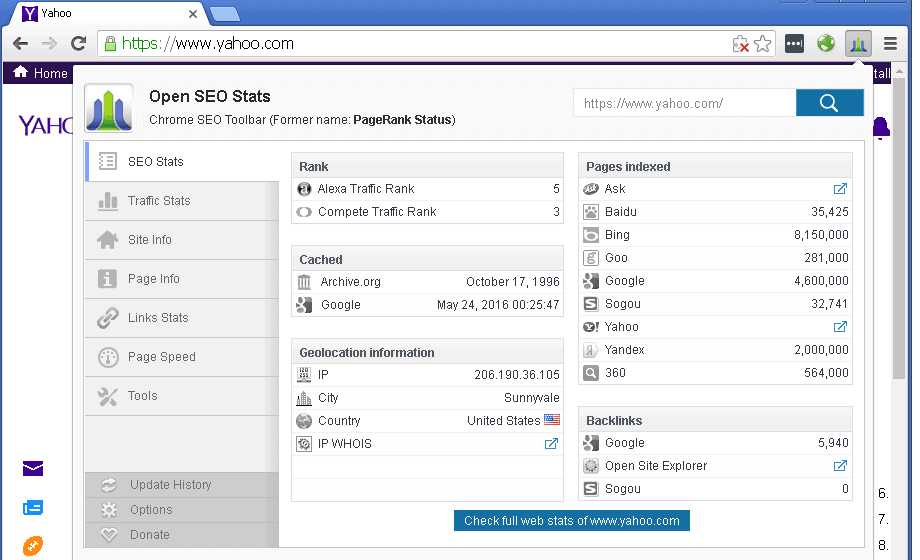 In addition to it, the users can get SEO data of the website like backlinks, indexed pages, cached pages, Geo IP location, Whois and much more. You can check how many pages are indexed in the popular search engines like Ask, Google, Bing, Baidu, Goo etc. It also shows the site security information that is rated by software like McAfee SiteAdvisor, WOT, and Norton Safe Web. It supports 30 languages and earlier it was named as PageRank Status.
5. SEOQuake
SEOQuake is another best SEO extension tool which shows important metrics in SERPs. It is one of the competitors of Mozbar and cannot be ignored in the Chrome SEO addons list. It let you get all the SEO aspects related to the website. You can use this tool with SEMRUSH account to get fetch more data. It works with search engines just like Mozbar and Ahrefs toolbar to show SEO stats of the links in the search results.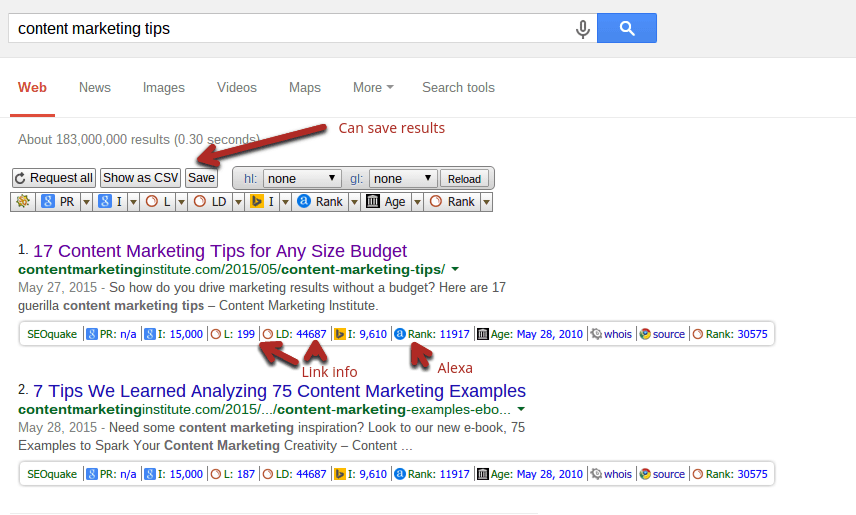 It works with search engines just like Mozbar and Ahrefs toolbar to show SEO stats of the links in the search results. When you search for anything in the Google, it will show an SEO data bar beneath each search result. it will show important SEO data like PR, DR, number of backlinks, page age, Alexa rank, Whois and much more.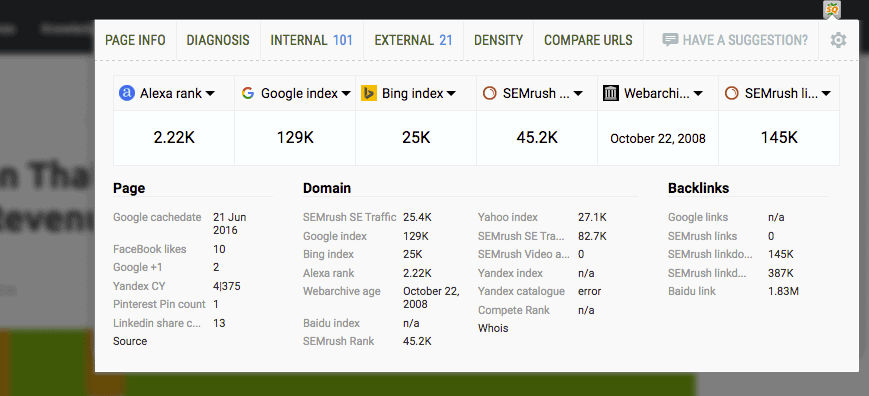 When you use this tool on a web page, it will show results in a dropdown popup. The data may not be accurate as it shows data from Google and Bing/Yahoo links which are not necessarily up-to-date or accurate. You can see basic meta information, basic social shares, keyword density, backlink information and much more.
Conclusion
We have listed the best and powerful Google Chrome SEO Addons which can help you to get SEO data of any website easily. Well, I doubt you need all of them, but you found at least few add-ons to make your SEO work easy and accurate. Google Chrome is a powerful and most used web browser in the world. It has awesome extensions for various purposes and if you are not extracting the functionalities of Chrome extensions, you are loosing your time performing tedious tasks. Start trying all the SEO extensions to find the best addon for you.