Many people around the globe are creating online contents and working hard to make an impression on social media. If you are into business or art it is important that you and your gig should have a social networking space where you interact with your customers and showcase your work. Some businesses go viral overnight because of incredible social media campaigns they conduct in the background. This overnight success can be of pure luck as well as of result of hard work. In both the case you need amazing tools to create quality content. The videos and images can create maximum impact these days and the more the creativity you put it, the more interesting it become. To make viral social media posts it is important that you learn the market and analyze it.
I spend a lot of time online, mainly in social networking sites. I have seen many great works by talented people. The videos and images they post online has a professional touch and most importantly, their updates are instant. That means, they update instantly as the incident occurs. People go live on social media to show what they are up to and others update YouTube videos or snapchat/Instagram videos. For all this we need efficient video and image editing apps. Considering this, today I am going to share with you top 12 editing apps to make viral social media posts. The list
Apps to Make Viral Social Media Posts
Apple Clips
When snapchat, Instagram, WhatsApp and Facebook has started supporting sharing video stories with your friends Apple also must take a stand and it did. The Apple Clips does the same, it let you make fun videos and share it with your friends, family and public. It supports animations, graphics and emoji.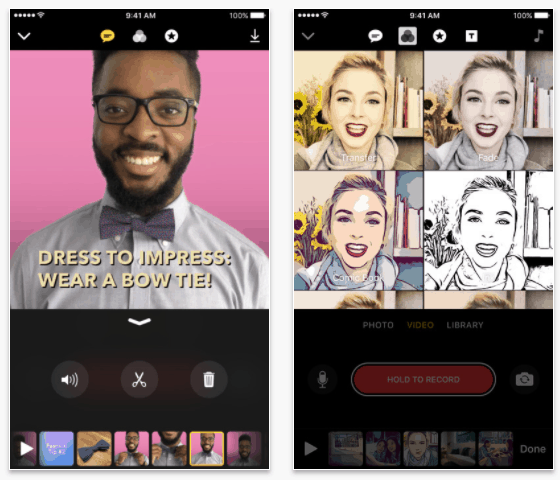 The added benefit with Apple Clips is that, the in-built editing tools. It lets you easily mute the audio, adjust length of the clips, and even reorder them. You also get to create animated tiles and captions. This animated tiles will get displayed as you speak.  Support for multiple styles for the videos you create is a great addition for those who are looking for some artistic twist. There are support for so many fun effects. Download apple clips for free from Apple Store.
Clippy
Personally, Clippy is one of best app to make viral social media posts. Why? Well, I am impressed how simple and easy it is to use. Clippy can make gifs out of any videos from YouTube, Facebook, Instagram, ESPN, CNN and more. Find any videos interesting, just open the video using clippy app and trim out the portion you would like to make GIF.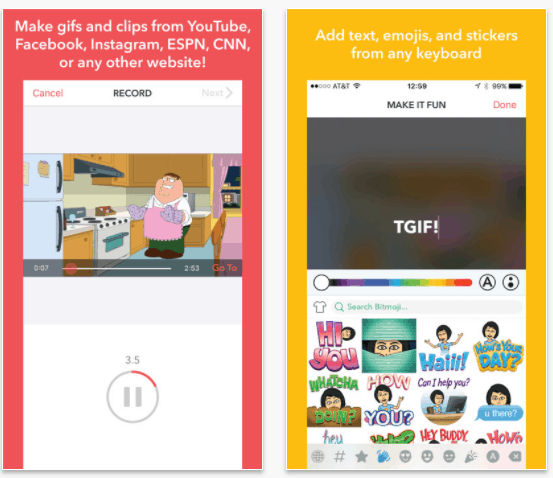 Once done, you can add titles, emojis and even funny stickers. GIFs these days is perfect to make viral social media posts. It's simple, easy to share and short. The Clippy has an inbuild social platform where you can see the popular clips, if you liked you can share it among your friends. The app is available for iOS for free.
Adobe Spark Videos, Animated Videos in Minutes
Adobe Spark stands out in the list both in terms of features and professional interface. This is, without any doubt, is one of the best apps for Vloggers. With Adobe Spark, you can create great videos in minutes. The best part, you get to add your voice to the video playback. There is more than half a million high-quality photos and icons you can add to the videos. The app also features numbers of themes which can you use to make the best out of your video.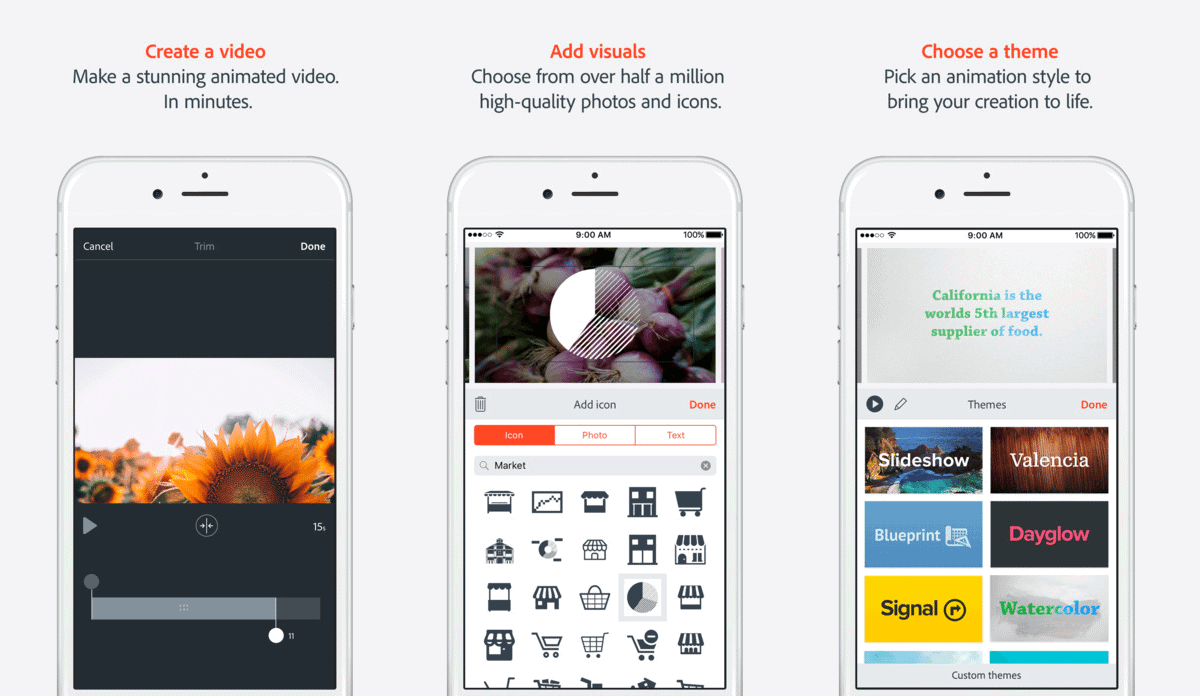 Adobe Spark is a free application for iOS and android. The app gives you free 2GB cloud storage for your works. For $1.99/month you will get up to 20GB of cloud space. This app is best suitable for creating Facebook ads, Social Media videos, School Projects, Storytelling videos, announcements and more.
VidLab – Video Editor, Movie Maker and Collages
One big concern when it comes to video editing is, most of the app won't support multiple tracks and multiple video clips. If you are looking for a solution to this then, VidLab is the best app for you. It supports multi track, multi clip and with an intuitive user interface. The supports adding animated text over your videos, make video collages, choose from a list of fonts, Photo slideshows etc.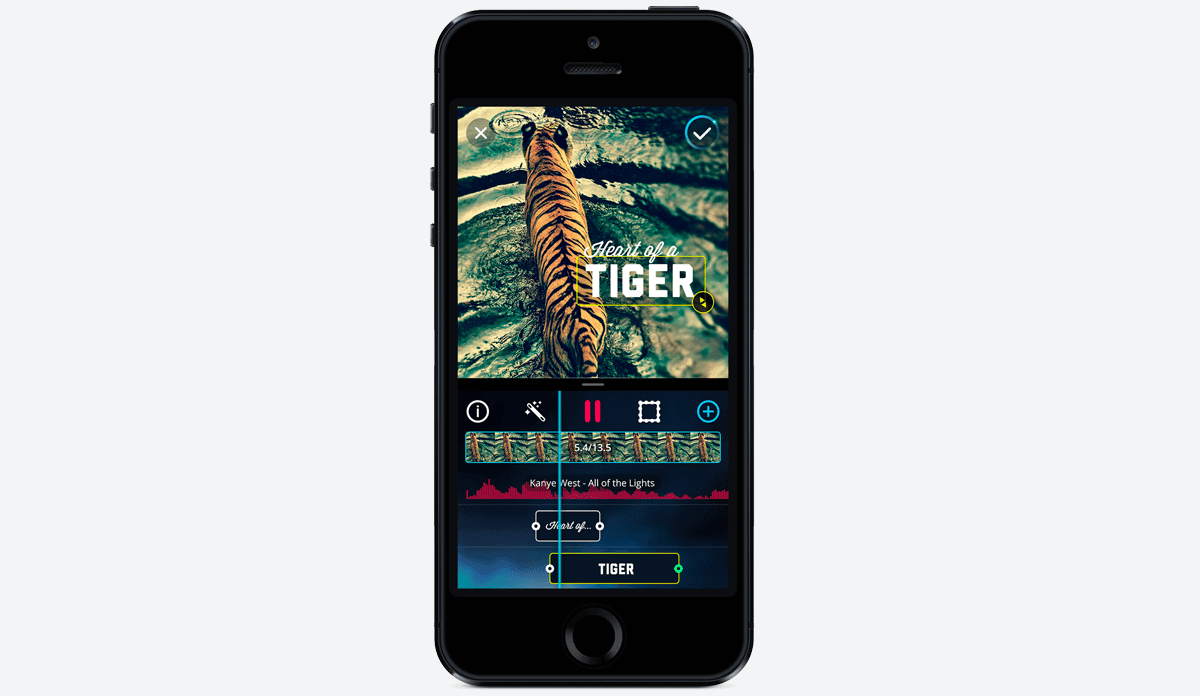 The app also allows to add music, sound, Video FX and more. Available for free from app store, Vid Lab is one of the best apps to make viral social media posts.
Cameo by Vimeo
Cameo by Vimeo is an award-winning app for video editing. Using this app, you can easily add video clips from the camera roll, trim and splice. You can also add professional quality filters, themes and sound track to explain your video.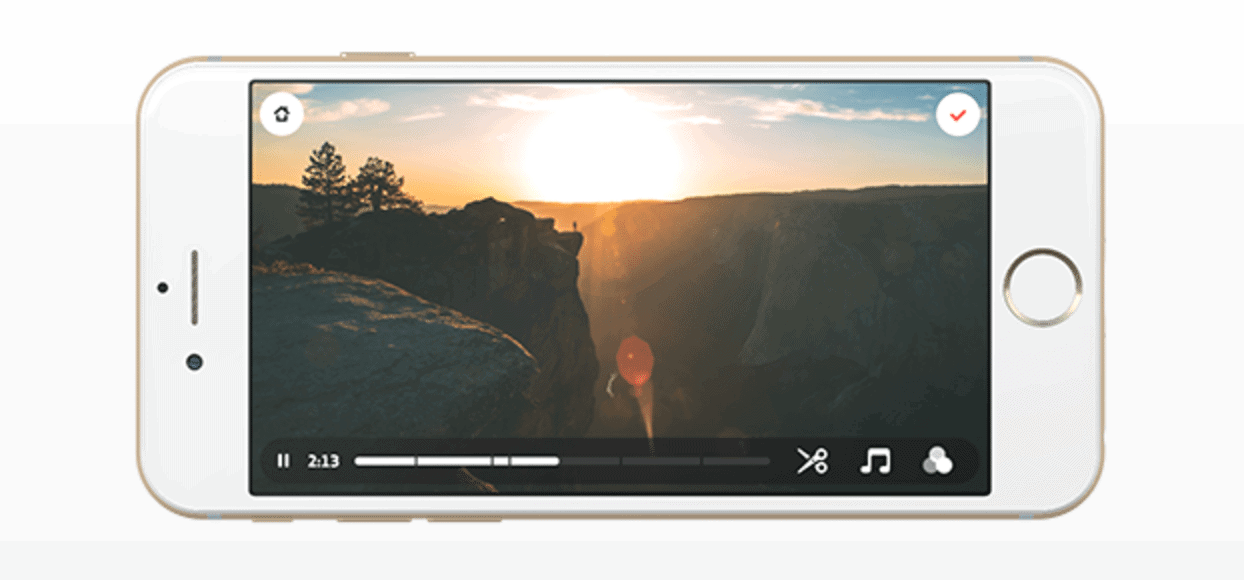 The app supports video editing up to 4K resolution, cinematic effects to share on whatsapp and Instagram. Cameo is a free app and is available for iOS.
Over
Over is one of the most popular photo editing tool in iOS. It helps you take care of things like; design a greeting card, make a meme, review a meal, tell a story, give directions and more. How the app is going to create such vibrant content? Well, to start with, Over comes packed with 280+ fonts, 910+ illustrations etc. If you don't have a photo to start with then the app will provide you one from its freshly brewed online collection.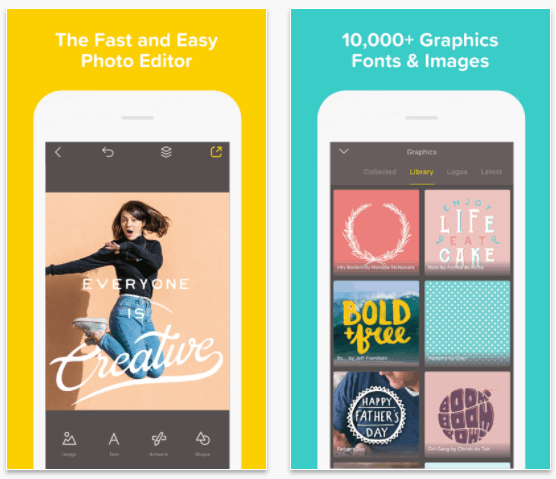 When the Over app is free to download, there are some in-app purchases you must make to unlock the full potential. The Overpro subscription, $9.99/month and $49.99/year, is a great package for professionals. You can also choose to buy as individual components.
Layout
Got bunch of great pics and want to create a collage for Instagram? The folks at Instagram has made this simple by creating this small app called Layout. The app lets you select multiple photos from your gallery and put it into an adjustable layout. You can pinch to zoom and easily rearrange the photos. Its available for free in both Android and iOS platform.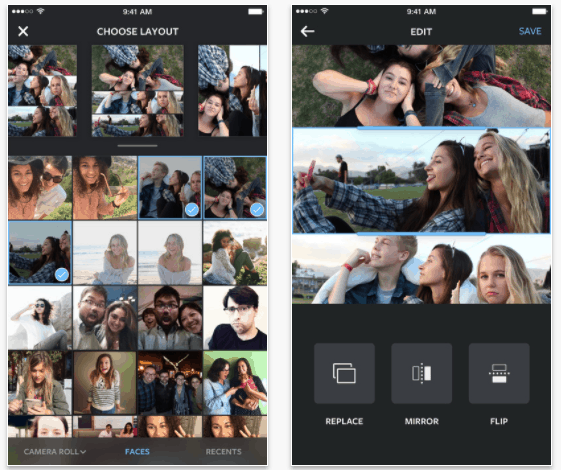 Canva – Graphic Design and Photo Editing
Planning to design a poster? Making a presentation out of bunch of images? Canva is the best app to do this. I bet you have seen that images with beautiful text on them. Canva has hundreds of templates to choose from for your image text.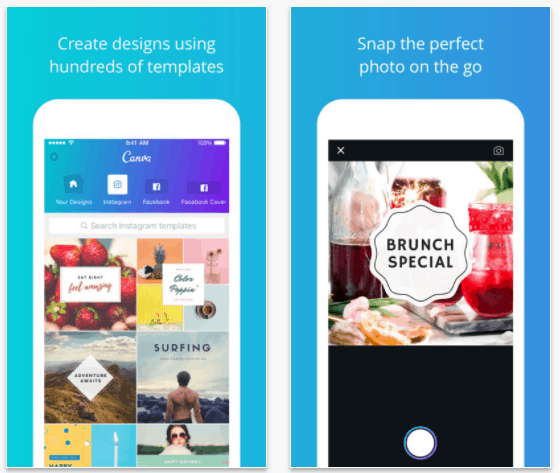 You can either import image from the gallery or you can snap one on-the go. Then choose a great template and type in your text. You can also create multi page designs. The app is powered by a great collection of more than 1 million images. You can also do quick photo edits to the image before sharing it with your friends. The Canva app is available for free in app store but has in-app purchases.
Snapseed
Last but not the least, Snapseed by Google is a powerful photo editing tool which is completely free to use. I have personally tried lot many photo editing tools and nothing I find efficient and smooth as the Snapseed. The UI just blew me away. It is simple and straight forward. Use gestures to edit the photo is the best part.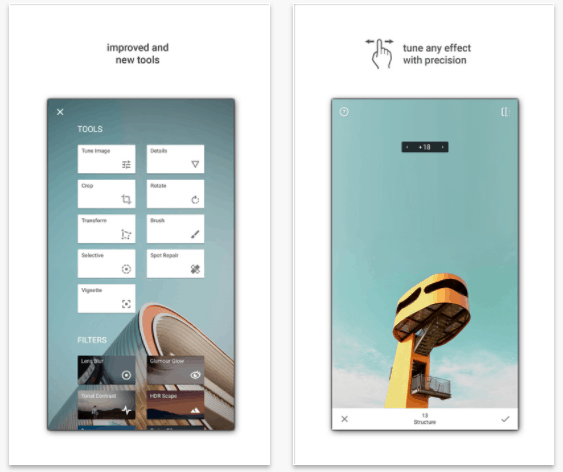 Snapseed is one of the underrated apps. It is bit heavy for starters, but a perfect companion for experts. My favourite feature of this app is the ability to blur the background. Yes! The Bookeh effect is possible with Snapseed. The app is available for free of cost. You can download Android and iOS version from the respective app stores.