Videography is quite a competitive field and since human imagination is limitless you can put in a lot of creativity into it.  Today we are going to have a look at one of the greatest effect you can add to your videos for making it even more fascinating. Slow Motion! Since this is a niche field and attracts demand, the free apps available are not that reliable. I have gone through the app stores and below are the Top 12 Slow Motion Video Apps. I would advise you to go with the paid app if you are planning for a professional use. If you are looking for top video editing apps for PC, do check our list of best video editing softwares.
Slow Motion Video Apps for iPhone
how to make video slow motion iphone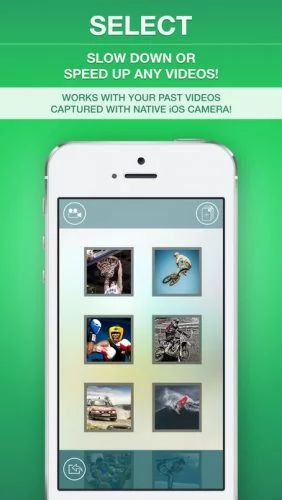 This app by Scaleitapp Ltd tops the list both in terms of price and functionality. No matter which version of iPhone you own, you can easily capture and make super slow motion video. My favorite feature, you can zoom the camera view which gives a nice touch to the video. This app can be used as an extension of your primary camera app but this is only supported on iOS 8.0 and above versions. You can slow down or speed up the video. Once you are done editing, share it with your friends using the share feature. There is an inbuilt, neatly organized gallery section which will showcase your photos and videos.
Price: $2.99 (Special Price) – else $5.99
  SlowCam for iOS is specially for capturing slow motion videos at the best frame rate the hardware can support. You can capture videos at 60/120/240 fps. To get started, set the frame rate you would like to capture the video and press and hold (you can change this to continuous recording) the record button to start recording.
 The app supports 240fps recording from iPhone 6/6+ onwards, 120FPS in iPhone 5 and above and only support 60fps in older devices. The best part is, the app will render the previously captured video in the background so that you won't miss your next shot.
Price: $1.99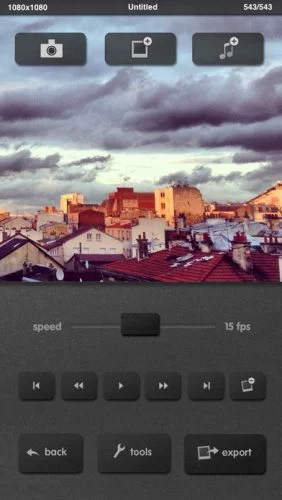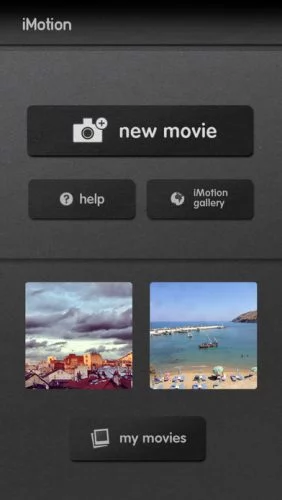 If you are looking for a clean and elegant app interface along with great functionality, then iMotion is the app. The best part, it is free! iMotion offers 4 capture mode; time-lapse, manual, Wi-Fi remote, microphone. There is also an ultra fast recording option at 10fps. The app does support Apple watch which lets you preview and trigger capture for both time-lapse and manual.
Price: Free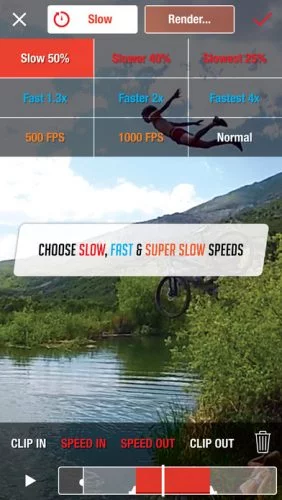 SlowPro is one of the top slow motion video apps in app store. It has been featured in many of the tech sites. The best part, super slow 500fps to 1000fps can be simulated using software. This app is available for both iPad and iPhone. There are 3 types of slow effects; optical flow, frame blending and ghost. You can upgrade to pro version via in-app purchase option.
Price: Free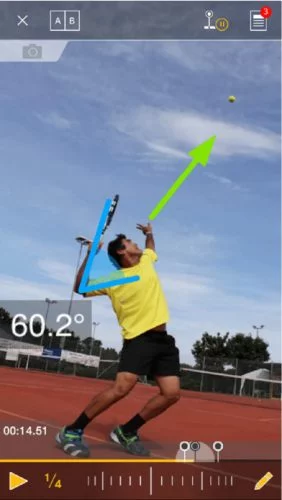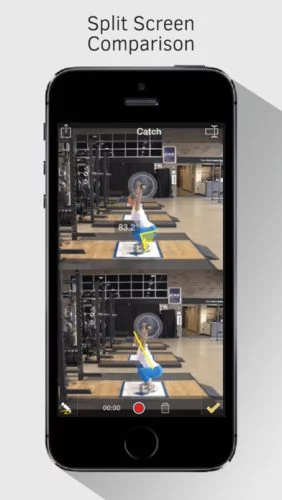 If your purpose is for coaching sport, then Dartfish Express is the best app you will find in app store. The app not only slows down the footage but also lets you analyze time in milliseconds, adding in video labels, measure angles etc. Of course, analysis feature gets the app bit pricey but I bet this will an apt companion for your coaching.
Price: $6.99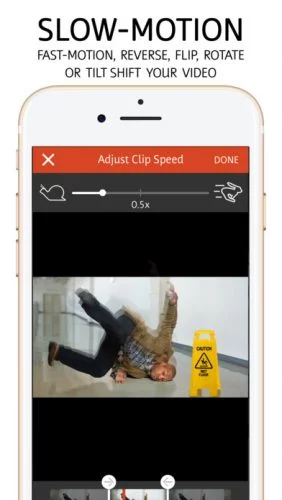 Videoshop is one stop destination to all your video editing needs. The app can perform a lot of functionalities like; add music to your videos, slow motion, fast motion, reverse video, flip video, tilt video, apply filters, merge videos and more. At $1.99 this is one of the value for money deal you will find when it comes to video editing app.
Price: $1.99
Slow Motion Camera  Android Apps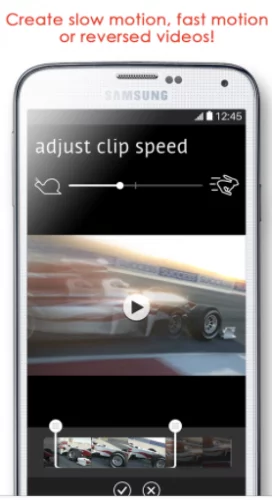 The Videoshop app for Android is pretty much same except some major UI changes, obviously, it's a different OS. There are few additional features in android as the OS offers much better flexibility and freedom for app developers. You get to do almost all video editing options + slow or fast motion. Depending upon the hardware, you get to edit in high-resolution. The app is free to download and on top of that there are some in-app purchases.
Price: Free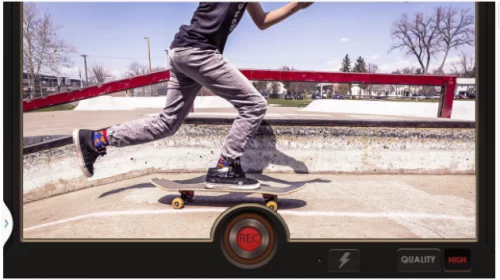 The Slow-Motion Video FX is a free app dedicated for slow/fast motion video editing. The app also lets you increase/decrease your speech speed. If you liked it, you can make in-app purchases to make it ad free.
Price: Free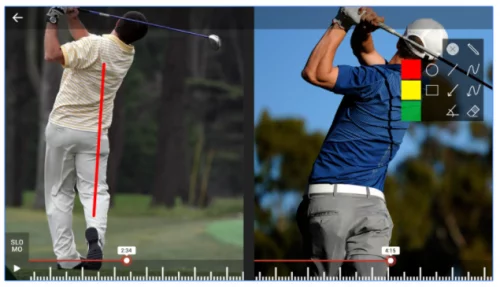 Hudl Technique formerly Ubersense is for professional coaches. This app does the same things the Dartfish Express in iOS does like; Analyse the motion, compare two videos side by side, you can track and compare the progress of individuals. There is also an option to create team and I bet this option will come handy for most of the coaches in sports industry. The basic app comes as free but there are in-app purchases to make your experience even better.
Price: Free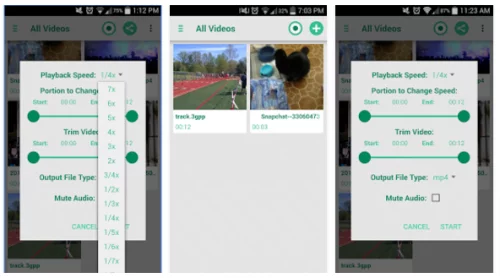 Fast and Slow Motion video tool is a dedicated slow motion video apps for slow motion video editing. The interface looks bit cluttered but will serve the purpose. You can also choose from video formats like asf, avi, flv, mp4 and wmv for output video. The video speed can be increased upto 7x and can be slow down to 1/8x. The app also lets you mute the video, if required.
Price: Free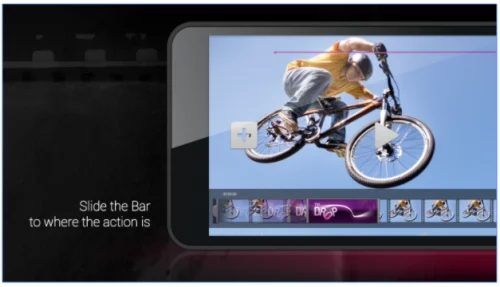 Unlike the other slow motion video apps, Free Slo-Mo Video Editor comes preloaded with slow mo speed bump profiles. The profiles are nothing but the most popular effects as seen on action-adventure cameras like GoPro. In the free version, you will get to use one profile for free and additional in-app purchases are required to access the rest of them.
Price: Free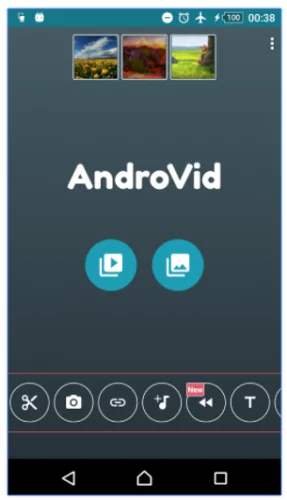 Androvid Video Editor is a fully packed video editor. There is an option to Trim, Reverse, Merge, Audio mixer, GIF, Rotate videos, apply filters and text etc. Access to most of these features are restricted in the free version. The paid version of AndroidVid costs you Rs 99 ($1.75).
Price: Free