Apple computers are well-known for powerful hardware and smooth performance. Although fewer applications are made for Mac computers, many professionals prefer to use Apple computers to perform heavy tasks like programming, video editing, software development and much more. Most of the applications on Mac computers are paid, but they are of high-end quality and works more efficient than Windows computers.
If you are a Youtube Vlogger, you should definitely read: 5 Tools to Boost Your YouTube Videos in 30 minutes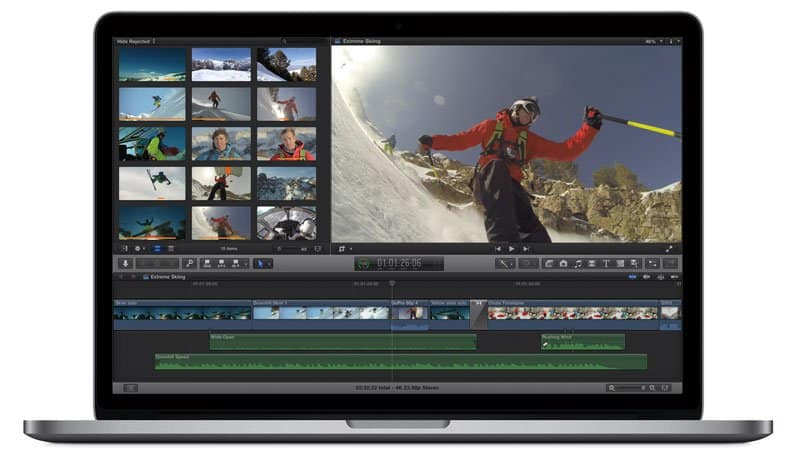 Are you looking for best video editing software for mac? Are you a video editing geek or a professional editor? You might be interested in using Mac computers to do this kind of tasks as like other professionals do. In this article, we will discuss some best video editing software for mac which are trending nowadays.
List of 8 Best MAC Video Editing Software For Mac Users
1. Apple iMovie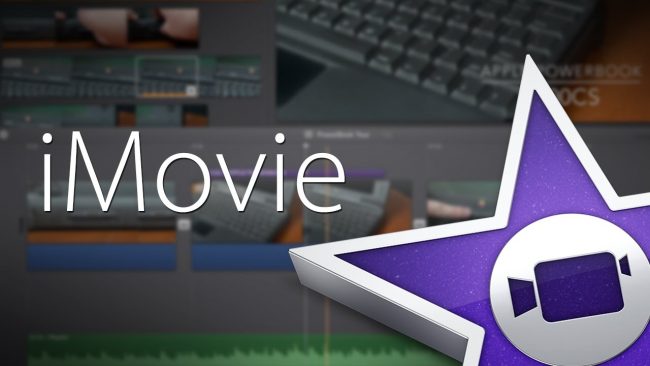 Apple iMovie is the official product of Apple and comes with every latest Mac computer. It is one of the best video editing software for Mac users. The latest version of this video editing tool is iMovie 11. It is free for all latest Mac computers and is low cost for older Macs. It is packed with many great features like audio editing, one step effect, movie trailer and many others. After editing your videos, you can directly share them on your YouTube channels and even you can export them on your iPhone, iPod, Apple TV. It is a beginner-friendly application and is easy to use. You can add music, effects, titles and animated credits to movies.
You can also add an audio track to your videos, here are some best royalty-free music for your YouTube videos

2. Adobe Premium Pro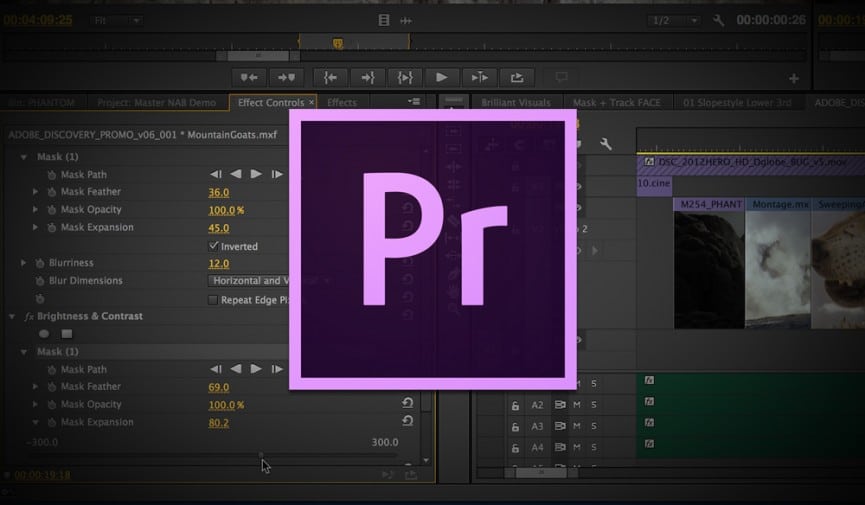 Adobe Premium Pro is designed and developed by Adobe Systems and offers a start to finish video production solution for Mac users. You can use this video editing software with any video format. Some of the outstanding features include automatic VR video type detection, colour workflows, Multicam editing, training through Adobe Creative Cloud, integration with after effects and photoshop, and much more. The company offers individual and combo plans to purchase on the website. Read our Adobe Creative Cloud review.
3. Final Cut Pro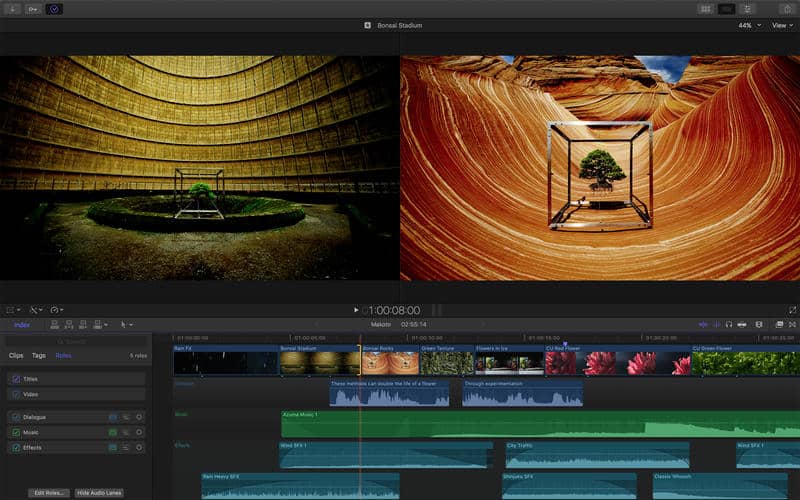 Final Cut Pro is another best video editing tool for Mac users. It has used by many professional video editors. It has also used by Filmmakers. The movies like The Social Network and The Girl with the Dragon tattoo used are edited with this tool. It is specially developed for Apple users only which includes powerful features like useful keyboard shortcuts, up to 99 video tracks, 99 audio tracks, impressive user interface and much more. It supports all major video formats. The product will cost you $299 and if you can afford this amount then it is the best choice for you.
4. LightWorks
https://www.youtube.com/watch?v=Zucj0WaNLko
LightWorks is another free and best video editing tool that is used by Mac users to edit their videos. You will find it a bit easy and simple tool to polish your videos. It supports almost all video formats. It includes Multicam editing, video effects, titling, multi-layered timeline approach and much more. You can upload your edited videos to your YouTube channels. But unfortunately, the rendering is limited to 720p output to YouTube and 1080p output on Vimeo. You need to pay an extra amount of $24.99 per month or outright at over $400 to exceed that output limit.
5. Kdenlive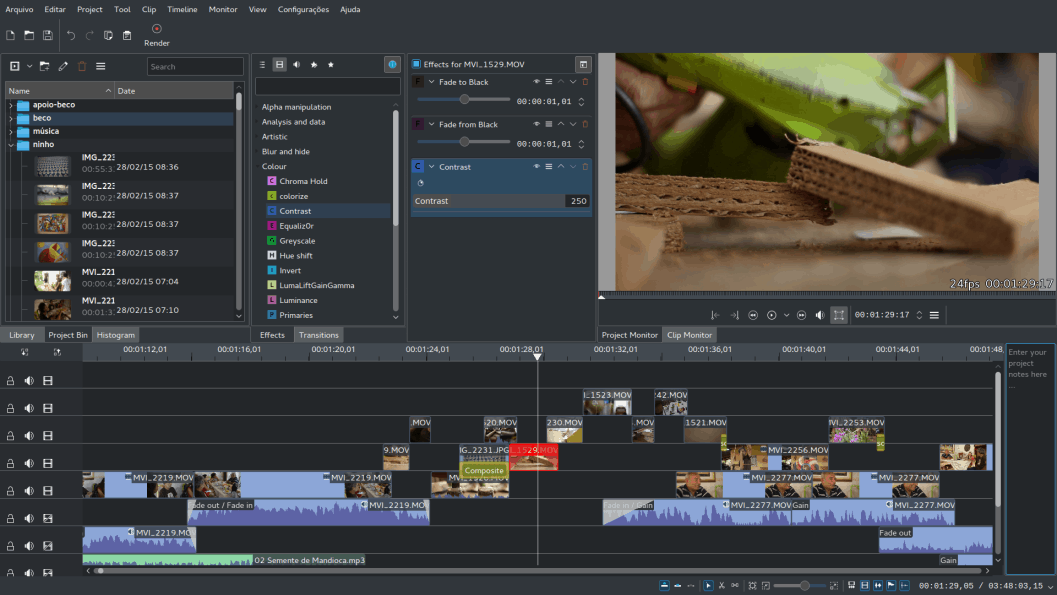 Kdenlive is built on the MLT framework and if you are looking for an open-source video editing software then it is the best choice for you. if you ever get stuck while editing, you can get help from the Kdenlive forums. It comes with awesome features like multi-track video editing, add titles, support for a number of video frames, support for keyframes and much more. It also supports Linux and FreeBSD platforms. It supports all popular video formats.

6. Avidemux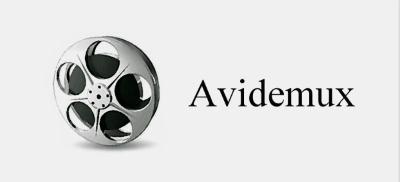 Avidemux is another free and best video editing software for Mac users. This software is designed for encoding, cutting and filtering tasks. It supports all the major audio, video and image formats which will not put you in a hassle while you edit videos of different formats. The tool is very beginner-friendly and you need not have ninja skills to edit your videos. It provides total convenience for all the users with its advanced features. Users who are less tech-savvy might find this application a bit confusing.

7. Blender
https://www.youtube.com/watch?v=te9HFQVaSUE
Blender is a 3D graphics video editing tool and is open-source. Its features include best animation essentials like rigging, modelling, animation, interface, real-time 3D game creation, UV unwrapping and much more. The user interface is super and is packed with powerful tools. The tool is lightweight, versatile and runs smoothly on Macs. The beginners might face some difficulties while using, but it's user manual that may help you. The application is also used for non-linear editing, composing, smoke simulation and much more.

8. Jahshaka
Jahshaka is one of the open-source, cross-platform, free and best video editing software which supports real-time effects rendering. This tool is best for beginners as well as intermediate users. You can use Jahshaka forums if you need any help. You can add effects, audio files, images, videos to make a single edited video. All the features make it a good video editing software but unfortunately, it does not have a non-linear editing system. The user interface of the application is using the library of OpenGL to make the GUI, but it was written with the use of Qt.

Conclusion
Although Macs need more investment in the applications video editing gives the best experience on Mac computers if you choose the right video editing application. All the above mentioned are the best video editing software for mac users, you might see some applications a bit confusing as everyone has different taste to use tools. Find and choose the right video editing tool and let's begin the fun with video editing.