The world of corporates is moving at a rapid pace and with it, so is the world of technology. The combination of the two started in the 1990's, when Microsoft launched Windows 1995 and work shifted from manual to automation (computers).
Since then, the job of an office manager has become relatively easier. The growth of IT industry has surged, providing easy tools to ensure smooth functioning of corporate communications. A corporate company today without usage of Office 365 (an extension of which is Outlook) is unimaginable. It's a tool that simplifies the way you engage in emails and is very easy to use.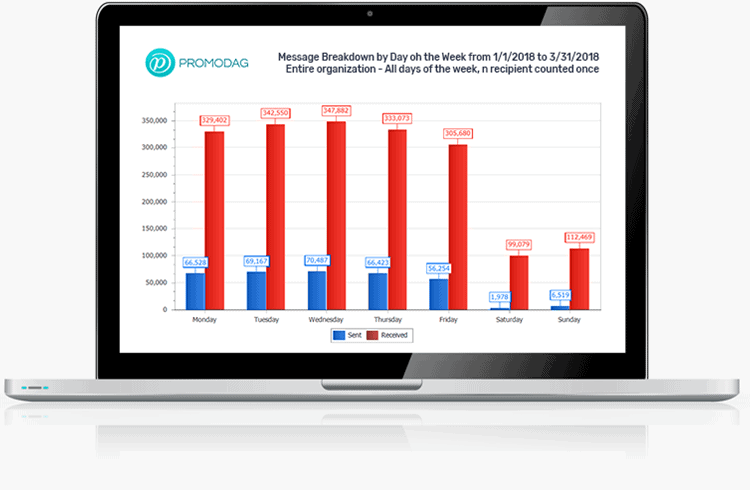 What if Office 365 became more analytical and more corporate-oriented, if you will! The Promodag tool does just that. For those who are unaware of what Promodag is and what are it's usages, we intend to shed some light on the same through this piece.
What is Promodag?
Promodag is essentially a reporting tool that simplifies your corporate emails and makes your email system more accurate and easier to research through.
The tool is compatible with Exchange Online and Exchange servers. The e-mail auditing process helps the corporates to keep an eye on whether the compliance of emails is with regards to the business operations.
Reporting
The Promodag reporting tool helps you to seek data which is otherwise short lived on Office 365. The Promodag tool is a complete powerhouse in it's features that enable you to keep a tap on certain key aspects of business e-maling.
Through it's reporting tool, Promodag allows you to check for exchanges of any unprofessional messages from your network. This can ensure that your company's name isn't tarnished via emails that are irrelevant to your business.
Adherence to the usage of company email during office hours is reported. If any employee is disrespecting the usage of the mailing system outside working hours, the tool will notify you of the same.
Further, the keyword research system allows you to navigate directly to the emails you're looking for, without much technical jargon. Email exchange history is also maintained, to enable you in checking messages that were exchanged long back.
Traffic statistic giving you a report on which user has generated most emails can easily be curated. Further, the reports can have your own company logo which makes for effective presentation report from Promodag. Moreover, Outlook mailboxes reports can automatically be sent to managers or their supervisors.
Tracking Logs
The Promodag tracking log can be used as a messaging tracking file checker to seek subject, sender, recipient & time for mails through the exchange system. If you're looking to search for older emails to prepare data reports or have an obligation to serve from a really important email delivered long back. This is just the feature for you.
With tracking logs, you can generate daily based data to allow your company to function more smoothly. Each message is received is thereafter broken down into name, subject, time, recipient & sender.
In case you'd want to create more comprehensive data from your tracking logs, you can use Promogade's reports for exchange.
Promodag Reports for Exchange Server
This tool allows a very significant upgradation to business emailing. Via this report for exchange server, you can lock protect your organization from data leaks to unknown recipients.
The tool also enables you to keep a bird's eye view of users that are using the email server for their personal use, via diverting emails on the server to their own personal ID.
You can get a detailed synopsis of every email exchanged on the server and who were the parties that corresponded in the emails.
Traffic analysis for internal and external messages can be broken down via this tool. A traffic sysnopsis via days, weeks and months can be curated – to check whether the email traffic has an upward or downward shift.
Further, the messages can be broken down by time of day, month, recipients & size. Users can also be counted based on their daily traffic usage.
If you're preparing to create analysis that has clusters like department or supervisor, you can make these groups and calculate their traffic accordingly. This allows breaking down of data to simplify it's analytical understanding.
If you've a business that deals directly with consumer messages, you can seek action-driven data on average time by your employees in responding to consumer emails via this tool. The average time taken to deliver internal messages is also plausible, to get a sense of how efficient the internal mailing system is.
Conclusion
This in essence is what Promodag tool does. It's a one stop solution to all of your corporate emailing desires and requirements, providing various features to aid you in it. The Promodag analytical tool has been around for more than 20 years and helps corporates extensively across the globe.