AreAre you an HR? Then you must be searching out for the best hrms that can make your management at the workplace a lot smoother. We have collected the best online HR Management softwares based on the statistics, reviews done by the well established organizations.–Additionally, using a reliable check stub maker can further simplify the payroll process and help ensure accuracy in record keeping.
Human Resource Software commonly known as HRMS, HRM(Human Resource Management), HRIS(Human Resource Information System) or HCM(Human Capital Management). This term is an integration of various features like performance management, benefits management, onboarding, time tracking, payroll and several others on one platform. These software like pay stub help the HR to get a more organized, detailed and methodically arranged system required for the completion of the tasks.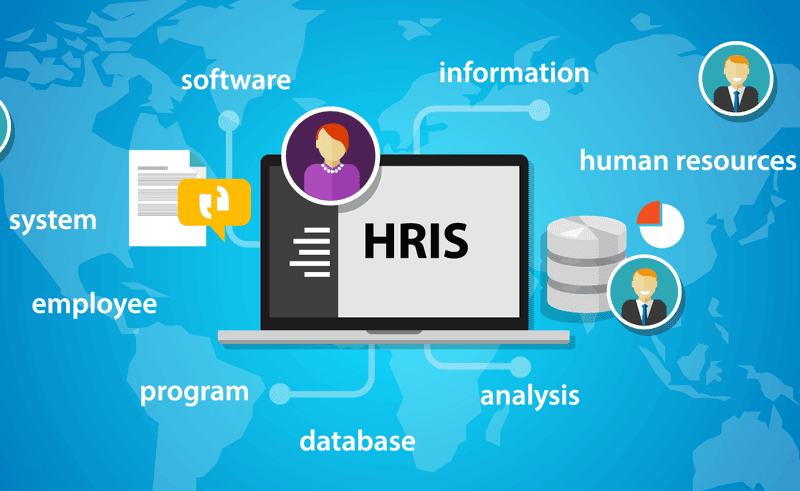 HR software allows the company's HR to run their department more smoothly, automatically, errorless as well as paperless. It helps them in securely storing the employees credentials, self servicing time tracking, tracking down the employee workflow, onboarding, training, payroll and benefit administration.
Features of Best HR software:
So let's start discussing the features and the requirements before moving forward to the best HR software available online:
Recruitment of Employees:
This is one of the most notable features which is required by the HRs for hiring the employees with automated HR systems. With the help of this feature the organization can post the jobs along with descriptions that can be advertised on different websites and social media platforms like LinkedIn, Instagram, Facebook and others. And as soon as the applications start gathering, the ATS (Applicant Tracking System) will be switched on leading to the selection and rejection of the candidate based on criteria mentioned in the description.
The options available under these features are:
Job Requirement
Job Details
Auto generated Response
Job Offer Extensions
Onboarding of Employees
ATS (Applicant Tracking System)
Employee Management:
This helps in securely storing all the credentials of the employees like job and salary history, personal details, banking and tax details, insurance plan and others. All these help in better organization and management of the records of the employee as well as easy tracking of their engagement and status in the workplace
The options available under these features are:
Employee Database
Job Details
Insurance Plans
Banking and Tax Details
Salary History
Benefits Management:
This feature allows the HR to easily manage employee's benefits. A good benefits management can attract the employees in delivering good performance for the company.
The options available under these features are:
Life Insurance
Private Healthcare
Paid Time Off
Company Car
Pension Schemes
Travelling compensation
Time Management:
This is one of the most important features for maintaining the functionality of the organization. The time sheet is also synced with payroll for the smooth payment of the salary.
The options available under these features are:
Clock In and Clock Out
Overtime Tracking
Absent days tracking
Calendar of holidays
Biometrics
Time Reporting
Project Billing
Financial Management:
Payment management is very crucial for the organization in order to run smoothly and errorlessly. Wrong payment can even lead to loss of interest of the employee. It is very important for the HR to be ensured that all the employees are correctly compensated. It also enhances managerial efficiency.
The options available under these features are:
Payroll Slips
Employee Recognition
Rewards
Salary
Compensation
What is hrms?
HRMS stands for Human resource management software, is a digital solution for managing and optimizing the daily human resources tasks and overall HR goals of an organization. An HR software makes it possible for HR staff and managers to allocate their time and resources to more productive, profitable efforts.
Top 10 Online HR Management Softwares:
Here's the list of best HR software available online based on the statistics, reviews done by well-established organizations:
Oorwin
ADP Workforce Now
Keka
Paycom
Bitrix 24
Namely
Conrep Inc
Bamboo HR
Zenefits
Let us talk about these Human Resource Management software in details.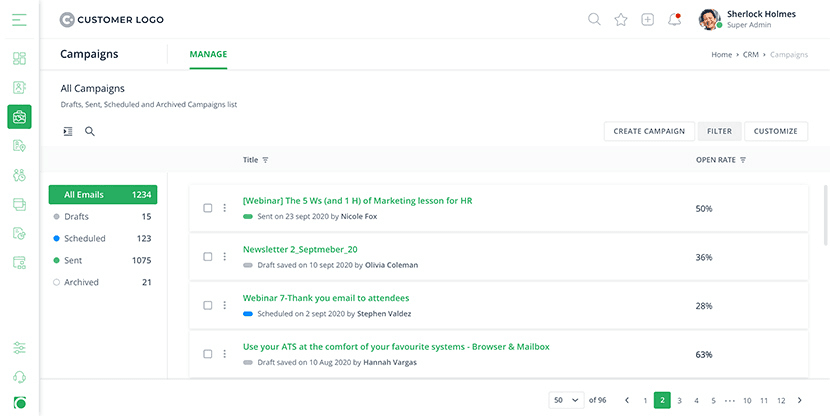 This is a well recognized SaaS platform as well as CRM and HR platform which is known for the best service delivery.The specialty of this software is generation of more revenue, boosting up the recruitment which in turns helps in the improvement of the business.
Features:
Empowerment of the team with Artificial Intelligence
Easy communications by making VoIP calls, sending text messages and emails
Applicant Tracking System (ATS) for easy and quality recruitment of the candidates
Automated generation of Invoices
Contactless Onboarding with digital signature
Data privacy with the support of SSL (Secure Socket Layers)
Unique Selling Point:
It's unique feature is its seamless integration with other softwares and applications for productivity like Gmail, Outlook, Office 365; CRM apps like HubSpot, Sales force, Insightly and various others.
Best suited for:
It is mainly built for staffing and consulting companies.
Pros:
It is easy and intuitive to use.
It has a huge database
ATS feature is very helpful
Employee tracking system is very smooth
Mass emailing feature is good.
Cons:
You can find the blank space at the left corner of the email template column
Problem is faced while reviewing the applicant resume
The bugs present there can cause error while collecting data
Integrations:
Productivity: Gmail; Outlook; Office 365; Chrome; LinkedIn; Monster Add-on
CRM apps: HubSpot; Salesforce; Insightly
Job boards:Dice; Monster; Naukri.com; Indeed; Careerbuilder; Techfetch
Video Management System: Beeline; SAP Fieldglass; IQnavigator; iLabour 360
Accounting: Quickbooks
Pricing:
Tailored Price Plan
Apps:
Ratings: 4.5/5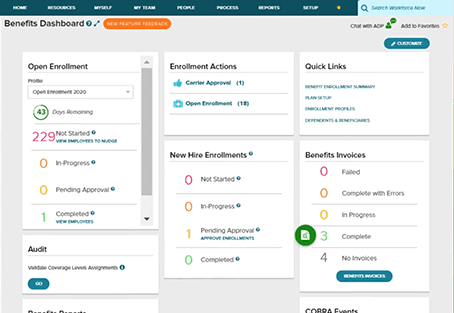 This flexible platform is based on a single database with multiple features like payroll, HR, time, talents, benefits required by HR. It is a cloud based website and it supports three languages English, French and Spanish. From small tasks like Payroll management to helping out with ACA (Affordable Care Act) compliance it is well modernized.
Features:
Provides Single and Scalable Database
Hiring advantage
Payroll Essentials
Time and Attendance
Benefits Management
Insurance Plans
Employee Handbook Wizard
Job description Wizard
Unique Selling Point:
It provides great support as well as ADP helps in creating reports within less time. The unique feature is that it can easily be accessed from anywhere.
Best suited for :
It is best for from startup to enterprise and industries like construction, restaurant, financial services, retailing, health care, professional and technical services as well as partners like private equity, financial advisors, franchises, member organization, software providers
Pros:
It is user-friendly
It provides a lot of online tutorials for how to use
It provides excellent support when you get stuck
Day off tracking is likable
Cons:
The free onboarding feature is quite tough to use since to have to refresh every time you make changes
If you are not tech-savvy then the stuffs may seem quite complicating
The regular interval maintenance keep it down
Integrations
Accounting Solutions: Quickbooks; Wave; Xero
ERPs : FinancialForce; Oracle; Infor; SAP SuccessFactors; Workday
Time and Attendance: ClockShark; Deputy; Dolce; Quickbooks Time; 7shifts Restaurant; Scheduling; Replicon;When I Work
Recruiting and Onboarding: Avionte; Clear Company; GoodHire; Greenhouse
Learning: Cornerstone; SAP Litmos; Brainier; Absorb LMS
Benefits administration: Employee Navigator; Flock; PlanSource
Pricing:
Tailored Price Plan
Apps:
Ratings: 3.8/5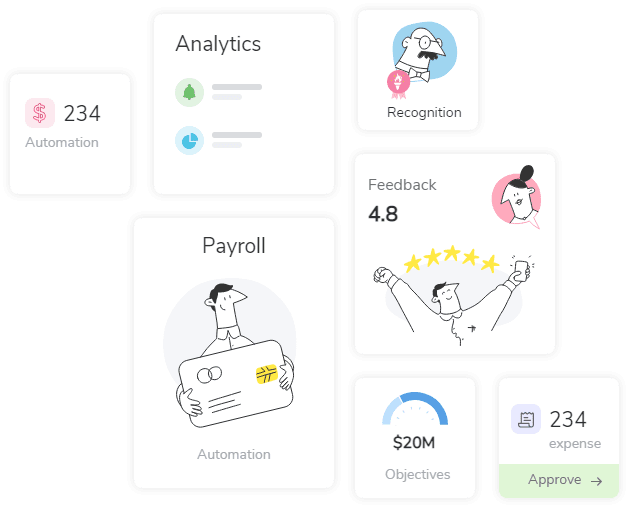 It is one of the highly rated HR software which reduces manual work and saves a lot of time. With the help of the data insights and strategic planning can take calculated right decisions.
Features:
Customizable templates
Direct deposit
Management of Document
Approval Access Control
Billing and Invoicing
Employee Handbook
Leave Policy Management
Payroll Outsourcing
Productivity Analysis
Best suited for:
It is used by all kinds of business, either small or large.
Unique Selling Point:
It is well known for its Attendance and Leave Management, team management and the tax deduction from the salary.
Pros:
Provides advanced settings
Everything in here is quite customizable
Customer support is excellent
Price is very reasonable
Reimbursement and Payroll is well managed
Reminders for Birthdays and Work anniversary
Circulars and general notices is shared within the organization
Cons:
Lots of bugs
Payroll management should be improved
Document repository should be improved
It may be difficult for the beginners
Integrations:
Accounting and Finance: Tally; Quickbooks; Learning Management:; Upside LMS
Reward & Recognitions: Xoxo day
Personal Finance: EarlySalary; ZestMoney
Personal Healthcare: Ekincare; Good Health
Pricing:
Foundation Plan: INR 6,999 per month
Strength Plan: INR 9,999 per month
Growth Plan: INR 13,999 per month
Apps:
Ratings:5/5
This is all in one software which allows the user to do all the HR activities. It will digitally transform your workplace from a single database. Pay com provides a seamlessprovides seamless experience to the users.
Features:
Talent Management: consisting of suite overview, payco learning, compensation budgeting
Talent Acquisition consisting of applicant tracking, onboarding, tax credits and enhanced background check
Payroll with GL Concierge, Garnishment administration, expense management
Time and Labor Management
HR Management providing the features of documents and checklists, Tools for Managers
Unique Selling Point:
This software allows the employees to check their payroll slips, tax deduction from the salary as well as allows viewing pay stubs. The communication system that they provide make it really the one to be chosen
Best suited for:
It can easily be used by small business companies to large enterprises.
Pros:
It is simple and easy to use
Provides systemic approach
Easy creation of custom reports
Cons:
Lack of customization
Quite expensive to use
Lack of calendar integration.
Pricing:
Tailored Price Plan
Apps:
Ratings: 4.6/5
This is one of the recently built free HR platforms which is used by millions of users all over the world.It is the most recommendable platform if you want free software, It provides more than 25 free HR tools like leave requests, private social network, absence chart and many more.
Features:
Centralized Employee Directory
Organizational charts
News and announcement
Time Management
Leave Management
Knowledge Management
Employee Management
HR Forms and Record Management
Unique Selling Point:
The customization available in any features and the workload planning is incredible. You can also customize project templates.
Best suited for:
It is mainly suitable for small companies.
Pros:
Affordable to use
Long List of features
This is also accessible via phone after downloading the application
The telephony helps the team in communicating better
Cons:
Automated notifications cannot be scheduled easily
Not an easy-to-use interface
Difficulties in working with the integrated tool
Integrations:
Gmail, Google Calendar, Google Drive
Microsoft Office, Outlook, Office 365
OpenOffice; LibreOffice; Dropbox; Mailchimp; Unisender
Pricing:
Free plans
Special Plans:
Start+ : $19 per month
Business+ : $55 per month
Project+ : $55 per month
Business Plans:
Standard: $79 per month
Professional: $159 per month
Apps:
Ratings:4.9/5
It is a popular HR app that provides all sorts of benefits like benefits management, Payroll, Onboarding, Employee directory. This platform only supports English language and is used by high tech companies.
Features:
Streamlines Payroll Services
Increment in Employee Engagement
Simplified Workplace Compliance
Single System of Record
Onboarding
Comply Advice and action
Payroll Management
Unique Selling Point:
The ease of implementation, easy integration with the payroll system as well as ERP system makes it more apt to use.
Best suited for:
It is best for Medium sized business
Pros:
Reports are available timely after the payroll processing
Availability of customization
Simple and easy to use
Customer support is excellent
Cons:
Lack of Leave Day Calculations
Issues can be faced while assigning task
Lack of Performance Engagement
Integrations:
Jazzhr; Greenhouse; Jobvite; Lever; Workable; Jobscore; Comet; Breezy; Recruiterbox
Pricing:
Tailored Price plan
Apps:
Rating: 4.7/5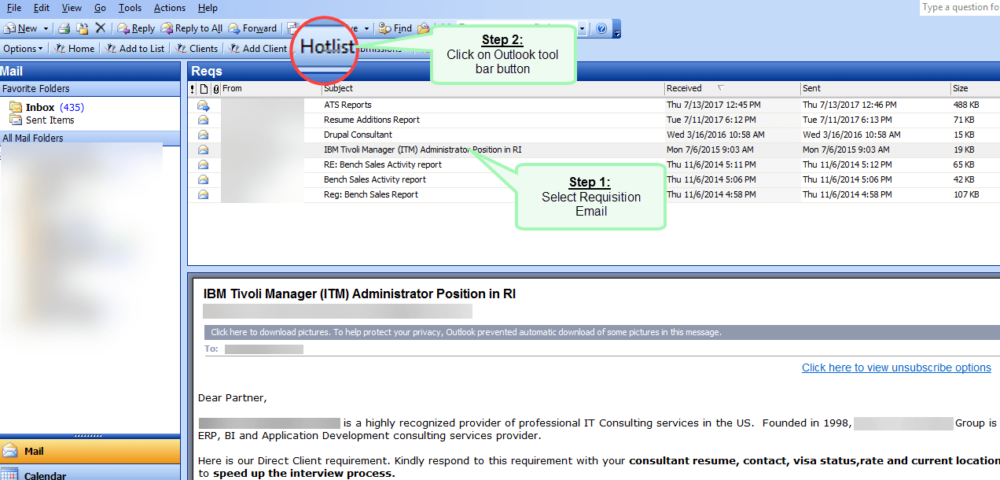 For its unique and amazing features it can be regarded as the best HR online software. It has integrated front and back office solutions enforcing compliance and key standards.
Features:
Intuitive user interface
Mobile access that helps the staffs and partners to access reports
Dashboards and Reports
Self service Portal
Extensive Configuration tools
Flexible Deployment options
Unique Selling Point:
The portal integration feature is really helpful in building up your own database.
Best suited for:
It is best for Staffing and Consulting firms.
Pros:
Tendency of solving problems
Availability of flexible Time sheet formats
Clean interface and easy to use.
Cons:
It is quite expensive to use
Speed is quite slow
Compatibility issues with the software
Integrations:
Indeed; LinkedIn; Monster; Quickbooks; Sertifi; Sovren; Twitter
Pricing:
Starts from $40 per user per month
Apps:
No mobile applications available.
Rating:5/5
This software automates the HR processes. It uses AIuses the AI driven insights as well as data integrations which saves up the time. It can easily run on Android, iPhone and iPad.It also supports 15+ languages
Features:
Availability of Applicant Tracking System
Employee Onboarding
Leave Management
Performance Reviews
Onboarding
Compliance Services
Unique Selling Point:
The seamless integration with Azure AD, G Suite.
Best suited for:
It can be used by medium-sized companies to large sized organizations.
Pros:
Easy to use and clean interface
Cloud based app as well as mobile applications are also available
Goal module is the most used module by the users
Cons:
Lack of some advanced HR services
Customization is not available at individual level
Filters on archive goal does not work properly
Integrations:
Movicel; Fasetto; Bayport; Infotrend; Creature Comforts; Simplify Healthcare
Pricing:
Tailored price plan
Apps:
Ratings: 4.9/5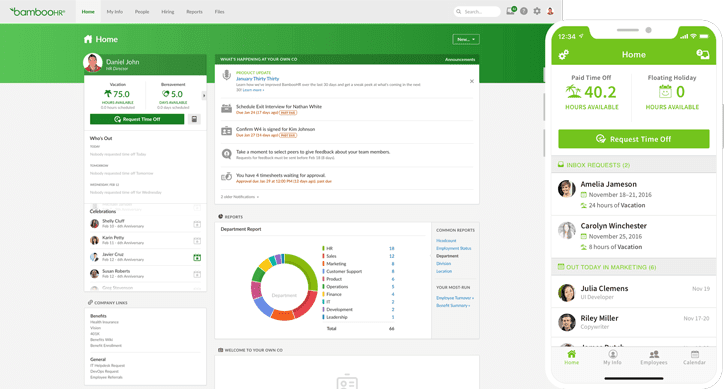 This is a great human resources management system specialized in onboarding, hiring and compensation. It also has a mobile application.
Features:
Advanced HR reporting
Onboarding
Applicant Tracking system
Holiday Calendar
Benefit Management
Employee Management
Company branding
Unique Selling Point:
It is great for reviewing performance and also provides the option for taking feedback with customizable questions.
Best suited for:
It can be used by companies ranging from small to large
Pros:
Reminders for automatically reminding the employees for completing the task
User Permission for restricting access to sensitive data
User friendly interface
Availability of Mobile application
Cons:
Issues faced during payroll processing
Lack of clock in and clock out system
Lack of customization
Integrations:
BreezyHR; Maxwell Health; Officevibe; Truework; Zapier; Greenhouse onboarding
Pricing:
Essentials plan: Tailored Price Plan
Advantage plan: Tailored Price Plan
Apps:
Ratings: 5/5
This is a very cool HR software with a modernized and attractive platform. It simplifies the task of people and the process of curating. This software easily automates the majority of compliance task as well as government filings
Features:
Automatically integrated HR
Compensation Management
Hiring and Onboarding
Employee Management
Time Off Tracking
Document Management
iPhone and Android Apps are also available
Unique Selling Point:
Its seamless integration with Payroll and Benefits makes it more selective as well as ATS system help in smooth selection and recruitment on the candidates
Best suited for:
It can be used for all kinds of businesses.
Pros:
Simple and clean interface
User-friendly platform
Customizable for manger
Integration of all HR functions in same platform
Cons:
Lack of 401k integration
Support center is not easy to navigate
GL and QBO integrations are quite complicated
Integrations:
JazzHR; Workato; Zapier; Box; Hive; Asana; G suite
Pricing:
Essential plan: $8 per month per employee
Growth plan:$14 per month per employee
Zen plan: $21 per month per employee
Apps:
Ratings:5/5
Conclusion
All these are the best selected HR management software for boosting up the efficiency of your company. If you have any additional information regarding this content, you can share your views by commenting down below.