Stencil streamlines the procedure of creating the visual contents for your brand. With this graphic tool you can easily make your blogs, content, and advertisements even more attractive. The Stencil software is even recommended as the web's best graphic designing tool and it can be used as youtube channel art maker tool. This application is a cloud-hosted graphic designer which you can use for efficient crafting of stencil designs.
Stay tuned, here in this article we will be explaining all the useful features and with all useful information for the user that they should know before using the software.
Stencil:
Features:
Availability of 5,000,000+ stock photos
Availability of 1,275+ amazing templates
Availability of 3450+ Google fonts in stencil fonts library.
Availability of Browser extensions for Chrome, Firefox, Safari
Helps in creating unlimited images per month
Helps in uploading and storing up multiple logos as well as watermarks
Presence of 3,100,000+ icons and graphics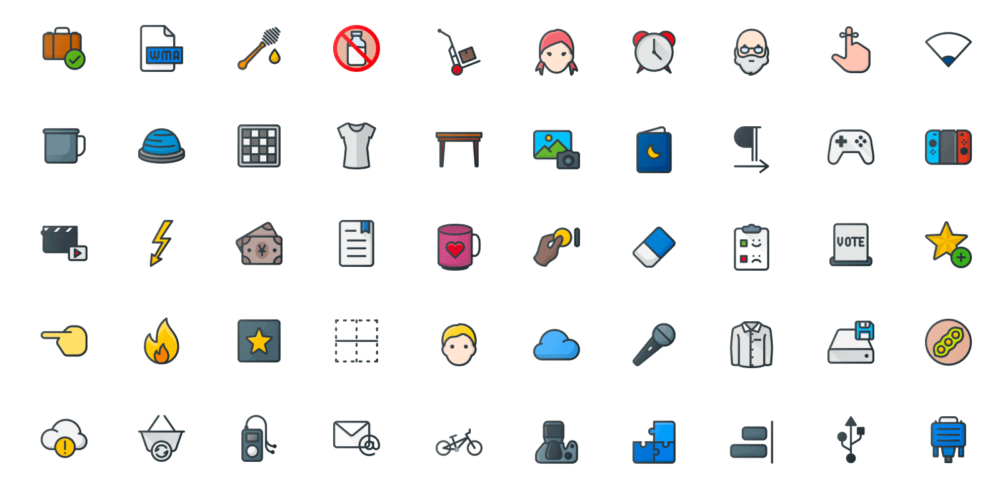 Availability of 1 million-plus quote
Customization of the stencil fonts
Presence of 140+ preset sizes for all your needs
Lots of useful integrations available.
Integrations:
Few of the integrations are mentioned below:
With the use of Buffer one can schedule and automate the sharing of the image to multiple social media.
With the integration of the Buffer with Stencil, Stencil is considered as the image scheduling machine. The Preview and Share window helps the user to quickly schedule their images and the Stencil can help you in creating a perfect stencil designs with the help of other features like template, graphics, icons and other. After that you can share the stencil designs on Instagram directly with the help of the buffer and also you can use Instagram SMS feature.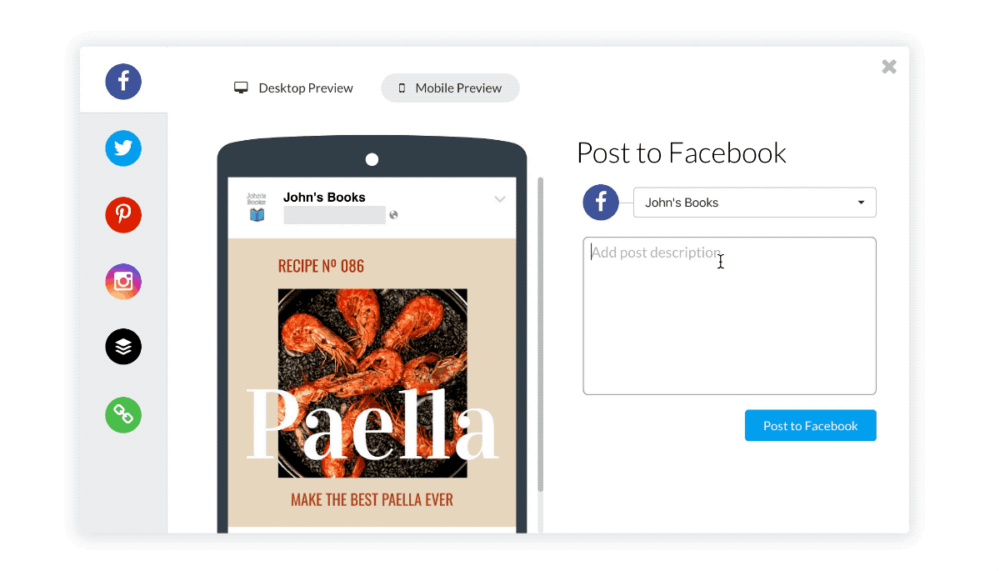 Stencil's Live Preview helps the users to get the preview of the image on different social media platforms like Facebook, Instagram, Pinterest before the actual sharing of the post. This Live Preview help you to get the preview of the post on Mobile as well as Desktop. You can also get the preview of the post with the description text.
This is the customization feature which is used to pick, save and eyedrop the colors from the canvas. You can select the color by dragging around the color picker and can save the color in your account. You can also use the selected color for text, icons etc. and can store them for future use.
Stencil helps to share the image by providing links.
Pros:
It has a user-friendly interface.
Great onboarding sequence.
Plenty of options for manipulations of visual contents
It has multi-channel support.
Plenty of options for the selection of free images
Affordable to use
Huge library of graphic assets
The software makes the focus on the products a lot easier
It is best for solo bloggers as it saves time, money and increases your productivity.
Comes with a WordPress plugin which lets you edit images within the WordPress dashboard.
Cons:
The free plans have limited features.
There is a lack of features like logo generators, gradient editors, or palette makers.
One of the major disadvantages is that even with a Pro subscription you can only share with one team member.
Alternatives of Stencil:
Canva can be one of the best alternatives for the Stencil software because of the following features:
Canva has a low cost subscription priced as $12.95 per month than the Stencil which costs $15 per month.
Canva has a lot more graphic designs and templates for professional users.
Canva provides more template options for free than Stencil which costs more for that template.
Canva focuses more on editing parts like image resizing, make image transparent and backgrounds while stencil focuses more on additional graphic elements as well as templates.
Pricing:
Canva has low cost subscription priced as $12.95 per month
Pixelied has a pricing of $7.95 per month with the full access while stencil is a lot costlier.
Pixelied developers are loyal, and they listen to the user feedback.
This does not require any efforts to be creative.
This includes collaboration tools, templates, image libraries and well as editing access and templates too.
Pricing:
Pixelied has a pricing of $7.95 per month with the full access.
The features of PicMonkey are:
It contains a vast library of customizable templates.
It has the special feature of automation of marketing.
It helps in the management of contents and projects.
Here you can also add video clips in the PicMonkey designs.
Pricing:
$7.99 per month with a free trial
The features of the Venngage are mentioned below:
There are a wide range of data visualizations available via which you can easily import the data from spreadsheets into different kinds of chart available.
You can easily customize your infographic templates and tools.
You can embed and link your infographics on blogs as well as websites.
Other common features like collaboration tools, data visualization, templates and others are also available.
Pricing:
$19.00 per month.
This is one of the unique features and advantages of using Stencil. After the installation of the WordPress plugin, you will be able to see the Stencil tab appearing right beside the Media Library. With the help of this application, you don't have to edit the picture separately on another tab.
The two important features of the WordPress plugin are:
It helps in the optimization of the compressed image.
You can change the filename in order to make sure that the filenames are search engine optimized.
Install for WordPress in 3 simple steps:
From the WordPress admin click on Plugins, select Add New and search for Stencil.
Now activate the Stencil.
After that while creating a new post, you can use Stencil in the Media Library.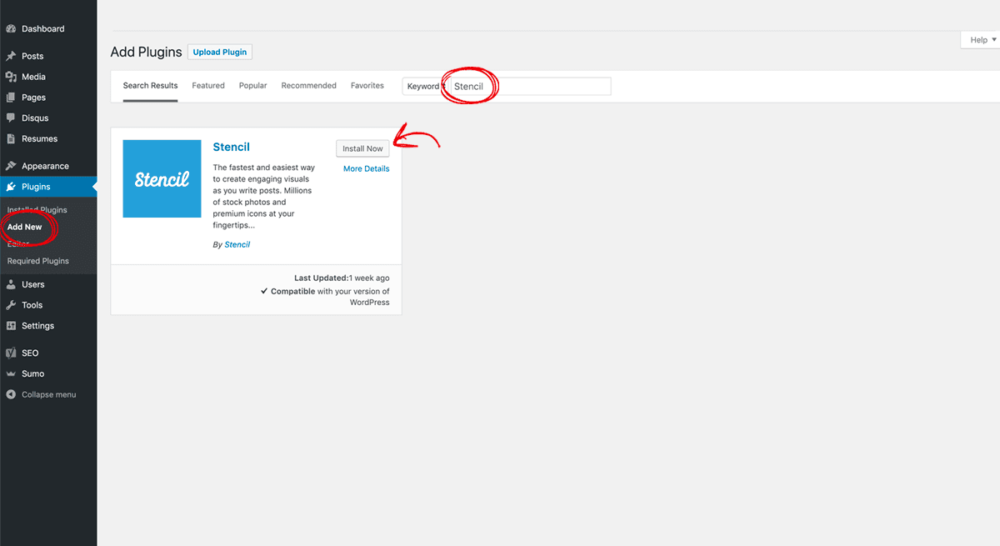 Use Cases:
List of available templates:
Business
Celebration
Colorful
eBook
Facebook
Facebook Cover
Fitness
Holiday
Instagram
Instagram Story
Outlines
Pinterest
Promotional
Quotes
Social Media
Twitter
Zoom Virtual Background
User Interface:
Stencil has an easy and attractive interface to use. It provides the users with millions of photos and icons to build over thousands of templates to use and create stencil designs. The editing tools available here make the work a lot easier. In order to create an image you can select the 147 preset canvas and put your image by dragging and dropping them from the library and editing them by adding texts as well as icons as watermark for your image.
If you don't want to create your own, you can also use the in-built templates made by designers which are already available. You also have access to rewritten quotes which you can simply add to the background picture. Other than that, you can share your creation easily to different platforms at once.
Under the More tab, you can find extensions for Chrome, Add-on for Firefox, Stencil for WordPress as well as extensions for Safari too.
Who can use it
Bloggers
Marketers
Designers
Youtubers
Pricing:
Free version:
Features:
Save up to 10 images per month
Limited icons
Limited photos
Upload up to 50 images
Create up to 10 collections
Keep up to 10 favorites
10 Instagram SMS per month
Pro Version:
Features:
$9 per month when paid annually
Save up to 50 images per month
5,000,000+ Photos
3,100,000+ Icons & Graphics
3,450+ Google fonts in stencil fonts library.
1,275+ Amazing templates.
Logo / Watermarks
Font uploads in stencil fonts library.
Premium support
Upload up to 250 images
Create up to 25 collections
Keep up to 100 favorites
25 Instagram SMS /month
Premium Unlimited Version:
Features:
$12 per month when paid annually
Features:
All Pro Features included
Save unlimited images
Upload unlimited images
Create unlimited collections
Keep unlimited favorites
100 Instagram SMS /month
Ratings:
UI Ratings: 8/10
Features: 8.5/10
Pricing: 9/10
How to choose the best design tool for your business?
For the business purpose, you can go for Stencil, Canva, PicMonkey, Adobe Photoshop, Adobe Illustrator, etc.
I hope this article was capable of providing you all the essential information required before the installation of the application in your system. In case if you have any problems or queries feel free to share with us by commenting down below.