Video interview is gaining its popularity among the standard companies because of the COVID pandemic and this has made  the recruitment of applicants a lot easier. You must be thinking  that does the software contain all the important features required for a smooth workflow? For that you have to read this article and at the end you will figure out all the significant details of the SaaS(Software as a Service)tools. You can take the interview of your interviewee at anything from anywhere as per your convenience. In case if your company is already having video interview then you must upgrade your meetings with the best video interview SaaS companies.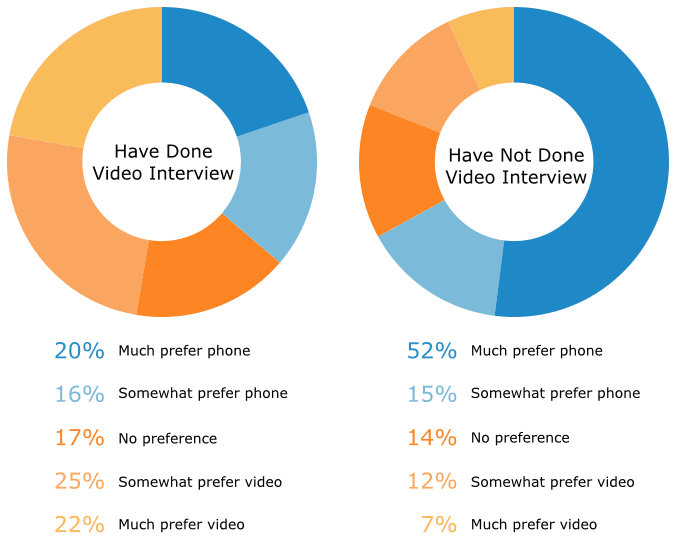 What is saas?
SaaS stands for Software as a service, a software distribution model in which a cloud provider hosts applications and makes them available to end-users over the internet.
10 Best SaaS Companies
Here we have filtered out the best SaaS software and extracted all the crucial information required for taking the decision of opting for the best saas company.
HireVue
RecRight
Interviewstream
VidCruiter
SparkHire
myInterview
Jobvite
Officekit
Breezy
iMocha
So, let's start discussing about these saas software provided by different saas companies one by one.
HireVue is considered one of the best software for video interviews in companies. It is AI driven platform with conversion AI as well as assessments. This software allows the companies to discover the best talents with the help of artificial intelligence and accelerating the hiring process. The supporting platforms are Android, iPhone, iPad
Features:
Audio and Video with WebRTC
Point in time commenting on video responses
Live video interviews
On demand interviews
Integration with LinkedIn recruiters
Easy collaboration with team member and feedback discussion
Pros:
It is easy to use interface
It installs quickly in your system.
Cons:
The microphone doesn't work sometime
It adds some kind of friction to the candidate application experience.
The note taking is quite confusing for the beginners.
Pricing:
Tailored plan
This is a recruiting platform that helps you to hire the perfect candidate for your company. For hiring all you have to do is firstly create a job and receive applications. After that you can record video interview questions and watch their replies on your own time. You can also see the real candidate behind the CV to ensure it.
Features:
Availability of 25 languages
Pre recording of the interviews
Application status tracking
Person to person interview
Adding comments on candidate profiles
Pros:
It is fast, easy and reliable software.
Support of customer care
Collaboration with team members or the Hiring Manager for sharing information
Cons:
You have to create a new message for the candidate who hasn't opened because you can't resend the invitation to them.
The emails sometimes goes to the SPAM section
You cannot view all the candidates simultaneously
Pricing:
Essential Plan: €25 per month
Pro Plan: €445 per month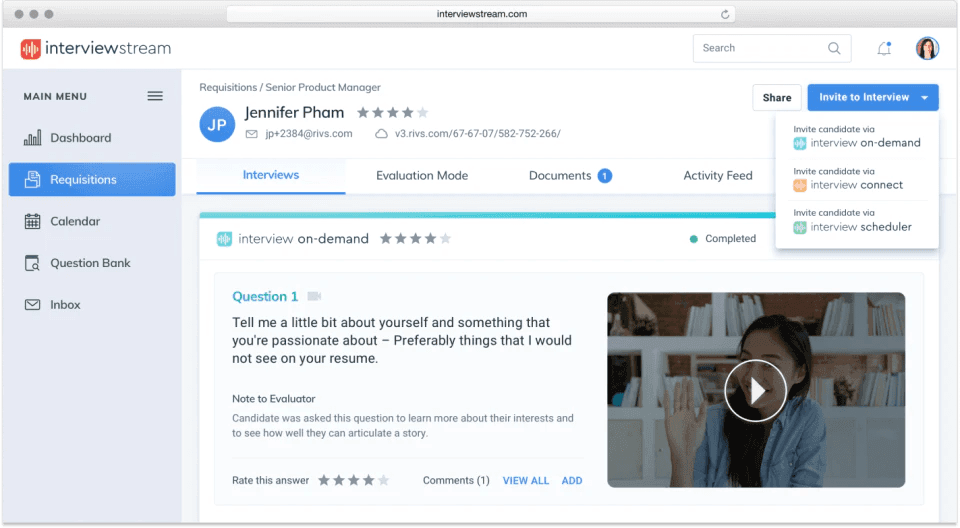 This SaaS tool simplifies the hectic process of taking the interview and hiring the right candidate.It empowers the team to make the right decision. The different types of platform are interview builder, interview on demand, interview scheduler, interview connect, interview prep.
Features:
Pre-recording of the interview is available.
Availability of custom hiring manager guide and rubric
You have access to portfolios, resumes and cover letters.
You can easily record, bookmark and edit the video.
Automated scheduling of interview
You can sync your schedule with your desktop browser.
Pros:
Easy to use interface
Integrations with ATS are quite good
The preset questions available to you are perfect for interviewing the candidate.
Cons:
Calendar should be refreshed often for seeing the real time scheduling
It causes trouble while syncing with the browser.
It is quite expensive to use
Pricing:
Customized price plan along with free trial.
Vidcruiter is also considered one of the best platforms for recruitment of the best candidate.It is used to examine, identify, filter out the talent along with saving your precious time.
Features:
Data Management of Applicants
Scheduling the interview
Evaluation of the candidate
Customization available
Live Video interview
Availability of panel interview
Pros:
Customer services are very good
It is time saver software
It is well organized and can easily tract down the status of the applicants
Cons:
There is lag faced while uploading the video.
Not an easy interface to be used.
Pricing:
Tailored price plan
Free trial available
This is the top rated video interview platform in the market as it helps a thousand of organizations to hire quicker and faster as well-being more collaborative. The supporting platforms are Mac, Window, iPhone, iPad.
Features:
EEO/OFCCP compliance
Recruiting firms
Rejection management
Custom branded interviews
Pre recorded interviews
Pros:
It allows you to see the candidates who are interested and motivated.
The inbuilt scheduling tool helps the candidates in booking in series.
The user interface is very intuitive.
Cons:
There is an inability to brand different groups internally.
Trial period is too short
The candidate response time is limited for 3 minutes, extra allotment of time requires extra price.
The team member accessing the interview is limited.
Pricing:
Bronze version: $119 per month
Silver version: $249 per month
Gold version: $599 per month
myInterview software is a very good platform for small businesses and early start-ups. The purpose built learning algorithms helps to reveal the hidden gems for which you are looking for. The supporting platform is Windows, Mac.
Features:
Availability of 5 languages
Automated shortlisting
Candidate management
Availability of question bank
Pre recorded interviews
Panel interviews
Pros:
It is user-friendly and easy to navigate.
It allows identifying quality talent required for business.
It is free to use.
Cons:
If you are not using it via ATS then there are chances of loss of data of the rejected candidate.
Custom integration does not integrate fully with self-service options.
The drag and drop feature is quite problematic.
Pricing:
Starter plan: free
Growth plan; $19 per month
Professional plan: $79 per month
Jobvite offers you a video interviewing platform that is built directly into the ATS. It is a talent acquisition focused suite that helps in intelligently attracting the perfect advanced candidates required for business.
Features:
Collaboration of screen with other team members for making decision
Saving time by asking to candidates to answer in timed on demand video recording
DocuSign integration
Configurable requisition approval
Mobile career site available
Easy syncing of calendar with Google `
Pros:
It is user-friendly to use.
The team can easily get the access to the information
Customer service is very good here.
Cons:
Lack of features like knock out questions, pre screening feature
Lack of list of free available API's
Lack of exporting and reporting
Pricing:
Free trial available
Tailored price plan
It is a human resource management software that helps the HR team members in hiring the perfect highly talented candidate. The supporting platforms are iPhone, Android, Web based.
Features:
360-degree feedback
Activity Dashboard is available
Attendance Management
Approval process control
Tracking of the status of the applicant
Notifications and Alerts features are also available.
Pros:
Mobile application is available.
Easy to use interface
Quick Setup
Cons:
No cons can be found.
Pricing:
Bronze: $70 per month
Silver: $140 per month
Gold: $250 per month
This is the visual recruiting platform that helps the companies in hiring the best candidate with modern tools and techniques. It also helps in advertising the open jobs of your company in over 50 boards with one single click. The supporting platforms are Windows, Android, iPhone, Mac.
Features:
Integration with Google calendar
Status tracking of the applicant
Customizable candidate scorecards
Drag and drop pipeline
Automated reference checking
Availability of Chrome extension to import candidates from LinkedIn
Pros:
Support teams are very helpful
Interface is very clean and easy to use
Affordable to use
Cons:
Problem with ATS is that the candidates are stored by application number instead of profile
The hours of customer service is US based
Lots of bugs are there which need to be fixed.
Pricing:
Bootstrap: $0 per month
Startup: $143 per month
Business: $399 per month
Pro: Tailored price plan
It is an online video interviewing platform which allows the organization to examine a range of skills and verify the best candidate among the applicants. The supporting platform are Windows and Mac
Features:
Availability of Coding, whiteboard, audio and video testing
Cheating prevention
Integration with ATS
Easy customization of tests
Window violation detection and prevention
IT skills assessments
Pros:
It is fast and easy to use.
There are multiple formats in which assessments can be performed.
Availability of large repository of material for creating assessments
Cons:
Difficulties in collaboration with other team members
Quality of tests are not so good
Minor complications can be faced while setting up the questions.
Conclusion:
All these mentioned saas companies are best chosen for you to receive the best services. You should definitely any of choose these saas softwares in order to find the best candidate of desired skills for your organizations.