Its been a while after Google has launched Android Oreo Go edition. This has confused people with Android Oreo and Android Oreo Go edition is the same. Before starting with the list, I would like to clarify the midst of confusion in the atmosphere. Let us understand Go apps for Android Go Phones.
Like Opera browser has a lite version as Opera Mini, Google's browser has a lite version known as the Google Go similarly Android Go edition is a Lite version of Android Oreo. With this being said, its a part of Android Oreo that is the Go edition. The Android Go edition has been launched a while ago but Go enable phones might take time to kick-in the market. The Go edition of Android is designed to suit-in with your phone easily even if your device is not very powerful.
Since its a lighter version does not misunderstand that Google will not provide you with the privileges that you had in the main version. You will enjoy a lot of features in this edition blended in it perfectly to match the motive of creating it. This means all the core apps will be levelled down a bit to provide you with the best performance. Apart from that, it consumes fewer resources of your phone which is why it runs efficiently in smartphones on the lower-end.
Also Read: iOS 12 Beta Preview- What's In It For You?  
Google my most favourite company is very thoughtful. The Go edition was mainly targeted to the audience from developing countries. So, people who cannot afford to change their phones regularly can use this edition in their phones and enjoy the latest privileges. AW! Google, that's so sweet of you! But any curious or performance-oriented android user can download and make use of the Go apps developed for the Android Go edition.
Benefits of Go Apps:
The lower-end smartphones are equipped with very finite storage and RAM capacity. Keeping this in mind the Go apps are designed in a manner that they programme productively even in handsets with a RAM of 512 MB to 1 GB. Moreover, these core apps are lighter by almost 50 per cent of the original versions.
All high-end smartphones get pumped up with long term usage which slows your phone's performance even if it has the best specifications. Which is why you can also take the benefit of its performance-oriented features.
After clearing all the possible doubts, I will start with the 5 most lightweight Go apps for Android Go phones. All the list contains not only Google's core applications but also some additional application which are of utter importance.
Note: These apps can be downloaded from  Playstore. If in any case, your device is incompatible to the application then you can always download an APK from APKMirror links or you can always use Google for additional help.
1. Gmail Go:
Gmail Go is the lite alternative of the Gmail app. Well, we all know how important Gmail is to us, so it had to have a light version. Fortunately, you will have an access to a lot of current features in the Gmail app including shortcuts to launch Gmail, use your swipe to delete, archive, etc your mails, multiple accounts, notifications when you receive a new mail, and few more.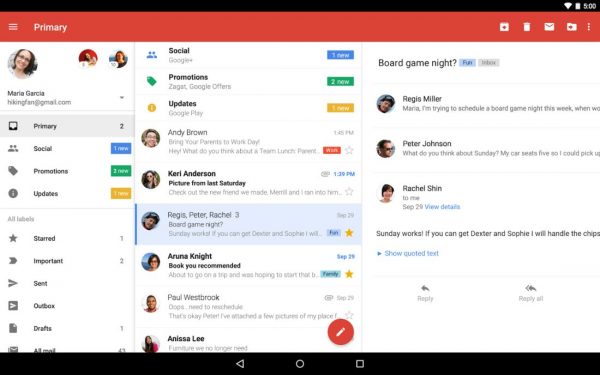 Surprisingly it has all these features in it that left me wondering what takes up so much in the original Gmail app. I noticed that there were a few glitches when scrolled through the mails but it can be counter fixed by their updates. To get more out of this app make sure you don't give up your Gmail Id to every third party website. This will fill your app with spams and will leave you with less space for your important mails.
Gmail Go is currently unavailable in the form of an open beta. You can install its APK and sideload it into your handset.
Download: Gmail Go for free
Download: APKMirror
2. Yahoo Mail Go:
Yet another important electronic mailing app with a Go version. Well, we all know Yahoo has been very popular over the years and most of the users still use it. This lightweight version of Yahoo allows you to arrange all you Outlook (Hotmail), Gmail, AOL and Yahoo accounts. Moreover, the improved design and simple user interface in Yahoo Mail Go allows you to enjoy an enhanced speed of its functions.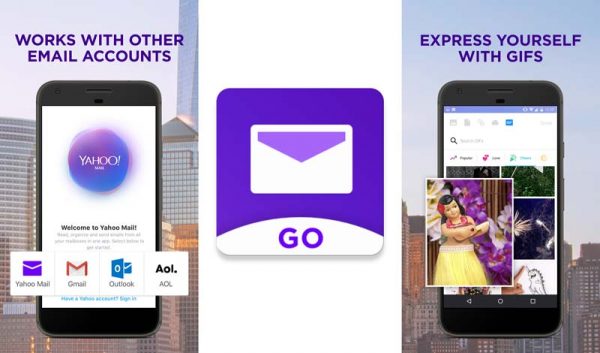 The users are offered with various features like any account (Outlook (Hotmail), Gmail, AOL) can be used to sign up, so you don't have any boundaries to use Yahoo Mail Go. Also, you can customize your swipes according to your comfort; users will be notified about new mails only when it is sent by a person excluding companies or automated emails, etc, attaching multiple attachments to send someone, Ditch password – you can set up an account key to sign-in securely without password, and many other interesting features.
Moreover, users are enabled with free 1000 GB cloud storage which is very secure to use. But before installing Yahoo Mail Go, make sure you have uninstalled the Yahoo Mail app. Also, you'll have to optimize your account to use it with TalkBack.
Download: Yahoo Mail GO
Download: APKMirror
3. Maps Go:
Navigation is a must no matter where ever you go! So Google Maps has made sure to optimize this feature to include in the future Go Phones. Maps Go possesses a lot of features from the main app, like for instance the directions, real-time traffic update, information on the businesses residing nearby, and others.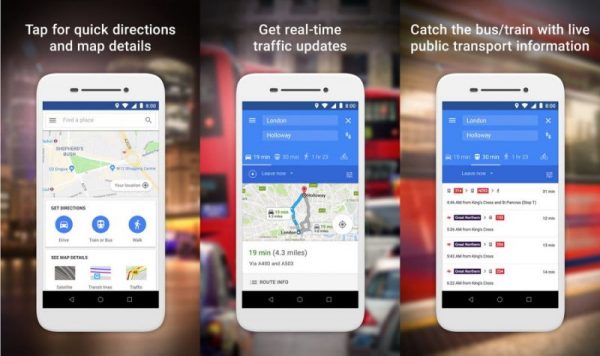 If you ask me how my experience was using it, I think it could've been much better.
Make note that, this app is a Progressive Web App (PWA) so you will have to install Google Chrome for it. It does fulfil the criteria of being a light version of Google Maps which might be a reason for using less of your data as well. Major missing is you cannot use it in offline mode. Living in a developing country has limited internet connectivity, so I hope Google thinks about it.
That is not its features like real-time location sharing, turn-by-turn GPS navigation and setting home and works addresses are also not available for now. If you are very curious to test it then, join the beta testing group without forgetting and download it from below.
Download: Maps Go for free
Download: APKMirror
4. YouTube GO:
The Go apps took its first step with YouTube Go. It was launched in the year 2016. This version of YouTube was to minimise the data consumption keeping your internet bills pocket friendly.
You can preview the video to peek inside and know what's in it as a summary. Users also have the privilege to download videos for viewing your favourite videos offline. These controls exist in the parent application too but the YouTube Go app gives more hold on the controls. For example, you can download these videos at your preferred resolution and it notifies you with the file size before you download it.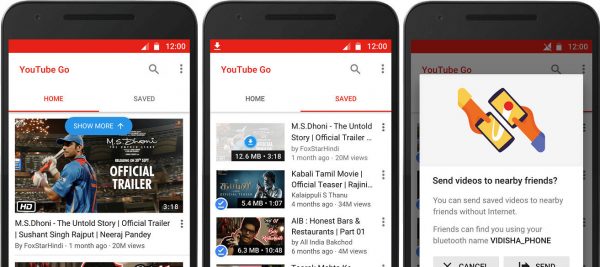 You have the access to video-sharing feature which makes it easier for you to share videos using Bluetooth. YouTube Go released in almost 130 countries, except a few countries where it is yet to release. By using the APK file you can install it any device if it's not available there. You're welcome!
Download: YouTube Go for free
Download: APKMirror
5. Google Go:
Google Go was launched in 2017 as Google Search Lite. It was then rebranded to Google Go. It has inherited a lot of features from its parent application Google Search. Users have the basic features like searching through google, sharing images, downloading, search information using your voice and all the other features.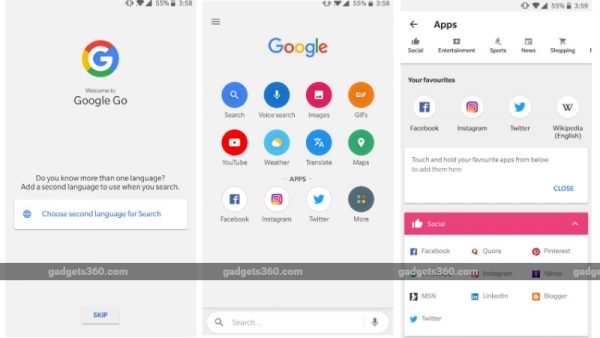 It's very similar to the Google search application, although it provides you with more options to control the interface. That is, you have the option to enable or disable features like the scores updates, movies updates, news updates, sports updates, etc. Moreover, websites open in lightning speed because of the light mode.
In terms of all the aspects, I would say so far this is the best version of Google Search keeping the app size and data usage at the minimum.
Download: Google Go for Free
Download: APKMirror
6. Gboard Go:
Just like the other Go apps, Gboard Go possesses loads of features coming from its original app. It supports many features like the glide typing, voice inputs and an integrated search on Google and many more. Moreover, the keyboard also has support for themes which is very overwhelming and unexpected.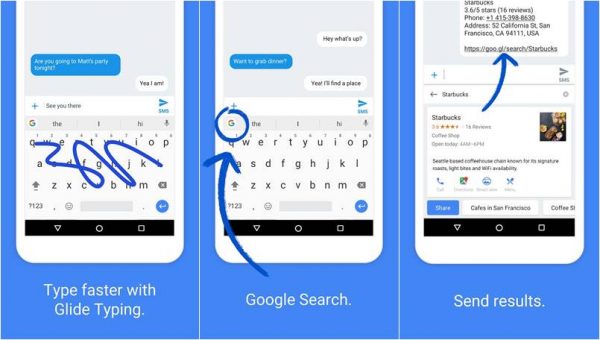 In addition to this Gboard Go also contains features to search GIF, one-hand mode and stickers. This is the best android keyboard you can ever have. However, this app requires Android Oreo 8.1. So, the device you own should get the update first before downloading it. In fact, currently, it is not available in Playstore also but we have the solution to this problem in the form of APK file.
Download: APKMirror
Android Go apps is a very useful idea overall. Users can actually use these to use less space in their phones. They can replace the existing apps to make some extra space for other apps or games like PUB-G. If you already have a Go phone then Playstore will suggest you with variety of Go apps. Let us know, how was experience your using these Android Go applications in the comment section below.