Mobile usage among the world's population is steadily growing, to the point where it's becoming the default method for using the Internet. And as it happens, text messaging is the favored means of communication for mobile users. Therefore, it's imperative for any company that wants to build and maintain a good relationship with their customers to make SMS a significant part of their marketing strategy.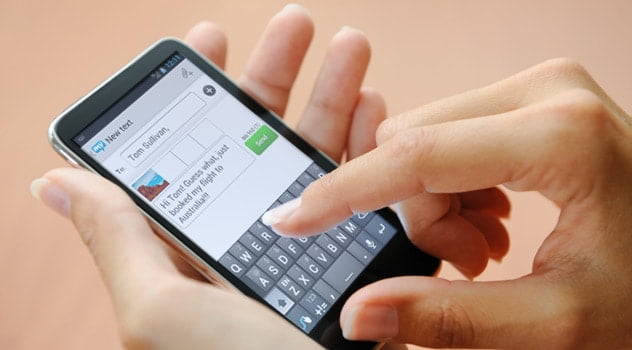 According to the article "How Ecommerce Companies Can Use Text Messages to Engage with Customers", people check for and respond to their text messages more often than they use their email. With that in mind, here are some ways that companies can use SMS to engage with their clients.
Your marketing campaigns need to reach the people where they're at, and today that means mobile phones and texting
First, Some SMS Particulars
Text messages max out at 160 characters, but the first 20 characters are typically saved to identify the sender. Twitter, for instance, has a 140-character limit, with the first 20 characters already set aside for the user name.

Co-ordinate Your Email And SMS Marketing
Make your email messages mobile friendly by using short subject lines, and embedded links to your website, text message sign-up page, or social media page. It's important that your various marketing tools are in harmony with each other, so having texts that let customers get something via their email, or sending emails that reference SMS promotions, is a smart strategy.
After all, not everyone is into text messaging … yet. In the meantime, you have to make sure that those non-texters aren't left out in the cold.

Polls, Contests, And Other Promotions
Even though people respond to an SMS more often than they do an email, you still need to give the people what they want. You want to build relationships between people and your business. People want to be entertained and have fun. You could combine both of these worthy goals by holding a trivia contest via SMS, focusing on something that has to do with your business (though the criteria of what constitutes relevance can certainly be stretched quite a bit). You can do all of this by using a web to sms platform.
For something simpler, try sending out a quick poll, perhaps a short multiple choice questionnaire. Again, make it something that has to do with your actual business. If, say, you owned a pet-grooming and boarding service, it could be a poll on their favorite pet, choosing from the choices you provide.
People want to save money, and you can accommodate this and build interest at the same time by sending out an SMS message that promises a coupon code to anyone who responds to the original message. You could send it to their email account, which of course means you'll need that information, which gives you another point of contact with a future customer.
Keep Customers In The Loop
Consider sending out an SMS message informing a customer when their order has shipped. If your establishment has changed their hours of operation, let them know. Perhaps even send out advance word on an upcoming sale or other promotional event, giving little hints and building up anticipation.
Customers can keep you in the loop as well, by prompting them via text to check in using a location-based service such as FourSquare or Navipedia. Give people incentives (e.g. coupons, discounts) for checking in.
This is a respectable selection of ideas to get you started with text message marketing. Check out some more inspiration at "Mobile Marketing Tips to Increase Sales & Leads". Once you get some practice, you'll become a text message rock star, bringing in new customers with ease!