A virus is a macro, program or script which is designed in such a way that it can cause some damage a device by modifying data, stealing personal information, display messages or by sending hoax emails. The virus spreads itself by copying itself everywhere when it is executed. A mobile phone virus is actually a type of computer virus that gets itself adapted to the environment of a mobile phone. It is designed in such a way that it can go from one mobile device to another. Here you will get to know about how to perform Phone Virus Scan using PC.
Is there really anything such as a virus on your phone?
We all know what is a PC virus is and also the capability of it. A number of hackers use the method of spreading the virus and soon the term 'virus' became a very common term for all types of malware. In case of smartphones, there is no virus that actually replicates itself, but there are some types of virus or malware that are of different types. For modern smartphones, it is recommended to check for phone virus using antimalware for android like MalwareFox or searching for the likes on Google Play store and perform phone virus scan.
So might ask yourself that if you have the virus on your cell phone where is the problem right? But you do keep important and precious data on your phone which is very valuable to you. That is why you should get rid of viruses that can affect you by causing great damage and perform phone virus scan. You might be searching for programs of phone virus scan using pc. Here is the way on how to scan phone for virus using pc.
Quick Heal PC2 Mobile Scan
You have ever downloaded mobile applications that are free and actually turn into damaging your mobile device in return? If yes, then you should know what comes after that! You have to face lots and lots of problem when you face this situation. But when you own a smartphone it means that you can connect it to your computer very easily and without any kind of hassle! When these free applications are added to the mobile phone they make the devices slow too. So when you do have a better connectivity option, why not use it for a better purpose?
There are many programs to scan phone for virus using PC but Quick Heal has the best way to scan for viruses using a computer using an antivirus system that is already installed in it. This software serves the best answer on how to scan phone for virus using pc.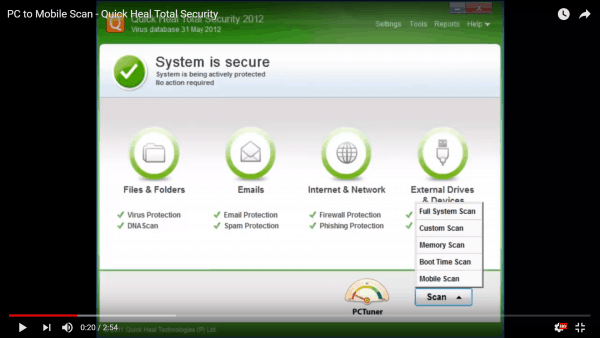 This new technology introduced by Quick Heal is called PC2 Mobile Scan. It is very handy as it actually allows the user to scan their phones for virus and that too without installing any kind of antivirus application on the mobile phone. You just have to install the antivirus on your computer, and then you have to connect your mobile device with it with the help of Bluetooth connection or USB. This is the simple way on how to scan phone for virus using pc.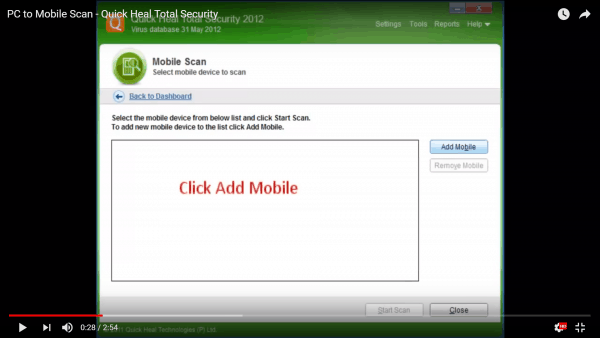 Features of PC2 Mobile Scan
This technology can be used on almost every platform that a mobile device is built. These platforms include Linux based mobile OS, Windows Mobile, and Symbian OS. PC2 Mobile Scan is also supported by a number of proprietary mobile firmware. This makes this the only product in the market that actually supports this technology for different kinds of mobile devices that are available from big companies such as Motorola, Samsung, Nokia, HP, IMate, LG, HTC, Panasonic, Sony Ericsson, Siemens, and O2. It is said that over 550 mobile phone models are supported by this technology and certainly best to scan android phone for virus from pc.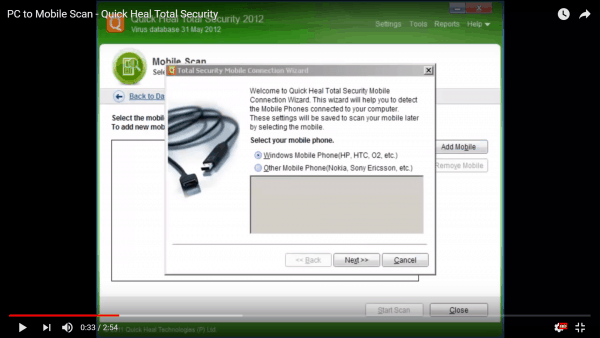 This software is actually a component of Quick Heal Total Security 2010 Suite. It is available at a very minimum cost if you want to subscribe for one year. In other words, PC2Mobile Scan is actually a type of inbuilt software that is included in Quick Heal Total Security. In case your mobile phone does support both the functions of Bluetooth and USB, use USB cables in order to get better results.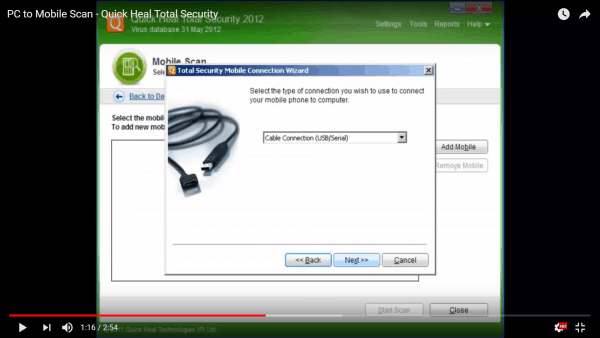 Important requirements for this program:
This particular feature of mobile security is supported only for Windows Vista or 32 bit, Windows 7 and Windows XP for 64 bit and 32 bit respectively, Windows 7, Windows 8, Windows 8.1 and Windows 10.
If you are using a Windows phone, your mobile device must have Microsoft Active Sync 4.0 or later versions on your computer.
In case you are a Nokia user, you are recommended to install Nokia PC suite on your computer. And if you are using other mobile phones, you should install the respective software drivers on your pc.
Computers should have a Bluetooth device for Bluetooth connection. It should be properly installed with suitable drivers.
Only Wildcomm, Broadcom, and Microsoft are supported for Bluetooth devices. It is recommended for Bluetooth devices, you use Microsoft drivers if you want to get better results.
When you are using Bluetooth to work with PC2 Mobile, a number of mobile phones require being installed with Quick Heal Connector. This wizard helps you to install this particular application on your smartphone.
For Apple or iPhone devices you need to install iTunes on your system.
'Stay Awake' and 'USB debugging' must be kept enabled on your android device.
Note: Quick Heal PC2 Mobile Scan is not supported for Server Operating systems and Windows 2000.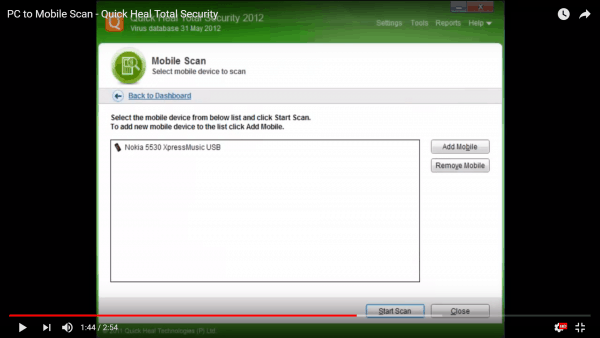 Some of the issues faced by users while phone virus scan using PC:
Users of PC2 Mobile Scan who uses Windows XP that is included with either Service pack 2 or with Service Pack 3 can receive messages that say that the scanning is interrupted because of the loss of connection.
You cannot scan your Nokia 6600 model properly with Quick Heal PC2 Mobile Scan.
Quick tip: You can easily register your device on the official website of Quick Heal if your mobile device does not support Quick Heal PC2 Mobile Scan. Also, all the Windows Smartphone are supported by this application that is made upon operating System Windows Mobile version 3.0 to 7.0.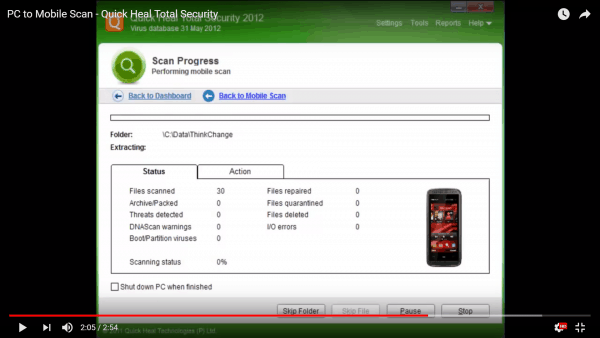 So in order to protect your mobile phone from these virus attacks, you must disable the download of unknown application option on your Android device which you can easily do by going to the settings option, then into security, then under device administration turn off the option that says 'unknown sources'.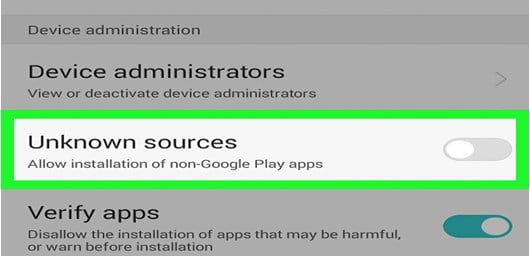 Virus attacks on mobile phones are increasing day by day surprisingly and that is why all users should keep their phone updated and safe from this malware and viruses. So why are you waiting? Follow these simple steps on how to scan phone for virus using pc to stay safe and secure.
Wrapping Up
Mobile safety should be one of the priority of every mobile users in today's world. Scanning for viruses is one of the best way to do so. Here were some of the examples on how to scan phone for virus using PC. We hope you got an idea on how to perform android virus scan. Please do tell us if this solutions worked for you.