Just like other web browsers, Opera is also a similar one that actually provides you with a number of extra advantages that you get from Microsoft or Mozilla Firefox.  This web browser is available for various kinds of operating systems, such as Symbian OS, BeOS, MAC OS, Linux, Windows, Solaris, and many others. Opera is liked by many people as it is very fast as well as stable. The services that Opera offers are similar to other popular web browsers which also include instant messaging and integrated searches. Opera also supports cascading style sheets, JavaScript, and email. Opera has been promoted for use in a number of Smartphones also because of its compactness. Here you will get a detailed guide on how to change the default search engine in Opera.
Opera does not have an unlimited supply of extensions that you get on Chrome or exhaustible customizable options like Mozilla. But opera provides you with a set of smart as well as perfectly executed features so that there is no need to download any kind of add-ons or extensions.
So do you use Opera? If yes, then you should know that how to change the default search engine in Opera. Before you go through the process, here are some of the best features of Opera.
Best features of Opera
Tab preview
Do you know what is there in tab number 24 and is that the particular tab that you are searching for?  You did need to guess as  Opera provides you with a feature of tab preview which allows you to peek quickly on every tab just by hovering over the tabs in the tab bar. This helps don't let you jump from one tab to another in order to find a tab!
This feature is present by default but also can also turn it off.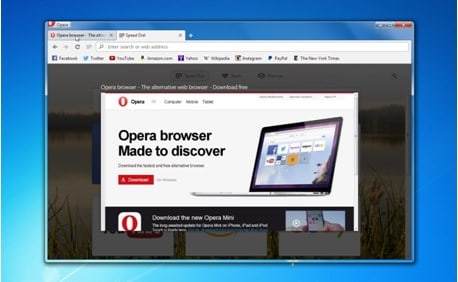 Battery Saver
The battery saver mode of Opera guarantees you that you will have 50% more battery life. This feature is actually a lifesaver for you when you need to work on your laptop and there is not charging outlets near you. When via Battery Saver Tool you actually activate this mode, it prompts some optimizations like plug-in activity, reduced tab, and fewer animations.  At any time you can activate this Power Saving Mode.  Also, you will be prompted to use this feature when the battery life comes down to 20%.
Mouse gestures
Keyboard shortcuts are often used by many people in order to increase the speed of browsing then why not use mouse gestures? This feature also helps you to make your routine tasks easy, such as closing tabs, navigation, opening tabs, and refreshing.  If you want to use mouse gestures you need to enable it from the shortcut option.
Unlimited as well as free VPN
The VPN service in Opera in already built in. It is completely free, unlimited and fast also and you do not need any kind of data capping. In order to use it, you have to enable it from the settings.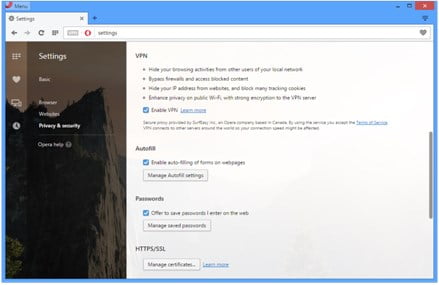 Sidebar extensions
Multitasking is very much useful undoubtedly! When you want to compose a tweet or mail and also carry on with your conversation on Skype you need multitasking. That is why Opera provides you with this feature of sidebar extensions.
Synchronization of data
Like other tools, Opera also helps you to save your bookmarks, settings, and tabs with syncing options. For this first, you need to open up an account in Opera.
So after you have read all the cool features, now it is time for you to know how to change the default search engine in Opera! Here are the methods that you have to follow:
The drop-down menu in Opera helps you to select the default search engine. Google is by default set as your search engine. The button which is named 'Manage' helps you to do a lot of things and the primary one is to change the search engine.  So click on manage and a button saying "Default Search Engine" appears.  The main section of this menu is along with a particular icon and a keyword or letter.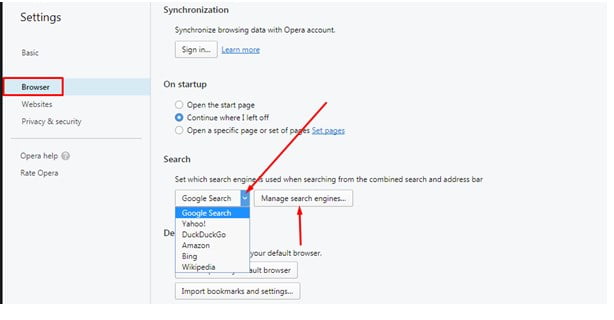 Click on the 'Name' option and enter the full name of the search engine that you want to work with.
Then type the desired keyword which can also be a number or letter and this field is optional.
Then go to the address field and type the address of the search engine that you desire.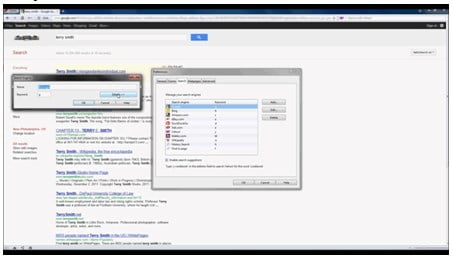 Next, you will find a post option with a checkbox and it gets activated when search engines use POST queries. This field is also optional.
Next, another optional field named Query string is found. Any kind of search can be specified with this query string.
After everything is complete with entering values, click on the save button.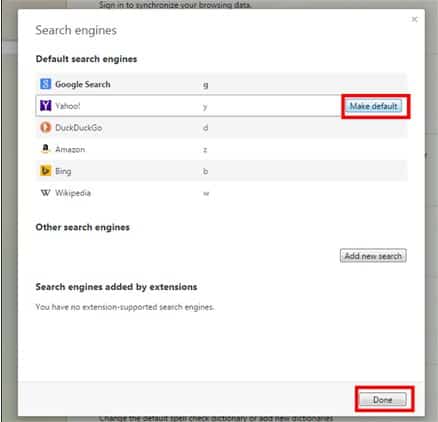 Browsers are like a necessity for all people who access the internet for any kind of job and along with it people also requires a proper search engine of their choice. So, by this simple way of how to use default search engine in opera, you can ease your way into your work.