Mobogenie For PC: Now phone is not just a "phone", it has become "smart phone" and though it needs a smarter PC suite to manage the mobile data, Mobogenie is such a FREE smarter PC suite that helps you to easily manage your android device from your computer, all you need is to connect your phone with a USB cable and you are ready to manage your phone data in your PC and sync the data.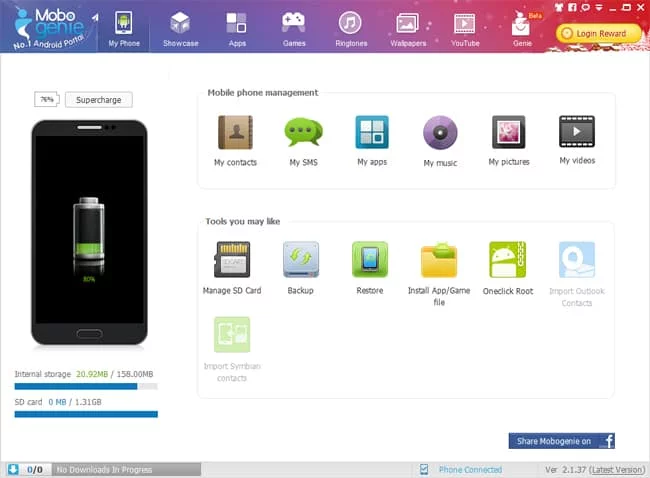 Possibilities of Mobogenie PC
Mobogenie is more than a usual PC suite that offers many useful features to operate your Android device directly from your PC or laptop. There are many possibilities with Mobogenie PC Suit-
Inbox on your Desktop
Sending and receiving the messages is now easy with Mobogenie PC suite, you can send and read the SMS from directly from your desktop, not only you can read the SMS but you can easily forward or delete them from your desktop without touching your mobile.
Easy Contacts Manager
Managing your contacts in a small screen is a difficult task, but it makes it easy by bringing your contacts on your large desktop screen, with Mobogenie you can easily view or add new contacts along with contact image.
Multimedia on a Large Screen
With Mobogenie Smartphone Manager you can listen to the music, view photos and watch the videos of your mobile on your laptop or PC screen and also browse the SD card data.
Mobogenie PC Backup and Restore Made Easy
Backing up your personal data from your mobile is an avid task, Mobogenie offers seamless backup and restore option to backup your important data so that you can restore your valuable information in case you lose it. You should not worry of losing your personal contacts and information when you are using its software.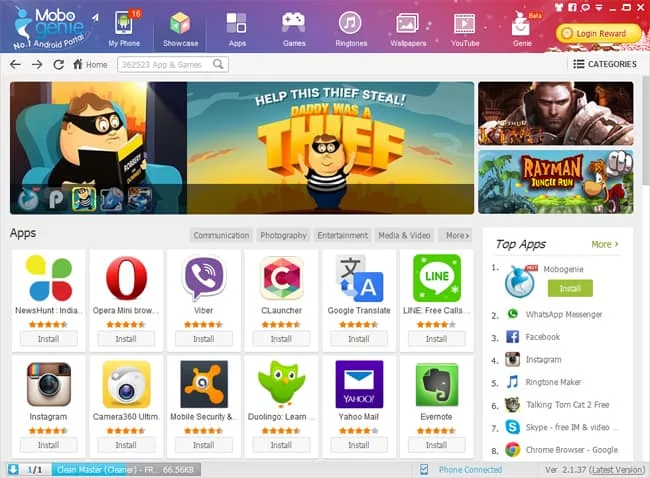 Fun on the Top
You will get to see a panel with buttons apps, games, ringtones, wallpapers and youtube on the top of the Mobogenie window from where you can search and download your favourite apps, games, ringtones and wallpapers straight to your mobile. Here you get a top apps list from where you can download best hand picked apps by it. You can also filter the apps by category in this panel. You need not login to your Google Play account to download and install these apps, all you need is to press "install" button and apps will be downloaded and installed automatically in your mobile.
Install APKs
It allows you to install app and game apk files from your PC, just select the app you want to install and click on "Confirm" button to install the selected app or game. This method is far better than copying your apk to your mobile then running the setup from your device, it saves lots of time and avoids unnecessary steps to install apk in your mobile.
One Click Root Tool
Rooting an Android mobile is a sophisticated job that also requires some technical skills but Mobogenie makes it damn easy. It comes with one click root tool to root your android device in minutes. You need not have any special technical skill to use this rooting tool to root your device.
Super Charge Your Mobile
It offers supercharge option which accelerates the charging speed of your mobile, connect your mobile to your laptop or PC via USB cable and just press the "supercharge" button to charge your mobile quickly.
Minimum System Requirements for Mobogenie
Mobogenie PC: It works well in Windows 8, Windows 7, Windows XP, Windows 2003 and Windows Vista. It installs a small app in your android mobile automatically that needs minimum Android 2.2 or higher version. The installed it app in your mobile automatically detects the USB connection and runs to show off latest apps.
Conclusion
Managing the mobile data with Mobogenie is simple, the software is easy to install and user friendly interface which consists of all the necessary options and tools to manage your Android device directly from your PC or laptop. It is a best Android synchronization software that every Android mobile user must have. Not only it makes your job easy but it also secures your important personal mobile data with its backup feature.
Download Mobogenie For PC at www.mobogenie.com