Social media marketing isn't the same as it was some years back. Customers are more social savvy now.
Isn't it natural to assume that it's hard to make a prominent place for your brand in this crowded space? Or that to stand out, you need a large budget?
Well, true to some extent. Of course, a good sum of money can help you do that. But, with the right strategy, you won't have to pay for attention!
A simple mindset and a dose of creativity can help you achieve the engagement level you seek. Any business, irrespective of their budget can replicate these tactics.
This article lists helpful takeaways and tricks to kick-start your social media campaign.
Also read: Proven Ways to Create Engaging Facebook Posts for Social Media Marketing
Let's begin.
How can you stand out in Social Media with a small budget?
1. Go Bold and Take Risks!
If you want to occupy a prestigious spot on various social media platforms, you need to take risks that resonate with your business values. Doing something out of the blue increases your brand exposure and attention. Get the users talking about you and bring the real ROI.
Let's take Taco Bell's social media blackout for instance. A day after launching their mobile app, Taco completely wiped out their social media accounts. Subsequently, they posted only one single image directing customers to their app.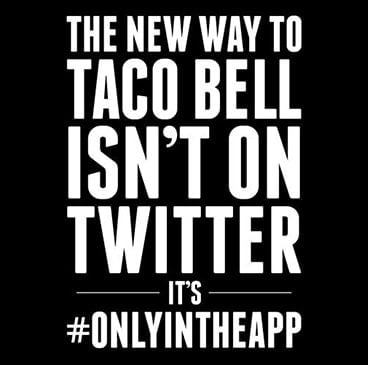 (Source)
Result? Within 24 hours 75% of their stores were receiving mobile payment. They took the huge step with the sole purpose of promoting their app.
Taking reasonable risks can give you great results. Understand your customers and come up with an idea that balances risk and rewards. Mold this into one strategy and surprise your users.
Also read: How to Use Digital Flipbooks for Online Marketing
2. Create Original, Valuable and Shareable content
If you want to sustain your business reputation, you need to create original content that users love to read and share.
For starters, drill into trending content which might gain popularity among your users. You can use tools like BuzzSumo to get this information. Another alternative is going through your competitor's best-performing posts. Let's say they have a blog on "5 Ways to Standout in Social Media with a Tight Budget". You can write on a topic like "How to Run a Successful Facebook Ad Campaign with 20 USD".
Don't hesitate to post visuals as they tend to perform better on social media.
Also, make sure every piece of content has your brand logo. This will help build recognition.
Also read: Content Marketing Tips for Startups
3. Post consistently
Don't stop posting content just because you have the feeling that nobody is listening to you. Your efforts are not going void, keep working towards your goal.
Also, just because you received a thousand likes in your previous post your work does not end. To establish your brand, you need to post the latest, most unique and valuable content.
Keep a running list of ideas with you, maintain an editorial calendar and stick to it.
Also read: Internet Marketing; Keeping Your Content and Your Reputation Fresh
4. Interact with your Users
Communication is crucial for increasing the engagement level. Always respond to your followers and strike off a conversation whenever you can. This implies responding to every user who might have contacted you (mentioned you, replied or commented on your post, directly messaged you) on any social media platform.
If you do not actively respond to your fans on Social Media, you lose their trust. This might lead your potential customer to move over to your competitor. Hence, the lack of communication can turn fatal for your business. But, replying thoughtfully and timely will help you build your authority over time.
Respond to the negative feedback carefully with patience and respect. Use the platform to showcase how delightfully you treat your customers.
Also read: The Changing Face of Social Media Marketing
5. Inspire people through your posts
Do not run after a large number of posts, concentrate more on their quality.
Do your research and know more about the people you are writing for. Use Facebook's Audience Insights to get information about your potential and current customers. Know more about what people are searching for through Google Adwords. Based on this data, create a marketing front that would interest your target audience.
Craft content that not only reflects your products, but also your core business values.
For example, Redbull posts photos with people doing extraordinary and extreme things. This appeals to risk-takers, athletes or people who believe in Redbull's vision of adventure.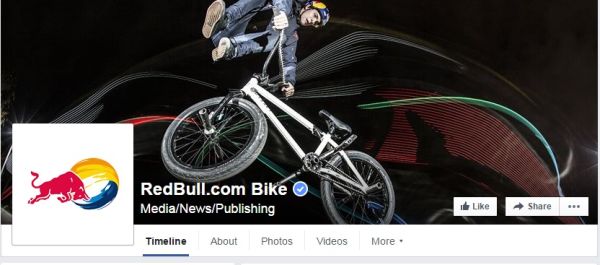 Also read: 6 Creative Marketing Ideas with Facebook
6. Leverage Visuals to gain engagement
Visuals increase user's willingness to read a piece of content. Also, content with relevant images gets 94% more views.
Some of the fastest growing social media platforms are entirely based on visual content. Think about Pinterest, Snapchat and Instagram.
You can use tools like Canva and Piktochart for creating the same.
For example, Oreo began a Wonderfilled Campaign. It consisted of 30-second video clips that showed the joy of sharing Oreo among a wide variety of people. From an American hip hop artist to a little girl, each of these videos has a specific theme and targets a different audience. They also launched a series of "Snack-hacks". These are 10-second YouTube videos showcasing some cool and innovative ways to enjoy Oreo.

Also read: Proven Ways to Create Engaging Facebook Posts for Social Media Marketing
7. Offer free Webinars and Video Series
You don't need a big budget to produce these! Just a video camera and some good presentation software. There are audiences which do not know about you but are in great need of your product/service. Promoting your webinars and video training series via social media platforms is the best way to target them.
Share your content, value and context freely (who doesn't love free stuff?) with your targeted audience.
Providing this value will help you establish your brand authority and gain the trust of your users.
Undoubtedly, it will promote your product.
Easy Webinar is an affordable software which can help you automate webinars and online events.
Create a post to promote your event over social media. While drafting it, mention very clearly what will people gain out of this or what should they expect upon sign up.
Also read; Four Reasons to Diversify the Internet Presence of a Company
8. Involve your followers – organize polls or hold a Q&A
Polling is one of the most powerful tools that should definitely be incorporated into a social strategy. Polls are a great medium to drive engagement and get valuable information and data about your customers.
People love when their opinions are given importance. It sends the message from your brand that "we care". This way you can easily garner their trust, confidence and loyalty and build your brand image in the long run.
You simply have to ask a question and ask for their opinion (For example, Which burger are you crazy for? "McSub or Mcgrill"?) Or something like this: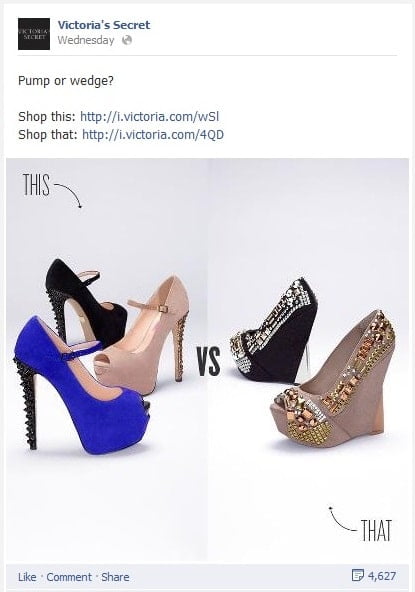 (Source)
Organizing a Q&A session is another great idea to increase your engagement with the target audience. It provides a direct line of communication which strengthens the connection with your users. Thus, you can answer any of the queries your audiences has and provide some valuable information about your products/services.
Also read: 5 Tools Necessary for All Social Media Marketers
9. Hold Social Media Contests
Social media contests not only help increase the engagement of your current audience but also bring more people to your page. To make it even more interesting, you can ask your users to vote and decide the winners.
You can choose from a variety of contests including a simple sweepstake (a simple lucky draw), trivia (where you ask a question and reward the first person who answers it correctly) or some creativity-based contests.
.
People love free giveaways! You can leverage this to get more likes, follows or emails. Be very clear on your objective and the rules before launching a contest in order to get the best outcome.
For example, Klik (a chocolate snack company) based in Israel wanted to increase its brand engagement among teens. So they chose Whatsapp, which is the #1 platform amongst their targeted audience. But since it didn't offer any media inventory (back in 2013), they came up with a WhatsApp version of "Simon says".
Klik posted their phone number on their Facebook page and encouraged their fans to add Klik to their Whatsapp groups. Once Klik was invited, they started giving fun tasks like the one below: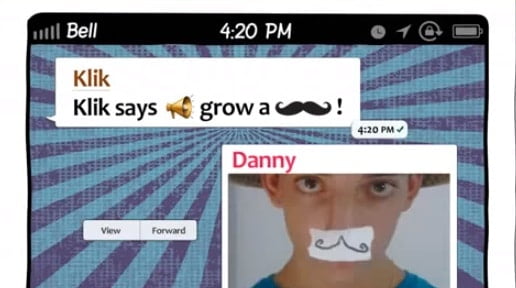 The result? Over 2000 teens participated and 91% of them completed the provided tasks.
Klik increased their engagement rate by 51.8% on facebook and brand engagement increased by 10 times.
10. Use Facebook's "Boost" option to advertise at a cheap cost
Yes, advertising does not always have to be about spending lots of money. Facebook's "boost your post" option offers very affordable choices for advertising your post which you can customize as per your budget. It's one of the most viable options to promote your content.
It gives you the flexibility of deciding the reach of the post.
Facebook offers to boost your post depending on 4 options:
Location: You can choose to be as specific as a city o
Gender: Do you want to target male audience, female audience or both?
Age: which age group do you want to target?
Interests: target people on the basis of pages they like or any closely related topic, on the basis of apps they've used or ads they've clicked and so on.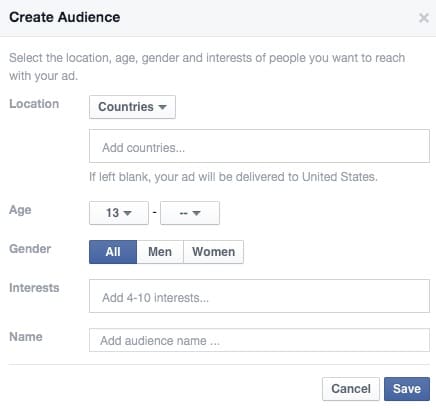 In order to get the maximum impact out of your ad post, you need to narrow down your targeted audience.
Let's have a look at the following demographics:
Location: A 80-mile radius from Chicago
Interest: Social marketing, digital marketing
Excluded: People who already like RankWatch
Age: 22 – 40
Language: English
Through this, you can easily target some 3000 people per day who might see your ad.
Before targeting your audience, always have a look at your past data to understand the demographics which interacted the most with the posts. Content on beauty products is mostly read by the younger females – so a cosmetics brand can choose to target females around the age 18-30. This will increase their chances of CTR (Click-through-rates) and reduce their CPC (Cost-per-click).
If you are paying more than $4 a day, I don't think it's worth it. Do not go for anything which gives you a CTR lower than 1.5%. Also, before launching the campaign, test your ad for the relevance score (aim for 7 and above on the scale of 10).
Try and stick more towards your niche audience for better and quick results.
Once you run a few ads, you would be able to monitor the results more precisely, learn more about your targeted audience and accordingly adjust your strategies for the best results.
Now over to you.
What strategies would you recommend to win over social media when spending big bucks? I'd love to hear your thoughts!
Guest article by: Sahil Kakkar
Sahil is the CEO and Founder of RankWatch – a platform, which helps companies and brands stay ahead with their SEO efforts in the ever growing internet landscape.
Sahil likes making creative products that can help in automation of mundane tasks and he can spend endless nights implementing new technologies and ideas. You can connect with him and the Rankwatch team on Facebook or Twitter