Cloud technology is the future of software industry. Today, most of the high-end and advanced software applications offer cloud solutions for their users. Considering the immensity of large-scale, complex projects which require several teams to handle multiple fronts, it has become important to incorporate different software applications which cater to specific project requirements. This creates a lot of confusion and hassle for team members as they tend to switch from one aspect of a project to another. Often, web designers working in teams on large web design projects face this similar dilemma. Hence, it becomes important to organize project files at one shareable location which allows locating and sharing files with ease. Cloud technology does exactly this.
Cloud solutions are aimed at providing large storage space and collaboration features for users. Moreover, a lot of cloud applications integrate with other cloud-based tools, which offers flexibility in terms of project management.  
So, it is important for designers to make utmost use of these cloud-based applications in their web design projects. There are plenty of cloud-based tools in the market which are designed exclusively for web designers to simplify their workflow and assist them in their creative venture.  
Alright, so here I am providing a list of 12 such useful cloud-based apps catering to the various aspects of a design project, such as wire framing, prototyping, image editing, file sharing, coding, collaborating and more. These cloud applications can definitely help designers to improve work productivity, simplify project workflow and deliver better results. So let us get ready to check out this list of 12 Cloud-Based Applications for Web Designers and Developers.
1)
Dropbox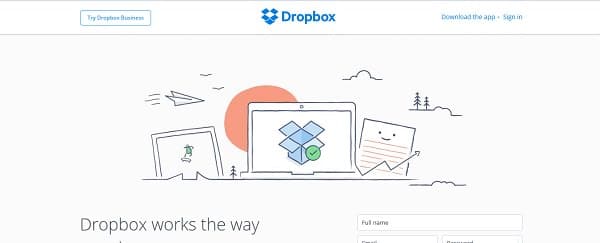 Dropbox is one of the leading cloud-based, file hosting service providers in the world. Dropbox offers a range of features, including cloud storage, private cloud, file synchronization and more. Dropbox files can be accessed through various devices as well as Dropbox website and integrated mobile applications. Dropbox offers cloud storage space depending on free and premium accounts.
2) Evernote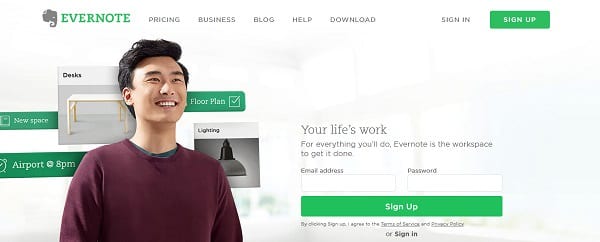 Evernote is a cloud-based productivity tool which allows users to perform a variety of tasks from a single application. It allows users to perform web research, write notes, capture information on the web, collaborate with other users in real-time and deliver presentations. One can easily clip web articles, share multimedia content with others, create to-do lists and do much more. Evernote supports multiple platforms, such as iOS, Android and Windows. It has free and premium plans for availing free and private cloud space.
3) GitHub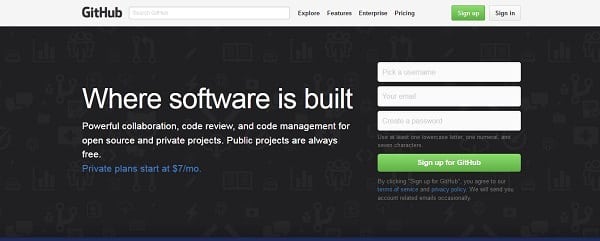 GitHub is an online place to host open-source and private software development projects. GitHub is built to host GIT repository providing all of the functionalities of GIT, such as distributed revision control and source code management. It also offers other features, such as a web-based graphical interface, bug tracking, project WIKIs, code management, desktop and mobile integration and collaboration features. As of 2015, there were over 11 million users with over 29.4 million, public and private repositories on GitHub, making it the largest host of source code in the world.
4) Snipplr
Snipplr is a huge repository of code snippets available for a range of programming languages. It contains useful code snippets for C#, C++, JavaScript, HTML, Scala, Python and more. Snipplr allows users to upload code snippets and maintain code libraries which are accessible to everyone. With 149,397 registered users and 58939 code snippets, Snipplr is currently one of the largest code snippet repositories on the web.
5) Cloud9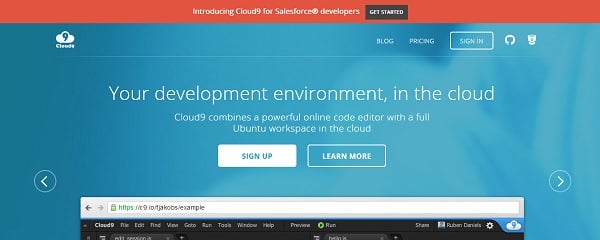 Cloud9 is a robust integrated development environment (IDE) for programmers. It has a powerful online code editor and Ubuntu workspace which allows compiling SASS, check server output, run apps, debug code, preview and do much more. Cloud9 offers support for 40+ languages, including JavaScript, PHP, Go, Ruby and Python. Developers can easily build and test Django, WordPress and Rails websites for various browsers and platforms.  
6) Codeanywhere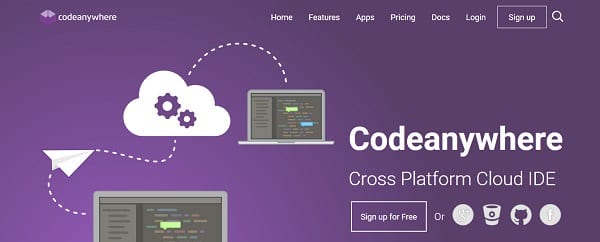 Codeanywhere is a cross-platform and cloud-based, modern integrated development environment (IDE). The IDE provides support for 75+ languages, such as JavaScript, PHP and HTML. Codeanywhere supports Dropbox, SFTP, Google Drive and FTP to provide real-time collaboration and cloud storage features. Besides, it offers various advanced features, such as multiple cursors, code completion, built-in terminal console, revisions and more.  
7) Adobe Color CC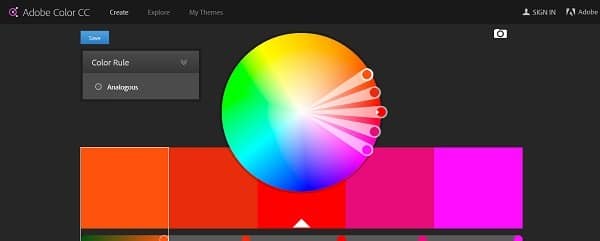 Theme building is an important aspect of any web design project. Adobe Color CC is a software application which allows creating color palettes using up to 5 shades for designing a colourful website theme. The application also allows exporting color palettes to InDesign, Illustrator and Adobe Photoshop. One can also import images, save color palettes on the cloud and do much more.
8) PIXLR
PIXLR is a web-based image editing software application offering a range of editing features. It provides PIXLR Editor and PIXLR Express which allows designers to apply effects, create overlays and borders, fix layers and replace colors. PIXLR is also available as a mobile application for iOS and Android platforms.
9) InVision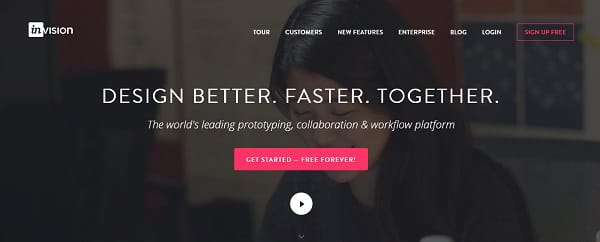 InVison is a multi-purpose, design and productivity tool for web designers. It allows creating interactive prototypes by allowing designers to add animations and gestures as well as apply transition effects to uploaded design files. The application also offers advanced features for managing project assets, creating custom boards, user testing and sharing feedback.
10) UXPin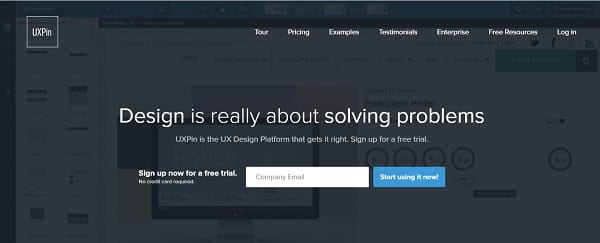 UXPin is a powerful prototyping and wire framing tool with modern customization features. It provides a graphic design editor for customizing typography, adding animations and designing backgrounds. Designers can easily create mock-ups and wireframes using built-in UI elements, including icons, design patterns, as well as iOS and Android UI libraries. It also allows importing design files from Photoshop and Sketch.  
11) JumpChart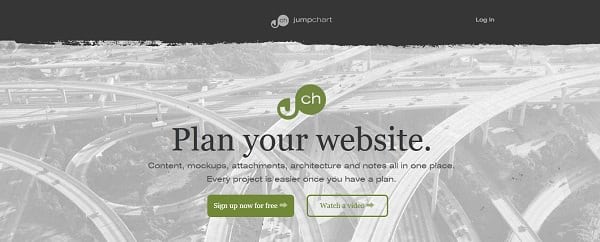 JumpChart is a modern project management and online collaboration tool for team members working on web design projects. It provides a common platform for web designers, information architects, copywriters, project managers and others to organize project files and manage workflow. JumpChart allows sharing content, mock-ups, attachments, notes and other files with team members.
12) Tavern
Tavern is a platform for web and product designers to share ideas and draw inspiration. It is a Q&A or online discussion site, similar to Quora and StackOverFlow, which allows designers to interact and connect with other professionals from the designing community. Tavern allows users to pull images in to answers and create answer drafts.
Conclusion:
With that we have come to the end of our list. I am sure that you will have a wonderful time making use of these modern cloud applications in your web designing projects. If you want to share any feedback or add more important names to the list, then you can definitely go ahead and write your thoughts in the comments section below. Thank you.   
About the Guest Author:
Paddy Lock is an Developer and Content Strategist Eduonix Learning Solutions since 2013. Content planning for websites, blogs, guest posts, articles, press release, etc.