This post brought to you by Sunbelt Software. All opinions are 100% mine.
Since the day I started using a PC I've been trying out Antivirus software and many other Antispyware software available in the market, and until recently I started using VIPRE software because of a huge number of Vipre antivirus review and recommendations from many PC magazines around the world. Previously, I have posted Bitdefender review, Avast AntiVirus for Mac, ESET NOD 32- Antivirus.
Also must check out this list of 300 most useful softwares for Windows.
And I decided to share my experience with the product to my readers with a genuine Vipre antivirus review and let everyone know that it is a software which is worth spending money. Unlike many other Antivirus software, VIPRE is a lot quicker and the interface is easy to understand and simple. But that is not all, this software comes with many good features and has nothing that is needless. VIPRE has an anti-Virus, and anti-Spyware along with a VIPRE firewall. If you use any mail client (Obviously you will) then it also has Email protection which does a decent job of protecting you from malicious links in messages or even in the mail attachments.
Just for your info, the system in which I tested out for VIPRE Antivirus review is an Intel Pentium Core i3 2.53Ghz CPU with 4 GB RAM, Windows 07 Ultimate. Additionally, I had 4 web browsers i.e: IE8, Firefox 4, Google Chrome12 and Opera 11 while testing VIPRE antivirus. Additionally, I had Adobe Master Collection, Adobe Flash and Reader, WinZip, EASEUS TODO Backup Workstation,  Skype, Dropbox, uTorrent, Camtasia Studio, Snagit 9, and 12 other applications which requires internet access to function and 4 media players like VLC Media Player,  KM player, Realplayer and built-in Windows Media Player other basic apps which don't access any media files. So it must work on most computers.
Must read: Here's What You Risk If You Don't Keep Your Computer Safe From a Virus
So you can assume that it is enough to slow down the PC with lots of APPs and especially is more vulnerable to viruses since most of them need internet access and are used to open files from removable devices like pen drive, memory cards. I mentioned them, especially because viruses enter your PC mostly via the Internet or from removable/portable devices. Here's a list of portable apps that you can run from your pen drive without installation.
Now, let me begin my VIPRE Antivirus Review from installation.
Just like everyone, you know how to install and application, but for the record, VIPRE has a very simple installation process but It might take a while to get installed, but we can forgive that keeping the fact that it works very well even if it takes some time to install. As usual, once you install this application you will be asked to reboot the PC to ensure that the installation is complete.
Once you reboot you can configure VIPRE Protect and complete the installation in the easy to understand step by step procedure. So I don't want to get deep into it.
But for the record let me just tell you that it gives you full freedom to configure the security level on various options like Email protection, Treatment option which lets you select to allow to deny access to anonymous information collection. You can then go on to the firewall options.
The firewall has two levels, the first level is "SIMPLE" level which does a function of blocking inbound connections to unknown programs and checks port stealth and takes care of spammy popups.
The second firewall security level does everything the first level does but has some more additional features like IDS and HIPS protection.
Just as soon as you complete the firewall configuration, you will be given the page where you can register the product and get the additional updates if required.  Once you do that you might need a second reboot.
Overall it took me 10 to 15 minutes and it may vary depending upon the system specification and processing speed and the download speed.
Vipre Interface:
Now that you have VIPRE installed you can start tweaking the settings you find on the software, basically, every option is as much integrated to the first screen and from there you can reach most of the settings within a single click, that's what I meant simple.
At the first screen, you can find the risk detection statistics which gives a summary of all the security scans, firewall and other security levels.
Also read: Why should I use a Firewall?
Vipre Antivirus is Fast and Quick.
Like any other Antivirus software, this does take consume a lot CPU process while doing a deep scan which may slow down your PC depending upon the scanning area or type. But in my observation, it does comparably a great job than its competitors, and I hope all know that most of the Antivirus programs do slightly slow down the PC when it's doing an in-depth scan.  According to me, if it does find threats and keeps my PC clean, then I don't mind waiting some time.
Malware detections and Spam filtering:
Only after using VIPRE, I was able to find many Trojans and autorun scripts which my previous antivirus couldn't find. Overall VIPRE did a great job in finding threats and flagging them. During the process, I tried our many days today conditions were a malware can enter your system. And it did pass most of my tests, so I give it a pass.
One backdrop of this application is that it doesn't have a real spam filtering, but Email protection does the work of spam filtering. And that is why during installation you need to tell the name of the Email client you are using.
Instead of Spam filtering, it stops malicious URLs from phishing emails and quarantines them if they are risky. If quarantined, the Email likely had an attachment that was risky. If needed, you can get back a text copy of the message and whitelist the sender.
Below is the review chart by Passmark.com comparing Vipre antivirus review vs the rest…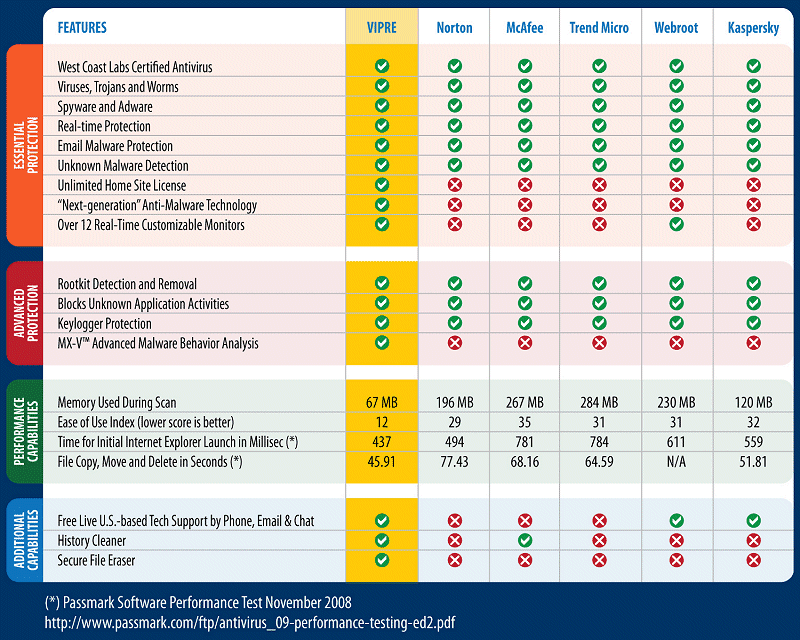 Final Verdict of Vipre Antivirus Review.
So based on my personal experience overall I rate VIPRE as a good Antivirus program which everyone should give a try, more than quirks it has lots of facelift features and is a great defence against Viruses and malicious programs and hijacks.  However, it is not THE BEST ever made application but once you use it you will be impressed for sure.
If you'd like to give it a try, then you can get a 30-day free trial of the full version and give it a try in your own machine and rate it according to your experience.
Please note that it is also possible that you had a better or a different experience depending up to the specification and configuration of your PC. But most of my know friends who've used it have liked it, hope you will like it too.
Thanks for reading.