Most of us are aware of many source for music on the web, but are you sure that you are downloading legal files from these sources? Its is illegal to download music files without a license. Even though you know of many sites where you can find your favorite music, they might not be providing you the legally authorized files, so when they get caught, you might also get into trouble, in countries like United States, violation of law is strictly punished.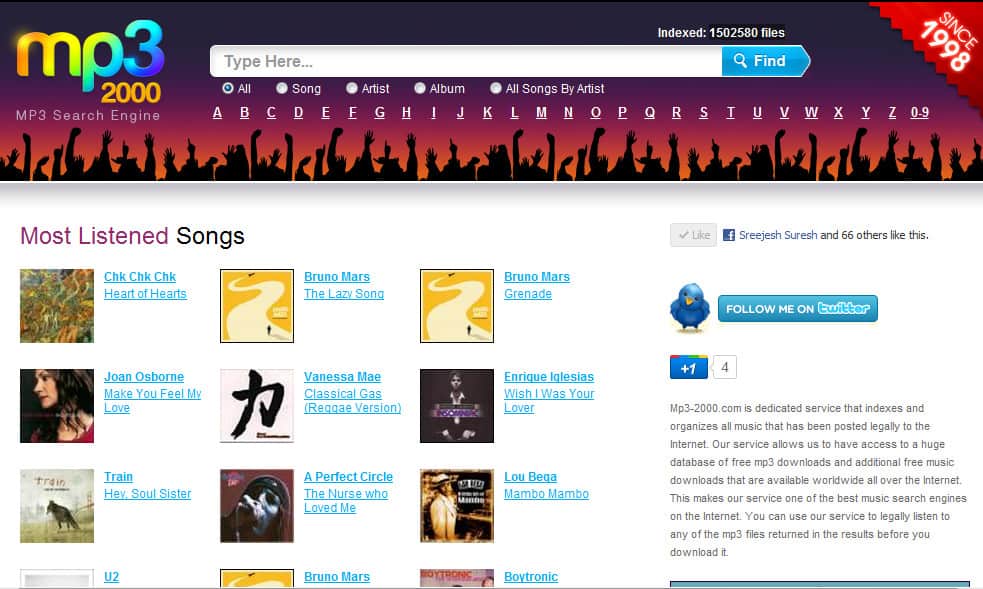 Mp3-2000.com is one such site which lets you download music for free in the legal way. It is free mp3 search engine found in 1998 which has a massive database of legal music files from all over the internet. Till now it holds a staggering 1502580 legal music files in its database, that's a huge number. And that makes it the best music search engine on the internet today.
Their interface is very simple, you can find files specifically based on the starting alphabet or search by Artist, Song, or an Album If you visit their home page you will fine 50 of the most popular albums which you might want to consider downloading. Unlike many other sites, with free mp3 search engine you don't have to register to download a file, all you have to do search find and download, in a legal way. Before you consider buying music from any online store like Amazon, I'd suggest that you look for the same in Mp3-2000.com if you are lucky you can get it for free.