Teamwork is the key to success for any organization or group. There are many organizations and businesses who find it difficult to collaborate in a way that is quick and effective for working together. TeamLab is a free open-source platform for business collaboration and project management which offers a unique solution that brings individuals together, even if they are miles away from each other.  The whole team can meet up in a cloud enterprise portal and input their contribution for an ongoing project.
Overview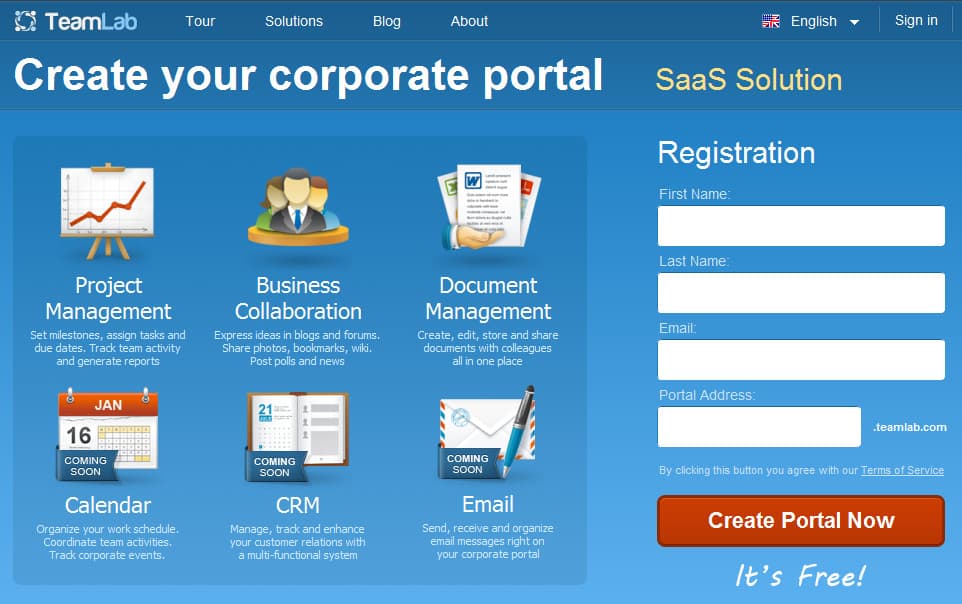 Normally you have to wait to arrange a phone meeting, video conference or a mail response to let your members know about the progress of the project or for letting them who what and how they're doing. But with the power of various tools you have in Teamlab, team members can send instant messages, create tasks, and share updates regarding the ongoing project and let others know of their progress. To be precise, the site incorporates four fully-featured modules for Business Social Networking, which are Project Management, Documents Management and Instant Messaging (IM). In addition to the above, they also have many handy features that make gathering input and feedback much easier with team members in your organization.
Getting started:
The most surprising fact about Teamlab is that its is available free SaaS service platform which offers you all functionality absolutely at free of cost. However they also have a paid edition, but main features are almost similar.
To get started you have to fill a simple registration form and create your free collaboration portal, and its also available in installable open-source system and TeamLab AMI. They also have a paid plan which offers more storage space (10 GB) and a larger file size upload limit (100 MB).
Document Management
You don't need to integrating any additional tools like Google docs or Zoho docs, because they already have text editor, spreadsheet and presentation editor built in. Ofcourse only with basic functionality unlike the very complex Word or Excel.  But that's all good  to cope with basic daily operations.  And if you need to do more then you can download the documents created in Teamlab to DOC or XLS format and also upload the DOC or XLS files from your PC and edit them on Teamlab. This is a lot helpful when you need to send the docs to your business partners or other companies.
Project Management:
Projects section supplies users with all the standard tools to manage project work. Here you can organize your team: the system enables to add employees using the form or just import the contacts from Google, Yahoo or Windows Live accounts. With the colleagues gathered together you can create a project, set milestones and assign tasks. Having determined the aims and responsibilities, a project manager's able to track the time spent on work by every team member. The automated system of reports makes it even easier to keep track of work progress. You just need to set the necessary report type: Problem Tracking Reports, Statistics Reports or Detailed Reports. Below is a screenshot of Projects typical dashboard. As you see, it's extremely simple to understand. You're not overwhelmed by confusing options, there are just 7 feature tags that lead to corresponding functions.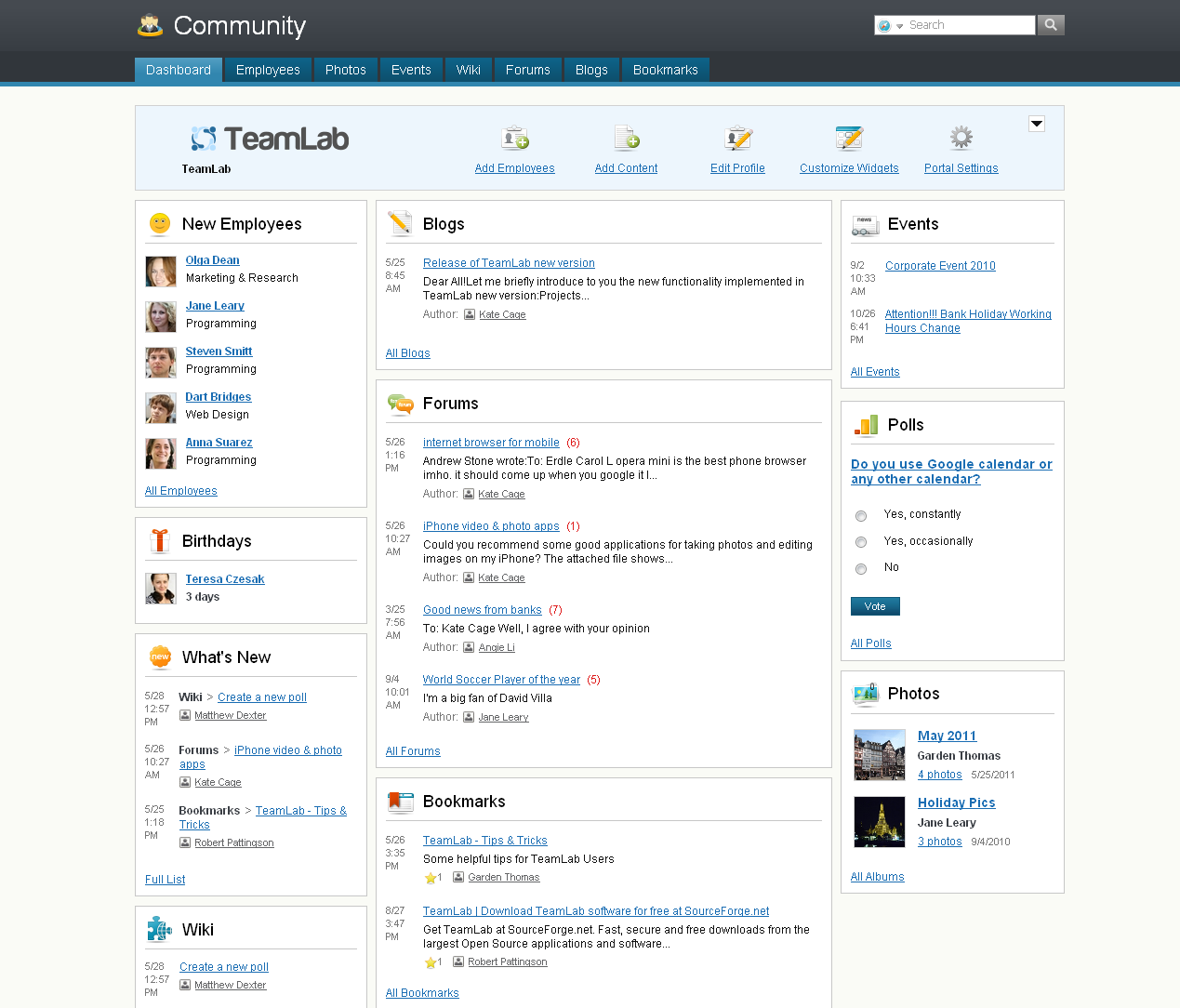 Unlike many other project management apps, with Teamlab  users can create a wiki, assign  tasks to individuals,  post to blogs and forums, create customized widgets, upload images, build teams,  bookmark relevant sites, chat, and take polls. There are some weak points, e.g. Gantt charts and CRM are not included. TeamLab developers ensure to release them in the future though. Still, even today TeamLab presents a full featured project management and collaboration system that's definitely worth trying.
TeamLab is a part of Ascensio System SIA based in Latvia. The application was born out of the concept of combining project management and social networking.
Overall, the Teamlab experience is real A class for a working atmosphere. the design and the colour scheme is very clean and elegant and also the dashboard interface is made for daily use, since you have to use if back to back you can get used to it very easily.
I know words have more to says about Teamlab, and I definitely recommend it  and worth to try. You can try it and leave you feedbacks and findings below using the comment form.