Getting great pictures is just half of what it takes to be a professional photographer. You also need to have the right equipment on hand to do your job properly. From cameras to your internet connection, and memory cards to your card readers — everything must be reliable and as hardworking as you.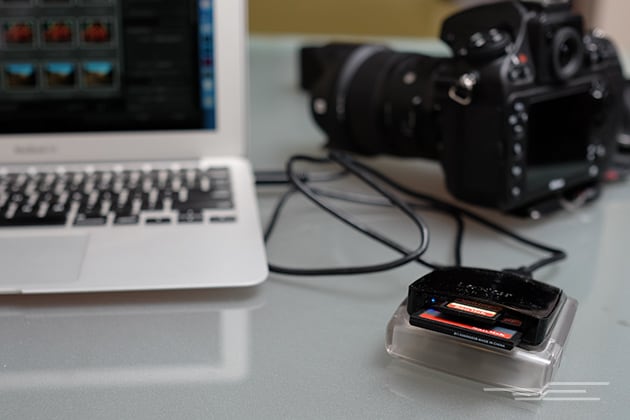 Not only does each glitch cost you time that could be better spent working with your client, but each time an equipment failure leads to lost photos, it damages your reputation.
Why You Need a Good Card Reader
Quick Computer Access
When they're first starting out, many professional photographers try to get by without a card reader. They figure that since they can use their camera's screen to view photos or use a cable to upload them to their computer, a card reader simply isn't necessary. The lack of a good card reader is one of the things that separates the pros who are serious about their career and the ones who aren't,
Card readers like the V.TOP USB 3.1/3.0 UHS-II Multi-Card Reader RDF9 allow you to quickly use a computer to view the photos you've taken. Why is this important? Because the large screen lets you and the client pause in the middle of a photo shoot and really analyze everything you've taken so far what changes the client would like made, allowing you to adjust the shoot accordingly.
Fast Image Backup
Another advantage of a fast card reader is that in addition to allowing you to quickly analyze shots, it provides you with a super fast way to back up the shots you've taken. If you're working with an assistant, you can hand them the card you're using in camera and they'll upload the photos while you load a new card and keep shooting.
High-quality card readers decrease the amount of time it takes for the photos on the memory card to transfer to the computer. The faster this transfer takes place, the less risk there is that any photos will get lost.
Another advantage to using a card reader instead of a USB cord to transfer the photos from the card to the computer is that the card reader doesn't drain your camera's batteries.
What to Look for in a Card Reader
If a card reader isn't able to read a variety of microcards, you should bypass it and look at other options. Even though your current camera might use microcards, the day will likely come when you find yourself using a different camera that takes a different size card. Starting out with a reader that's equipped to read everything means you'll never have to worry about replacing it.
You might be hooked on a particular type of memory card right now, but you don't know what the future holds. It's possible that something will cause you to switch brands. Or you might even have to borrow a fellow photographer's card or even have a client ask that you use one they brought along. The best way to make sure different memory card brands don't disturb your creative practice is by starting out with a card reader that's designed to read an assortment of cards rather than a specific brand.
The whole point of having a memory card reader is the ability to quickly transfer the photos you've just snapped to your computer. This won't happen if you purchase a slow reader. The card reader you select should have a faster read speed than the USB cable that came with your camera. You'll be happiest when you're using a memory card reader that has a read speed of 260 MB/s.
Don't forget that you're a professional and that your equipment needs to reflect your status, which is why the card reader you select should be attractive. Having nice photography equipment gives your clients a sense of confidence that's impossible to assign a dollar amount to.
The single most important thing to remember when purchasing a memory card reader is that it's in your best interest to purchase a high-quality product as opposed to one that is cheap. In the end, you'll spend less money and be a great deal happier with the higher quality model.