The internet is loaded with a wealth of information and exciting possibilities. It has changed the way children play games and socialize. They can connect with other kids all over the world, discover all kinds of fun facts, watch videos and keep in touch with their friends. Many children have now abandoned desktop PCs and laptops for mobile phones and tablets, but while this is great for portability, it can make it more difficult to keep an eye on what they are doing.  Here are a few ideas to help they enjoy the internet safely.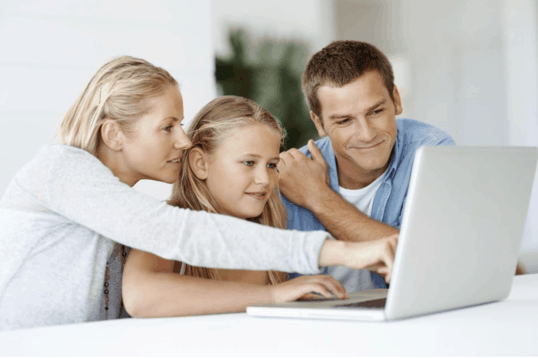 Never let them go online unless you or another appropriate adult is there
If you are not around while your children are browsing, then they are more vulnerable to predators or viewing something that is inappropriate. To avoid this set up their devices, so they automatically sign out after each use. Keep the password for your Wi-Fi a secret and only allow them to go online if there is someone around to supervise them. Don't let them use the internet when no one is around.
Be open and honest with them about online dangers
Many schools now teach children about online dangers but it also a good idea if they hear it from their parents/carers too. If your children play online games or use sites or apps aimed where they might come across people, they don't know make it clear that they should never give out their real name, age, address, school or other personal information that could help identify them and help a predator to find them. Many paedophiles sprawl the internet looking for personal information about children. Also, discourage them from posting photos of themselves and to keep accounts private where possible.
Encourage them to tell you if they are worried about anything
Communication is key to good parenting and stamping out any online dangers. Encourage your children to share any fears with you. Online trolls and bullies can do as many harms as adult predators so tell them to let you know if they feel they are having issues with this and keep a close eye on chats and comments to make sure they are safe and appropriate. Older children might have different ideas of what is appropriate so be wary of sites that are aimed at a range of age groups.
Use a program or app to monitor their behavior.
As mobile technology advances so too do the programs that run along aside it. As such, there are now apps and programs that you can download to help you to keep your children safe and monitor. You can do this with Kidgy The parent control features of the app allows you to locate your child using GPS, block access to certain websites and read all instant messages and emails. This helps you to keep track of their activity even when they are not with you, and it can be downloaded to either a mobile phone, a tablet or other mobile device.