Going live on social media platforms is one step above everything to interact with your favorite followers. When the youth around the world clamor for taking selfies, and going live on social networking sites, parallel there is a hunt for the perfect device to facilitate this demand. Asus is trying to fill in this gap with Zenfone Live, world's first smartphone with real time beautification technology for live-streaming, lets you telecast the even more glamorous version of yourself. When the idea itself seems brilliant, adding a beautification layer on top of every app that uses camera of the device, the choice of hardware seems to be bit of a fiasco. I used Zenfone live for 1 week as my primary device and this is a comprehensive review of the same.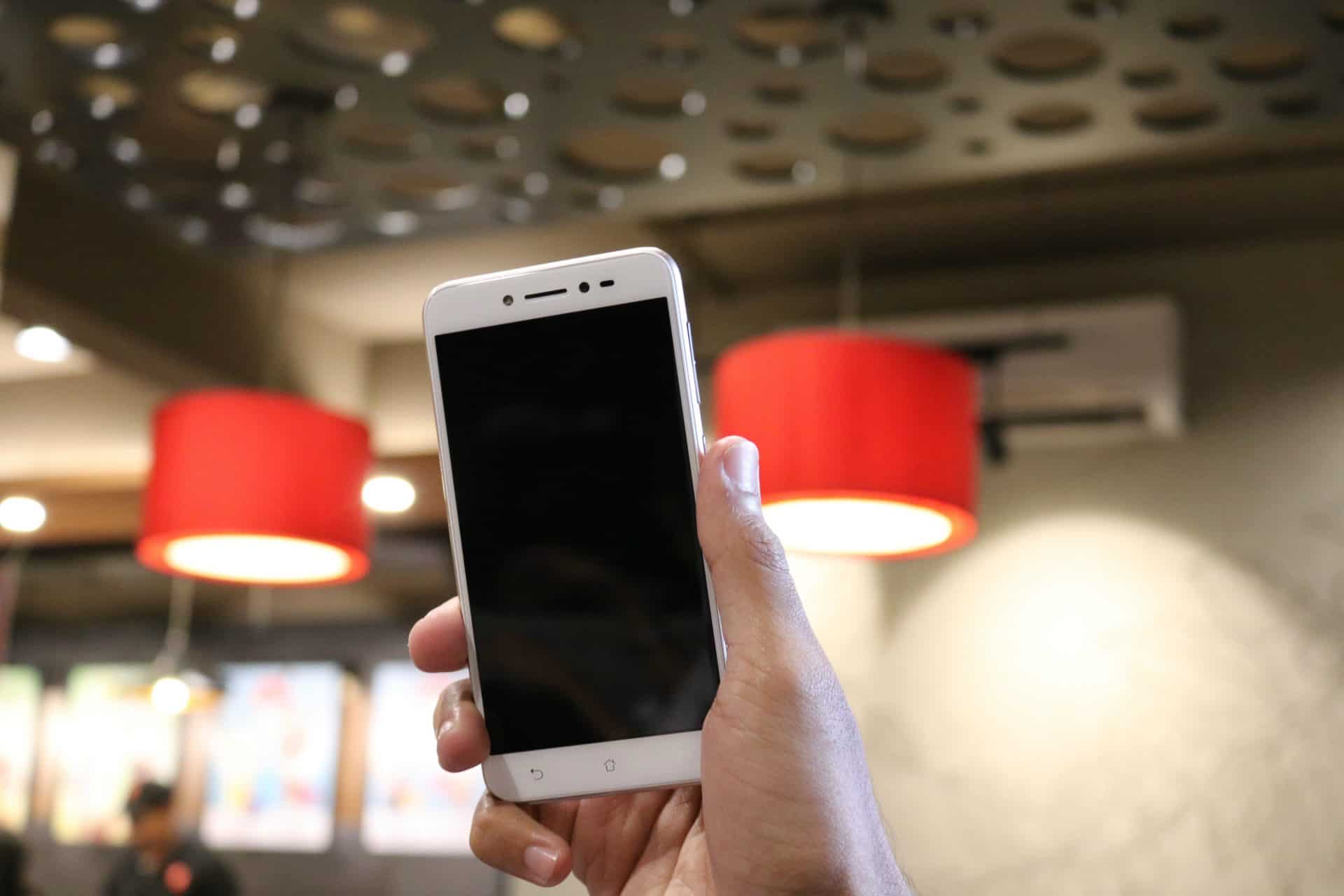 Zenfone Live Specs
5 inch HD (1280*720) display
Snapdragon 400 Quad-core processor, Adreno 305 GPU
2GB RAM
16GB internal storage which is further expandable up to 128GB
13MP Rear camera with an f2.0 aperture
5MP with Large 1.4?m Pixel Sensor for 2x light sensitivity
2650 mAh battery
What is in the Box
Asus Zenfone Live
Charger
USB cable
SIM card ejection tool
Paperwork
First Impressions
A typical entry level smartphone packaging, the box was small and rests easily on the palm of your hands. The minimalist approach to the packaging clearly exhibits all signs of cost cutting and with the same minimal expectation, I slide opened the box. I went high-spirited, later got irritated, the device looks small, the welcoming gold finish resembles an iPhone in many ways. FYI, the device also comes in Rose Pink and Black colors.
Design and Build quality
I love the overall look and feel of the device. For someone like me who uses devices with large build profile, the Zenfone Live felt lightweight and comfortable in hand. At 7.95mm thickness, ultra-thin profile and the 2.5D arc glass which snap on to the body, oozing out fluidic finish. Like I said, the phone design resembles that of an iPhone in many ways.
I don't want to misguide the common crowd when I say the Zenfone Live has a premium-crafted 'metallic back finish'. Like quoted it's just a metallic finish and let me warn you, if you are not planning to put a case on, the 'premium finish' can easily attract hairline scratches, may be more.
No Fingerprint Scanner – Bummer!
Out of the box, for few minutes, I thought of giving a perfect rating for the build quality but when I find out that it was nothing but a metallic finish I differ and would like to go for an average rating.
There are two microphones, one at the top and one at the bottom, for capturing fine audio during live streaming.
Dimensions
The product dimensions are as follows; 14.1 x 0.8 x 7.2 cm.
For comparison, the Zenfone Live is almost similar to iPhone 6S in size.
On the front top, from left to right, the front flash, earpiece, 5MP selfie camera and light sensor.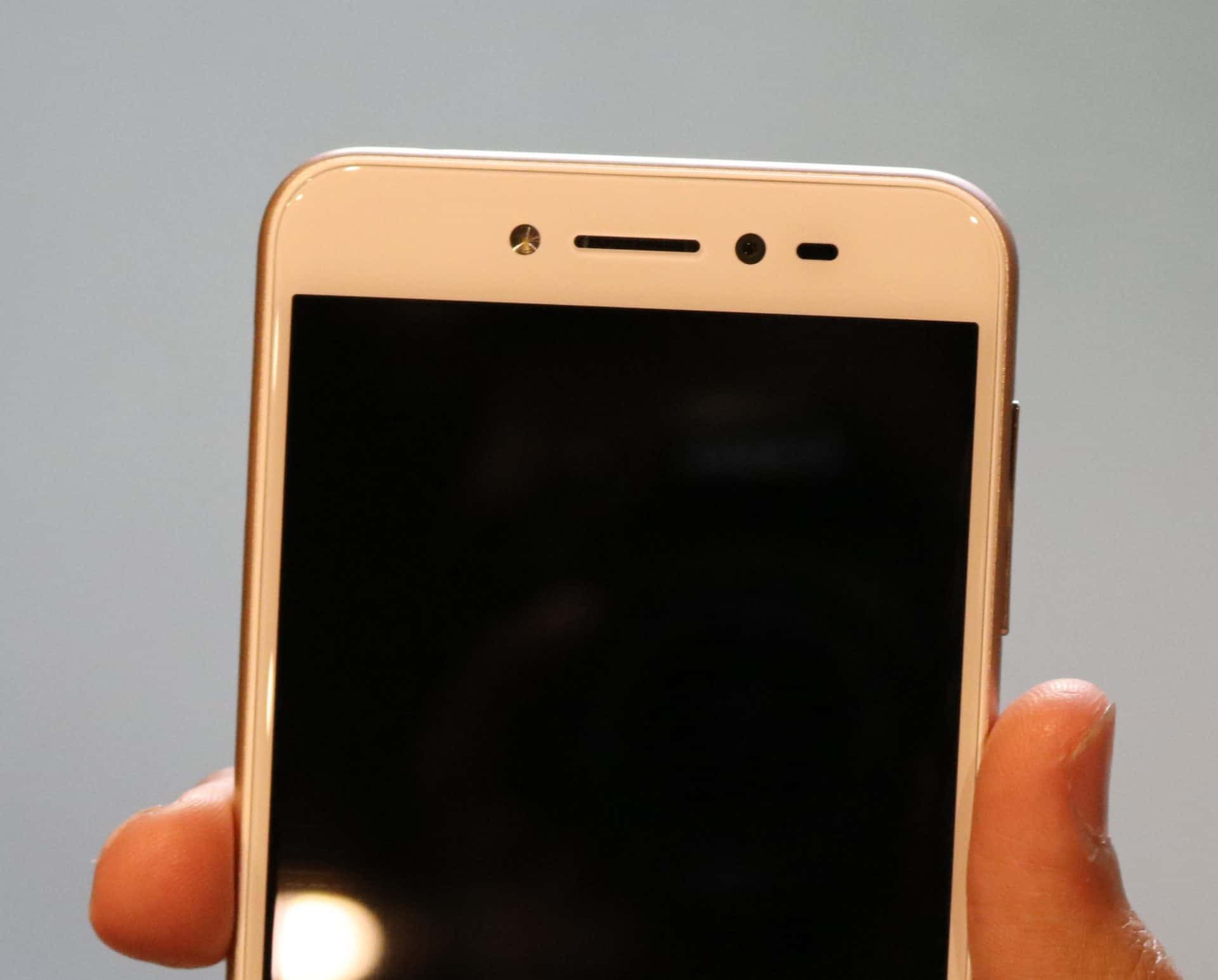 Front bottom, the capacitive back button, recent apps button and home button.Bottom: the speaker grill, micro USB port and a microphone.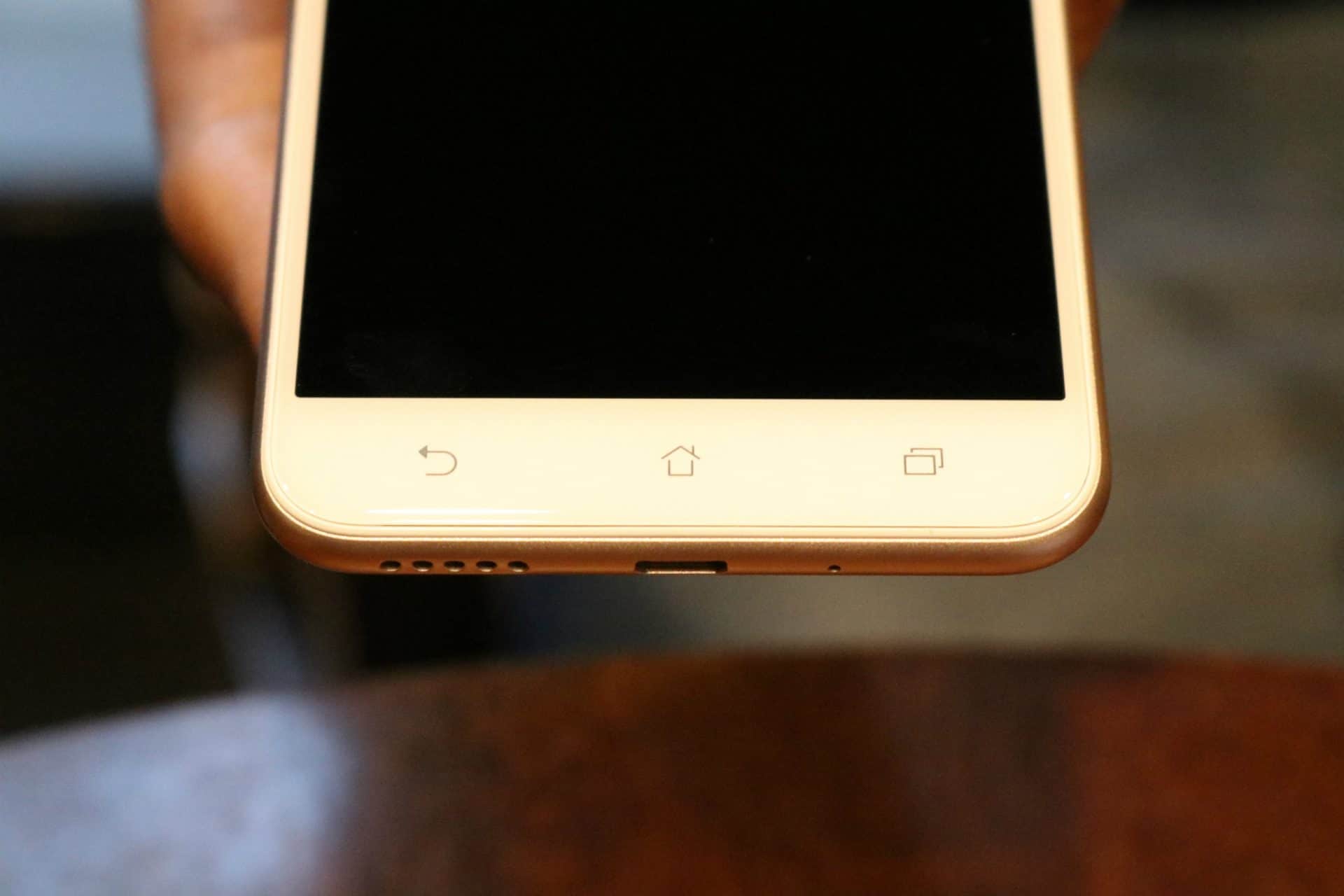 On the right side, we have the volume button and power/lock button.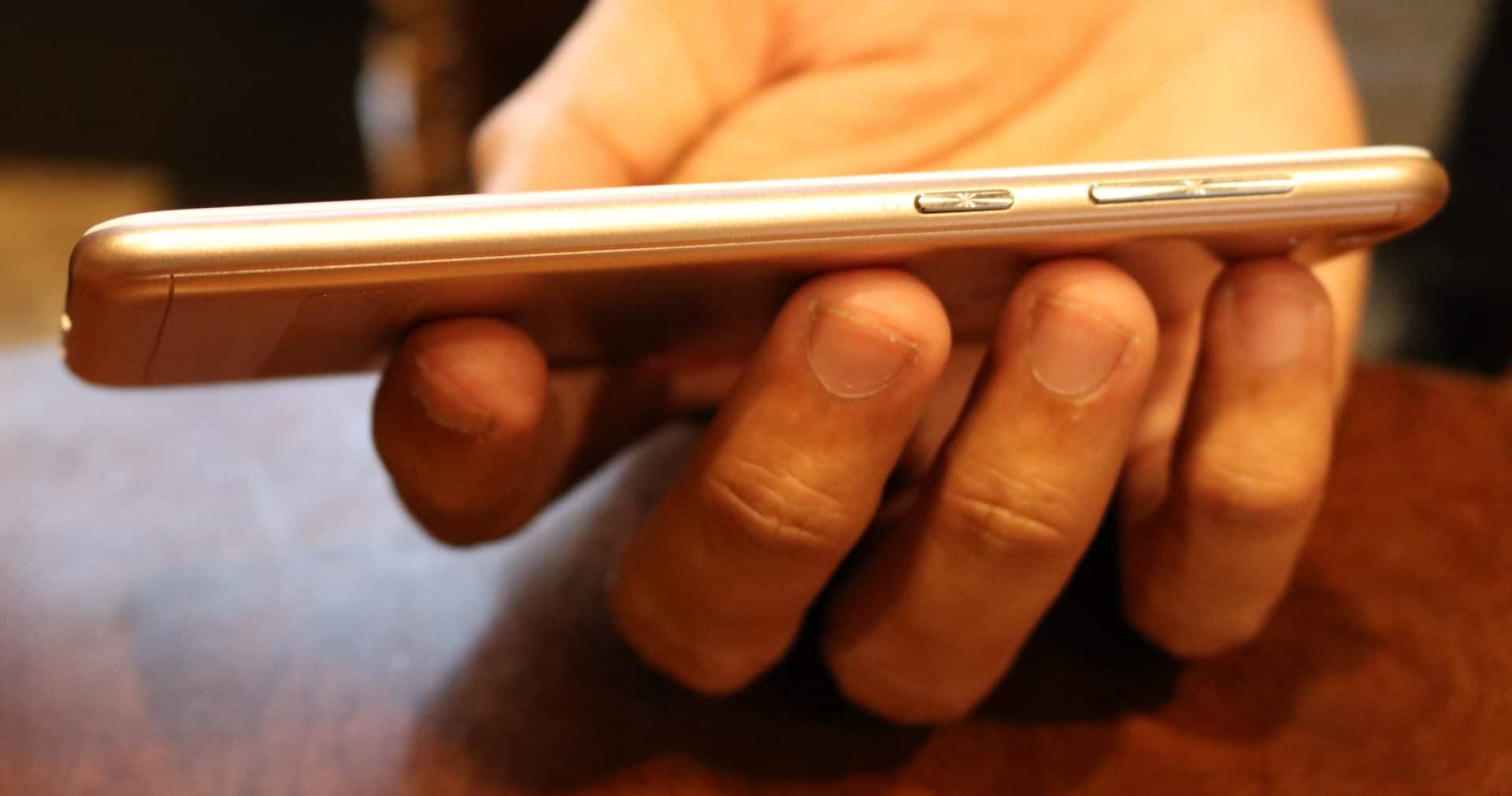 Left: SIM card slot.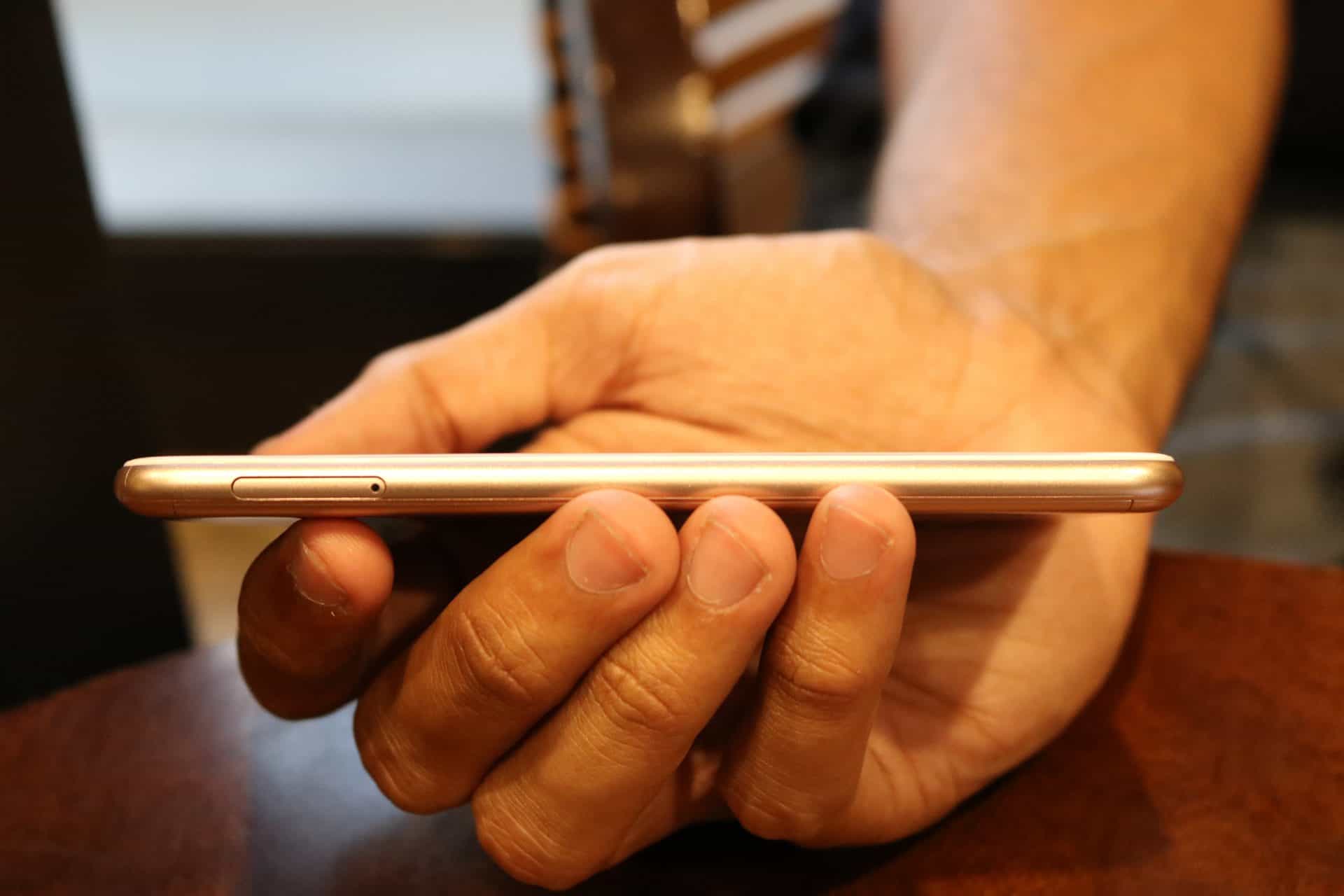 When smartphone manufacturers come up with new ideas for accessing navigation button, Asus decided to keep the old school capacitive buttons. Yes! The one with icons.
Display
The Zenfone live comes with a 5" inch HD 720p! Yes, you read it right its HD IPS display. When most of you might argue that the resolution is a perfect and is optimum screen size to pixel ratio, I am pretty discontent at this point. During my heavy user testing, I took the device in a sunny day and to my dismay, the screen didn't hold up well under sunlight. I am using a device with FULL HD AMOLED display and the difference was obvious to me, better than anyone.
Software – ZenUI 3.0
As a user who is used to stock android UI, I find the ZenUI bit cluttered. It is true that they have added lot many options to customize the look and feel. There is some parallax scrolling effect, which is nothing but you can swipe the home screen unlimited time and you will see the screen repeating rather than coming to stop at the end. There is a clock widget and few more features.
Since this is a device made for social media usage; Facebook, Instagram and all essentials comes pre-installed. There are some bloatwares like ZenCircle, ZenUI FAQ, ZenTalk and more. Luckily, this can be removed.
Asus BeautyLive
This won't be a comprehensive review if I don't talk about this distinctive feature of this Zenfone Live.
It's just an application which will automatically turned on every time when you open the camera application using Facebook or Instagram or YouTube. I hope you are all familiar with the beautify camera app which will smoothen and brightens your face. The Asus BeautyLive does the exact thing and the best part, it is designed to function along with all the social networking apps.
Features
ZenMotion: this options allows to setup Touch, Motion gestures and one hand mode. If set, you can use the features like; double tap to turn off screen, double tap to wake up and swipe up to wake up. You can also draw alphabets when in lock mode to fire up the application of your choice.
Asus Customized Settings: Under this setting you can find the Glove mode. This is very useful if you rider who using riding gear or uses gloves for the weather.
Kids Mode transforms your device interface to child friendly. Under this option, you can set up a PIN and select the apps that you would like your kid to access. Upon entering the PIN you can revert to normal interface.
Easy Mode this mode offers a simple UI, I find this will be very useful for the old people who would like to stay away from lot of options popping in front of their screen.
Camera
Front Camera
The Zenfone Live has a 5MP shooter with large 1.4?m Pixel Sensor for 2x light sensitivity. This means that it's a camera made for perfect shots especially during low light conditions. At f2.2 aperture and 82° wide view angle, the manufacturer has put in all the efforts to make the front camera great but, did it work? Let me tell you; in fact, I will show you a sample image. This is taken with front flash on.
I am not a big fan of beautification feature; it makes me looks like wax version and worst, like a doll in the output image. The camera performance, hope you can make it out from the selfie I have here.
You also get to play with 5 modes: Blush, Skin softening, Beautify, Eye Enhancement, Cheek Thinning.
Main Camera
The main camera of Zenfone Live is 13MP with PixelMaster 3.0. Surprisingly, the camera output is good. See the pictures;
There are 12 modes that you could use to unleash your creativity. Auto, HDR Pro, Beautification, Super Resolution, Children, Low Light, QR Code, Night, Effect, Selfie, Panorama, Time Lapse.
Another good thing I liked about the main camera is, it will automatically detect the ambiance and suggest you to switch. If you are in low light area, then it will ask you to turn on the low light mode on. If you are standing against light, then it will ask you to turn on the HDR mode. Here is a picture with HDR OFF and ON.
There is a considerable lag while operating the camera and it is very bad. Asus should have put some thought while choosing the processor for the device. More on this will be covered under performance.
Performance
The Zenfone Live packs a Snapdragon 400 Quad core processor combined with Adreno 305 GPU and 2GB RAM. It's evident that the phone is not made for performance. Let me be honest with you people, I took this device out for testing and this is how it went.
I started by installing lot of apps. Installing apps takes a lot of time, thanks to the processor and the RAM. I used the device for navigation for 1.5hrs and I could feel the lag when I tried to fire up the camera app when I stopped my bike in between highway for clicking picture. I recorded 30 second video. Clicking pictures is bit tricky, it will take almost 0.25-0.5 sec for the screen to get updated even after the subject is moved out of frame. This is completely unacceptable. If you are on any special mode in camera, then the shutter lag will be more than 2 seconds. I recorded lot of Instagram stories for my followers. The front flash was very useful when I was shooting inside the cab.
Overall, the phone performance is below average. This is an obvious result if you look at the specs.
Battery Performance
Charging Time
Charging time from 0% to 100% Charge
Since there is no fast charge option, with the 1A charger which comes out of the box, it will take more than 2.5 hrs for full charge. I find it inconvenient since I use device with fast charge functionality. For others, this won't be an issue.
Battery Usage
This test is based on heavy usage.
Installing Apps over 4G with screen on – auto brightness
At 12:10 PM – 100% Charge
12:22 – 99%
12:25 – 98%
12:27 – 97%
12:30 – 96%
12:32 – 95%
12:50 – 90%
1: 10 – 85%
1: 20 – 80%
20% drop in battery level in 40-50 minutes.
I used the phone for booking cab, then during my trip I took some Facebook time.
Google Maps Navigation
3:14 PM – 57%
4:30 PM – 29%
   28% drop in battery level after 1 hour 15 minutes Google Navigation
I updated couple of Instagram stories and there we go! 14% drop in battery within next 1 hour. At 5:29 PM the battery has reached 15%.
In 5hrs 20 minutes the battery reached 15% from 100%.
Battery Review – Conclusion
The Zenfone Live packs 2650mAh non-removable battery. The battery performance was good considering the tasks I have used it for. It have put the device under lot of pressure and it gave me a good 5hrs 20 minutes battery time.
For a heavy user like me, I find the battery unreliable.
Zenfone Live Review – Conclusion
Let's start with the purpose of this device. The Zenfone Live is launched keeping in mind the potential users who would love to go live in front of their social media followers. There are two types of people;
First, the type of people who would like to click some selfies, also would like to go live in front of close friends and to experience 'live on social media'. For them the integrated beatify feature comes handy and they can utilize the front flash for better low light performance. Again, you should sacrifice on the performance.
Second, the people who has lot of followers (not celebrities), or vloggers who will take lot of videos and photos. The whole purpose of a phone, for them, will be to use camera. I don't think a below average performer like Asus Zenfone is going to stand a chance. Kudos to Asus for coming up with world's first live streaming, real time beautification technology. I hope they will put this feature to use in a better hardware next time.
There are Xiaomis, Lenovos and Motos which comes with slightly more (may be 1.5k – 2k more) price tag with better processor, more RAM, Full HD display, fast charge, fingerprint scanners and more. For a price tag of Rs 9999, I would like you guys to think and take a decision.