Backup Photos from Android– if You are searching easy ways to backup Photos from Android phone then you can follow some simple steps to enable automatic backup using Google app.With the coming of endless Android camera smartphones, you are most likely to use your smartphone to grab memories instead of using digital cameras. Smartphones come up with high-end cameras and high storage with which you can click a lot of pictures and save them in your phone.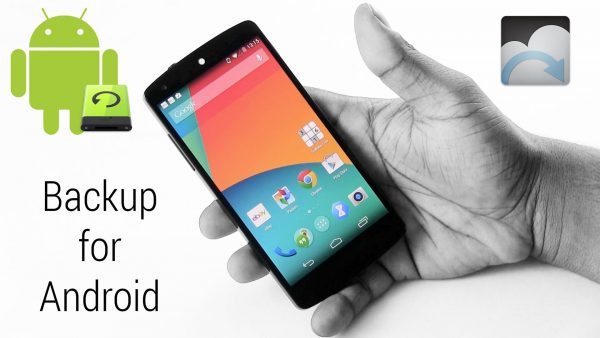 But, what if you lost your smartphone or your SD card got corrupted? Your photos and videos will get lost! The only downside of smartphones is that you cannot recover your photos without a backup in this case. It is imperative that you have a backup in case you lost your phone to avoid losing those memories. Thanks to Android technology which offers some ways to backup your whole smartphone data including photos, videos, contacts, messages and much more. We will discuss manual and automatic ways to successfully backup android photos.
How to Backup Photos From Android Phone Manually?
First of all, connect your Android phone to your computer through USB cable.
Now open File Explorer on your computer by right clicking the Start Menu and choose File Explorer.
On the left side of the File Explorer, you will find your phone name. Click your phone name.
Now find your photos from your phone, mark them all and copy all the photos by clicking right from your mouse.
Now just paste your photos on your computer wherever you want to keep your photos and you're done.
In this way, you can take backup photos from android smartphone and save them. But if you are looking for an automated way to backup your images more safely, then we have some automatic ways too. You can enable automatic backup in the Android phone using Google Photos app like Apple offers iCloud service to backup data automatically. You can also use the mobogenie if you want to control your android devices from your laptops.
How to Backup Photos From Android Phone Automatically?
1. Google Photos Backup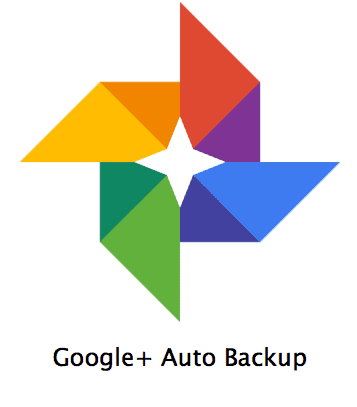 Apart from social network services, Google+ is a free service for Android users to take automatic backup for the smartphone data. You just have to follow some simple steps to enable automatic backup.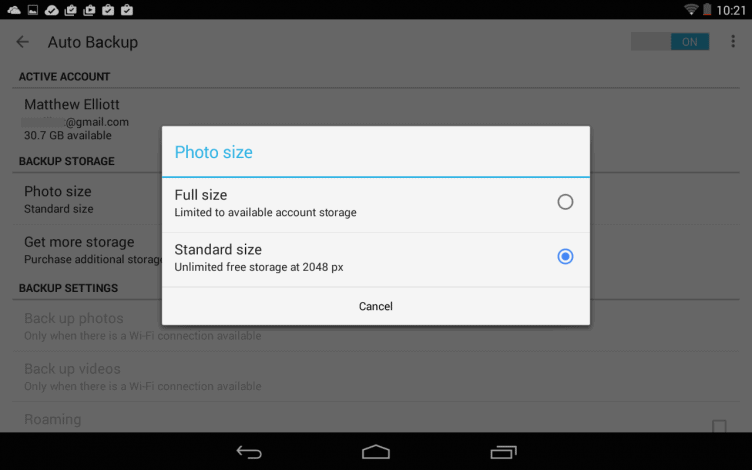 Open the app and choose Settings from the Menu.
Now tap Auto Backup in the top titled section General Settings to enable the feature.
You can also choose to take backups when charging or on Wi-Fi. There is also an option available through which you can start backup immediately.

Pros: You can store unlimited number of photos if you choose the Standard Size ( backup are restricted to 2048 pixels )
Cons: If you choose the Full-length size then you can store photos with limited storage ( up to 15GB). You can buy 100GB of storage for $1.99 per month and 1TB storage for $9.99 per month.
2. Dropbox Photos Backup
The father of cloud storage now offers you a feature to upload your photos to cloud storage and save them. The service is available for both Android and iOS. You just have to install the backup Dropbox app to and even it provides you an attractive viewer to view and manage your uploaded photos and videos.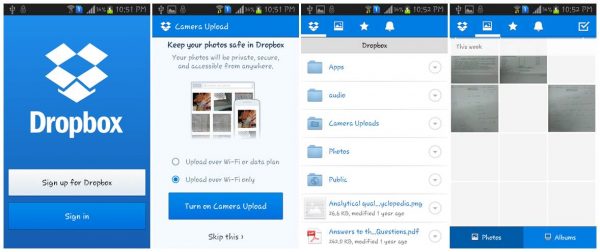 Install the Dropbox app and tap the Settings button in the upper left corner.
Select the Backup option and enable the toggle switch to set up the feature.
You can also select whether you want to backup using only Wi-Fi or using either cellular data or Wi-Fi.

Pros: You can upload full resolutions images and videos without any pixel loss.
Cons: Free service is only up to 2GB storage and after that, you have to purchase the pro version for $99.99 per year.
3. Microsoft OneDrive Backup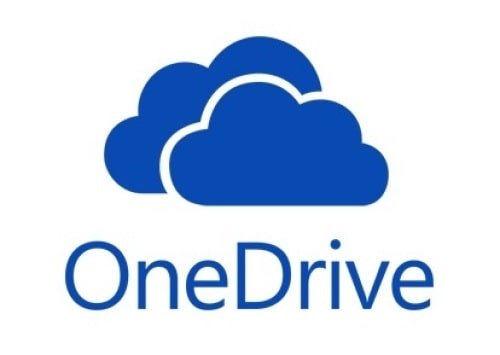 OneDrive is another cloud storage app to backup photos on the android phone. You just need to install this app from the Google app store and sign up if don't have Microsoft account. After signing up, you will be asked whether you did like to take backup of your photos. You will get 10GB free storage to upload your photos and videos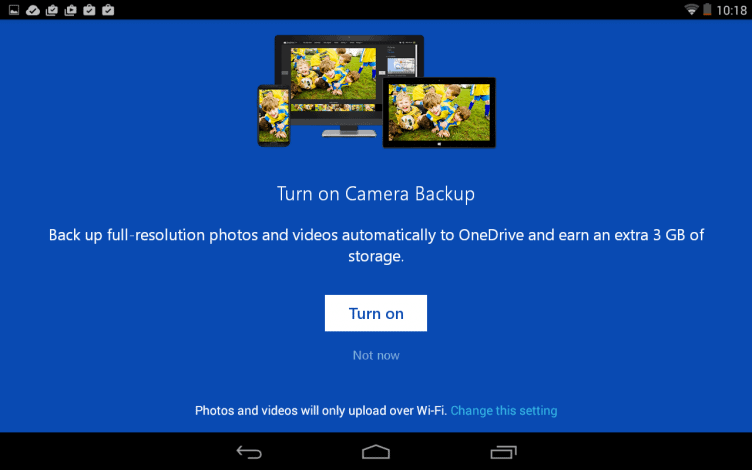 Open the OneDrive app and go to Settings.
You can tap and enable the Camera Backup option On or OFF to enable the feature.
Additionally, there are other options to include videos, upload via phone data, and perform the backup in the background.
Pros: Photo viewer included to manage and view your photos and videos.
Cons: You will have to purchase additional storage after 10GB. 100GB storage will cost you $27.99 per year.
4. Amazon Cloud Drive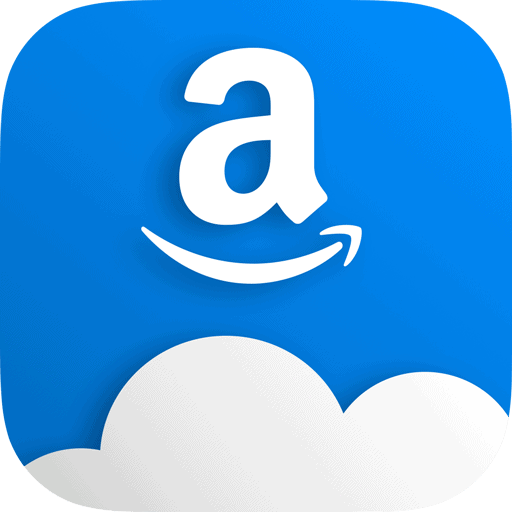 Its amazing features makes it one of the best apps to backup photos from the android phone. After downloading the app, you will be asked whether you want to set up automatic backup feature.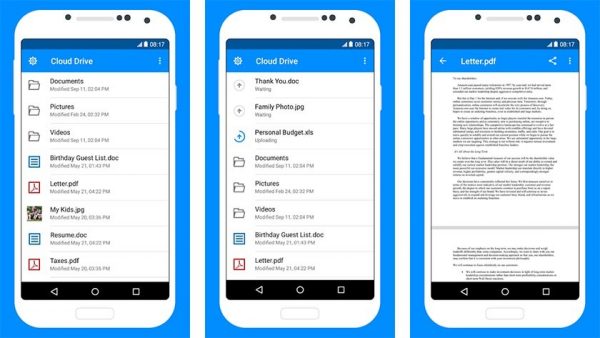 Open the app and go to Settings.
You can enable the Auto-Save to enable automatic upload feature.
You can also choose to upload photos or videos, upload using Wi-Fi only, upload using either Wi-Fi or mobile data.
Amazon Cloud Drive offers 5GB free storage and allows you to upload Full-Length photos.

Pros: Photo viewer included. Apart from photos and videos, you can also save other data like documents.
Cons: Beyond 5GB, you have to one pro plan from premium plans which offers 20GB for $10 a year, 1000GB  for $500 a year.
Conclusion
As everyone loves their grabbed memories, you are recommended not to depend only on one option. As all the automatic backup apps offer free storage up to some extent, so you should take Backup Photos from Android on multiple platforms.