Whatsapp is one of the most popular free chat apps that allow us to text through live chat, with the ability to create groups, share your location, pictures, and video. We can record voice messages to share with friends and family. Since the software uses an internet connection to function, it does not charge you any carrier fees for texting, other than using your plan data. The app can be used to send unlimited texts, pics and videos for free, and if connected to an external Wi-Fi, you can use it from home without going over your plan's limit. WhatsApp Messenger has become one of the most popular downloaded apps of its kind, and is available across all mobile platforms and countries. Because of it's popularity, there are plenty of whatsapp spy softwares available online. So let's learn what are the best hacks to spy Whatsapp chats without target phone or with target phone.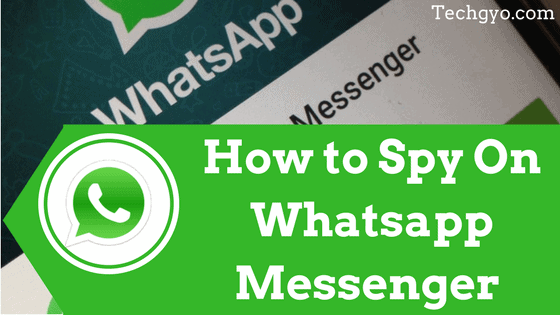 Why to Spy WhatsApp messages?
There are some common reasons as to why someone might want to monitor WhatsApp on mobile devices. If you wanna know that who all people are talking behind your back and  or  you may want to spy on your girlfriends whatsapp, or spy whatapp on their children's phone to keep them safe from strangers. if you want to spy on their whatapp to know what are they up to, here are some whatsapp spy apps for android and iPhone. Some of the whatsapp tracker services such as mSpy offer features for both parents and business owners.
Also read: 6 Free Automatic Call Recorder Apps for Android
The service should be able to do the following.
Access to all pictures, videos, and voice chats shared across the chat.
Ability to spy WhatsApp contacts and group chats joined.
Ability to view when a location was shared, including location coordinates.
All the logs and media files are saved to the server, for you to access from anywhere you want, by simply logging onto the website with your password.
Whatsapp Spy Apps you must check
Most software offer WhatsApp tracking, but it helps to know the good ones from the bad ones. Having a good monitoring app means you get a list of powerful functions beyond logging WhatsApp chats. The best whatsapp spy apps available for our needs are:-
 1) Mspy
The power that mSpy gives is it goes way beyond chat logs, but on the topic, we will also have compatibility for; Skype, Viber, Facebook and other social sites, messenger, BBM and recently added Snapchat. Advanced theft protection, parental controls & alerts, are all available through an easy to use web panel. Read the best whatsapp spy apps reviews here: https://www.mspy.com/whatsapp-spy.html
2) FlexiSpy
Flexispy offers a complete service compatible with Android, and iPhone in regards to WhatsApp messages, but also support various other messaging apps such as; Facebook, Snapchat, BBM, VOIP Apps, Although they don't offer as much on the parental control side of things, the amount of available cell phone monitoring app compatibility is enough to satisfy both personal, and business users.
3) Mobistealth
Mobistealth is ranked 3rd but can be considered as good as the previous two and here's why. When we compare the list of messenger apps, it has a slightly shorter list, but really not by much.
Do let us know in comments if you found any new whatsapp spy apps which you've used.