The typing speed is an important factor for most of the bloggers, journalists and persons with physical disabilities. Or for that matter anyone who needs to get through the words at the fastest pace. But don't worry if you face any difficulty. Of course, inking (via keyboard) your thinking is a time-consuming task. But we have a solution to perfectly assist you in typing – Word Prediction Software! Yes, the word prediction software boost up your texting speeds to make you work effectively and effortlessly.
Prediction definition basically implies to anticipating the next word and/ or sentences as you start typing in any word processing applications. There are several packages available on the web but here we list a few useful ones that readily predict the words and sentences when you start typing in almost any interface (especially windows). Yes.. we are talking about that can assist you to speed up your typing.
Typing Assistant has incorporated many useful features-
The software predicts words in almost all programs including MS Word, MS Excel and MS PowerPoint. Also, MS Outlook, notepad, word pad, instant messenger clients, Google Chrome, FireFox and Opera etc are supported.
Typing Assistance also predicts in windows elements including "Run", searching files as well as renaming files
Its auto-expand feature extends the abbreviations to full-text form. Of course, you can define your abbreviations and expanded text for respective one
This typing software has an auto-learn feature that adds recently typed words to its database. The words added will be displayed automatically in word prediction list, it keeps commonly used words at the top of the list that helps to pick them easily
Typing Assistant's auto correct feature corrects commonly misspelt words
It has auto clipboard feature that reads the content of clipboard and adds them to prediction list.
Typing Assistant by sumitsoft is a robust word predictor.
Finally and most importantly typing assistance is seamless to use. Its prediction list comes up with numbers if you want to choose the second or third word from prediction list just press 2 or 3 respectively.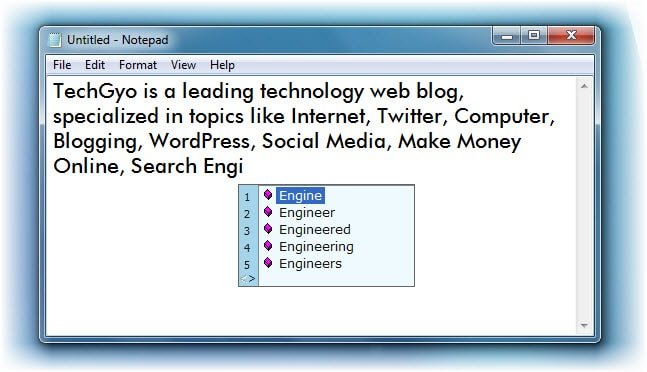 It's a must have word prediction software for typing oriented professionals including typists, journalists, bloggers, writers, language translators and computer programmers. As this software also comes with a portable version, you can run without installation on any windows PC. Plus it's a shareware that costs $45 for the single license. And believe me, its worth buying.
2. LightKey – The Future of Typing
This word prediction software has a seamless integration with Microsoft Office, especially with Word, Outlook and PowerPoint. It's a perfect desktop app that reduces keystrokes saving your precious time. And it also is capable enough for avoiding spelling mistakes (vocabulary enables native sharpness for zero spelling errors) to maximize your productivity.
LightKey possesses a super powerful prediction algorithm that's uniquely defined by its potential to calculate relevance. Not only that, LightKey also incorporates over 50 content categories including Technology, Business, Sports and more.
LightKey offers better performance.
It makes the typing on PC responsive and easy through the use of keybindings.
Offering single suggestion it minimizes the cognitive load.
The dashboard helps monitor your typing efficiency along with the pace (wpm) and other features.
It consumes 25% lesser RAM along with an optimized CPU consumption.
It is also enterprise friendly along with being a free typing software.
The users get tailor made predictions and LightKey is definitely the best free typing software.
It is available in over 75 languages including English, French, German, Hindi and more.