Playing games have been a never-ending trend from centuries. Although each and every generation had its own formats of games, be it the Mario video games which the 90's kids played, RoadRash which we played on the old computers, online games which girls played on barbie.com, PSPs or Android games. Single-player games are pretty good, but there is always this one game which you are perfect in and you want your friends to show off your gaming skills. Like Runescape gold.
Multiplayer games always spice up your competition or make a better bond when you are in the same team. However, it is very important that you select the best games before calling up your friends for the show to be a hit! Below enlisted are a bunch of games which will kick start your gaming fun!
1.Last day on Earth: Survival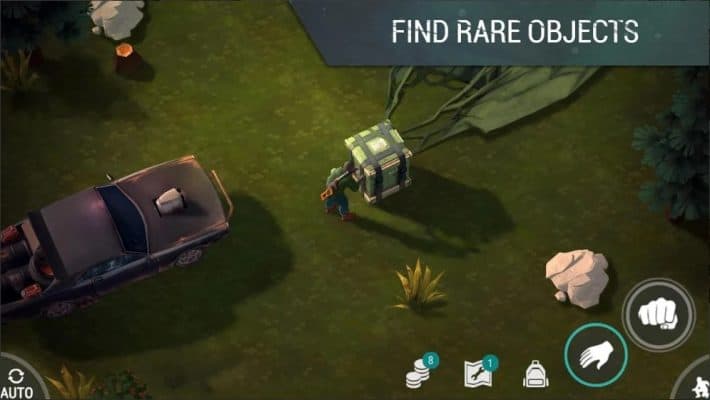 The theme of this game is of the year 2027, where a plague caused by an unidentified virus sweeps out a huge population of the earth. Now the people who have survived have to stay alive for as long as they can. The players need to come up with strategies and shoot your enemies; zombies. Of course! A survival game without zombies is always incomplete. This is a free game and is really fun to play with your friends. It creates the right amount of tension and fun. Moreover, you will have to increase your creativity for creating weapons and vehicles by hunting materials for it
Download: Last day on Earth: Survival for free
8 Ball Pool: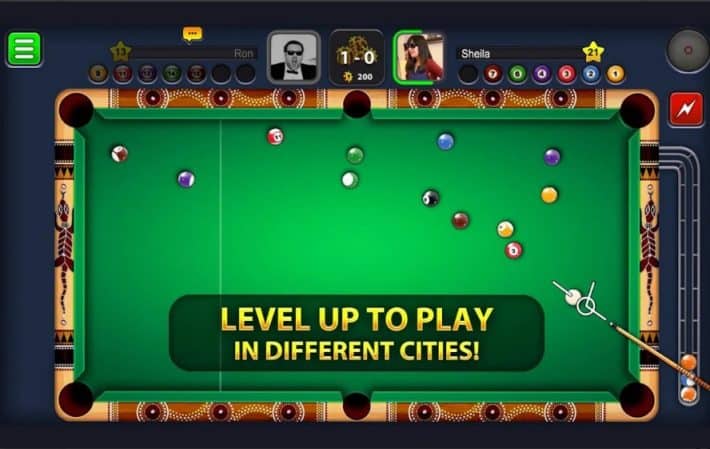 8 Ball Poll is till date rated as the most played multiplayer game. Miniclip had designed this game in order to give the best experience of the 8 Ball Poll game on their handsets. They have even included the 9 Ball mode with the increased demand by players for this model. Now, players can enjoy both the gaming modes and is a pretty game to get indulged in with your group.
Download: 8 Ball Pool for free Multiplayer games
Tip: Did you know what are the best Android dialers
3. Mortal Kombat X: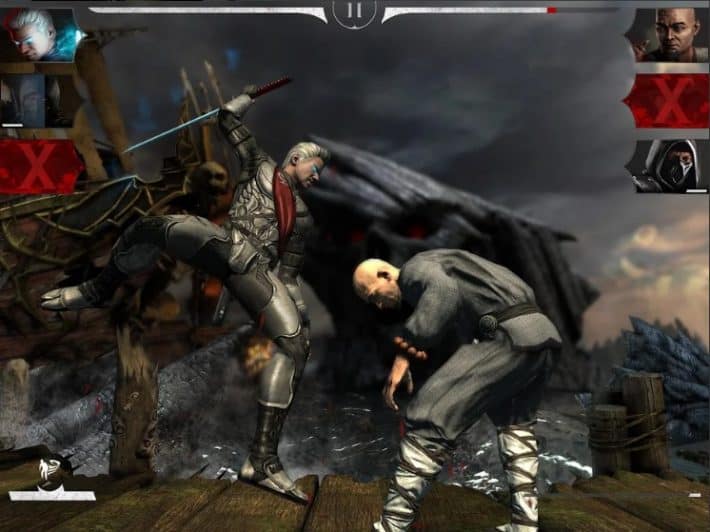 Tekken might have been given the place of the best game with a fighting genre, but Mortal Kombat has its own charm! The game is set between Earthrealm, Netherrealm, and Outworld (the animated characters in this game) who have some supernatural powers and unbeatable moves which make this game interesting to play. The game has rolled out for Android devices and the game has been improvised for touch screen controls giving the best gaming experience.
Download: Mortal Kombat X for free Multiplayer games
Modern Combat 5: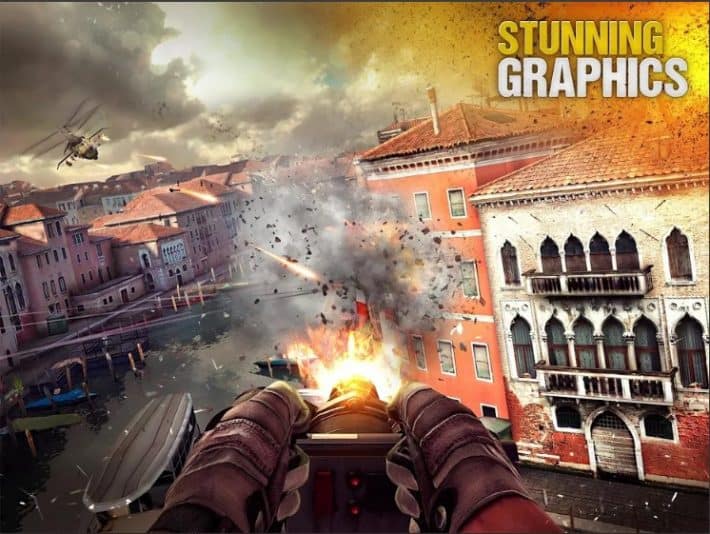 Gameloft is known to design some of the finest games in which Modern Combat 5 is one of its best games designed for the modern handsets. It consists of the first-person shooter which is the best along with the graphics which will blow your mind. The game has high powered and destructive guns which make the game even more interesting and creates a tension between the players which will surely exhaust your mind. The overall gaming experience is mind-boggling. One should try playing this at least once! Moreover, it will surely entertain the FPS fans.
Download: Modern Combat 5 APK Multiplayer games.
Minecraft: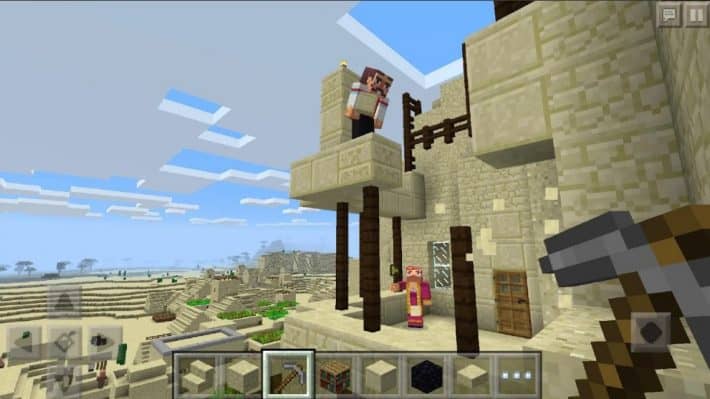 This is a really old game which continues to be popular even today. Minecraft is in the gaming world from the time computers have existed. It has interesting gaming which is has a pixelated theme. The motive of this game is to make your own world and save it from problems as you go for adventures. This game requires some imaginative and creative brains to play. However, it is not a free game but it is worth playing.
Download: Minecraft for $6.99 (INR 479.56) Multiplayer games
Android games for Local- Multiplayer (play these on the same handset):
6. Chain Reaction: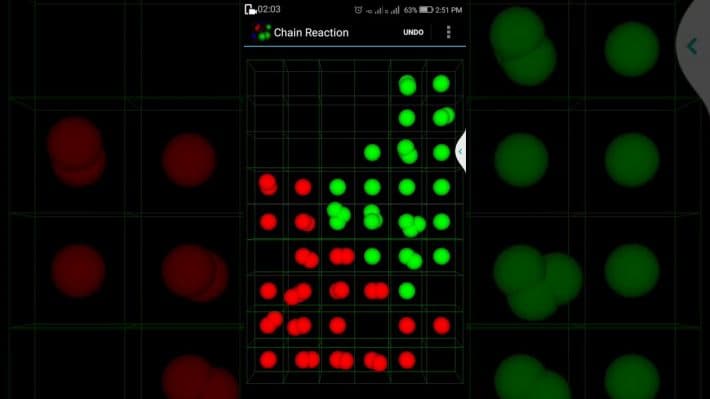 If you want a game which requires your brain to work and needs short term strategies then this game is for you! Chain reaction as the name suggests, it has a theme of atoms with a vulnerability explode and spread across the big rectangular increasing its territory. It can be played among players turn by turn and the one who ends with a big explosion and covers up the whole territory of the other players wins the game. This is a game with no complex rules or motives. It will surely make you stick to your phone for a long time.
Download: Chain Reaction for free Multiplayer games
Glow Hockey 2: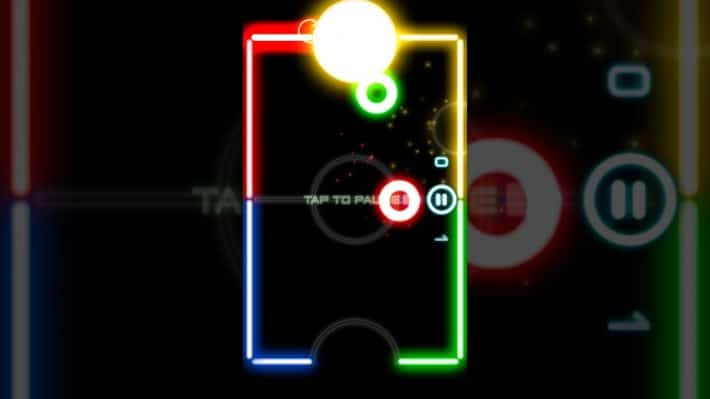 Glow hockey 2 is a replica of air hockey. Air hockey has always been a game everyone wants to play for sure. It's especially fun if you are playing it on a bigger screen. It works glitch-free every inch of it. So you will definitely enjoy the game without disappointment. The game is about scoring a goal by aiming the puck inside the opponent's hole.
Download: Glow Hockey 2 for free
Badland 2: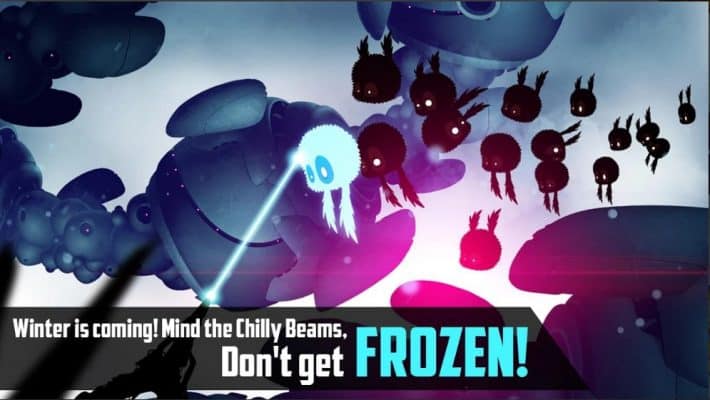 It is the second version of the game badland. This game is amazing to play with your friends sharing the same screen. This game contains is a combination of physics, good graphics and audios. It will surely live up to its purpose. However, the most annoying part is the ads which pop up after each and every level. It does interrupt your gaming experience. But overall the game is really good to play.
Download: Badland 2 for free
Bounden: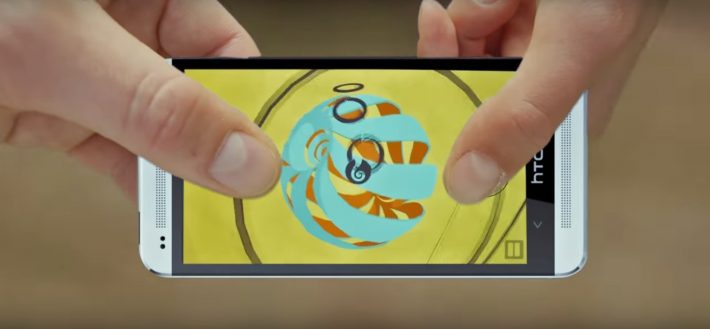 Bounden is designed with a motive to guide you for dancing. It is designed in such a manner that makes you move together. It is by far the best application which actually engages you physically to dance. The moves have to be done very swiftly to avoid getting entangling with your partner. It works well for couples as well. You just have to ask your partner to use his/her thumb on the screen and move in sync with each other. However, it is a paid application and has drawbacks incompatibility to new phones.
Download: Bounden for $1.99
Ludo Star 2018: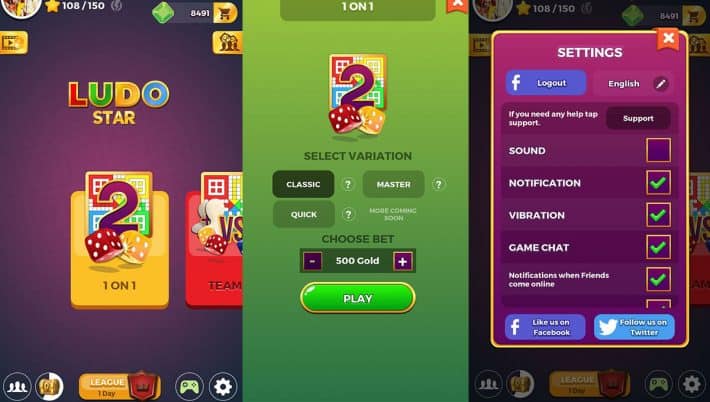 After trying all the Ludo Game Application, by far this is the best application for playing this game. The interface of this application is very interactive and easy to play. This board game allows players to invite people to play from different platforms like Whatsapp, Facebook etc. You can even play online. This is surely a game which brings in a healthy gaming competition. This is just like the traditional board game Ludo, just on your phone.
Download: Ludo Star 2018 for free
C. Bluetooth Multiplayer Games for Android:
11. Volleyball Hangout: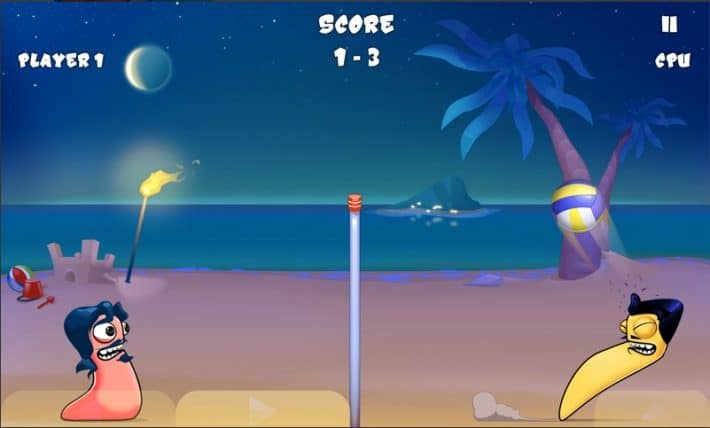 This game has a pretty simple motive to defeat your friend and make more scores. You will see two slugs each slug will be controlled by you and your friend on your respective devices using Bluetooth. The player can choose a slug from the provided options. Playing this game with your friend surely makes it fun. It can be played by two players
Download: Volleyball Hangout for free
Dual!: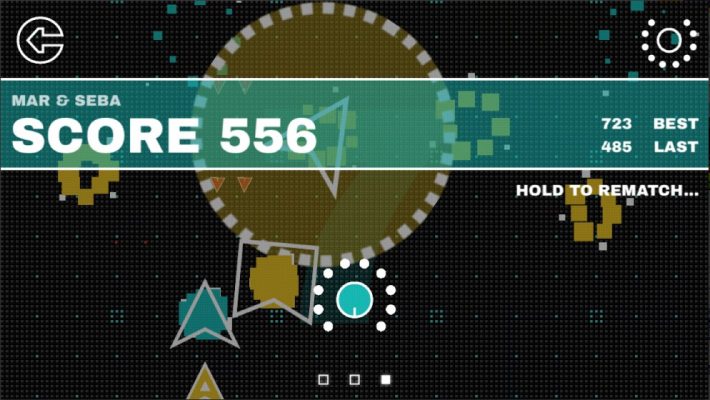 This gaming application really takes it up a notch! You can transfer the data from your device to another. Dual is designed for 2 players which can be played on their respective devices using Bluetooth. Players have to shoot from their device to the other. It also offers two modes: Competitive and Cooperatives mode; you can compete with each other or you can play as a team.
Download: Dual! For free
Sea Battle 2: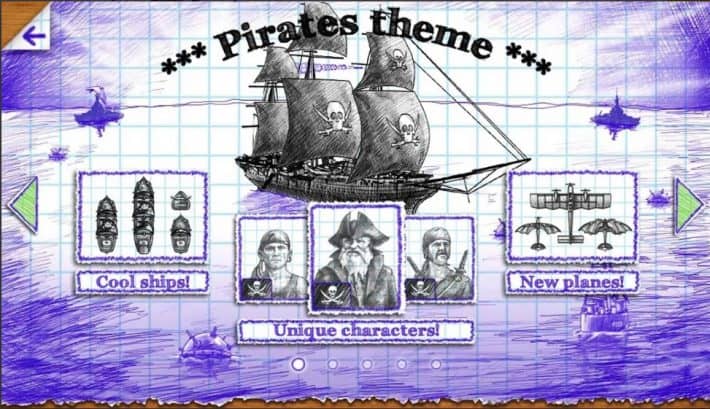 After the popularity of Sea Battle, a new version of this game 'Sea Battle 2' is available for Android players. This game will make feels like a pirate with the power of ships, planes, submarines, mines, radars and all the other weapons which you will be using to defeat your competitor ship. You can instantly connect to your friend's device using Bluetooth and become the leader of your troop on the seas.
Download: Sea Battle 2 for free
Real Steel: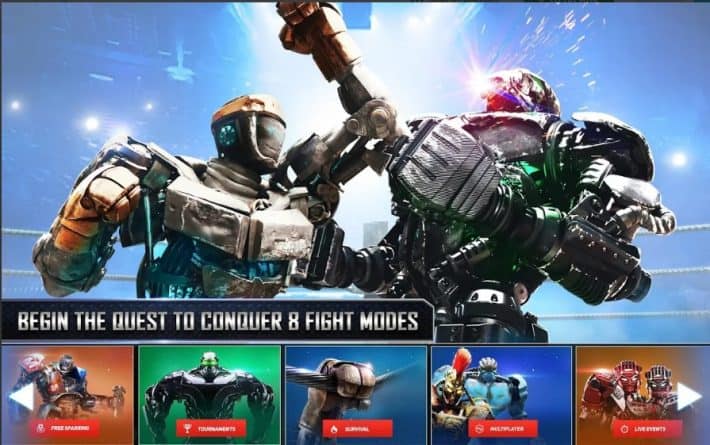 This game is similar to the movie Real Steel. However here you will be creating your own robot! Moreover, you will be controlling your robot and train it to punch and kick the opponent's robot in the boxing ring. This is a real face-off between your friend and your and fun to play. Also, it has excellent graphics and controls of the robot are pretty easy to play with. But you might need some practice to get used to it! Once you have got garb on to its controls you will surely have a great time playing it with your friend.
Download: Real Steel for free
Respawnables: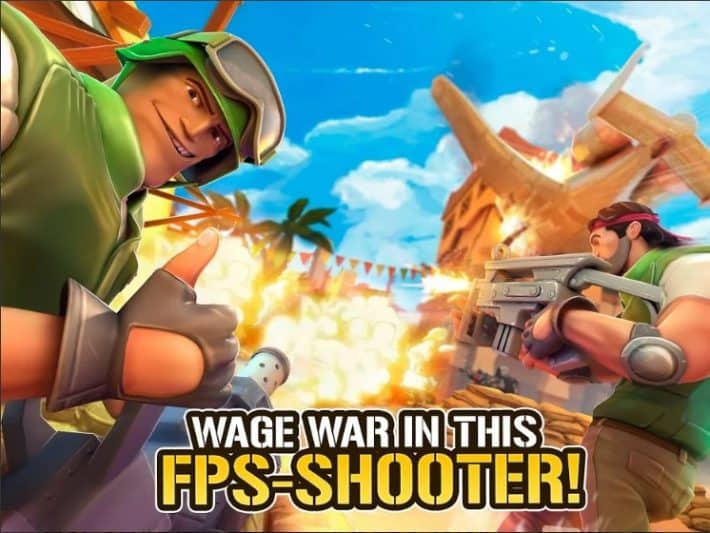 Apart from all type of games, fighting games have a different level of favouritism in every gamer's heart. This is a perfect fighting game for gamers to enjoy the best adventure and thrill of counter-attacks. You can choose a character in the form of a terrorist, assassin, gunman, armed force etc. With each level, you play your weapons can be advanced and use it to tackle your enemies.
Download: Respawnables for free
D. Multiplayer Wifi Games for Android:
Mini Militia: A Multiplayer game: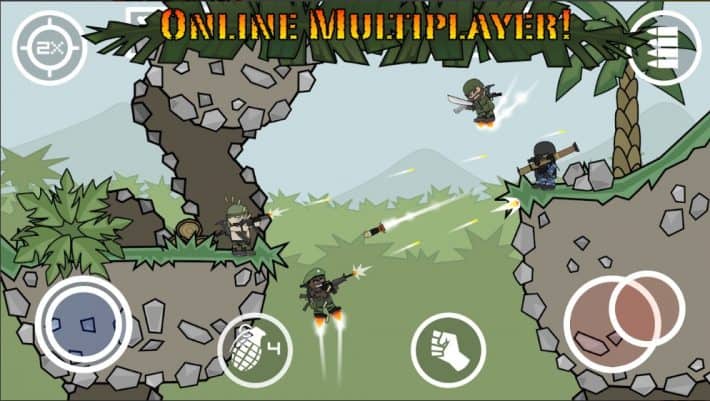 This game has gained a lot of popularity when we talk about wifi multiplayer games. It is my personal favourite too. This game is played worldwide. You have the freedom to play it online with the players worldwide or you can play using your wifi. Not just that you can play with your friends when you are far apart using the custom settings and creating a group. This game has never bored me! Not to forget the tension to kill your opponents and saving yourself is a big task. You can also change the theme of your battlefield. You should try playing this at least once! You can play this game with 8 players.
Download: Mini Militia for free
Bomb Squad: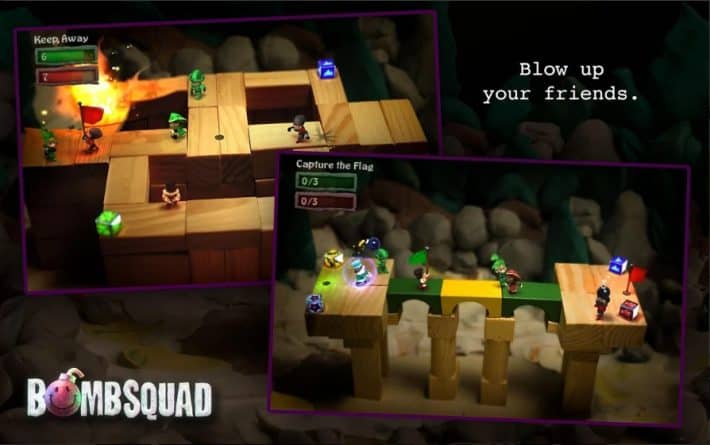 This game is a combination of many mini-games. You can pair it with your 8 mates and play. You can also create teams with a set of players and play against each other as well. This game will surely get you addicted to this game with its graphics and the mission to win.
Download: Bomb Squad for free
NBA Jam: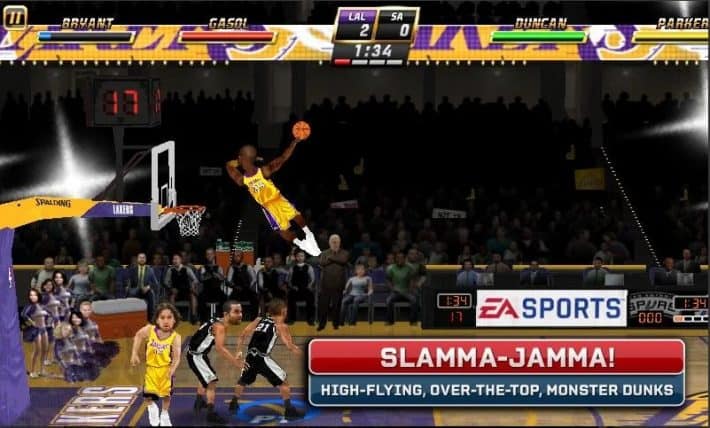 Sports gamers will surely love this game, it's all about basketball. Probably this is the best basketball game by EA with more fun and less of competition. This game can be played with your friend using wifi. You can opt for the 2 on 2 games with your friend and enjoy the high jumps, professional basketball shoots, take aims to make your score and beat your friend. Get ready to get addicted!
Download: NBA Jam for $4.99 (INR 399)
Terraria: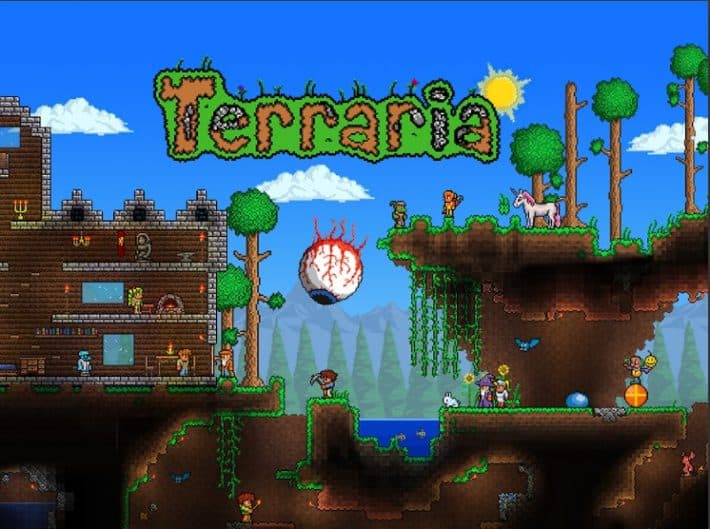 Terraria is another adventure game which is set in a 2D world. It does remind of Minecraft when you start the game. You can build your small empire, kill your enemies be the hero, collect the resources to create new items and be the master.
Download: Terraria for $4.99 (INR 330)
Crossy- road: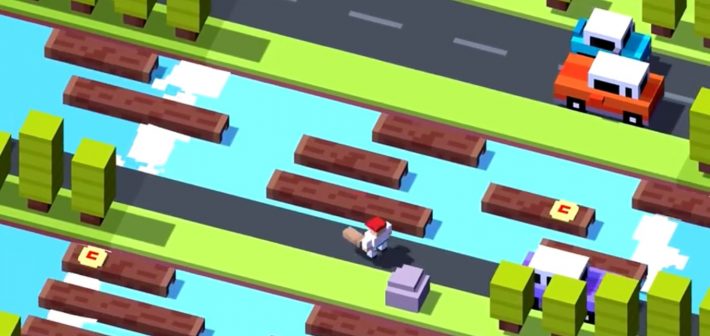 The game is all about directing the chicken through the road full of traffic, carefully steer clear of the hurdles in your way. The game is set in the cubical world. You have to direct your chicken to places safely. This is the whole motive of this game but is very addictive. Moreover, it features support for the controller, latest Android TVs, and support for multiplayer played locally. You can unlock different subjects like the goose, kiwi, unicorn, etc as you keep playing.
Download: Crossy Roads for free
E. Android games to play with Facebook Friends:
UNO and friends: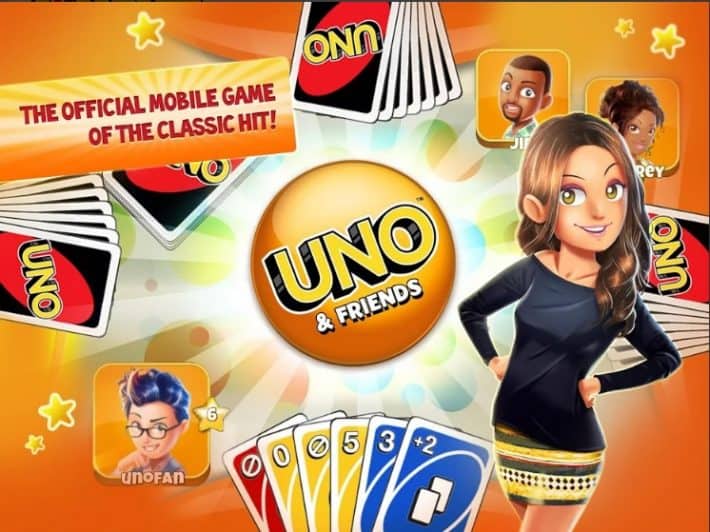 Who doesn't like playing UNO with their friends? This game is just the virtual version of playing UNO with your Facebook friends or with online players on this game. It has the same rules and the same playing procedure. Moreover, players can make use of different modes which will help them to have more fun.
Download: UNO and Friends for free
Draw something: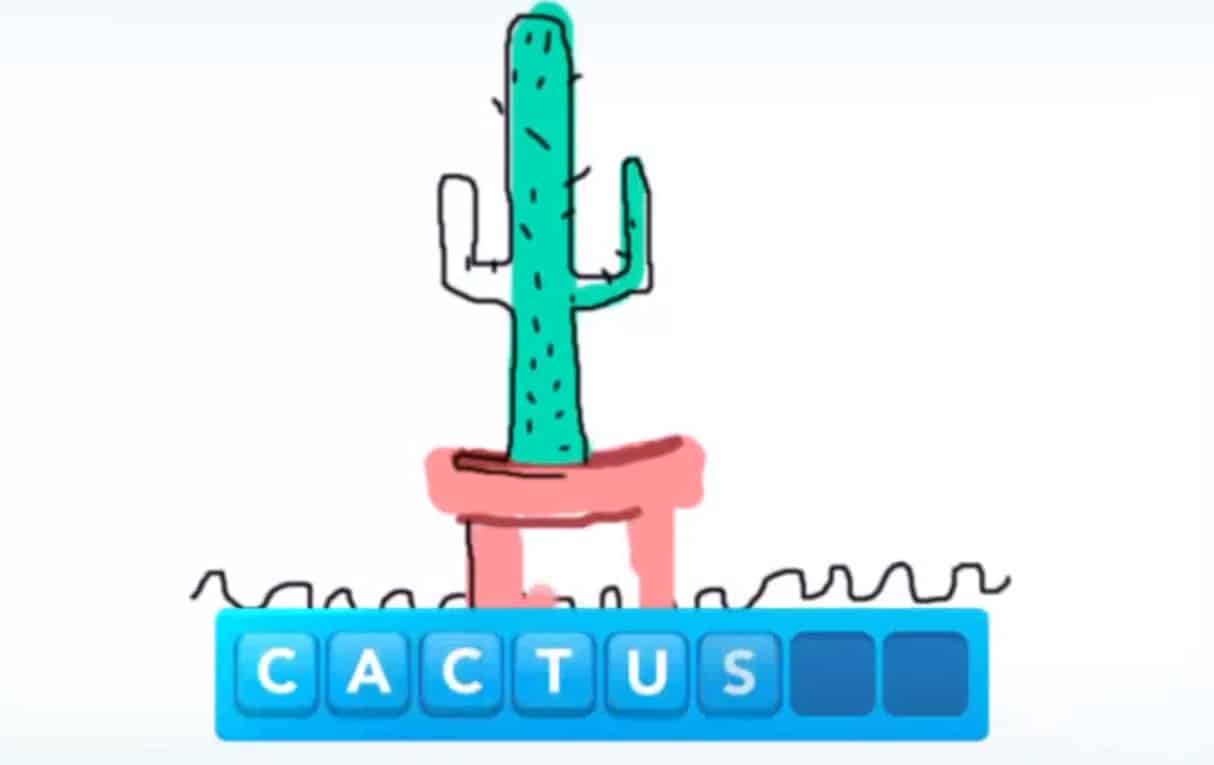 This app is known as the world's most popular in drawing games. You can use its tools and create perfect sketches and artworks. You can create new doodles and exchange them with your friends and family. Let your imaginations flow and take part in the contests which they conduct.
Download: Draw something for free
Words with Friends 2: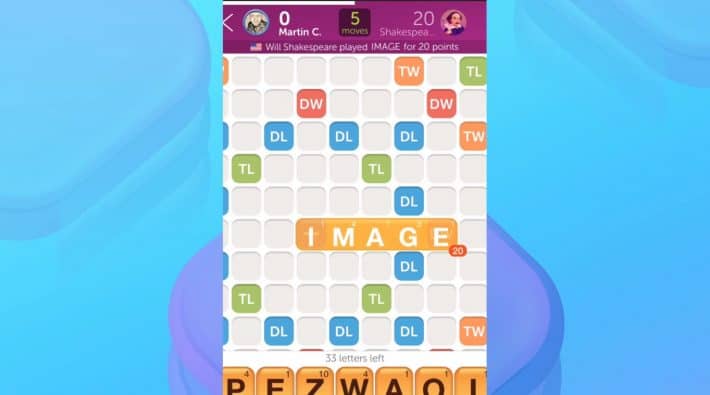 Probably, scrabble is the first game which you owned and played with your parents and siblings. Board games have always been my favourite. However, with technology, all the board games have come in the form of play store applications which includes scrabble's game application as well. This game can be played in multiplayer with your friends. Make words and create crosswords, gain more points to wins. You can have fun with this simple game.
Download: Words with Friends 2 for free
24. Zynga Poker: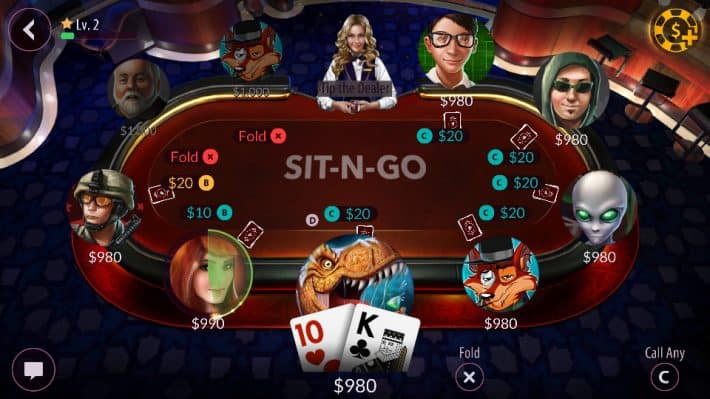 The Zynga Poker – Texas Holdem promises to be the world's most popular android game in the poker games category. You can play with more number of tables, more number of contests, and more number of friends. It gives the best experience of Texas Holdem game on your handsets. You can invite your Facebook friends to play this game, win more and more rewards as you keep playing and win free chips after every 4 hours. Moreover, this game is certified officially which can be played like an actual table game.
Download: Zynga Poker for free
Swoords: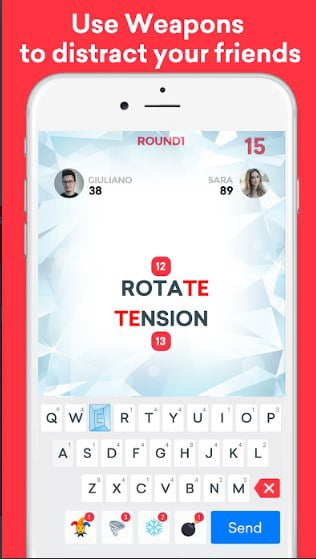 This game has arrived newly to the app store. The concept of this game very interesting and will surely increase yours and your friend's vocabulary adding fun to it. The game starts with a letter which will be provided to the first player, the player will have to form a new word out of it. The next player will be given the last two letters of the previously formed word. This player will have to induce some more letter to it and make a new word out of it. Players will have to keep spinning the yarn till one of them makes the highest number of words and scores the highest.
Download: Swoords for free
E.Cross-Platform Multiplayer games:
Spaceteam: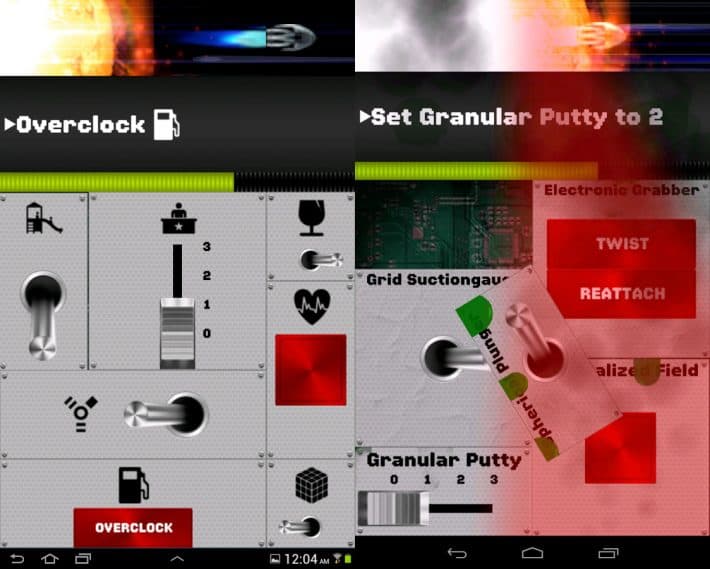 As the name suggests, this has been played in a team of 2 to 8 players on their respective devices. The instructions of this game are made clear to every player before every level. The motive of this game is to save the spaceship from exploding. For this, the main player is told to use the right combination of controls by each and every player of their respective roles. It's all about coordinating in a race with time. The game will leave you with some challenges, shouting, and many other features which will surely help you have a load of fun.
Download: Spaceteam for free Multiplayer games
Real Racing 3: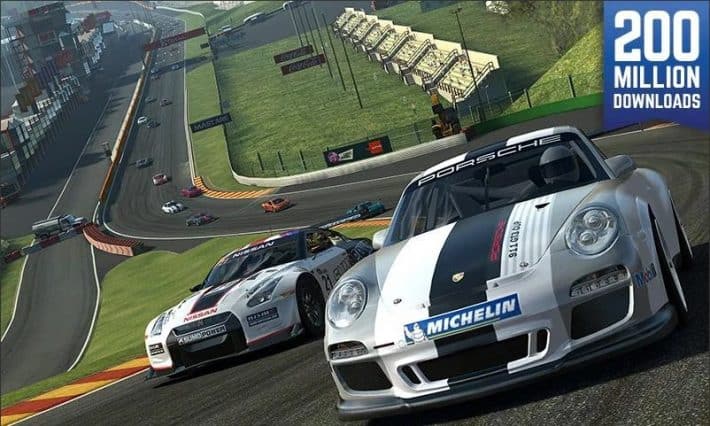 EA has been the finest brand for designing games, not just Fifa, NBA Jam but it leads in racing games as well. Asphalt 8 might is might be the best racing game, however, it limits the multiplayer function which Real Racing 3 offers you. This game does not just give you the fun to play but also the high-quality graphics which will make you crave to play this game.
Download: Real Racing for free Multiplayer games
Hearthstone: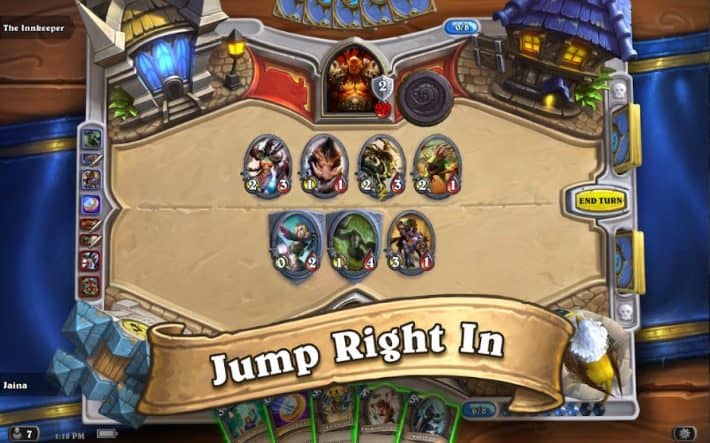 Card games cannot be more realistic. If any card game can take you to its own world then it has to be Hearthstone. It gives a brief introduction about its Hearthstone world and starts with the game. It will keep you stick to your screens with the kind of spells and controls it has. The whole concept of this game is to win over your opponent using the best strategies. You can collect more and more powerful cards and will make you addicted to it. This is a must-play game for you with your friend.
Download: Hearthstone for free Multiplayer games
29. Shadowgun Deadzone: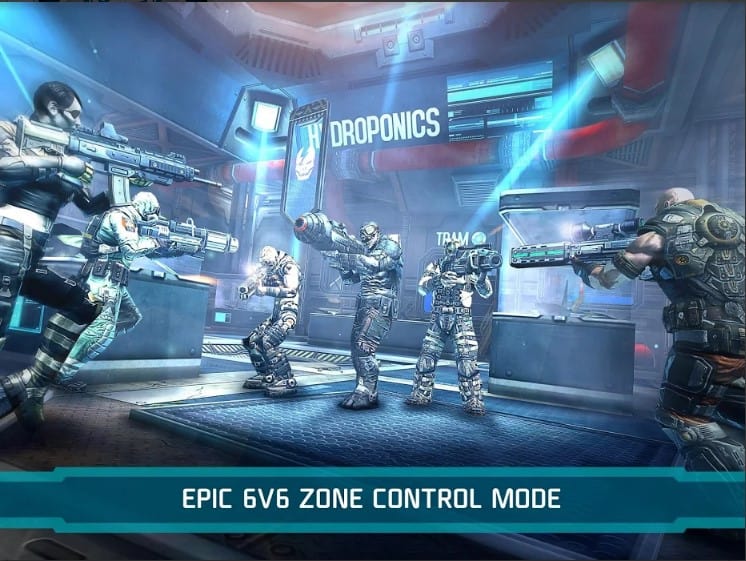 This game is based on third-person shooting. You can team up with your friends and let your adrenalin flow. You can play this game with up to 12 players. The game is set in the futuristic war zone with some hardcore graphics. You will not miss your consoles or your PC! You can choose from two modes Deathmatch and Zone Control. This game consists of some amazing futuristic weapons which are sure to cause some deadly impact.
Download: Shadowgun Deadzone for free Multiplayer games
Pokemon TCG Online: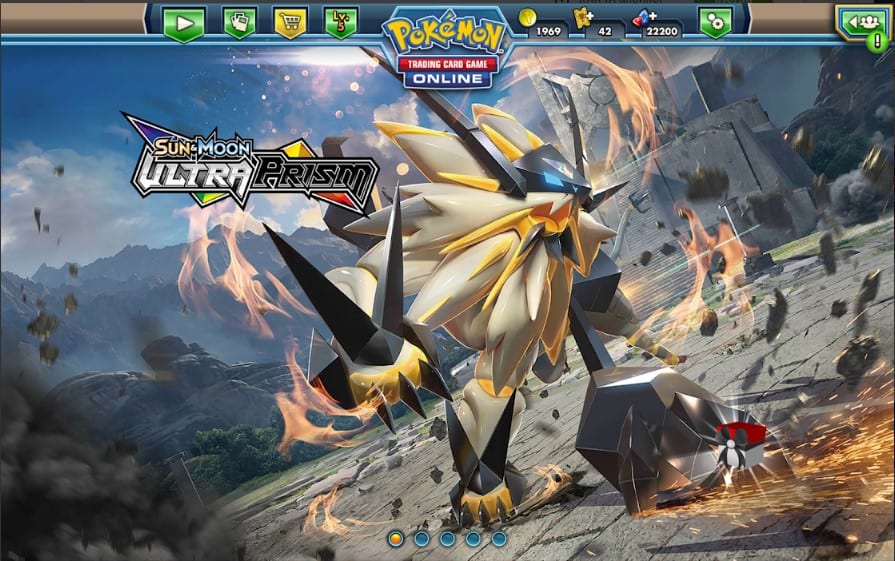 You might remember the Pokemon cards game which was released with the success of Pokemon long back. This is the online version of the Pokemon trading card games. You can play this game with the computer or play with your friend as well. As you keep playing you will continue unlocking new cards to your collection. Moreover, you can store your cards and your card collection in your Pokemon Trainer Card account which allows you to switch from your mobile to tablet to desktop easily.