Kindle vs Nook? This is a common question that is marking a steady ground in the minds of the e-readers for whom, a day is not well spent without reading! And I am sure that this is the same question that has brought you to this page. So stay tuned and read on to find out which of these two can be your life companion?
MP3 players made a Renaissance in the way we listened to music, isn't it? This technology introduced a technique to imbibe all your favorite songs at the tap of your fingertips wherever and whenever you needed access to them. Likewise, if reading is your cup of tea, e-book readers make the style statement that evolves the way you read books, magazines, comics, articles, and hear audiobooks.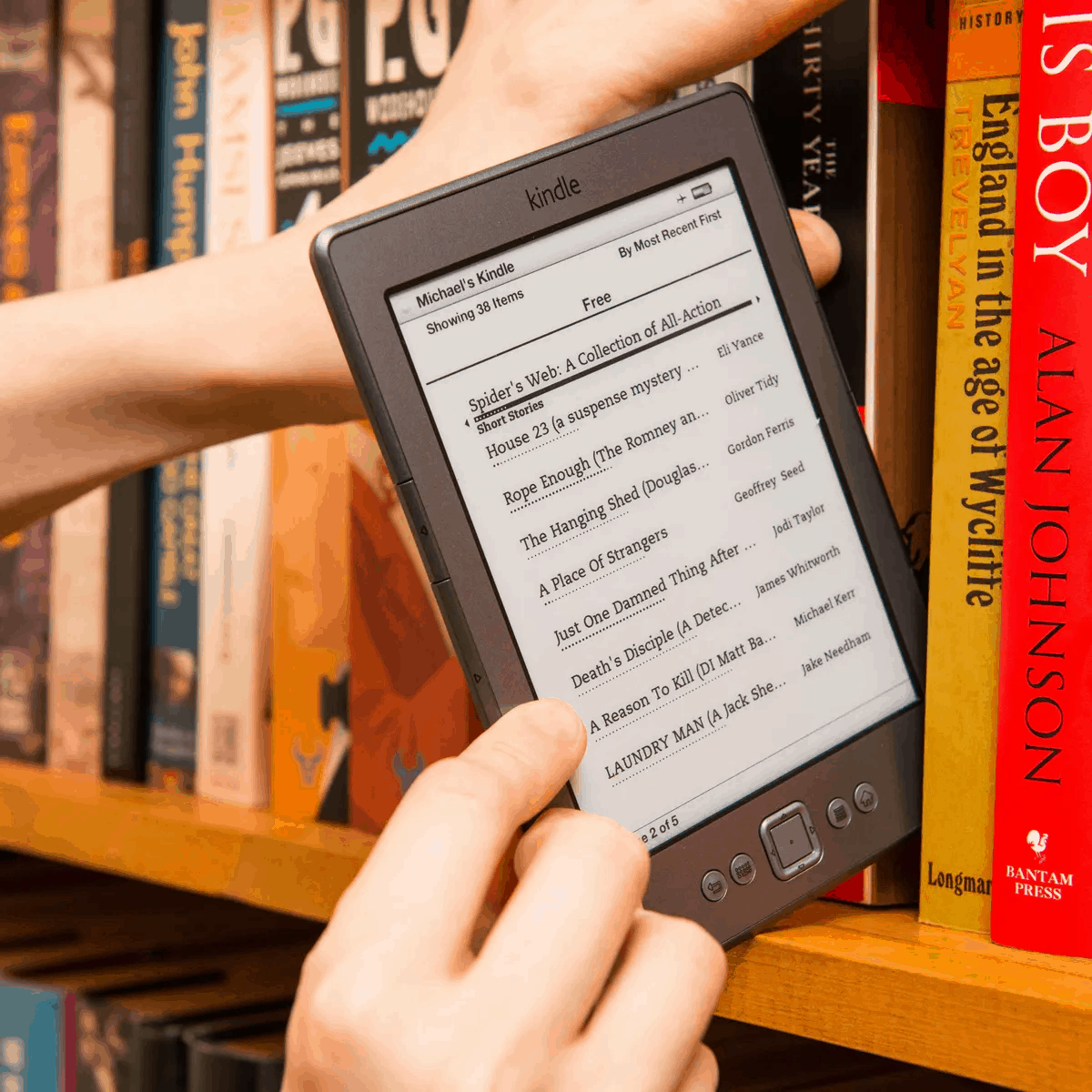 While ebook readers need no special introduction, here is a gist of it to whoever is an alien to the world of ebook readers. An e-book reader is a styled device gratified for reading electronic publications. An e-book could be purchased from the reader's store or other online retailers such as Google. Some readers can only bolster e-books from their store, and some support publications from other retailers, as well.
This article will take you into a detailed account of performance, features, and price; that will help you choose which is best for you.
Well, what do you think, which one is better Kindle or Nook?
 An Amazon Kindle versus nook Barnes & Noble ebook reader is truly your decision to make. But we are here to provide the specifications that would help you suit your preferences. 
I would like to mention here that the issues with the e-readers that were earlier prevalent due to the novel nature of the devices are all addressed and of little or no concern as on date. Adjusting the screen brightness, hopping onto the last read page, and even the heavy size or the weight of the device all tales of the past, now.
The market is all flooded with e-readers with varied features and variations. 
The two tough competitors standing tall against each other, Barnes & Noble (the Nook versus Kindle) Amazon both offer a variety of different models under the same brand name. I would like to underline that Amazon's Kindle Paperwhite and Barnes & Noble  Nook Glowlight are popular devices that have dragged the attention of most people. 
And if you find a good colour e-reader with low glare display and good physical design a valuable product then Nook with better personalization choices and more user-accessible storage is a better choice. How To Pick The Best Reading Software: An Ultimate Checklist
1. What's good about Amazon's Kindle Paperwhite?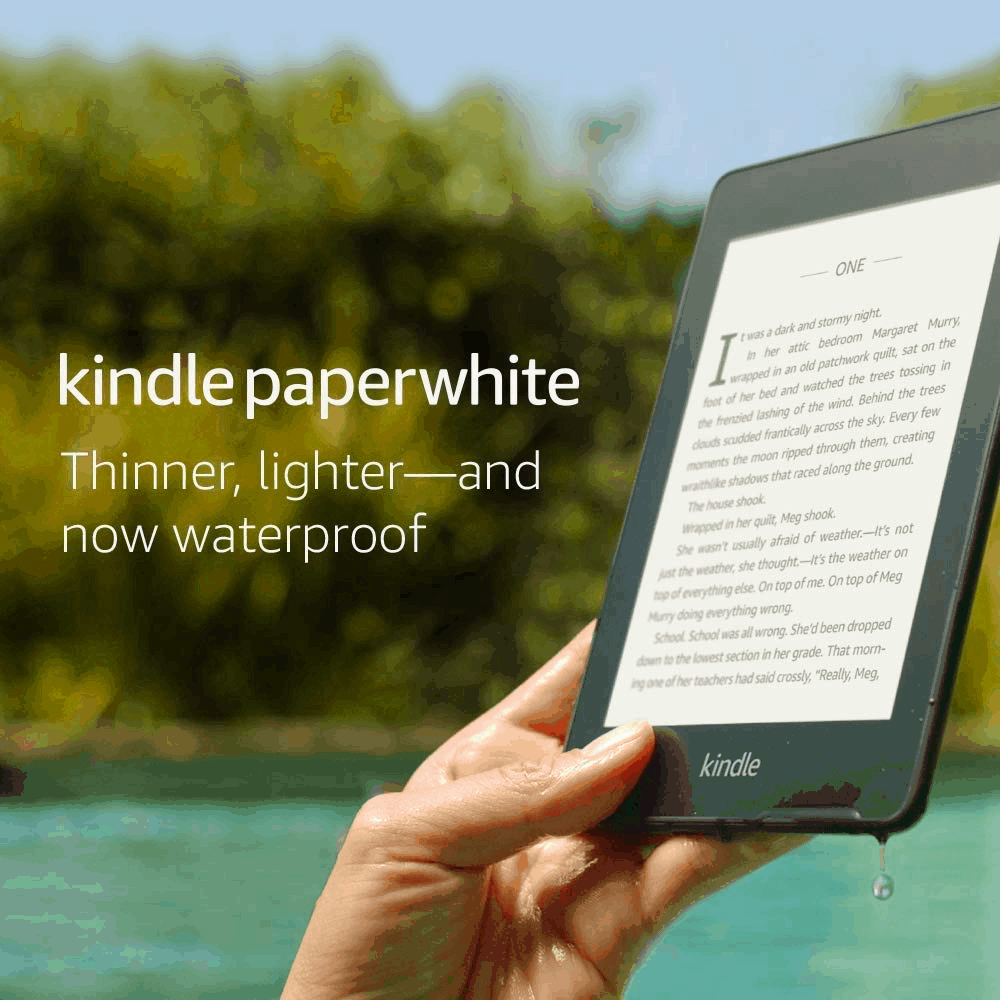 If your specifications include a good colour e-reader bolstered with simplified buying and renting book options, better navigation, and web browsing options then Amazon's Kindle will grab your attention in the first go.
1.1 High Resolution
With an exceptional laser quality for the text, the new Amazon Kindle Paperwhite has improved its resolution status up to 300ppi display as compared to the previous designs.
1.2 Perfect sized design with no glare
Kindle ergonomically fits in your hand and you experience the best reading with no fatigue to hold onto the device until you finish the intriguing book that you stay glued to! Kindle has inbuilt light technology and no glare effect that suits reading in both night darkness as well as scorching sunlight.
The brightness in the device directs light towards the display rather than directly shining in your eyes. This gives you hours of comfortable reading at night. And the no glare effect gives the feel of reading a newspaper with no strain on the eyes even in sunlight.
1.3 Long battery life
Kindle offers you the best battery life as you can read hours together without worrying about charging your device. While the charge will depend on the usage statistics but the charge stays for weeks.
1.4 Improvised reading technology
Bolstered with a typesetting engine, you can acquire the best typography, indentations and word spacing, drop cap support, and ligatures in kindle. Crafted with Bookerly technology, Kindle provides a warm and relaxing feeling while reading.
1.5 Reading book convenience
Kindle helps you explore the book by providing a brief background about the book, its author, and all other related data at the very beginning of the reading. It also provides required hours of reading for the book, which helps you track your reading speed.
You can freely access your library on kindle across your mobile, or share your favourite ebooks via any linked device to your family and friends. You can instantly web search any pieces of information or word that bothers you while reading. Kindle also comes with the advanced X-Ray timeline view that helps you traverse through all the paragraphs with similar characters or places of interest.
1.6 Auto-save options with export functions
The best feature that I experienced on Kindle is the auto-save option. The advantage here in Kindle is that the auto-save feature is aided with the inbuilt page flip app. The page flip app helps to flip the pages while you can still retain the last read page in your device.
You can send marked portions or content of your ebook to your designated email id for future references in the form of PDF or just spreadsheet format.
So, that gives a short tour of Amazon's Kindle Paperwhite. Now let's talk a bit about the Nook and settle the Nook versus Kindle war in our minds.
2. What's good about Barnes & Noble Nook Glowlight?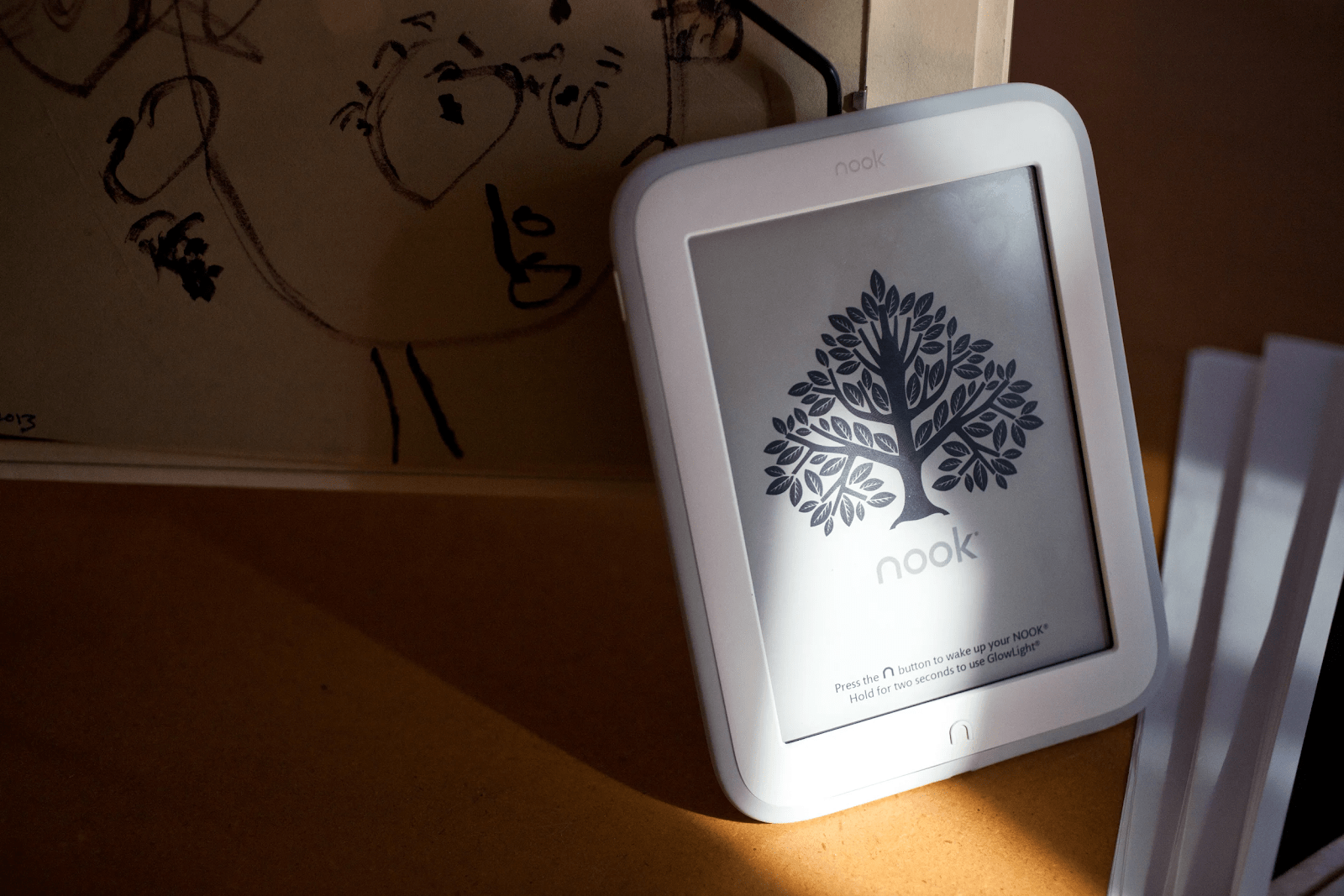 Barnes & Noble has introduced a few of the very unique Ereaders to the market and they consistently are in process of improvising the models. Their latest Nook comes in with high-density pixels and better working brightness adjuster.
2.1 Huge store of books
The best thing about the NOOK is the wide variety of millions of books in store for the readers. Anyone is sure to find the books that hook them on Nook!
2.2 Resolution
Nook offers the best resolution with enhanced contrast. The screen being scratch-resistant offers robustness and can be handled roughly to suit your reading postures. Whether you like to read books at night or in the shinning bright sunny afternoon, Nook is efficient to suit your eyes with its glare-free resolution.
The screen light is very much adjustable and is evenly distributed on the screen. While you can manually adjust the brightness on your screen, it has an automatic adjusting feature that sets your screen brightness following the external light.
2.3 Battery Life
A single charge is enough for 50 reads! Yes charge once and you can read as much to please yourself without worrying about the battery on your Nook.
2.4 Design
With the vogue style and smart fit of the device, Nook offers a smooth finishing that is easy to hold with grip for long reading hours.
2.5 Reading App
Like the amazons kindle app, Nook also comes in with Nook reading app, which you can access from varied devices and stay on the same page across all those devices. 
Differences between Barnes & Noble  Nook Glowlight  & Amazon's Kindle Paperwhite?
Kindle is a clear winner in this race of Audiobooks. While the other tablet devices in the range of Nook provide support for the audiobooks, nook Glowlight does not have support for the audiobooks as yet.
Differences between Barnes & Noble Nook Glowlight & Amazon's Kindle Paperwhite?
3.1 kindle vs nook: Audiobooks
Kindle is a clear winner in this race of Audiobooks. While the other tablet devices in the range of Nook provide support for the audiobooks, nook Glowlight does not have support for the audiobooks as yet.
3.2 kindle vs nook: Hardware
Although both the readers exhibit the same resolution, Amazon Kindle's Paperwhite offers a glare-free screen that is facilitated by the inbuilt light. It is featured with a special advantage of adjusting to the surrounding light. Whereas an anti-glare screen protector in the Nook GlowLight is adaptable to any light settings. So over and above, both offer a much-revolutionized screen and reading experience, which though different stand parallel.
3.3 kindle vs nook: Online Stores
An ebook reader is ornamented with the right set of e-books that hang you onto the device for more fun. So the wide range of varied genre books in the online stores for e-books is a must! Kindle owners get to do their purchases in Amazon's Kindle Books store, whereas Nook users have access to the Nook Books store. While both the stores have an array of well-read and super famous authors and books, the Nook Books store wins this slice of the competition with a million more books as compared to the kindle store. That does not imply any fewer books on kindle anyhow. Additionally, the Nook GlowLight supports EPUB books. But, unfortunately, Kindle doesn't support any third-party e-books.
3.4 kindle vs nook: Reliability and Performance Comparison
Both the devices offer a great deal of hardware comfort and flexibility but somehow reviews state that a kindle is faster, less confusing, and user-friendly.
3.5 kindle vs nook: Cross-Platform Compatibility
Amazon's proprietary file format is the only format that a kindle follows. While it supports AZW format, as well as TXT, DOC, MOBI, RFT, and HTML. But it lacks an EPUB support. However, Amazon covers this drawback by facilitating a free application that allows an iPhone, a PC or a Mac to conveniently device your books, eventually allowing good read across all the devices.
The nook on the other hand allows the readers to download and read PDF files and EPUB files on any stores. But the thing to be noted is that the nook does not support Microsoft Word, while the Kindle does.
Wrapping Up
Now that you have a list of positives about both the devices, we leave you with the choice to suit your reading. So which one do you opt for Kindle or Nook? Kindly comment and let us know your favourite and the reasons for the same.
Happy Reading!