Are you dealing with the drained battery life of Kindle devices? Then this is the perfect place to figure out your issues. Generally Kindle devices are widely recognized for its long-lasting battery life but sometimes it's charging issue can give you a headache too. It is very crucial to carefully use your Kindle devices and if it is in good condition the battery can run 24 hours without charging it. It can even run for a whole week if it is kept in standby mode. All these features make it really captivating for the users by providing them precious reading moments.
If you are encountering the empty battery screen or some other issues, then you can try to fix this out by the following ways mentioned below:
What are the problems that you can face?
The problems that you can face majorly are like these types:
When the Screen constantly shows Charging Mode:
You can fix it either by plugging in and out or by pressing the power button. Suppose all these don't work then you can simply restart your device.
Critical Battery Glitch:
If you have overused your Kindle device or you haven't used it all then you may receive issues like a critical battery screen where it is notified to you that your battery is empty. It can be resolved by plugging in your Kindle device into your PC or with an adapter. After the indicator light turns on then charge it until it shows fully charged.
Battery Over:
In case your Kindle device has not been used over a long time then this type of error may occur. So you should at least try not to let your device battery run down by charging it once or twice in a week even if it is not used. One reminder for charging is that while the device is in charging mode, don't try to turn it on or use it. Let it charge fully in order to avoid battery drainage.
How to troubleshoot a Kindle that won't charge?
So let's start discussing what issues you can face and how you can overcome them.
Restarting your Kindle device:
It may happen that there is a software or firmware issue, you can fix it directly by restarting your Kindle devices. There are different methods for different versions that you must try in order to overcome the issue.
Kindle e-ink Version:
You have to press the power button for 30 seconds or maybe more until your device gets restarted. Now let the process be continued without any external disturbances.
Kindle Fire Version:
You can hold on the power button for 20 seconds and after it is switched off then restart it again.
In the latest versions of the Kindle, they have also made the option of Restart available. All you have to do is touch this option and it will reboot automatically.
Resetting it to Factory Default:
At first open the Settings of your device and select reset to factory default option. One thing you must do is that you will lose all the saved files of your device, so you have to reload all the books, apps, or the customization. Now, register the Amazon account and get your books from there.
Repairing the Device:
If the device is broken then you can get it fixed by the repairing store and make sure that the store has professional skills for repairing this device.
Customer Care Support:
If you are opting the option of customer care make sure that you have an Amazon account. You are allowed to change your device or a free repair via Customer Care Support, if your device is in warranty period. You may also get a good discount on the device if your device has already passed the warranty duration.
Contact: Click Here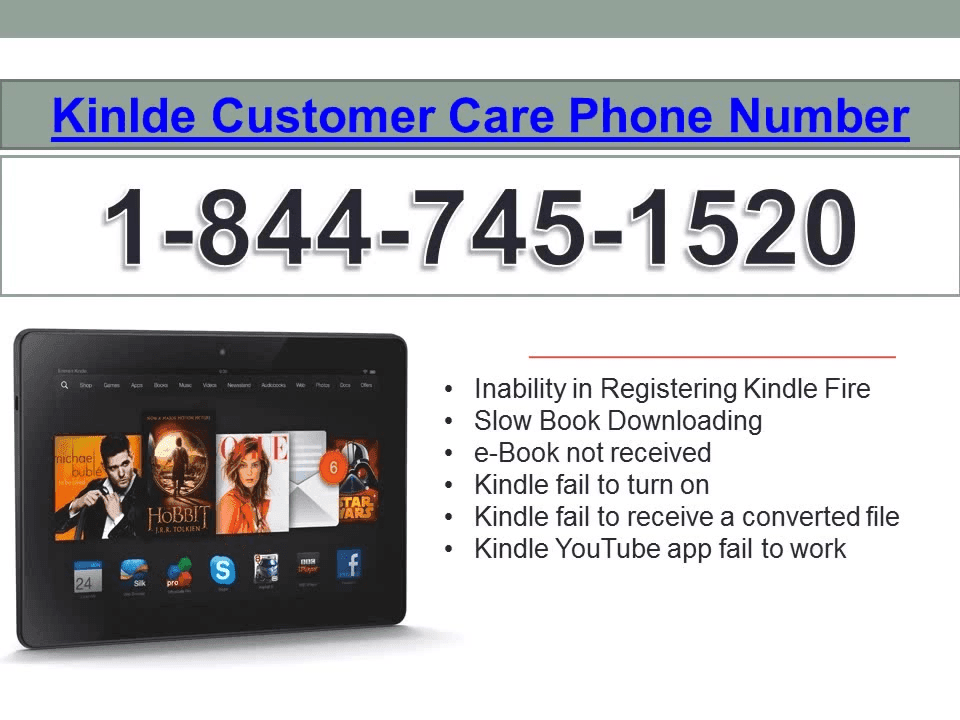 Adjusting the Level of Brightness/Volume:
Well, this method is often recommended by the Kindle users, maybe for some it can't turn out effective. But what's the harm of giving it a try? I guess nothing, so follow these following steps:
First, open the brightness settings in your device and adjust the brightness to the lowest level. If your device has an automatic brightness button, you can turn it off simply and after sometime turn it on. You'll find that your device has started charging. The methods you can try with the voice button. It will give you a favorable result.
I hope one of the methods must have been helpful for resolving your issue. If you have any other resolution to fix this issue, do share with us by commenting down below so that the users can use it.