What is Rempl Folder?
Windows 10 Updates wield certain Files and Folders to guarantee that any updates launched by Microsoft as future/feature updates are not subject to any issues or problem while you install them on your system.
Windows 10 is quite a complex Operating system having numerous processes running at the back-end making its working appear conventional to its users. A new component store, a file formatting system, and a lot more things were introduced with Windows 10.
We often come across various folders that we've never noticed while cleaning up our system before installing a new hard drive. One such folder is rempl. Most of us might remove this folder mistaking it as a malware or virus. But do we need to do that? Is this folder a threat to our system?
Well, before we get deep into the topic I would like to assure you that the Rempl folder is not intimidation for your system. Instead, it provides reliable and authentic refinements to Windows Update Service components in previous versions of Windows 10.
REMPL/disktoast.exe happens to be one such folder!
The folder encompasses various files required for the normal functioning of Windows, and to perform all the Update Activities without any error messages.
It allows other applications to run on your system without any permission from the user.
The folder automatically wakes up the PC.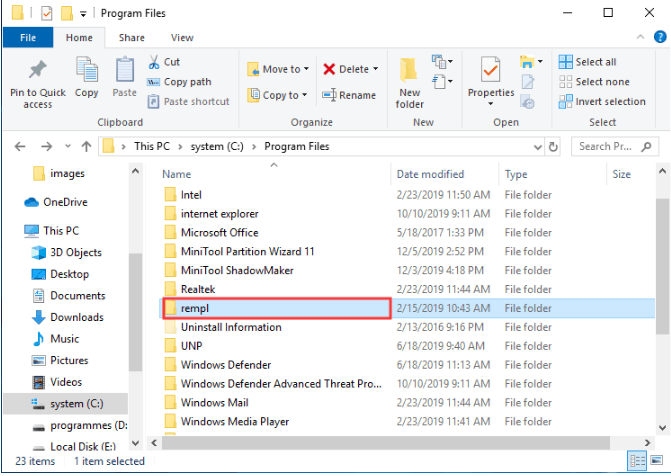 This folder takes a space of nearly 21MB on your system which might increase depending on the contents of the logs folder.
The folder can be found under C:\Program Files\rempl and contains various executable files, a few of which are listed below:
Remsh.exe,
Sedlauncher.exe
Sedsvc.exe
Disktoast.exe
Rempl.exe
These above files are digitally signed by Microsoft affirming their originality as Windows Update Files.
Of all the above-mentioned files, the Remsh.exe executable is a special Windows Update that comprises reliability upgrades and augmentations to Windows Update Service Components in older versions of Windows 10.
Available on only a few Windows 10 systems, the folder is also an UPDATE TROUBLESHOOTING TOOL.
This special package is spontaneously uploaded by Windows 10 on the systems facing issues while updating to the lattermost version of this OS.
It investigates the possible reasons for failure and then tries to rectify those.
Windows setup Remediation is an important Servicing Stack Update which makes sure that the Windows Update process occurs successfully.
Can We Delete the rempl folder?
Human Beings are prone to the habit of experimenting. Despite knowing that the folder does no harm to our system and rather serves as an UPDATE TROUBLESHOOTER. It let's answer the above question which must be jogging in the minds of many experimenters.
Removing the Rmpl folder won't cause any damage to your system, and therefore YES you can delete this folder from your system.
Following instructions will guide you delete the RMPL FOLDER:
Open Task Scheduler by typing Task Scheduler in the Windows search box.
To open the folder click Microsoft > Windows > rempl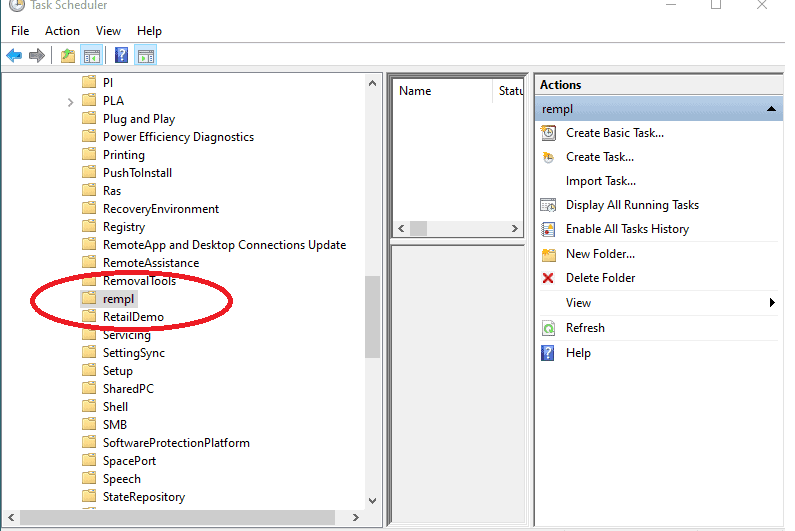 Click the Delete Folder button on the right side of the pane.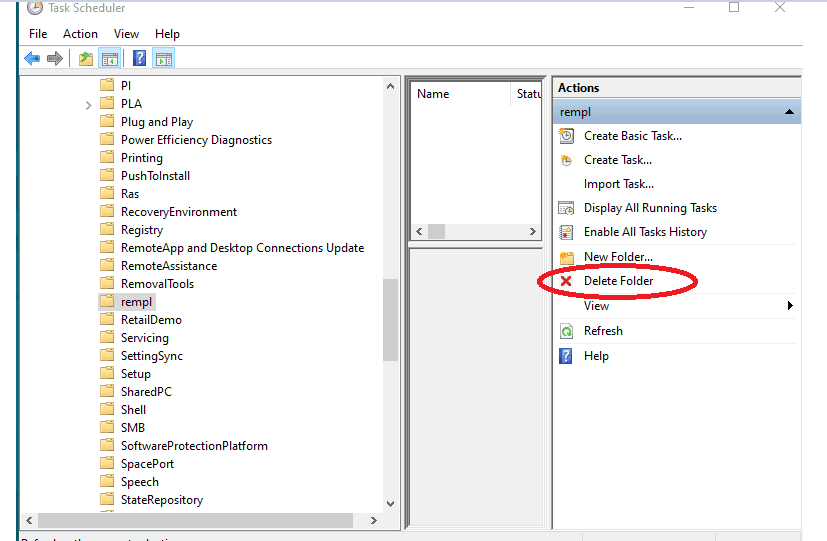 OR
Go to C:\Program Files by typing the same in the search bar as shown below.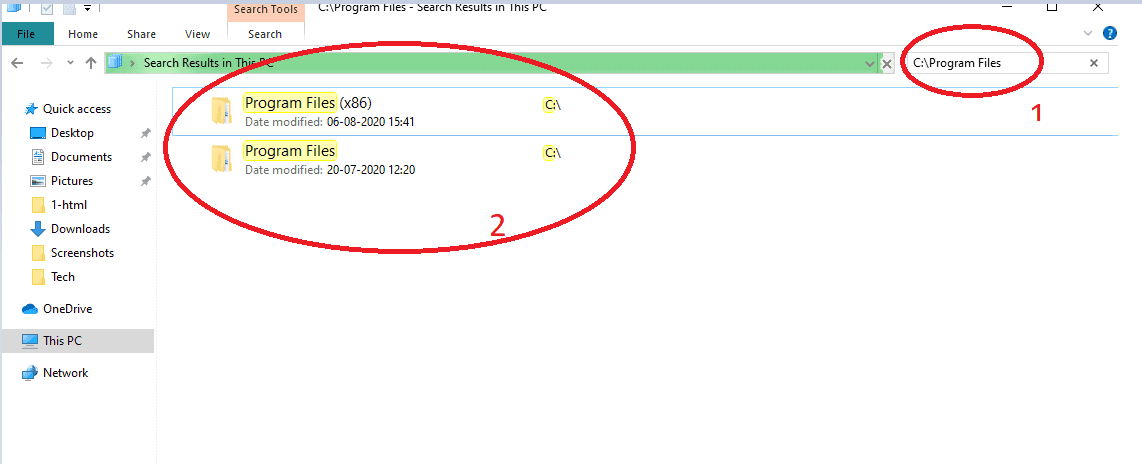 Search for the rempl folder
Right-click the folder and select Delete from the menu.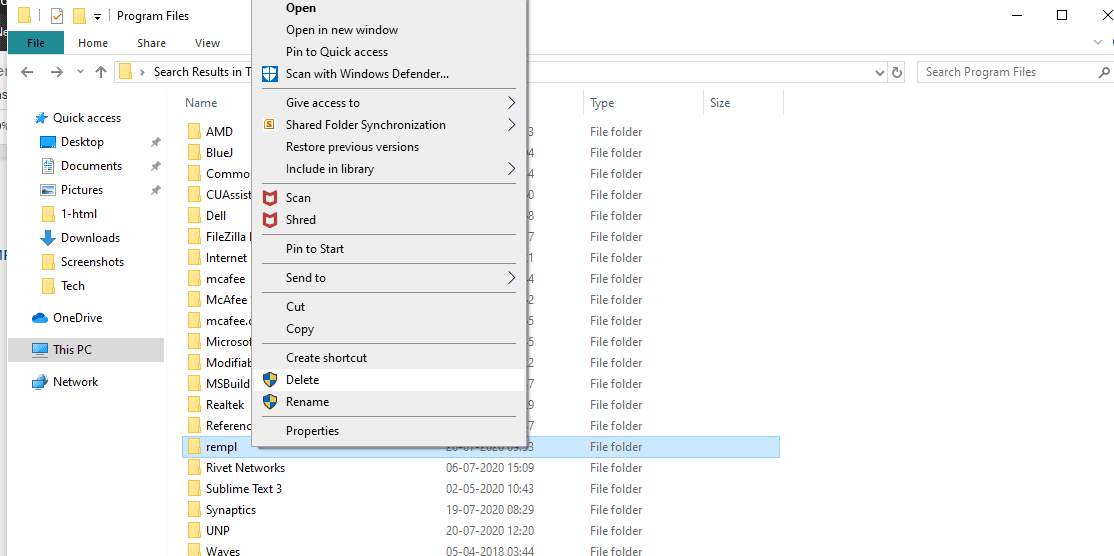 There you go!!
The folder is deleted from your system.
NOTE– You can even rename the REMPL folder under C:\Program Files\. This way Windows will fail to locate the files and eventually, the executable files won't launch. However, for this, you may require the complete ownership of this folder.
Conclusion
Finally, it's clear that the REMPL FOLDER is neither a harmful virus nor its deletion will affect your system.
But at the same time what we need to keep in your mind is that the folder takes only 21 MB space on your system, so you can better wait for its removal if you are aware of a feature update coming your way. This would ensure a smooth System Update without any error or intervention.