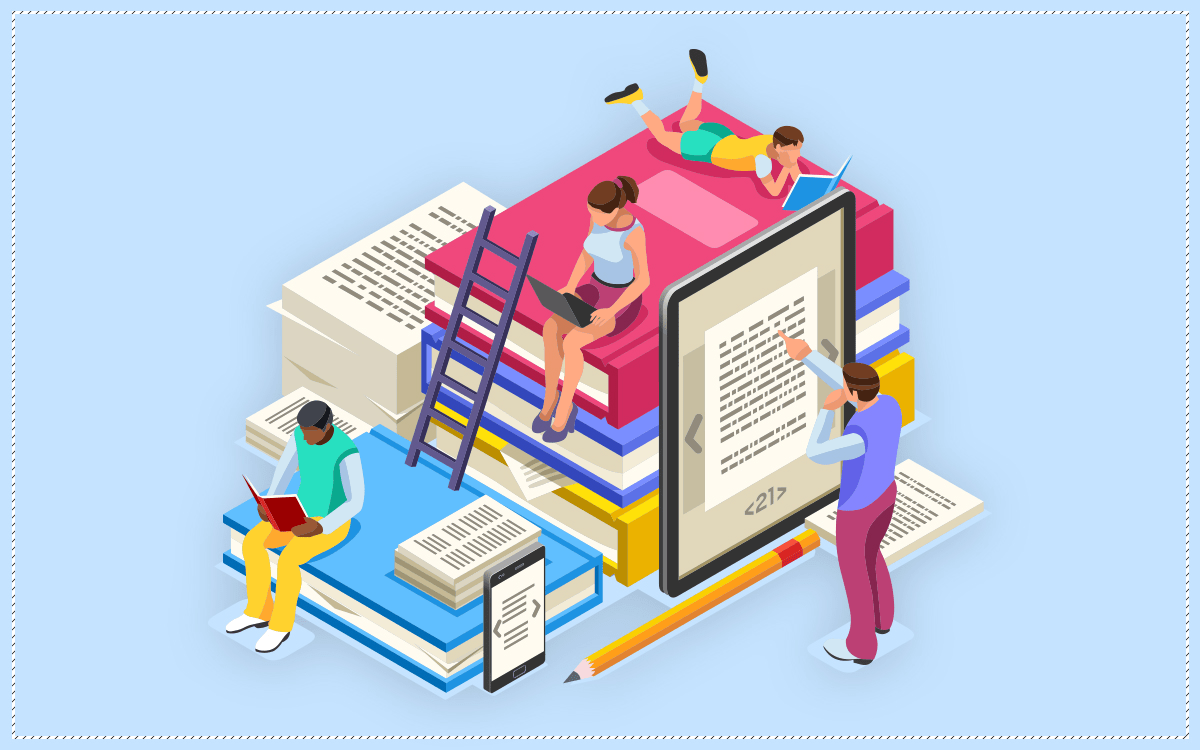 Switching from printed books to their e-versions is a great way to increase reading motivation and speed. Ebooks are generally cheaper, some can be downloaded for free from legal loyalty-free libraries. Also, reading software offers much broader customization possibilities than a printed alternative.
However, this only stays true for high-quality reading tools. Sometimes, reading software can distract from reading or even damage eyesight. If the tool doesn't offer proper formatting, you'll struggle with incredible small text size and blurry fonts, the sentences and words will be butchered, completely obscuring the message of the book. 
To take the most out of your ebook-reading experience, take some time to research the functionality, interface, customization options, and available add-ons. The easiest way to narrow the circle of possible choices is to establish clear criteria. 
We collected the ultimate checklist which will help with evaluation – you'll eliminate unfit options in no time.
An Ultimate Reading Software Checklist
The criteria are located in their logical order, from the most important to the least significant ones. Thus, if a tool scores more points on higher-positioned characteristics, you can prefer that one. 
What formats does the tool support?
The most common formats are EPUB, PDF, MOBI, OEB, AZW, AZW3 (Amazon's file extensions), IBA. To be able to access as many books as possible, download a reader that supports all these formats. PDF, EPUB, and MOBI are absolutely a must-have. 
What type of content do you prefer?
Ebook is a general name for all kind of electronic literature. If you want to take the most out of your too, you need to be a lot more specific. Along with typical book formats, you might want to access magazines or comic books. 
If you are an avid comic book reader, you'll have to do some research. The majority of comic book readers do not support other formats and general reading software usually is not compatible with comic book formats. So, the wisest solution is to download two tools and take the most out of both. 
What are the essential and additional features?
The must-have functionality of a professional reading software comprises of the following features:
The possibility to access files directly from storage simply b clicking the file icon as well as accessing a book from the tool;
You can use Adobe Reader offline installer if there is no Internet connection;
Text formatting (changing fonts, text colors);
Various background themes (classical sets include dark and light colors, book-like textures are also quite common);
Synchronization – software is connected to mobile phones, tablets, reading devices.
Additional features can include:
Meta-information editor – users can upload and customize book covers, write descriptions and tags;
Night mode for reading in the dark;
Additional customization for users with eyesight problems;
Leaving bookmarks and making notes;
Citation and reference editor.
Before you download a tool, go through these features and determine which ones would be the most useful to you. Usually, reading software targets a particular kind of audience: people who simply read books for fun. These would include a wide selection of background themes, and fun settings to play around with (changing page-turning animations or formatting notes).

Those who use a tool for research (here you will usually find an elaborate text search, a comfortable citation system, and a rich library that can be accessed even offline). If you intend to use the tool for work, you want to download a clear and simple reader that will not distract you from comprehending important information.

Does the program distract you or not?
Obviously, you are hoping to get a 'no' answer here. Ideally, a reading tool should be as simple as possible (Kindle or Adobe Acrobat are great examples of that) to keep your focus on the literature rather than on functionality.

However, even if the interface is clear and the features are not excessive, there are additional 'hidden' factors that might influence your ability to concentrate:
Slow page-turning animation. Fast readers don't like wasting time, waiting for the next page to load. Make sure that the tool allows complete animation removal.
Advertising. The majority of free tools are sustained with ads, so you have to understand that there will be some notifications. However, they should be rare and of small size.
The inability to display images. Even though pictures make book files heavier, they also are an essential part of the reading experience. It's fine if you have the possibility to choose whether the media content should be displayed or ignored. However, if a tool doesn't show pictures by default, this might become a problem later.
Tools focused on speed-reading. Such software's main goal is to get you to the last page of the book as soon as possible. If you are a fast reader, perhaps, you'll be fine, but generally, speed reading software is very distracting. Such tools automatically turn pages and some don't include the 'Rewind' feature. If you lost a phrase or didn't grasp something from the first time, it's over for you. So, fast-reading tools are fun as a challenge but usually inefficient for consistent reading.
No GUI, like in Sumatra reader. Whenever you want to edit a text fragment, you have to go to the file itself and put the parameters manually. Chances are, you might accidentally delete important sentience or put a wrong parameter. Fine for experienced users, a big hurdle for beginners.
What to do after you picked the tool?
After you've chosen the software, download it on the official website of from a trusted software catalog. Just to be sure, examine user reviews and software ratings. Popular tools often have malicious clones – a user intends to download a reading software but ends up with a Trojan horse. Hence, choose only reputable file sources.

Now you are familiar with all main characteristics of a fine book reading tool. All you have to do is pick which factors matter the most to you and find a tool that responds to these requirements. Good luck!