Last week Tata arranged field day for bloggers from around India to experience it's the latest car: the Tata Hexa. I was one of those 60 bloggers who were invited to gain firsthand off-the-road experience of the all-new Hexa by Tata Motors.
Bloggers were invited from over five metro cities to Hyderabad. Everyone was briefed about the vehicle while on the orientation day. The vehicle is typically created keeping in mind the urban lifestyle needs. Tata Motors have actually produced a beast.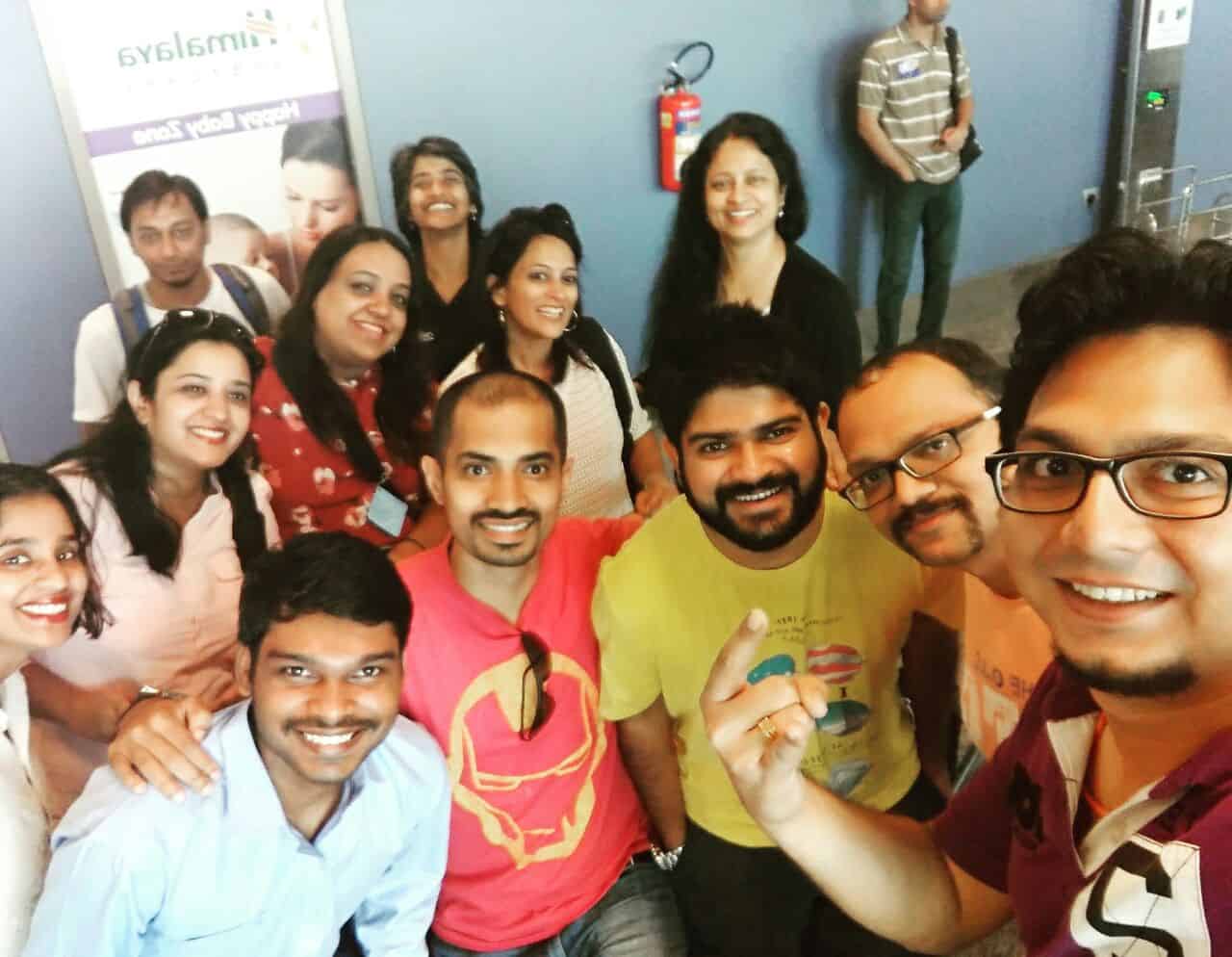 Each Hexa had to be accompanied by a team which includes three bloggers. It was an estimated 170 km drive (80 km+ while on automatic transmission and 80 km+ on manual transmission) which was thrilling as well as fun to ride experience. We were even given an offroad test by an experienced driver from the Tata team and it was even more thrilling.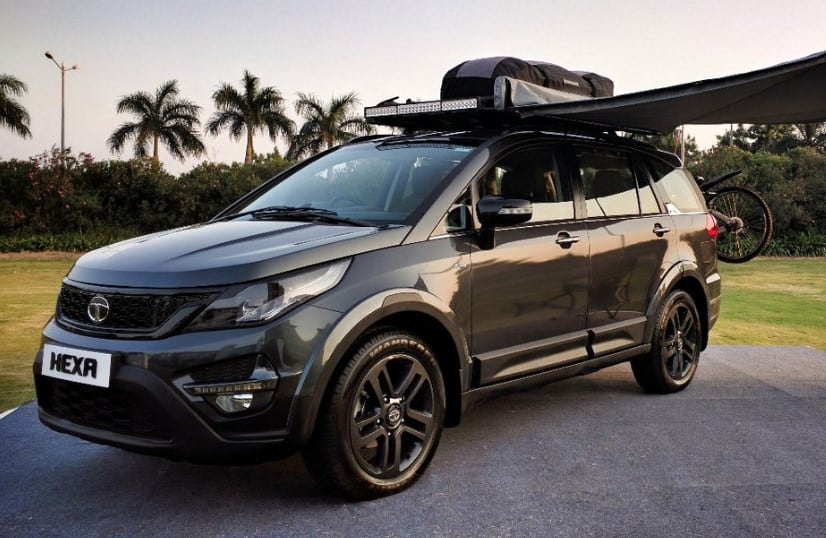 Tata seems to be all set for changing the trends in India creating larger acceptance and demand volume with vehicles like Hexa. The company obviously recognizes the inclination hence Tata Hexa comes with super exciting drive modes surpassing all the rough, jerky and bumpy ride incidents. Hexa was truly a redefining vehicle tackling all the issues of an Indian driver who daily faces the hindrances of being on roads full of potholes and slopes. Tata Hexa is designed to give you sheer excellence.
After so much of hustle and bustle the flag off for the much awaited #TataHexa happened. Waiting for the media #HexaExperience @TataMotors pic.twitter.com/83EWPfTzRO

— Abhishek Dey (@deyabhi311) October 18, 2016
From the starting of this journey until the end including a test drive of the Tata Hexa, it was smooth and powerful. The best part was that we didn't feel any engine vibration even at high speeds. The car was so stable that we even didn't realize the speed sometimes as we were feeling like 50km/h while we were actually at 80km/h.
https://vine.co/v/5dVdqY9Xxe9
Tata Hexa was showcased in two variants: The Arizona Blue – Manual (Manual Transmission) and The Chrome Silver – Automatic (Auto Transmission). Hexa comes in only Diesel variation and not petrol. Apart from the technicalities of the vehicle, Hexa provides 128 L luggage capacity which is actually great to carry all your essentials. Hexa is great for both racing and family travel experience.
Photo Credits: gizmosgang.com
It is the ultimate response to all other MUVs in the market and is also a new start for Tata in this segment. I'm sure it's going to be a strong fight against the opponents like Mahindra XUV 500 & Toyota Innova Crysta.
Well, without wasting any more time let's get onto the unique sets of features that are all detailed below:
Features Explained
It was on the 2nd day of our journey that we were actually experiencing Hexa. It was all beyond explanation at the first look. Featuring ten JBL speakers, a touch screen central console, CONNECT NEXT infotainment unit along with navigation, Bluetooth and Smartphone integration, TATA HEXA comes loaded with amazing tech specs.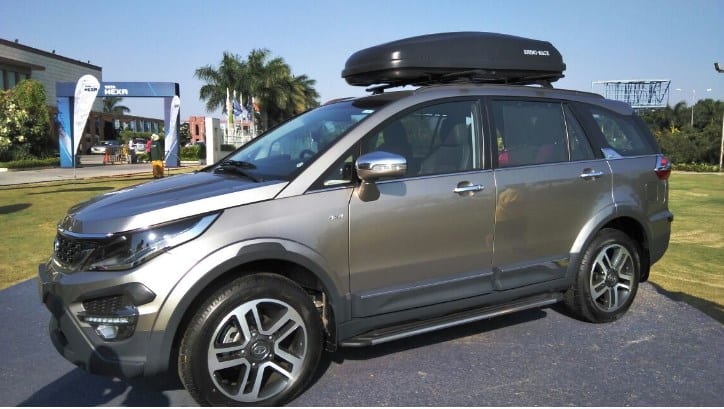 CONNECT NEXT App suits comprises of Tata smart remote & smart manual app, NaviMaps and the Juke-Car app.
And the iconic JBL system included a 320W amplifier, sub-woofer, one central speaker, 4 speakers in each door and tweeters. It was a classy experience (Read: On the wheels sound studio experience) and powerful too!
The Tata Hexa AT (Chrome Silver – Automatic) model is more convenient for driving in the city and the MT (Arizona Blue – Manual) model for driving at highways. It comes in six and seven-seater and the bookings start from 1st November.
POWER PACKED PERFORMANCE
The overall ride quality and vehicle handling are justifiable when compared to the specs and brand name. The 170+ km drive on Hexa passed effortlessly. Going through multiple terrains including icy blocks, water streams, mud pits, steep slopes and village road, Hexa was fantastic! This beast surpassed all the natural and man-made off roads.
https://vine.co/v/5dVLdTvaWjB
It has a superior engine that runs steadily even at higher speeds. The highly developed next-generation 2.2-litre VARICOR diesel engine has an added crossover for maintaining that excellence and delivering an output of 156 PS & 400 Nm of Max torque.
Off road experience on this beast is too good, unbelievable #HexaExperience pic.twitter.com/f0HEF8FEp4

— Giridhar (@cgiridhar) October 23, 2016
The vehicle comes with two gearbox configurations –
Automatic transmission: This makes it impressive to ride such a long, wide and huge vehicle or I may call it a beast. But it displays slower pickup which is acceptable at the end. Automatic transmission lacks an all-wheel-drive option and also the ESP (Electronic stability program) & traction control options.
Manual transmission: This features four different types of driving modes namely Auto, Comfort, Dynamic and Rough Road. These are handy when Tata Hexa would be driven on terrains.
Auto Mode Optimizes own performance adopting conditions irrespective of any surfaces.
Comfort Mode allows Hexa to deliver constant cruising speed along with precise power especially during those long drives.
Dynamic Mode To attain maximum power & acceleration, Dynamic mode is usable while driving on curvy roads or even while drifting. Dynamic mode exhibits the new generation ESP or the Electronic stability program.
Rough Road Mode The rough road mode further provides stability, performance and enhanced control in slippery conditions during the off-road drives.
All these modes were made much more interesting with new-generation
SAFETY ASSURANCE–
AIRBAGS
Ensuring the protection capabilities of any vehicle is an important aspect especially for the larger ones. Though no one wants to witness any incident or such a condition where the passenger safety is at risk yet if something happens, Hexa strengthens your security with six airbags – Driver, passenger, curtains and sides.
ANTI-SLIP EVEN ON ICE
The traction control system preventing excessive wheel slip was quite an impressive feature. This was tested by making sharp turns on the set ice blocks ensuring minimum slippage. After which the wheels were easily able to take the vehicle forward as ESP took over on those turns. The ice block track was set up in small distance for replicating ice-covered mountainous roads or snow.
PANIC BREAK AVAILABILITY
The brake test went equally interesting. Picking up a great speed and applying the sudden brake or taking off in the Rough Road mode and validating hard brake – Whoa! You end up stopping in a straight line instead of any major skidding.
ABS (Anti-locking Braking System) and the EBD (Electronic Brake Distribution) systems deal really well with the panic brake situations or under any aggressive conditions.
UPHILL & DOWNHILL DRIVE
Put your seat belts on and get ready to go on a seamless drive. But you actually need to have good control over the vehicle to gain its fullest potential. It maintains a safe 8 KMPH speed when moving downhill and exercised only steering along the imitational path. And the uphill ride was also stable, without the fear of rolling down.
The Hill Hold control and the Hill Descent control got activated by just pressing a button.
CONVENIENCE FOR PASSENGERS–
As far as convenience Tata Hexa is one step ahead of its arch-rivals, it has an 8-way adjustable driver seat for a better driving position. Interestingly Flexi seat facility is also available for the second row. As addition second and third row has the multi-folding configuration which can provide you with an ample amount of 671 litres of space, which is slightly lesser than the Mahindra XUV 500. Apart from all these the most common things like automatic climate control, cruise control and intelligent rain-sensing wipers with 7-speed modes. Reverse parking and guidance systems are also pretty decent.
COMFORT & ENTERTAINMENT–
Eight-way adjustable seating for both short and tall people, legroom for rear seats providing enough cabin space and perfect ventilation sums up the options for Tata Hexa.
A dedicated Smartphone slot, cup-holder, personal storage space at every row and also USB charging points are some other added reassuring options. Entertainment comfort has been taken into consideration ensuring excellent experience. Playback via FM, USB and Aux facility, iPod connectivity, audio streaming, Bluetooth telephony, perfect navigation, on-screen SMS exhibition along with SMS readout & rearview camera display are multiple in-cabin features.
Hexa also allows you to choose from the available eight colours for ambient mood lighting along with illumination control & required customization.
What I noticed on the automatic model in the horizontal central console was the gear being attached with a black bezel. And on the manual model, the same comes with well-crafted leather.
DESIGNING TO DIE FOR –
Tata Hexa would definitely make anyone turn around with its mind-blowing and eye-catching features. It showcases premium exteriors and interiors accentuation an elite yet robust looks.
It comes with a dual-coloured bumper, highlighted with a chrome humanity line along with the Tata's signature grille and the variant code and name.
Hexa exhibits the impressive 19-inch alloy wheels with stronger and muscular shoulder wheel arch claddings. It has a high ground clearance of 200mm and this makes another important and exciting aspect.
The alloy wheels are perfectly in line with the classic and simple 5-spoke wheels featuring a two-tone black with a polished shade. I also liked the Making Hexa more aggressive and manly, it also showcased a sloping roofline travelling up right from the front to the very end.
Less impressive tail lamps on the outside and more focused black sporty interior finish up the whole of the inside look with the high-quality Benecke – Kaliko leather.
Yet there aren't any major visible differences in terms of Interiors as well as exteriors in both the transmissions. But its well-packed with the superior quality & design. Each one who got the opportunity to test the Tata Hexa felt wonderful after driving both the variants. There's no lag when it came to performance. The pricing is expected to be somewhat between Rs. 11 to 15 lacs but the actual cost will be revealed in the month of January only.