The hard disk as we know is a vulnerable area and is prone to data loss. The partitions in a hard disk often encounter critical issues which may result in permanent loss of data. Now, losing data over sudden hard disk depletion is a matter of extreme inconvenience and the process to subjugate this situation and obtain full partition data recovery is boon in the name of technical processing. To make things easier, Disk Drill has their very own tool to restore deleted partition in the most hassle-free way. This tool has separate versions for Mac and Windows and offers the best way to reinstate lost data within a matter of a few clicks only!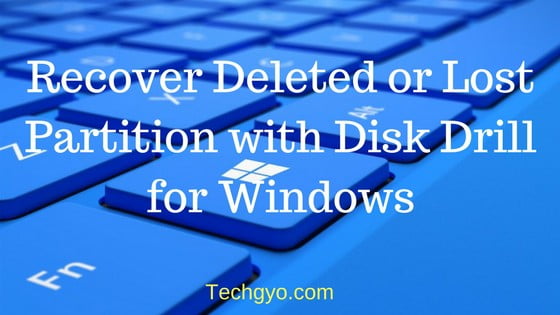 Disk Drill is a partition data recovery software for Windows and Mac that allows systemic changes depending on the origin and type of data lost over time. The encryption that is saturated along the hierarchy of the system may not allow the visibility of a certain file or partition. It is possible in reality that the deleted partition has its ways of reconstruction but cannot be detected otherwise. Disk Drill comes into play and does functional scanning and detects what qualifies for a full recovery before the actual process starts.
Let us explore the valiant steps involved in the restoration of lost partitions with Disk Drill equipped for Windows systems.
Keeping lost data from being overwritten
Lost data is often hidden or encapsulated and hence cannot be easily detected by the user. Again, there are certain cases where data is visible but there is no way to access it. User access is a different story to tell but nevertheless, Disk Drill's job is to fetch these lost data and fins ways of constructing it back to usable data. At times, it so happens that the size allocated to the lost data is often utilized in storing some other file. To avoid this and allow Disk Drill to do its scanning effectively, the user is recommended to cease the use of hard drive and use an external docking device. The booting should also be done from a different system to increase job coherence. A free scanning by Disk Drill will be done that detects the partitions to be restored. To recover deleted partition on Windows, Disk Drill has an affiliated lineage of good servicing without the hassles of authentication or user accessibility.
Disk Drill is compatible with any version of Windows 10, 8, 7 or earlier. The process of using the tool after a quick few minutes for its installation is extremely easy and user-friendly. Not only does the user get a 100% securely stamp but the whole thing takes just a literal minute. After the installation and detection of the hard drive, there is a "Recovery" button on the tool window which when clicked starts the process. The recovery mechanisms of this tool come with all bug fixes and the filtering options are all of advanced clarity. The advantage of this tool lies in the fact that is very easy to use and infallible. There is no way of using the tool and not utilize its full potential.
Before the restoration process starts, there is another scanning step that detects reconstruct-able data. One thing to keep in mind is that, although Disk Drill promises data recovery, not all partitions are fixable. The availability of the partition depends on a lot of factors. Fragmentation of data by file system or corrupted file will scan out as denied partition for required eligibility. Scanning is done through the entire length and breadth of the surface of the hard drive for a thorough scrutiny. This step is crucial because otherwise a lot of junk files will pass through and cause bottleneck. Also, it may be the user's wish to recover only select files. A process done easy, Disk Drill has made the data restoration process a matter of a click. No more cleaning, no more overcrowding of hard disk.
After the scanning process is completed, all files that are identified under possible reconstruction for recovery are enlisted. To recover deleted partition on Windows 10 or any other version for that matter, the process is similar. From the list of eligible files, the user can choose the ones they wish to restore and after selecting the location of saving the file, just by clicking the 'Recovery' button, the process starts by itself and data is restored without a flaw.
Partitions are often lost or deleted to a point that it is untraceable in Windows Disk Management. The reasons behind this are many including accidental deletion, improper manipulation, power outage, software conflict or a virus attack among many other things. Partition loss is not at all uncommon in the scope of computer use. Disk Drill has made this conflict a matter of the past and helps in recovering data without any difficulty. The easy to access functionalities work effectively on the recovery of partitions and fill in for the discrepancies of the hard drive. So, install and use and recover data partitions like it is nobody's business!