Today I am going to share with you the Top 7 Best Hard Drive Repair Software. This is a world driven by data, it is estimated that every day 2.5 Quintillion bytes of data are created. Quintillion! I don't even know how many digits that is. The social media giants and websites analyze a lot of private data to give you the ad suggestions or to give you a credit card offer call. Am I missing something? Well, our personal data which include; our photos, videos depicting both sweet and sad memories, important files and more; also fall under the category of important data. Just to remind you; all these precious files are residing on a disc which rotates at more than 5000 times a second. That is an out of the blue high-level understanding of Hard Drive Repair Software. Therefore, it is of high importance that you act now; to analyze and repair, if any issues, of your hard disk on time before the unfortunate happens. 
Also, check our biggest List of 300 free useful software and download sites.
.                                                                                           PIC: Hard drive repair software
They say prevention is better than cure and let's take that approach. Shall we?
Best Hard Disk Repair Software:
TestDisk
TestDisk is designed with a primary goal of helping you recover lost partitions and make the non-booting partitions bootable again. Of course, this will work effectively only if the issue is caused by viruses or human error (if you delete the partition accidentally). Apart from this TestDisk can also perform so many other things like; Fix, Recover, Rebuild both FAT and NTFS partitions. Fix MFT using MFT mirror. Copy files from deleted partitions etc.

Used by both professionals and end-users, TestDisk is a great tool for helping you assist with the recovery of data. The software will work with DOS, Windows, Linus, FreeBSD, SunOS and even MacOS X.
TestDisk is open-source software and therefore making it one of free best hard drive repair software. You can bundle an application called PhotoRec, this will help you recover photos, videos and documents from hard disk.
CrystalDiskInfo
CrystalDiskInfo is literally a doctor for your Hard Disk. It supports both SSD and HDD. The application basically gives you the health status, temperature and count of how many times the hard disk has been turned on etc. The application also supports S.M.A.R.T (Self-Monitoring, Analysis and Reporting Technology). The application is portable also makes it a good Hard Drive Repair Software.

DiskCheckUp
Like CrystalDiskInfo, Passmark's DiskCheckUp fetches your hard disk information based on the data from the SMART. So, this tool works only if your hard disk is SMART enabled. If works properly, the application can even predict possible long term drive failure called 'Spin Up Time', this is based on the number of start/stop, the number of hours since the disk is powered on and the temperature.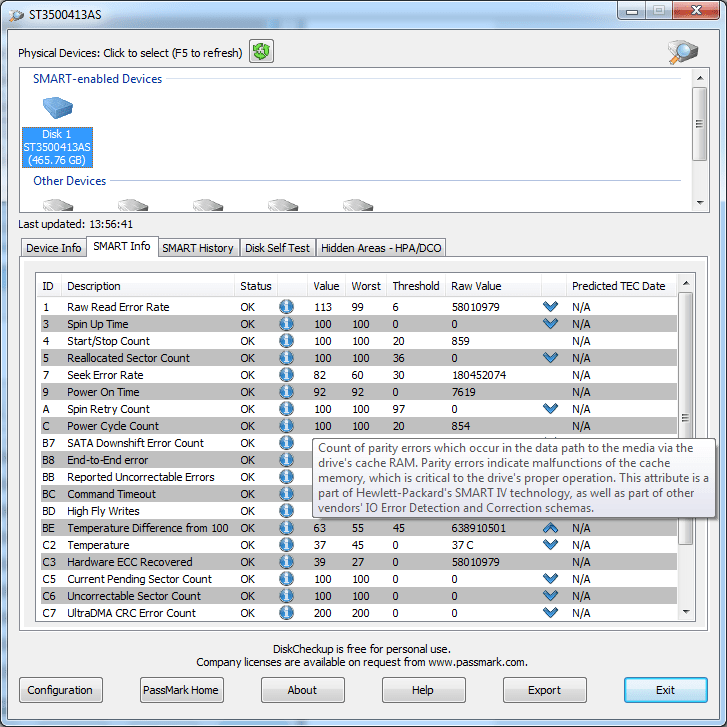 I liked the way the app pulls up information based on SMART attributes. It also shows the threshold value for each attribute and if the value falls below the threshold, the drive is not going to be reliable anymore. There is also an option to run the built-in Disk Self Test routine. This helps you find the disk failures. The smart email notification feature is a great way to stay alert if in case any of the SMART values go below the threshold.
The DiskCheck application is available free of cost for personal use & one of the best Hard Drive Repair Software. For business use, you may need to shell out $19.
HD Tune
HD Tune is one of the best tools for Hard Drive Repair Software and checking the health status of your hard disk. It can be used for both HDD and SSDs. The application can measure the drive's performance, scan for any errors, check the health status using the SMART inputs and most importantly, HD Tune help you securely erase the data.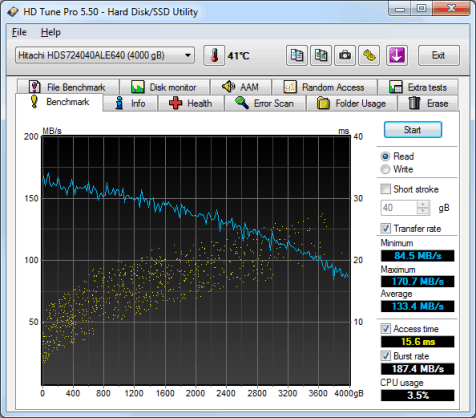 The latest version of the application is capable of temperature detection. You can also import the data and save it as JPG. The volume detection has been improved giving you more accurate information. The HD Tune is available for a trial run and to purchase its $34.95.
DiskSaavy
DiskSaavy is one of the best hard drive repair software due to its unique features. The operating system is perfectly capable of showing you the disk space usage but, the applications like DiskSavvy will be able to give you a detailed view. It can analyze disk, network shares, NAS devices and enterprise storage systems. This is a perfect solution for performing file management operations. There is also an option for categorize and filter files. The other feature includes; statistics and pie charts display, disk space usage reports, SQL database integration, Command line utility.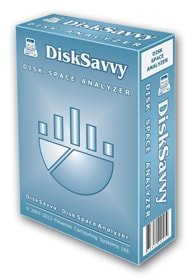 The DiskSaavy is available in four versions; Pro $25, Ultimate $50, Server $125 and Enterprise $375.
EaseUS Partition Master
EaseUS Partition Master is one of the best Hard disk repair software and one of the most famous in the list. The application allows you to repartition, recover your hard drive with ease and more;
Create, delete, resize and merge partition
Migrate OS to SSD/HDD
Disk copy and partition recovery
Support up to 16TB hard disk.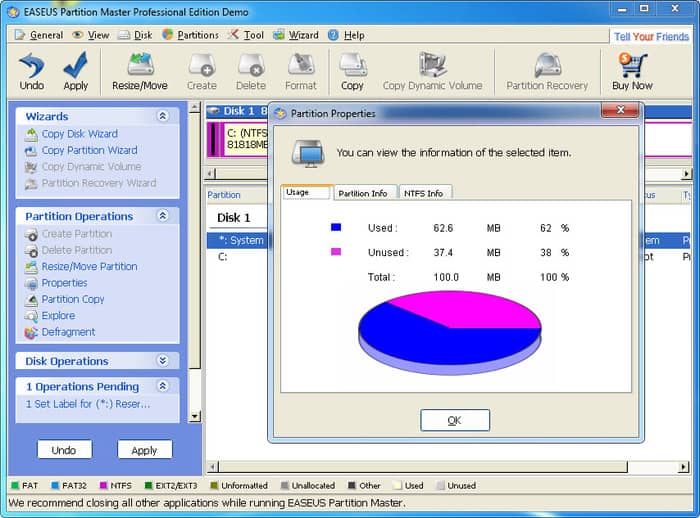 EaseUS Partition Manager is used by big companies like Microsoft, IBM, Yamaha, Boeing, Samsung and more. It is one of the trusted application.  The software is available for free on a trial basis, you can unlock the pro version of $39.95.
EaseUS Data Recovery Wizard Professional
EaseUS Data Recovery Wizard Professional is a complete solution and a good hard drive repair software when it comes to repair your hard disk and retrieve the data. The application can recover data due to deleting, formatting, partition loss, OS crash, virus attack and even because of ransomware which includes WannaCry and new Petya virus attack.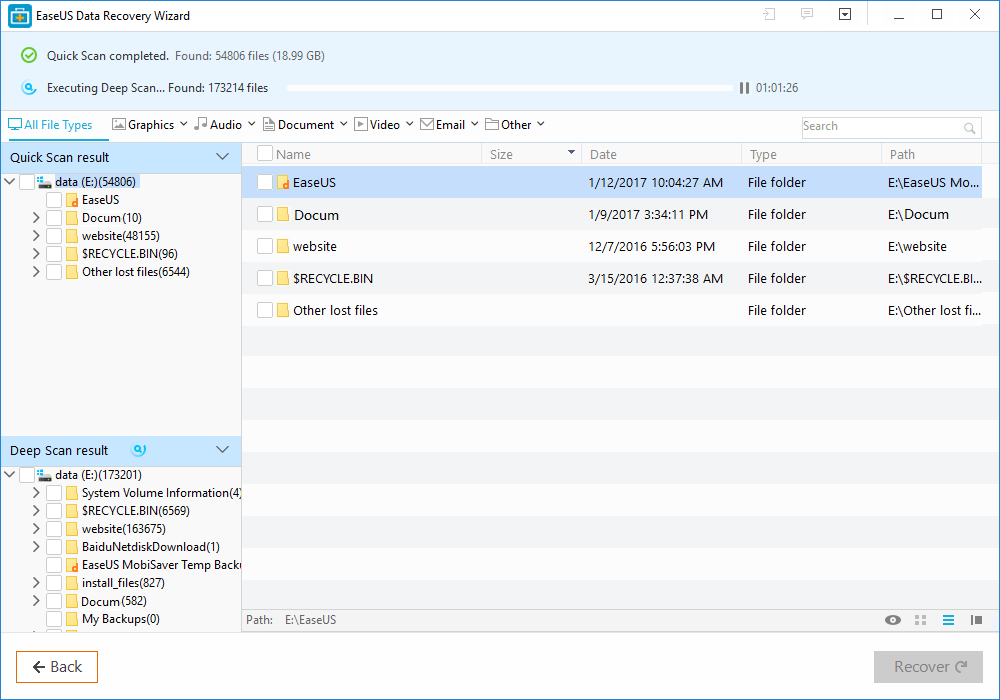 The three-step operation of the application makes the job easier for you. All you should do is; launch the application, scan and finally hit the recovery options. The option to preview the files before recovering makes the entire process easier rather than ending up recovering the wrong files. Being one of the best in the industry, EaseUS Data Recovery Wizard professional is expensive in the list; The Pro version costs you $69.95, Pro +WinPE $99.90 and Technician package will cost you $299. This is one of the best hard drive repair software available in the market.
This concludes the list of the top 7 best hard drive repair software. I know, most of the items listed are not solely for the repair purpose but also for taking care of your hard drive. Feel free to share your suggestions and we will have happy to add those to the list or you have some other list of Hard Drive Repair Software.