How long does system restore take?
Is your Windows 10 system restore taking a long time? Find how long does System Restore take and why?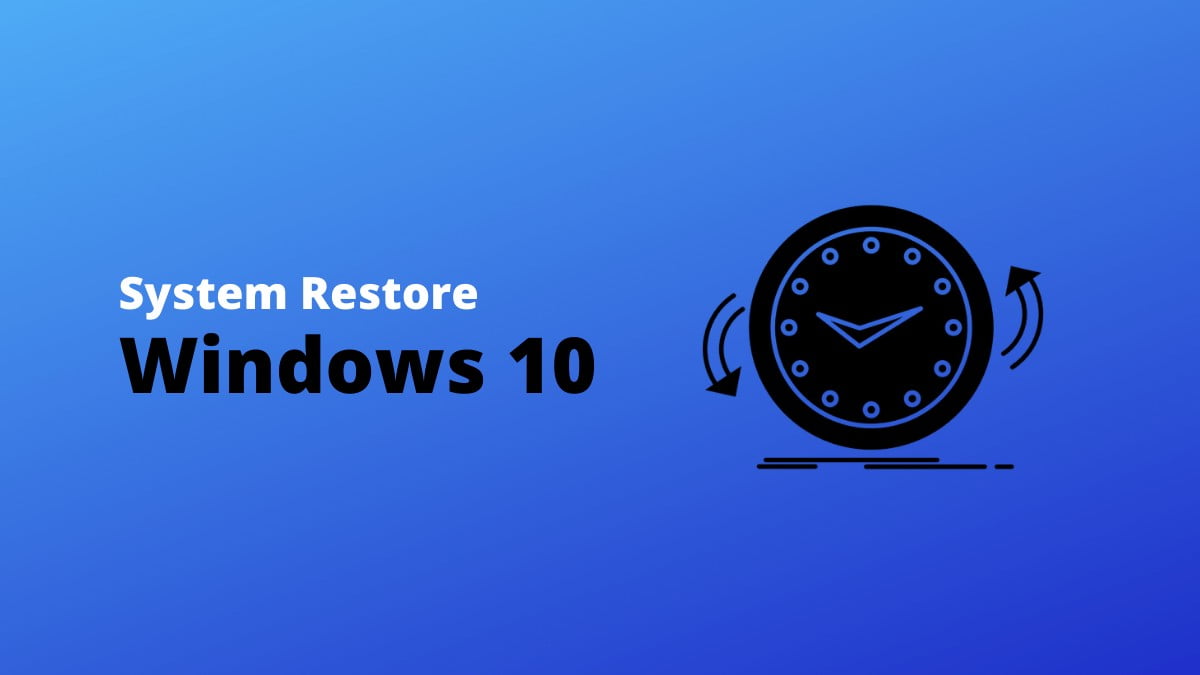 When some data on your PC is corrupted, or any installation fails, you decide to carry on system restore to roll back the changes and regain the previous functionality of your System. We also think about deleting the data manually but that might take a lot of time so duplicate file finder windows 10 helps us deep clean the storage. But the worst nightmare is that the critical process of system restoration itself gets stuck, leaving you puzzled about what to do next.
Wondering how long does system restore take? The answer is it just takes 30 to 35 minutes to complete all the steps for successful restoration. If windows 10 system restore taking a long time to recover your system, then this article is just for you. Read further to know all possible reasons for the system restore not working issue and get acquainted with solutions that can help you to restart the restore process, which got stuck.
How long does system restore take and why?
You might encounter a 'System Restore not working' problem for some reason because the process might be getting obstructed at some point, taking a long time to finish. We have enlisted the possible stages where the restoration process may get stuck.
The system restore process may get stuck while it is initializing, and you might see the below screen on your PC hung up for hours together.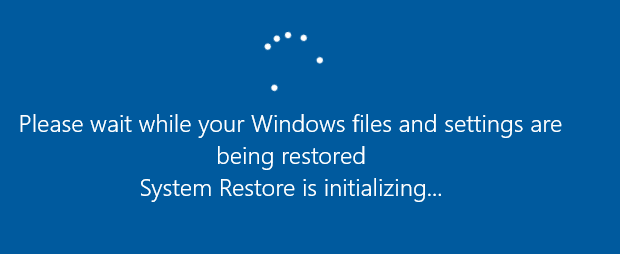 Boot image might be corrupted, causing the System Restore process to take long hours to restart the computer and finish the restoring process.

Restoring files might be the reason for the delay in system restoration.

The restoring registry might be time-consuming, and a possible reason for this can be an error in the installation of some software on your system.
Firewall or antivirus settings on your PC might be obstructing the system restore process.
Here are the solutions if your windows 10 system restore taking a long time.
Now stop worrying about how long does system restore take? and start fixing the issue, with the below solutions.
1. Login in the Safe Mode With Networking to carry System restore.
In safe mode, Windows starts with a basic set of files and drivers, which helps in troubleshooting as factors causing Windows to crash are not present in the safe mode.
If you have started the procedure for windows 10 system restore and suppose your computer screen continuously displays the message about system restoration is initializing for more than an hour. In that case, we can fix it by logging in the safe mode with networking. We have to carry the following steps in Windows 10 to restart the restoration process.
Force stop the system by pressing the power button for a few seconds.
After your system is restarted, you might have one out of the following two scenarios.
1. Windows will restart as it was before restoration.
2. A blank or black screen will appear.
To login to the safe mode from any of the two scenarios mentioned above, follow detailed steps described on Microsoft Support.
After your system enters the safe mode, type System Recovery in the start menu.
Click on the Recovery option.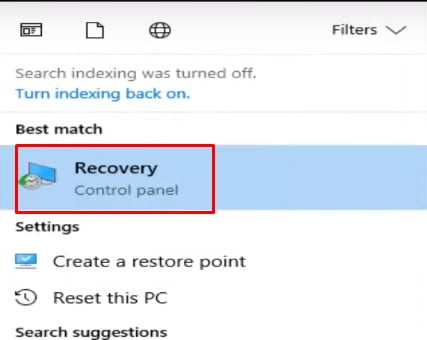 Choose Open System Restore in the Advance recovery tool window.

Follow the instructions displayed on the wizard and start System Restore.
Now check if the process again gets stuck on some stage or completes without any errors.
Check how long does system restore take and jump to the next method if the windows 10 System Restore taking a long time to restart your system, and this solution didn't give you the desired output.
2. Fix corrupted Boot files.
Boot files might be corrupted on your system. To fix this, you have to boot from a fresh copy of Windows 10.
Requirements:
Bootable Windows installation CD/USB. (You can create one by downloading Windows 10 from the Microsoft website.)
In the boot menu, set USB to the topmost in the boot order control section. (You can find detailed steps to do it on this website.)
Steps:
Insert your bootable drive in your system.
Click on the power icon in the start menu and choose restart. Hold and press the Shift key while clicking on the restart to ensure that the Advanced startup option is displayed when your system restarts.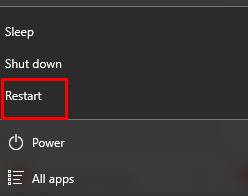 After your system restarts, click on the Use a device option from the Advanced startup options window.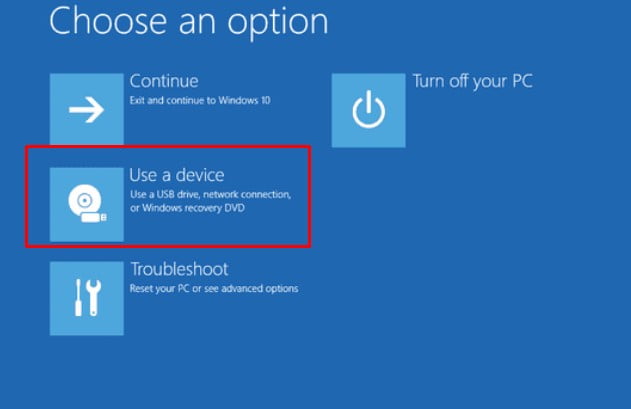 Choose the desired USB device from which you want to boot, and your system will restart.
By the above steps, all the corrupted boot files will be replaced, and you can try to restore in safe mode and check if it System restores completes successfully. Try the next method if still the windows 10 system restore taking a long time in your PC.
3. Execute Startup Repair
Generally, this solution is useful when your PC takes a long time to restart after the System restore initializes and restores files. A possible reason might be the Boot Manager of your system is corrupted. Startup Repair might help to answer your question of how long does it take to reset Windows 10.
Steps:
Use the restoration media created above and plug it into your system.
Boot from this media.
Enter WinRE on your system. You can find detailed steps on Microsoft Docs to open it.
Go to Choose an option -> Troubleshoot -> Advanced Options -> Startup Repair.
It is that simple to repair and resolve the restore issue. If this method doesn't work for you and you are still figuring out how long does it take to reset windows 10, then try the next process.
4. Run System File Checker(SFC) Tool on Windows 10.
Suppose your restoration process is stuck on restoring the files screen and windows 10 system restore taking a long time. In that case, there is a possibility that some system files are corrupted and might be causing a delay in the recovery process. SFC will scan all the system files and replace the corrupted files with the right version. This can help you to resume the restoration process. Find out the detailed steps to run the SFC tool in Windows 10 on Microsoft Support. After files are repaired again, try System restoration and check if it completely successfully without getting stuck.
5. Uninstall and reinstall antivirus on your system.
There is a possibility that antivirus running on your system might be interfering in the recovery process. So you can uninstall it and try restoring your system. Once your System Restore finishes accurately, then you can reinstall antivirus back on your system.
Wrapping up
This article has offered five methods to help you to resolve the system restore not working issue. Let us know in the comment section if you find difficulty implementing any of the methods described above. Update us if you come across any new way that worked for you.