Centre for Railway Information Systems (CRIS) has recently launched a website that allows you to track your train on Google map, here you can see the live position of a train along with timings. This website is useful for daily travelers to track their train and to know whether the train is on time or delayed. This website is designed with the user friendly interface so you can get the exact result for your queries so now you can surprise your friends and relatives by telling them the exact location they are on.
When we enquire about a train in railway station or check irctc pnr status we usually get the arrival and departing time of a particular train but we can see the live position of the train by navigating to RailRadar website. RailRadar is developed by CRIS (Centre for Railway Information Systems) and RailYatri team to make your journey even better.
Also Read:
Possibilities with RailRadar tracking website
Here you get many features and options along with live train positioning, in RailRadar You can –
Track the live position of your train by its name or train number
Get the status of the train along with its route and the stations it stops
know the timings of the trains and know whether reaches on time or delayed
At the top of the website you will come to know all trains of India that are on time and delayed along with the number of active trains, blue indicate "on time" and  red depicts the delayed running status
The information that RailRadar provides is reliable as it uses the data from the official Indian Railway's train running operational information
How to Track Your Train with RailRadar?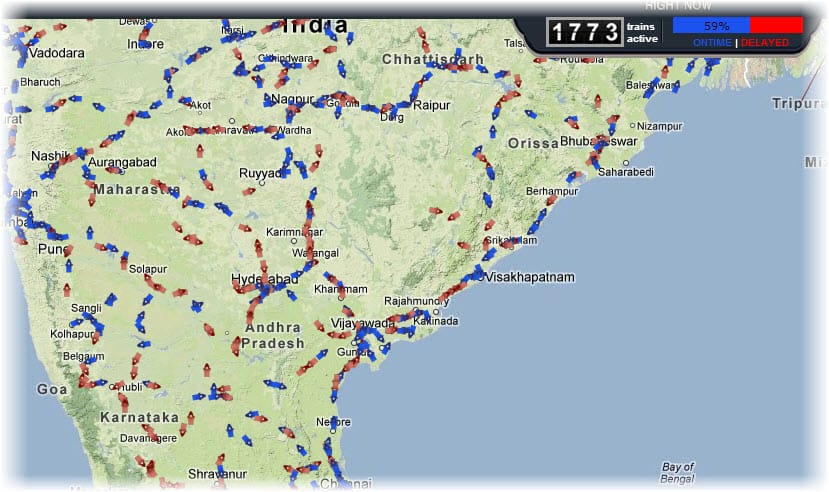 Tracking your train in this website is easy, just click on the search button located at left side of the website, specify the train number or name you want to track in map and you will get the result as soon as you type your query. Then select the train from the search results and the map will be zoomed automatically to the current location of the train.
You can also access this website using your Android, iPhone or iPad device. Just navigate your browser to RailRadar website to track your train and get the live information.