Chrome is my favorite browser and it is ages ahead to the competition and puts other browsers to shame.
Also Checkout 35 Useful Chrome Extensions 
Even though it has all the fan following and the most used browser title and huge collection of extension. One big drawback of Chrome is that it sucks up too much memory and processing power and slows down or hangs the computer or you'll see "Chrome is not responding" error,  if you leave lots of tabs open. Since I have the habit of leaving tabs open for the next day, this issue affects me a lot more frequently.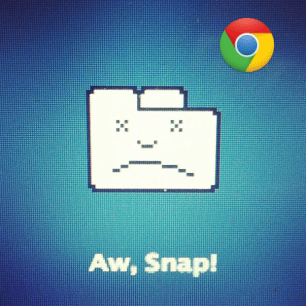 Freezing has been my biggest complaint using the Chrome browser, but luckily , I found an awesome plugin to the rescue. The Great Suspender Chrome Extension helps keep browser stay alive by temporarily suspending/snoozing tabs which are not in use. Based on the setting, it will suspend the tabs if unattended for 20 seconds to 3 days, and hence it frees up the memory. This means you can keep plenty of tabs open in the background without slowing down the PC/Mac. You can really feel the chrome speeding up and performing more smoothly.
Also recommended:Top Computer Tips to Reduce Viruses Attacks
Tabs that are not used, will be put to sleep temporality based on the time you have set on the extension setting page. The snoozed tab will turn blue with the title of the page on the top and a message reading "Tab suspended. Click to reload". So you can bring it back alive whenever you want to reload the tab with a click.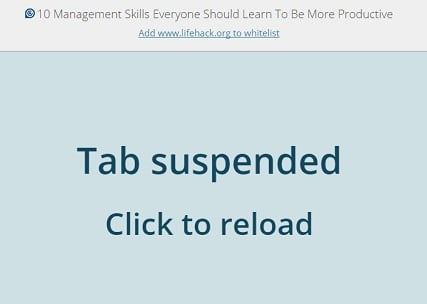 You can also set a page screenshot instead of the blue screen. The plugin will generate a screenshot of the tab and put the tab to sleep. But this is not recommended since it creates the same problem it tries to solve. Which is more use of  memory and CPU usage.
Also read: 18 Impressive Computer Shortcuts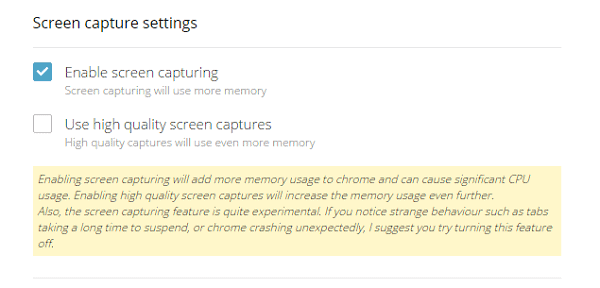 You can also whitelist websites to keep email and work related tabs to remain active. So it won't be automatically suspended while you need it.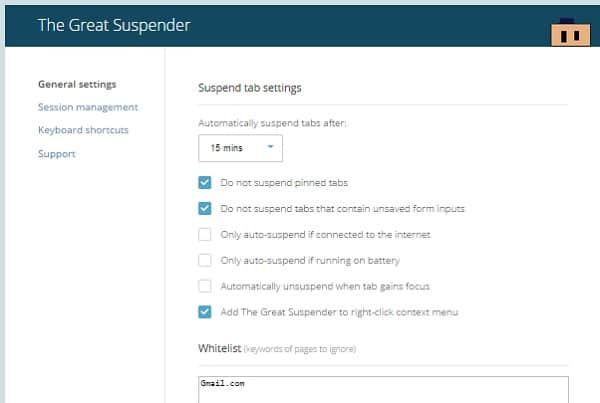 Till now, I was using One Tab chrome extention to save the tabs and session and reload later. But it didn't solve the problem with memory usage on active tabs. But this plugin helps to be more productive by leaving more processing power and memory for other applications we may want to use for multitasking.