Google Chrome extension gallery has hundreds of useful extensions. Since Chrome interface is the most simplest an the best among other browsers, you have enjoy dozens of extensions in your window. With Google Chrome extensions, you can add more features to the browser which you feel that are useful for your daily work. So, if you are a bloggers or a web developer, here's is 35 useful Google Chrome extensions that will help you in your work and possibly replace some of your existing tools in your computer. Since Chrome is faster than most of other web browser, and also uses less CPU resources, you can enjoy the best browsing experience with additional features using extension. Although chrome comes with built-in Developer Tools (accessible by pressing Ctrl+Shift+I) you can use some plugins in the below list to fill the gap for what you feel missing in the developer tool. Chrome has improved and became the most used and favorite browser rapidly. So check how better chrome you can make with the help of below plugins.
Apture Highlights
Apture Highlights is a free tool, built from the ground up to let you take the power of Google search, and the richness YouTube, Flickr, Twitter, and Wikipedia with you to any site. Just highlight a phrase on any site to reveal the web's best content without ever leaving the page. Fast, powerful, and fun.
Zemanta supports Blogger, WordPress, TypePad, Movable Type, Drupal, Tumblr and email platforms Google Mail and Yahoo!Mail.
Zemanta
Zemanta expands the regular blogging dashboard, populating it on the fly with content suggestions relevant to the current text. It presents images, links, articles, tags in a simple interface. It encourages re-use and linking to other content with as little effort as possible.
Also read: Enrich your blog posts with blog editor plugin.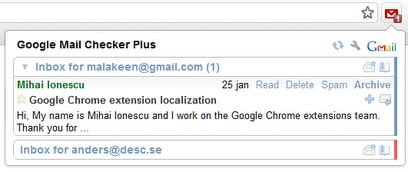 This is an excellent extension to check your Gmail inbox and also get a preview and allows you to delete, archive, spam, star and mark as read functionality.
Features:
• Mail preview window, read mail without leaving the current tab
• Delete, archive, spam, star and mark as read functionality
• Desktop and sound notifications when new mail arrives
• Support for multiple Google and Google Apps accounts
• Mailto-links open in your Gmail or Google Apps Mail account
• Monitor all your labels or priority inbox
• Translated to over 60 languages!
This extension will open a Compose window in Gmail when you click any email address on a webpage. It also provides a button that will create a Gmail message when clicked, using the page title as the subject and selected page text and link address as the message.
Chrome Flags
Chrome Flags tells you the physical location of the website you're viewing by displaying the appropriate national flag. Also web analytic information from Google Trends, Quantcast, Compete and Alexa.
This extension is similar to Chrome flags but this displays the IP location in map Geo location. You just need to click on the GEO locate button while you are on a web page, it will reveal the IP host location with map.
Aviary Screen Capture
Take a screenshot of any webpage and edit it directly in your browser with Aviary.com applications. Plus convenient access to the Aviary website and tools.
This quick screen capture addon is a must-have for bloggers and designers alike! It will perform a screen capture of the visible portion of any webpage and then open the capture INSTANTLY in a basic image editor where you can do markup (draw arrows and rectangles), edit (crop, rotate and resize) and get the exact pixel colors of the image. A perfect companion tool for designers and bloggers!
Features:
Save to desktop, host online, or edit in other Aviary apps.
Captures instantly.
Screen capture of the visible portion of all web pages and images.
Capture entire web pages.
Add visual notes like arrows, text and highlights to your capture.
Crop your capture.
Resize, rotate and flip your capture.
Smart select and move of captured elements.
Grab color information from the page.
Quick launch 6 Aviary design tools: Image editor, markup editor, vector editor, color palette editor, effects editor & audio editor.
The Google Chrome SEO Extension provides easy access to Search Engine Optimization Tools that can help you with Competitive Analysis, Keyword Research, Backlink Checks, PageRank Checks and other daily SEO tasks.
SEO Workers Analysis Tool extension allows you to perform a basic analysis of the page in your browser with a single click. The results from the SEO Workers Analysis Tool are structured into the following useful groups:
General status, meta tags listing, meta tags analysis, the pages displayed within search engine results, keywords found in the anchor tags, keywords found in the image "alt" attribute text, keywords found on the page, URLs found in the page, headers returned from the server.
This extension displays the Google PageRank and Alexa rank of any webpages you are viewing in your chrome browser.
This extension shows you the information you need about the META tags on a specific web page you are viewing, this metadata includes keywords, description, title, copyright, etc. It can be very useful for bloggers in quick checking the post SEO details without login into their blog. Best used in conjunction with other SEO tools, like Chrome SEO or SEO Site Tools.
Google Tasks

– Easy to-do list on browser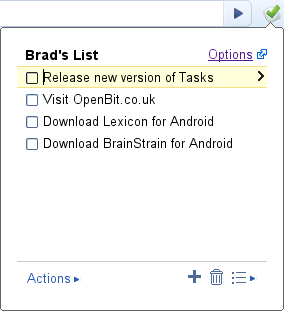 Essentially a to-do list built into your browser, Google Tasks is another extension which is useful for everyone.
LastPass –
Save and access your password faster.
LastPass is a free online password manager and Form Filler that makes your web browsing easier and more secure.
This one's great for everyone, not just web developers – you can use LastPass to securely store and manage all of the passwords that you use online. To import Chrome passwords (Windows only currently), you'll also need our full Windows installer available on http://lastpass.com/
Validity-
Check HTML Validation
Validity can be used to quickly validate your HTML documents from the address bar.
Just click the icon in the address bar to validate the current document without leaving the page. The number of validation errors can be seen in the tool tip and the detail can be seen in the Javascript console.
Validity also gives you the option to use your own installation of the W3C Validation Service. (For more information on installing the W3C Validation Service see the documentation at http://validator.w3.org/docs/install.html).
FastestChrome

–

Browse Faster.

FastestFox, one of the most popular Firefox extensions with over 10 million users is now available for Chrome!

FastestChrome is easy to use. Simply look at the previews to the right. All features are configurable via options.

Features:
Endless Pages automatically loads the next page just before you reach the end so you don't have to click "Next" or wait.
Look up definitions instantly by highlighting a word.
Better Google: shows you relevant results from real-time and shopping search engines such as OneRiot and Amazon
Search more conveniently: select text then click on a search engine to search.
Automatically turns text URLs into links.
Adds related articles to Wikipedia
Eye Dropper –
Color picker for developers
Eye Dropper is extension for Google Chrome and Chromium. It allows you to pick color from any webpage or from advanced color picker. It is great tool for web developers.
#20 Speed Tracer
(by Google)
Speed Tracer is a tool to help you identify and fix performance problems in your web applications. It visualizes metrics that are taken from low level instrumentation points inside of the browser and analyzes them as your application runs.
Using Speed Tracer you are able to get a better picture of where time is being spent in your application. This includes problems caused by:
* Javascript parsing and execution
* Layout
* CSS style recalculation and selector matching
* DOM Event handling
* Network resource loading
* Timer fires
* XMLHttpRequest callbacks
* Painting
* and more …
The Web Developer extension adds a toolbar button to the browser with various web developer tools. This is the official port of the popular Web Developer extension for Firefox written by the same person.
BuiltWith is a web site profiler tool. Upon looking up a page, BuiltWith returns all the technologies it can find on the page. BuiltWith's goal is to help developers, researchers and designers find out what technologies pages are using which may help them to decide what technologies to implement themselves.
MeasureIt! –
Drag and draw ruler to get the height and width.
MeasureIt! gives you a ruler to draw out a ruler that will help you get the pixel width and height of any elements on a webpage.
Chrome Sniffer –
Auto Detect CMS used in a website.

This extension will help web developer to inspect web framework / CMS and javascript library running on current browsing website. An icon will appear on address bar indicates the detected framework.
Currently, this extension can detect more than 50 popular CMS and javascript libraries, and more will be added in future releases. Visit extension website for more detail.
With Session Manager you can quickly save your current browser state and reload it whenever necessary.
You can manage multiple sessions, rename or remove them from the session library.
Each session remembers the state of the browser at its creation time, i.e the opened tabs and windows.
Once a session is opened, the browser is restored to its state.
Ever tried having 20 tabs or more open in Chrome? You can't even see the favicon of the tabs, not to mention the tab titles! If that happens to you, TooManyTabs is a must-have extension that manages your tabs, reduces your tab overflow, and saves your sanity!
From the makers of TooManyTabs for Firefox, TMT has come to Chrome to help all your tab needs!
Features
– Bird's eye view of all opened tabs
– Clear preview of each tab's content (fills up gradually as you use)
– Instant tab search
– Sort tabs by creation time, domain or title
– Restore recently closed tabs
– Suspend idle tabs and save memory, organize with custom columns
– Custom themes
This extension checks the availability of a domain name. What's the point of going to another page when you can check it from your toolbar. A large amount of domain extensions are supported, and if you want to suggest more or other registrars, leave a comment below and on the next release we'll try to put that one in.
Automatic domain checker, periodically checks the expiry date and alerts you when the domains status changes. Watch domains manually by adding to favourites or check automatically, weekly, fortnightly, monthly or quarterly.
Snippy
Snippy allows you to grab snippets of web pages, save them for future use and upload them to Google Docs. Snippy capture rich contents and preserves formatting, so you can capture paragraphs, images, links and more. Snippy saves the captured snippets on your browser. If you want, you can decide to upload them Google Docs, or SnipBin (http://snipbin.appspot.com), to have them available even outside of Chrome, edit and share them with your friends.
Firebug Lite is not a substitute for Firebug, or Chrome Developer Tools. It is a tool to be used in conjunction with these tools. Firebug Lite provides the rich visual representation we are used to see in Firebug when it comes to HTML elements, DOM elements, and Box Model shading. It provides also some cool features like inspecting HTML elemements with your mouse, and live editing CSS properties.
Ibrii allows users to snip every type of content found on the internet no matter if it is simple text, a photo, a video or even an embedded object, like streaming audio. What makes Ibrii unique is that it gives the possibility to share distinct elements of web pages and not links to entire pages as do numerous other services present on the internet. Ibrii allows users to mix videos, text or photos from different pages into a single note and later share that note with friends.
Sharing contents has never been easier. Ibrii gives users the possibility to decide how to share the contents. Facebook,Twitter and Google Buzz are the primary sharing channels, but users can also create a personalized permalink to the contents and share that permalink through instant messaging and other social networks. Ibrii also gives the possibility to create a RSS feed for one's personal blog.
ChromeMUSE – Multi-URL Shortener/Expander
ChromeMUSE is an extension to facilitate the use of URL shortening services. A short URL can be generated for any web page, using the user's preferred shortening service. The short URL is automatically copied to the clipboard to paste into other applications.
Features:
Shorten URLs with one-click operation in Simple Mode. The shortened URL is automatically copied to clipboard.
Advanced Mode allows choice of service on the fly. The services to be listed in the dropdown menu can be configured in the options.
Supports login credentials, for services like bit.ly and cli.gs.
Scans web pages for short URLs and automatically updates the target URL. The title of the website is displayed as a tooltip when available.
Supports dynamically updated (AJAX) websites (eg. twitter.com) without having to refresh the page.
jQuery Shell allows you to run JavaScript and jQuery 1.4.4 multi-line scripts in the context of the current web page. It is simple tool to use when experimenting with / learning JavaScript and jQuery commands.
Meet Cooliris, the 3D Wall that speeds up search on Google Images, YouTube, Flickr, and more. Enjoy the richest way to view photos from Facebook, Picasa, and even your own computer. On our infinite 3D Wall, you can effortlessly scroll though thousands of images and videos in seconds without having to click from page to page.
Instant Image Editor
Simple and easy image editing while you browse, it comes with many features available in Pixler.
And thats the wrap! if you know any more cool chrome extensions, drop your opinion below using the comment form. Also let us know the uses of these plugins to you.