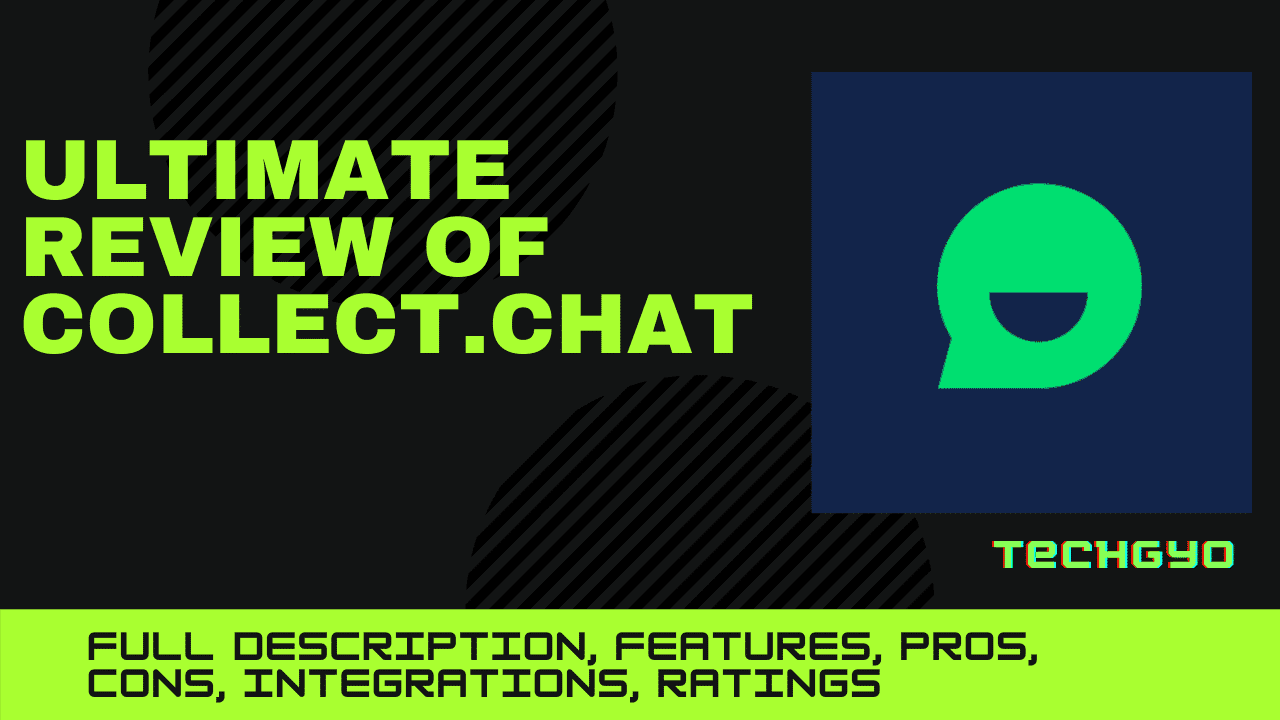 Collect.chat is an interactive human-friendly chatbot platform that helps in the collection of the data from the target audience by asking them the pre-built question at any time. It helps you to convert the website visitors into subscribers. It also authorizes the users to build best chatbots by using drag and drop templates. By using Collect.chat software you can collect orders, appointments, enquiries, meetings, bookings, surveys, leads, feedbacks from your website.
What chatbots are all about?
The chatbot is the online software application that is used in websites and blogs for interacting with the audience.
Features:
There are lots of amazing and unique features of Collect.chat software. So let's discuss that one by one:
Here one of the most amazing features is that you can build your own chatbot without knowing to code.
There are available a wide range of variation in templates for making your chatbot easier and attractive to the viewer.
You can publish the chatbot by installing collect.chat in your website via various methods like copy-paste snippet, WordPress plugin, sharing links, email developer.

You can use powerful visualization tools for visualizing data collected from collect.chat to solve pain points and making decisions on your business.
You can interact with the customers globally with the help of the multiple languages feature.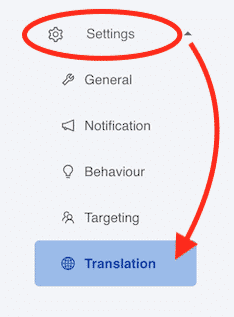 You can communicate with the audience via proactive chats and easily increase your conversions by three times.
You can also schedule your meeting instantly with the special feature of Meeting Booking.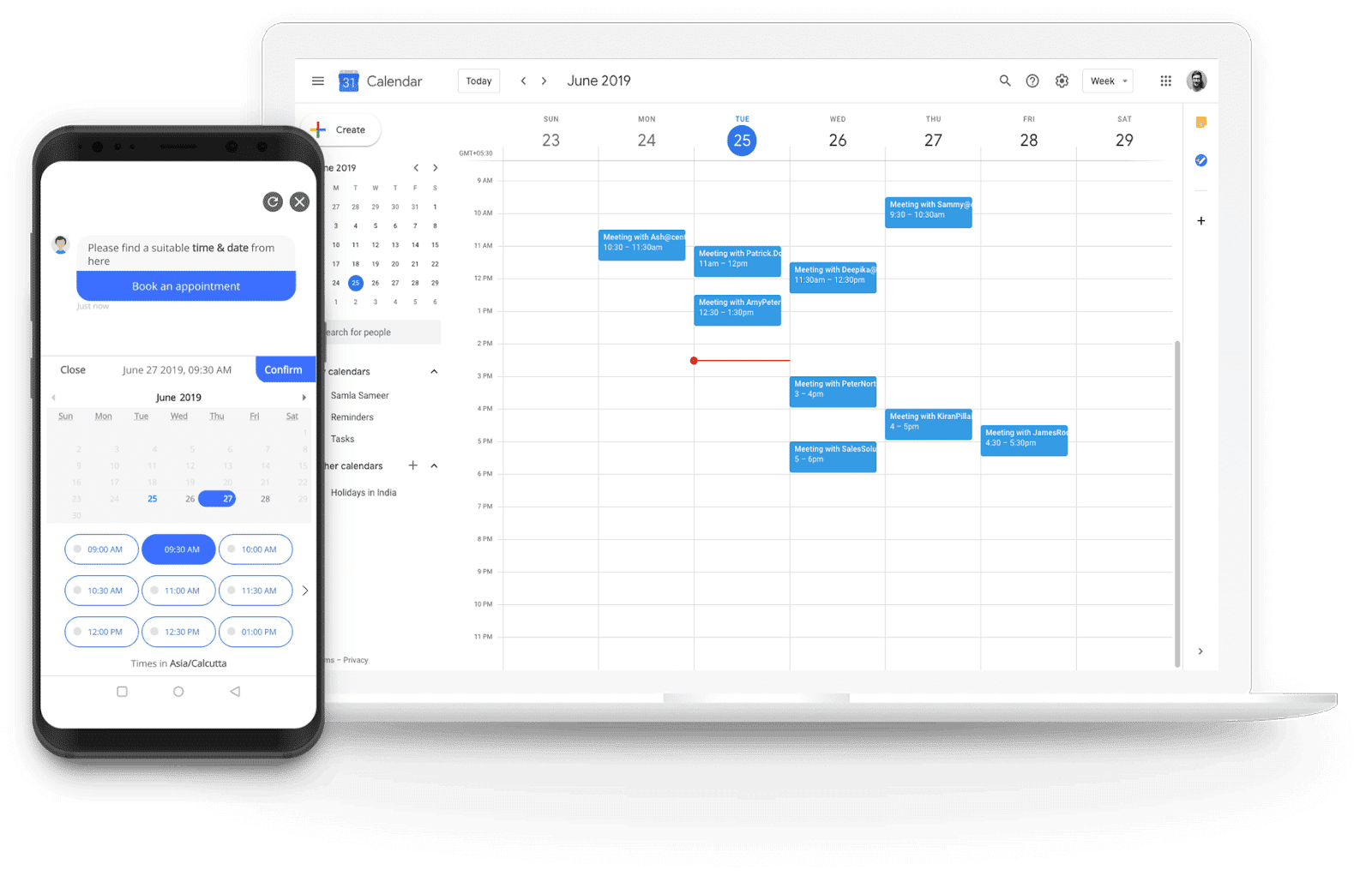 Use the drag and drop templates for creating your best chatbot and adding that to your website.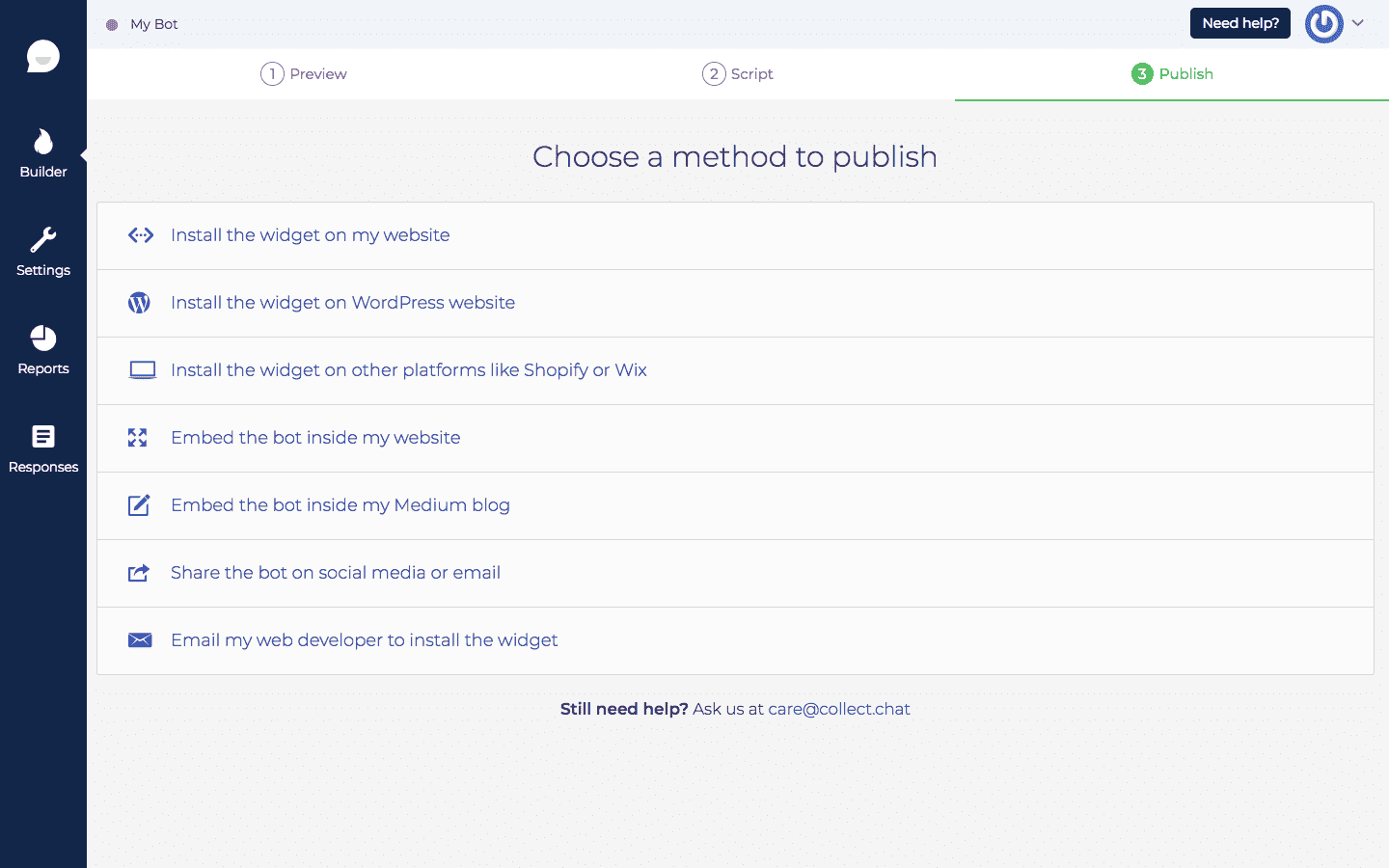 The fully automated system helps you in collecting data without any external manual help.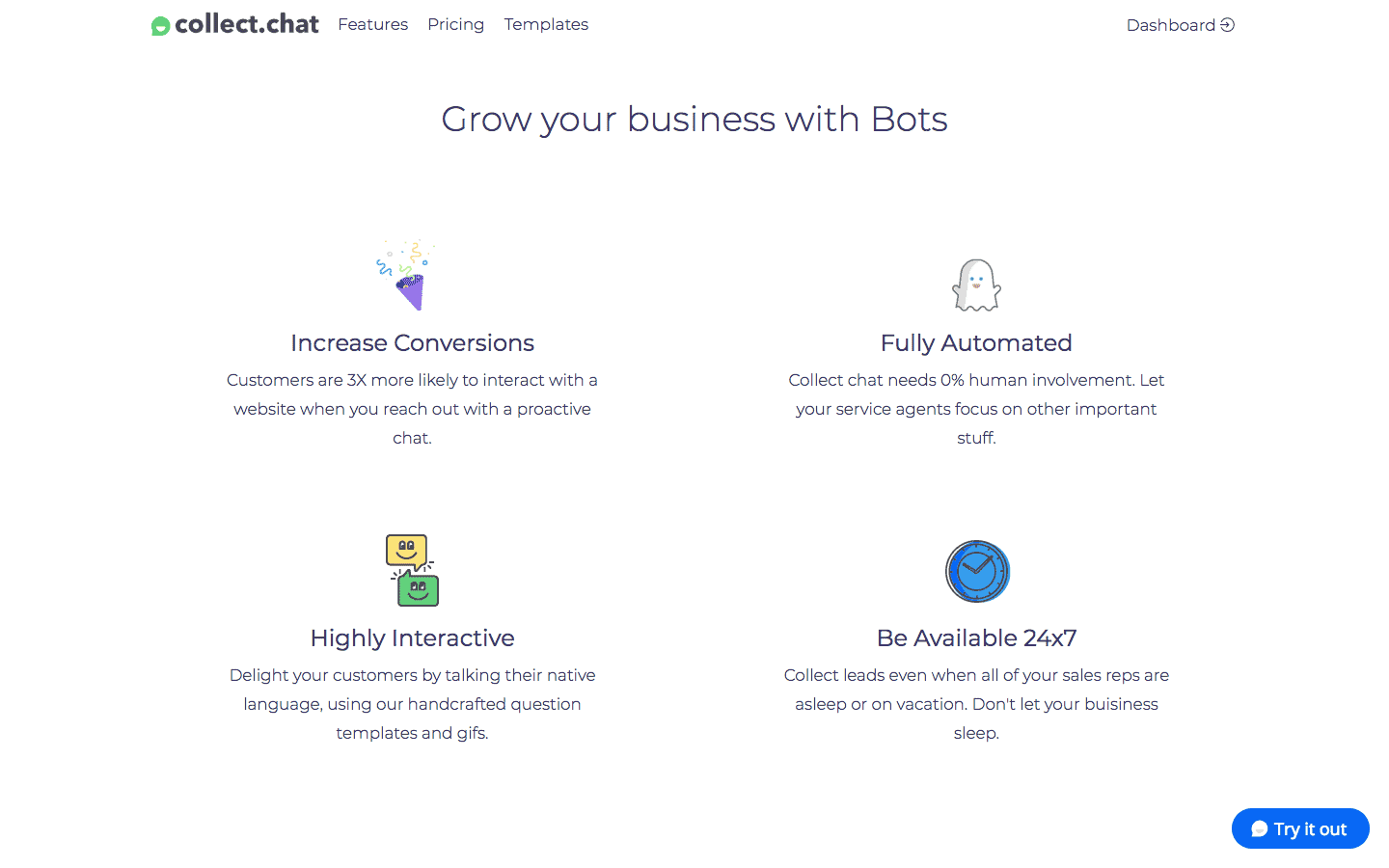 It helps you in collecting leads even when your sales rep are away for a certain interval of time

User Interface:
Collect.chat is a very powerful tool that helps you in converting visitors into subscribers. You can set up your own chatbot very easily and make best chatbot just by completing three major steps of Preview, Script, and Add to Website.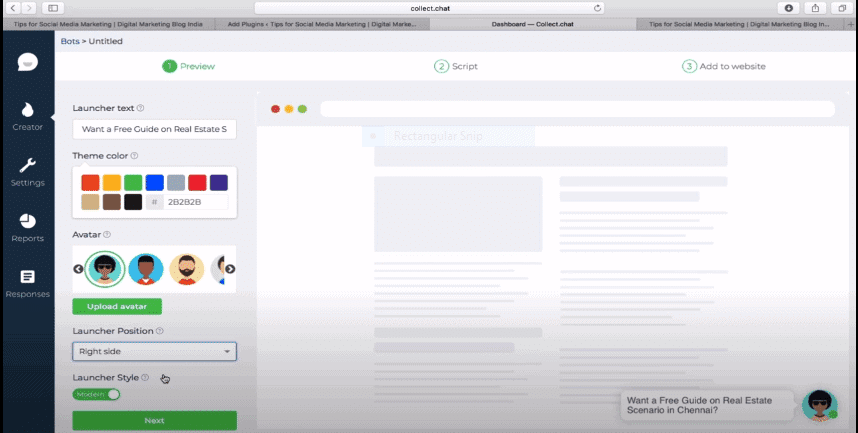 In preview you can select the templates depending upon your business that you are into, you can also set up the avatar from given samples or can also insert your image. You can write down your questions in the Launcher Text section and select the Launcher position also.
Now moving on to the next step, Script, where you can drag and drop the following options available to the left side of the page.
The following options will be available to you as pictured down below: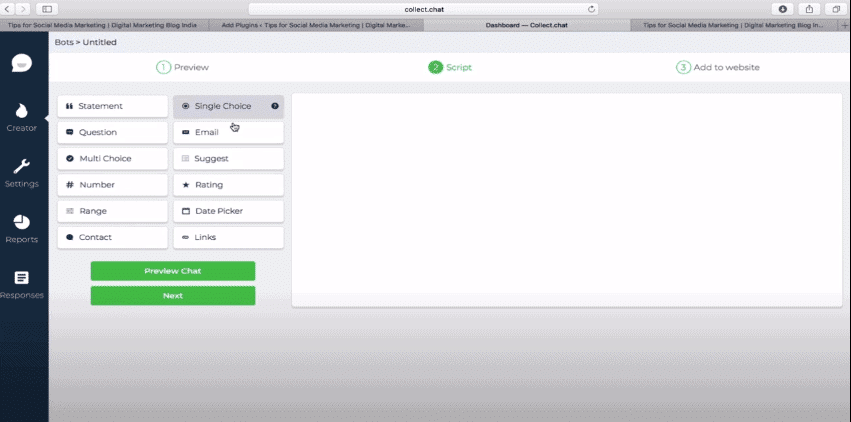 You can customize the chats as: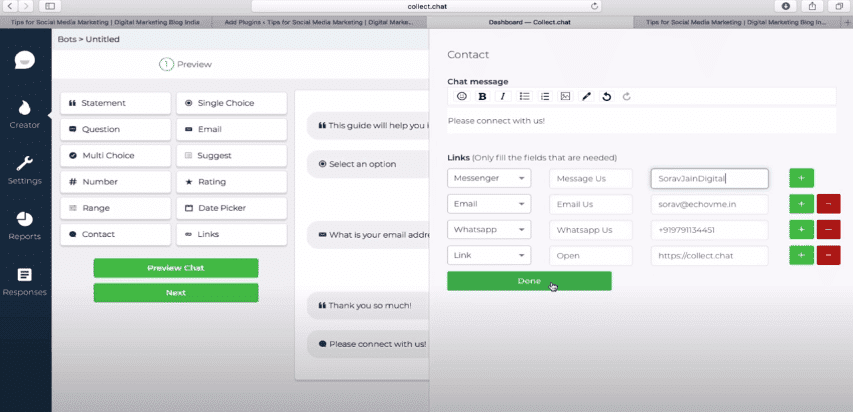 And finally, it is ready to add to your website.
Can you add a chatbot to a website?
Yes, ofcourse you can add chatbot to a website. You can use collect.chat for that purpose.
Pros:
Here are some advantages and features which makes collect.chat as one of the best chatbot platform:
It has a simple interface which makes it easy to use.
It provides 24×7 customer support.
It provides creative and helpful templates with an intuitive flow of questions.
You can get notified on Whatsapp as well.
Without any manual efforts, you can collect data.
Since is web-based it makes the work more efficient than it can generate code automatically and after that, you can easily copy and paste that into your website.
You can be available for your customer without being present there.
There is no watermark or branding logo on the chatbot.
Cons:
Integrations are a bit difficult to use
Lack of Invoice
Lack of API can cause problems in integrating actions directly from a chatbot
It is expensive to use
You cannot view the respondent email id
Chatbot conversations are limited
No mobile applications are available
Alternatives of Collect.chat:
There are many alternatives for collect.chat. Some of them are listed below using which you can create best chatbots with added features.
Userback:
Userback is a platform for customer feedback that helps you to collect data and useful feedback from your website. It is used as a SaaS tool and is web-based.
Features:
Management of customer feedback in one place
Trust building with custom branding
Useful notifications for organized work
Turning up your design into a dynamic canvas
Visual feedback on any web page
Pricing:
Basic Plan: $8 per month
Standard Plan: $34 per month
Growth plan: $69 per month
Video Feedback: $10.50 per month
Retently:
Recently is a customer feedback platform that helps to collect, track, integrate and automate customer feedbacks.
Features:
The Net Promoter Score is calculated based on daily responses.
Survey campaigns
Cross channel surveys
Maximum survey deliverability
High-quality template editor
Pricing:
Starter Plan: $49 billed monthly
Advanced Plan: $99 billed monthly
Professional Plan: $249 billed monthly
Enterprise Plan: Contact salesman
Heyday:
Heyday is AI conversational platform for retailers to provide customers best services. The supporting platforms are android, iPhone, iPad.
Features:
Several integrations are present
Conversational AI
Notification for Price Drop and Restock
Smart Dispatch
Dynamic Cart creation
Pricing:
Tailored Plans are available
Survey Lab:
It is a great survey tool for the automated collection of data from websites, for creating surveys, and generating reports. It supports Windows and Linux on-premises and supports Android, iPhone, iPad
Features:
Helps in churn management
Availability of annotations
Visualization of data
Mobile survey available
Communication management
Pricing:
Free trial for 7 days
Essential Version: $79 per month, paid yearly
Professional Version: $239 per month paid yearly
Ultimate Version: $479 per month, paid yearly
Enterprise Plan: Contact Salesman
USP (Unique Selling Point):
The unique feature that acts as the major point for selling is the availability of various publishing modes.
The possible ways are mentioned below:
Copy-paste snippet: In this method, you can copy the code and can paste it into the web-based header of your website.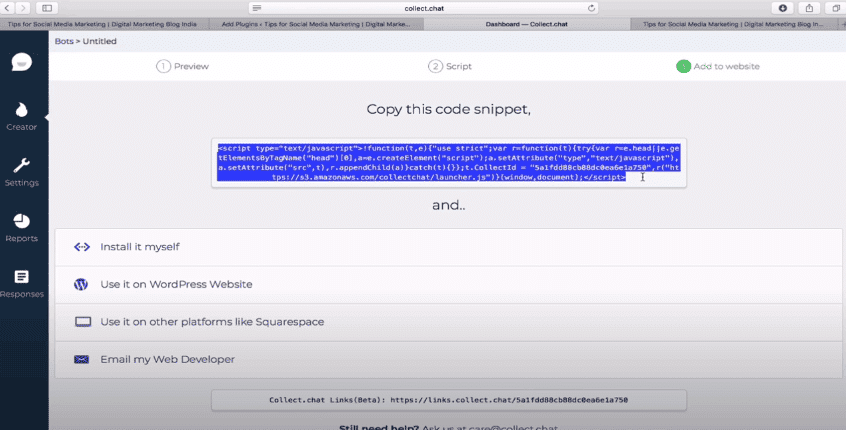 WordPress plugin: Here you can install the collect.chat plugin on WordPress and then n the setting option you can launch your code under the script option. After saving the changes the chat will get activated
Step 1: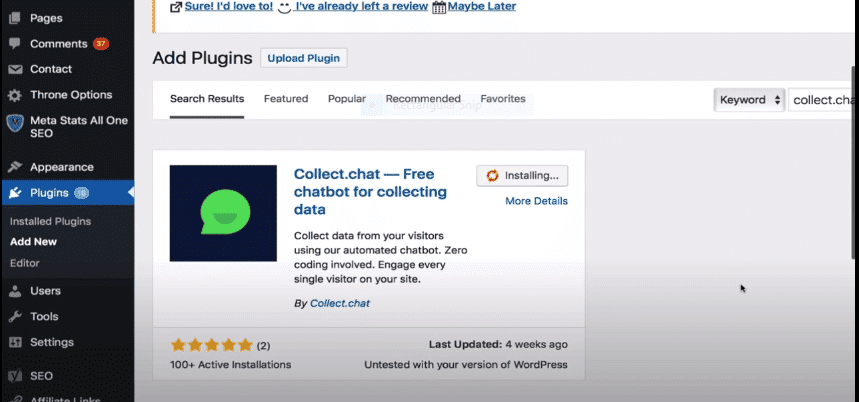 Step 2: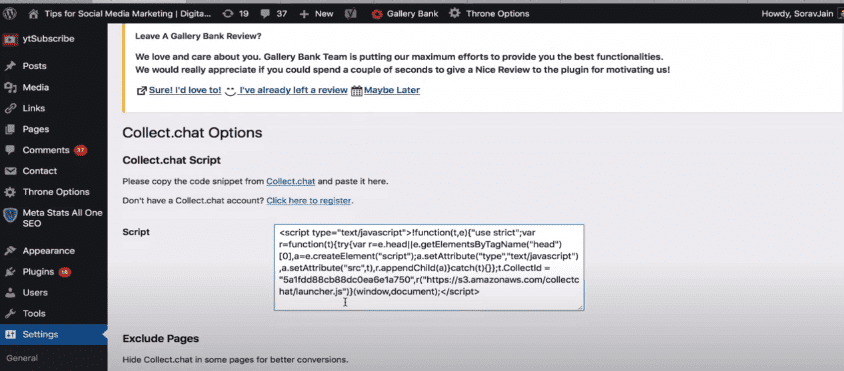 Besides the above two explained methods you can also launch by sharing links and even the Email developer option is also available.
Use Cases:
The use cases for Collect. chat are:
Data Collection
Feedback and surveys
Personal
Industries
Services
Education
Finance
Real Estate
Health and Beauty
Event Planning
IT & Software
Travel & Transport
Food and Restaurant
Design and Photography
Lead Generation
Appointment Booking
Who can use it:
It is mostly used by
Bloggers
Web Agencies
Small Business
Enterprise Business
Pricing: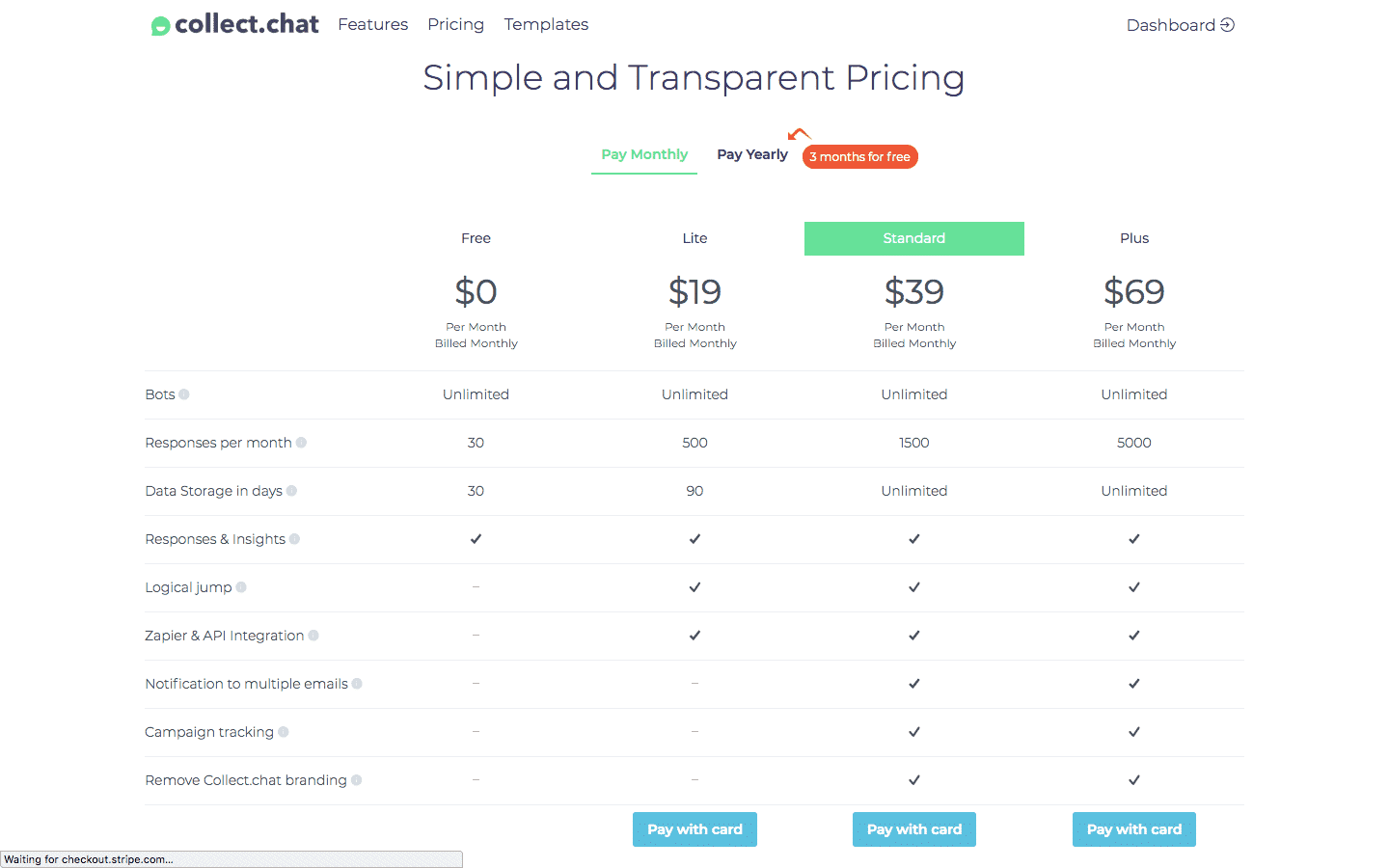 Free Version: $0 per month billed monthly
Lite Version: $24 per month billed monthly
Standard Version: $49 per month billed monthly
Plus Version: $99 per month billed monthly
Is Monthly pricing available?
Yes, the monthly pricing for collect.chat is available. You can buy the minimum costing pricing plan name Lite Price Plan which starts from 424 per month. Read this article to find other affordable plans too.
Features in Free Version:
Bots: unlimited
Responses per month
Responses & insights
Appointment booking
Features in Premium version:
Bots: unlimited
Responses & insights
Appointment booking
Logical jump
Webhook integration
Native 3rd party integrations
Notification email routing
Campaign routing
Custom domain
Phone number OTP validation
Remove Collect .chat branding
Team collaboration
Verdict:

UI Ratings: 8.5/10
Features: 9/10
Pricing: 7/10
Collect.chat is one of the best chatbot platform with its outstanding features. Hope this information was useful to you. Please let us know in the comments section.