In the huge world of great laptops, let us consider two very capable as well as affordable netbooks side by side to find out their features and efficiency. Let's have a comparison of Asus EeeBook x205ta vs HP Stream 11-d023tu.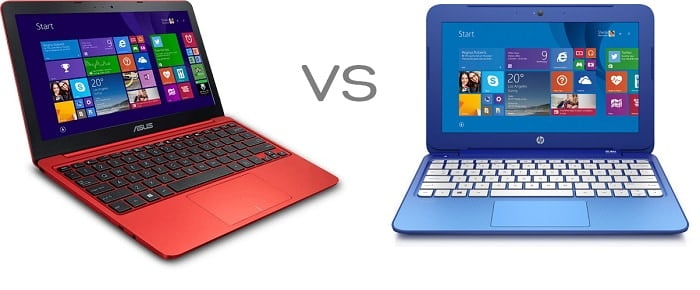 Asus EeeBook x205ta
There are many people who vouch for the credentials demonstrated by Asus. Asus has astonished everybody by introducing its EeeBook x205ta. This is surely a unique buy offering buyers all the necessary features just at Rs. 14,999. If you have been planning to purchase a laptop for ages, but were not able to fulfill your plans due to low budget, then this Asus EeeBook x205tais could quench your thirst for a bare minimal cost. Not only will it be the best option for you, but it could be one of the intelligent buying decisions you would ever make. A netbook for under Rs.15, 000 is more than a steal and the Asus EeeBook x205ta is certainly the one that you could possibly grab eagerly with both hands. Asus EeeBook x205ta will provide you with a great 11.6-inch screen, along with a bare minimum weight of just 980 grams. A Quad Core processor is inherent in this small wonder of a laptop. It is worth taking a look at some of its features in detail.
Also read: Best Laptops to Buy in India: A Guide to Buy the Best Laptop
Operability
If you have a Windows 8.1 with Bing then Asus EeeBook x205ta will work along with it.
Display and Design
The Asus EeeBook x205ta has a screen resolution of 1366 x 768 pixels and an 11.6 inch HD display which is quite impressive. The design of the Asus EeeBook x205ta is sleek and is sure to allure everyone. With its look and feel, the Asus netbook surely feels like a sturdy device with a solid build that is sufficient to handle lots of user tasks, without heating up considerably.
Also read: Benefits of a Solid State Drive over a Hard Disk Drive
Processor, RAM and Storage
There is a powerful 1.3GHz Quad-Core Intel Bay Trail Atom processor under the device's skin that is aptly incorporated in this next-gen netbook. You can trust the Asus EeeBook x205ta to be a thoroughly performance oriented device, as its processor suitably matches with its price. Well integrated with Intel HD Graphics, the Asus EeeBook x205ta has a 2GB RAM with a good 32GB internal memory and an adequate 20GB user memory. This netbook will satisfy you with 500GB of web storage for a span of 2 years along with a one-year free subscription of Office 365.
Must read: Trick to Share Internet From Laptop to Smart Phone Over Wifi
Camera
Asus EeeBook x205ta offers a VGA web camera for all video chats.
Battery
The Asus EeeBook x205ta comes with a non-removable 38 hours Polymer battery pack, which will provide you a standby time of more than 12 hours. An above average battery life surely adds to the great attributes of this netbook and can be easily termed as one of the best pros of the device.
Recommended: Tips to Improve the Battery Life of Your Laptop
Keyboard
It has a full-sized Chiclet keyboard to render its users an easy to type advantage as well as durable. Smart Gesture technology is optimally incorporated to give its touchpad a highly sensitive output.
Audio
The front of this netbook has 2 front facing speakers which are aptly annexed to the technology from SonicMaster Audio and Asus Golden Ear team. These innovative technologies can render users overwhelming quality audio output on speakers and also on the headphones.
Also read: Office 365 – The All New Version of Microsoft Office – 365 Review with video
HP Stream 11-d023tu
You can slate this as a mere entry-level laptop for everyday use. However, you can swear by its high-powered technology that looks above average for you to handle all tasks with efficacy. This HP device is an integral part of devices that stresses on convenience as well as connectivity.
Did you know: The Chromebook Is No Toy, But It's A Great Gift
The Look
It is no secret that the HP Stream 11-d023tu is a striking device, which has an alluring appeal with colorful pastels and which renders its buyers an all-new high of owning it. It has a bright blue exterior on which the mirror-finished HP logo in embossed centrally. The texture is just wow for any onlooker to fall in love with, instantly. This Stream 11 is certainly a crowd stand-out having all the ingredients to make it an instant hit with people.
Security tip: Top Computer Tips to Reduce Viruses Attacks
Keyboard
The keyboard deck has a bright blue ramp that runs from the back to the front aptly merged with the white polka-dot pattern. The white colored keyboard keys strike well with the users and offer a great appeal to the lower half of this device.
Recommended: How To Scan QR Codes From Your Computer?
Tech Specs
The HP Stream 11 has Intel Celeron N2840 CPU that gives it all the power needed to make it a sturdy dual-core model running at 2.16GHz. Its processor being founded on the Bay Trail architecture is perfectly in tandem with low-powered Atom processors, that has suitably and successfully powered most of Intel's desktop and laptop CPUs. It's 2GB of RAM, gels well with its user usages. With a 32GB of solid-state memory, the Stream 11 is a good buy at the cost which it claims. The Stream 11 excelled in an extremely good battery life. Its Battery Eater Pro will run straight for 5 hours before it gives you a full workday's use out of the Stream 11 on a single charge.
Must know; 18 Impressive Computer Shortcuts and tricks!
Connectivity
All the ports in the HP Stream 11-d023tu are well connected. This value for money laptop comes with a headset socket, HDMI video output along with one USB 3.0 port and USB 2.0 port, on its slim architecture. The left side of the device features a Kensington lock slot, a full-sized SIM card slot, and an SD card slot. It has an inbuilt battery that is sealed from inside. The lower end of the device comprises of stereo speakers so as to give users the maximum audio output from the front. The screen does not have a reflective glass as it does not have the touch input functionality as found in some other devices.
Both Asus EeeBook x205ta and HP Stream 11-d023tu are in good demand and it will be very interesting to see, which one actually fairs better in the market in terms of sales.