This is the age of Internet and Connectivity. In fact, it is one field which seems to evolve and grow exponentially every single day. No matter how technologically advanced we get, there are certain things like, websites, that acts as a base station, which will always exist. More and more businesses and individuals are starting to make their online presence by creating their own websites. Personally, before buying a newly introduced product in the market, I visit their website to get an in-depth idea of the product itself and do a background check on the company. Keeping the point 'how important is a website' in mind, let's slowly change our topic of discussion to How to make a website. Most of you may be aware of the online website builder service provider called Wix.com. Well, if you are not, they are one of the bests in the market and today we are going to have a comprehensive review of them and the services they provide.
Wix Website Builder – Review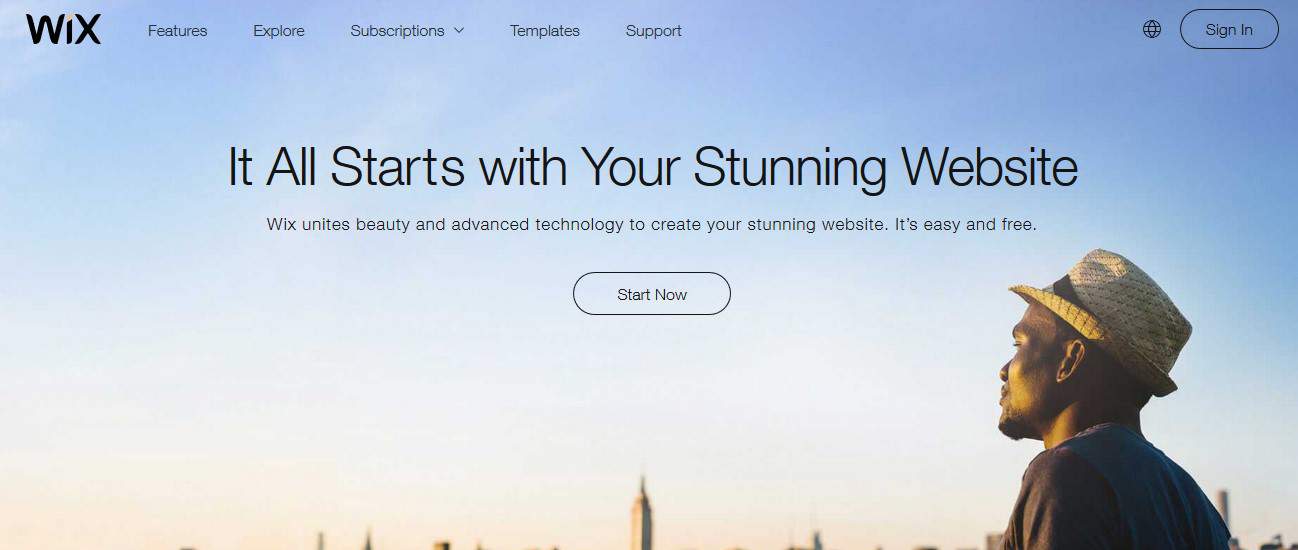 Starting a Wix Account
To explore the features and to do an in-depth review, I started a free Wix account all to myself. If you are not sure about the services and how flexible it can be for you, the company gives you the option to start a free account. This free option features a drag and drop editor, 500MB storage, secure hosting and a mobile site. Plus, if you are satisfied, you get to upgrade to their premium plans.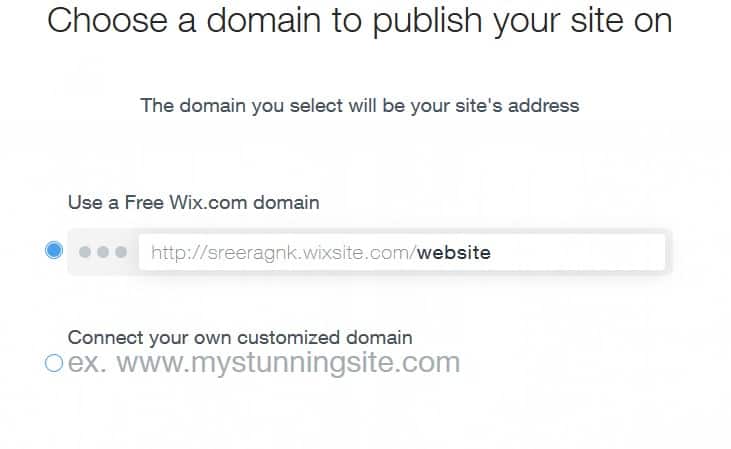 Once you sign up by filling up the required fields, I skipped this by selecting 'Login using Google' option, you will be asked to select the kind of website you want to create. I went ahead with 'blog' and it asked me to choose from two options; 'Wix ADI creates a website' or 'Create a website using Wix editor'. I took a leap of faith with the Wix Artificial Intelligence system. Wix Artificial Design Intelligence System
The Artificial Design Intelligence from Wix is a revolutionary idea to make the whole process of creating a website much easier and time-saving. The ADI platform is designed in a way that, the system will take some inputs from the user, mainly to understand what kind of website you have in your mind.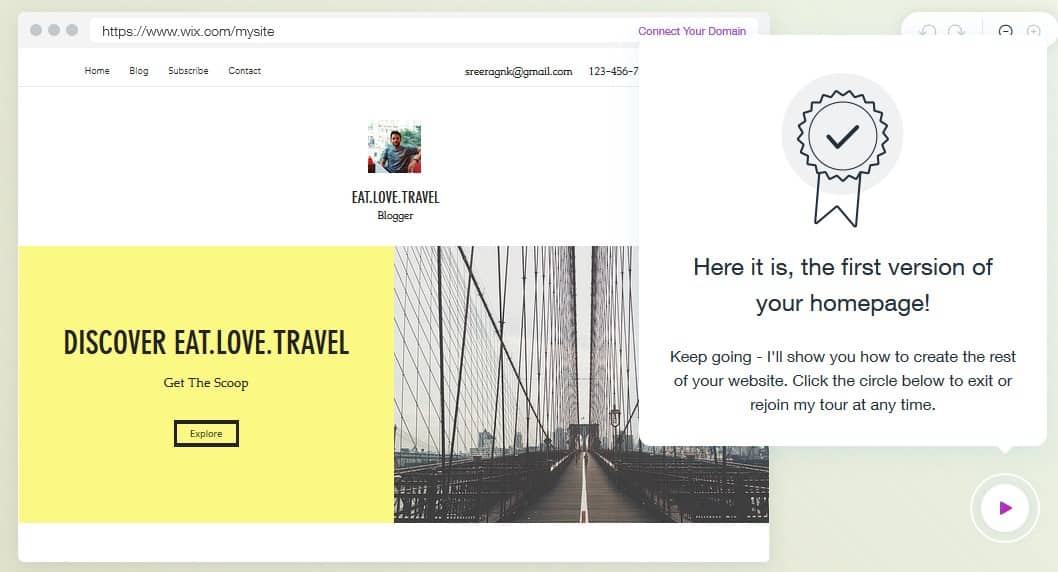 For me, the most surprising part was when I entered the name of my existing Facebook page Eat.Love.Travel the system fetched all the public information like; my profile picture, Twitter, and Instagram handles as part of learning process. Verify the information and if you want, you can add more details to it. Once that is done, you will be asked to select the type of design. I selected 'Chic' from the list of Minimal, Clean, Serene, Classic, Horizon and Chic.
Things that followed next felt magical for me. Within a minute, a website was born, right in front of my eyes, that too with my picture as logo and all my contact information in place. Next step is to follow a series of steps like; change design, change colors, change Fonts, change animations, Edit section designs, and content etc. All these steps can be either be done by you or you can ask the system to do it for you.
Once you are done with all these, you can click the preview button at the top to see how your masterpiece looks in real. You can also see how it looks using the mobile preview option.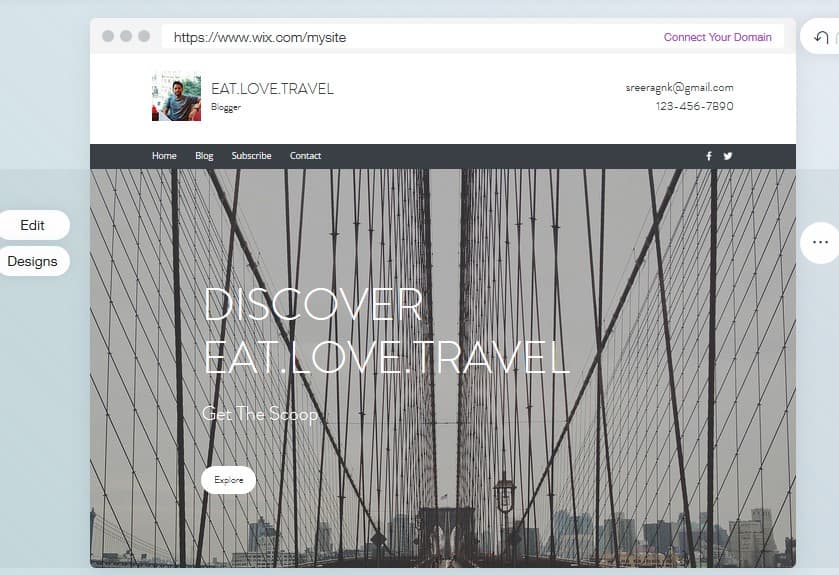 If you are done with all the customizations, you can go ahead and hit the publish button. The system will ask you either to go for Wix domain or you can connect your existing domain name to it. The whole process took less than 10 mins and here is the link to the sample website I have created.
Wix – Premium Plans
The free package from Wix seems, to me, more like a playground where you can explore the options and built your dream website. Once you are completely satisfied, I am sure you will be, if you are serious about your website, I bet you are going to upgrade to the premium package. I have gone through their pricing list and here is what I found.
If you upgrade to any of the premium plans, you will get 100s of high quality, professional looking design templates, options to host unlimited pages and top-grade hosting.
The basic plan where you get to connect your domain name with your Wix website will cost you 122INR/month. This plan will display the Wix ads on your pages and has a bandwidth of 1GB.
The second option is the 'Combo' plan which will remove the ads and increase the bandwidth to 2GB for a price of 247INR/month.
The most popular option is the 'Unlimited plan', under this plan you will get unlimited bandwidth and 10GB of storage.
If you are looking for some ecommerce features to be placed on your website then, 'eCommerce' plan which starts at 485INR is the best plan for you.
Wix Website Builder – To Conclude
I have seen Wix ads on many platforms and I have always wondered how a tool help a common person like me to build my own website. After trying the real platform to myself, I am convinced and is happy. The Artificial Design Intelligence did a fantastic work and I am sure they are fine-tuning it day by day to perfection.
Talking about the premium plans, I would suggest you go for the unlimited bandwidth plan. It is reasonably priced and who knows, when your content will go viral on social media and at that time the system should be ready to handle the traffic. Another great thing the company offers is the regular updates. The entire platform gets updates and they keep on adding revolutionary features. The only problem I have is, all plans come with a storage space limit. Even the 'unlimited' plan seems limited because of this.
Kudos to the team at Wix to come up with something like Artificial Design Intelligence. It really is a marvelous creation. If the freelance web developer seems overpriced, you should check out Wix and I am sure you will be impressed, just like I am.