For any business, it is often true that Customer is always right or the Customer is the King. In this competitive world, running a business takes a lot of effort and the main focus will, of course, be the customer base. That is why it is so important to keep your customers happy and all their matters answered and taken care of. Choosing the right help desk software for your company from the variety of options out there can be mind-boggling. The main purpose of the help desk is to assist customers with technical problems, provide support articles and thereby improve the quality of the product. This is achieved by managing all queries customers have, tracking them and finally resolving the problems. And the end result is Customer Satisfaction. Happy customers mean happy business.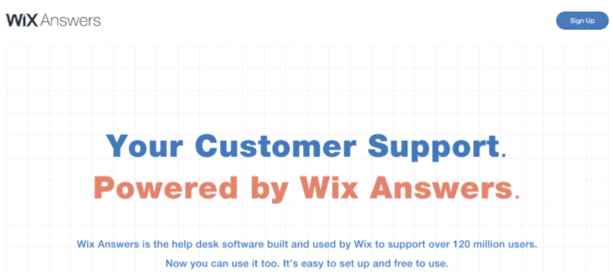 When Wix, the company which has revolutionized the cloud-based web development, came up with its new product, Wix Answers, I was personally intrigued. Wix Answers is an all-in-one customer support solution for businesses of all sizes. Today, let's have a comprehensive look at this brilliant product from the Wix team and see where it stands in terms of usability, credibility, reliability and product stability.
Wix Answers – An Overview
To have a brief idea, Wix Answers is one of the best customer support solutions available which is designed to support businesses of any size. The company has successfully tested it on 120+ million user base with over 9 languages. Though the main benefits of the product being its easy setup process, in a matter of minutes the solution will be up and running, there are some other aspects we are going to look at today.
Wix Answers – Hands-On
To test the features of the product I have created a test account and here is how things went. To get started, just click the sign-up button and enter a few details. Fill out your business name, select the language and select Wix Answers URL. Hit 'Get started' and you are on the dashboard of the system.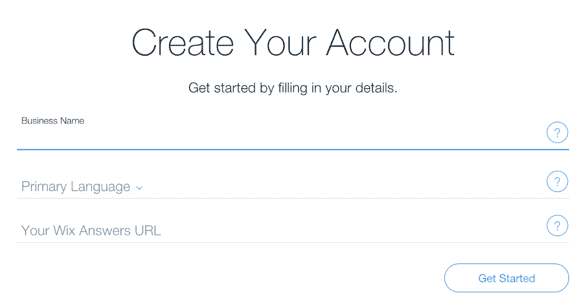 The simple dashboard has a left navigation panel which handles the important options like Articles, Tickets, Analytics and Team Permissions. Now, in layman terms, articles are nothing but the knowledge base, which means helpful articles that have to be displayed while the user is looking for information on how to resolve an issue. Tickets are the queries/service request raised by the customers about the company's products and services. These queries are gathered from customer inputs from widgets on a website, Facebook, Email and Contact form. Analytics will help you have a bird's eye view of the overall system performance. Team permissions handle the access of the team members to various functions such as adding or editing the articles and other elements.

I tried creating an Article and it was pretty simple. You get to choose the category to which the article should go: Getting Started, Account and FAQ.

Next, I tried creating a widget for the website, this can be used by customers to create a ticket in the system. To my surprise, the process was smooth and the options that popped up seemed pretty straightforward and refine. Here is a screenshot.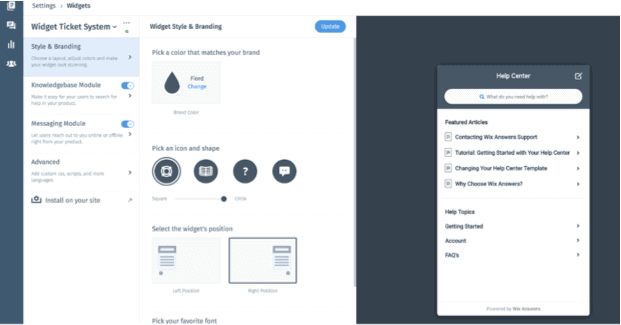 The insights tab shows the graphical representation of how the system/team is performing. This gives an overall idea and as an admin, you can check are the areas that need to be taken care of.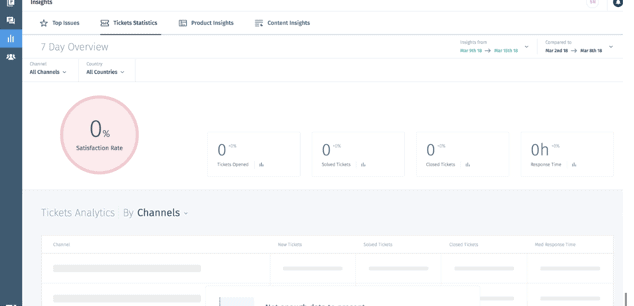 The team members folder will help you to manage your team, add team members and control their permissions. It is basically where you manage your team.

I was able to customize the 'Help Center' page and I found it very much user-friendly and intuitive.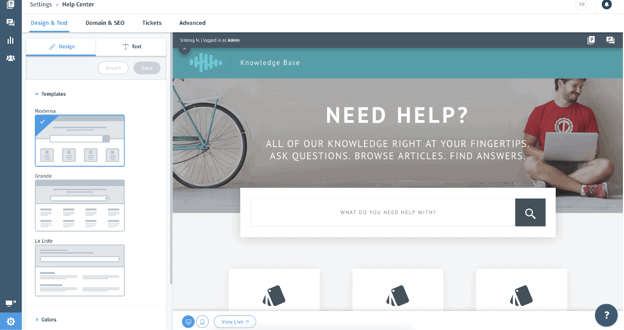 It took me just 5 minutes to skim through the entire process flow. I bet, being one of the best customer support solutions, Wix Answers is not just about that. There are so many options which I have failed to notice or left out on purpose to keep this article short. There are various interactive help sessions available to assist you in case you get stuck somewhere.
Wix Answers – Key Features
Now that I have done my homework by exploring the product, I think I should be ready to tell you more. Being in the field of Information Technology, I do believe I have the right knowledge to understand the true potential of this product. I have worked in the customer support solutions development team and I know a thing or two about the workflow. Here are my observations:
How User-Friendly and Customizable Wix Answers is?
I would say the product has outperformed some of the products I have used in the past. There are, of course, pioneers in the field and Wix Answers will possibly take down those one day. The code-free customizable option is something which I really liked. There are many templates available to choose from, which is a big plus. There are no hidden options or tricky steps to do, everything is straightforward and presented well.
Organized Ticketing System
The Wix Answers ticketing system collects tickets from multiple channels and organizes them neatly. As I said, there are options to get tickets from Facebook, Contact Form, Widgets, and Email. This doesn't mean compromising customers priorities. All customers have equal priority, no matter which system the ticket comes through, and will be treated efficiently.
Built-in Call Centre
No matter how advanced the technology is, I, as a customer, still love the traditional way of dialling in the customer support number. This is the personal and fastest way to get answers to your question. The Wix Answers tool comes with built-in phone support.
The tool intelligently queues up the phone calls and allocates them to the agents. The customers get an option to request a call-back as well.
The Insights
You can get additional information about the performance of your support team. The software constructs and coordinates different sections of the team's performance, customer satisfaction and ticket response time and gives you a full insight of how the business is running.
To Conclude
If you haven't heard, Wix Answers is a free customer service solution tool that includes such essentials as help desk, ticketing system, call centre and more. Wix Answers is a new tool on the market but it was tested by Wix during years. Yet, there is always room for improvement and more options will be incorporated. The versatility of Wix Answers and it features makes it a great fit for a wide range of businesses from small start-ups to enterprises as well as freelancers and many others. Overall it is a great customer support solution for anyone who wishes to provides their clients with additional information, fast and efficient support and in the end to have happy and satisfied customers.