Business cards consist of company's information including logo, owner's name, services that company offers and contact information such as mobile number, email and fax number etc. Not only the companies or corporate but individual businessmen can also have business cards. It is important to have a business card especially a professionally designed card that attracts more than a normal one. Just like business cards, brochures are important for any business. And since now you have lots of online printing services who can deliver 48 hour print, you don't have to travel to distances to get your print work done. Try trifold brochure printing at UPrinting
Why should you use online business card generators? The main reason behind this is you need not download any business card maker software on your computer, another thing is you get hundreds of pre-defined templates online that is not possible in offline visiting card makers. Here we have listed free online business card generator websites that comes with cool templates.
Also read:
Top Free Online Business Card Generators
UPrinting is a renowned online printing and marketing company that offers modern and high quality die-cut business cards. Here you can design standard as well as die cut business cards with many useful options including size, shape and coloring as well for your business cards. UPrinting comes up with the easy to use designer, just select the layout and start creating your business card. You can add text, shapes and images to craft your business card.
UPrinting offers a PDF proof where you can see your design and make the changes if you want before they get printed.  Along with business cards Uprinting allows you to create booklets, brochures, calendars, catalogs, door hangers, envelopes, flyers, folders, greeting cards, invitations, letterheads, stickers and many more. UPrinting has a competitive price tag compared to other service providers in the market.
Businesscardstar.com serves hundreds of visiting cards templates that could be customized as per your needs. Just pick a template and customize it with your own background, font and colors etc. Once done with designing you can download the PDF file that contains the completed business card. You can also order printed cards or a high resolution TIF file format that could be printed in your home.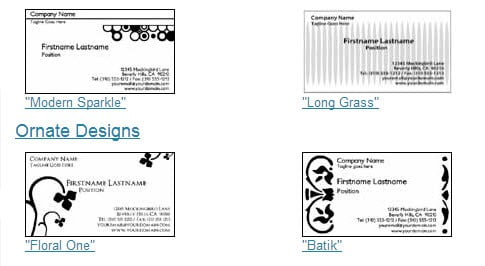 Businesscardland.com comes with a free business card maker with nice templates. Select the template that suits your idea, add the information and you are ready to download your visiting card. While choosing the template you will be allowed to select "full bleed" or "no bleed" option, full bleed prints the cards up to the edge of the paper. After finishing the designing work you can download the PDF file that contains your card and then print it.
CardXC has a easy to use designer tool as well as templates that fits any businesses. You can also select the template from searching through the tag cloud. Just pick a theme and click on "Create Business-Card using this theme" button, customize the template and download the PDF file, further you can get the print of the same from your printer.
This service is similar to CardXC but is very simple. You can use this if you have less requirements for your card. Add all the required information and click on "Download cards" button to download the pdf file consisting your card.